Strawberry Roll Cake
A summer strawberry roll cake with a light and fluffy vanilla sponge filled with whipped cream cheese strawberry filling and topped with juicy strawberries.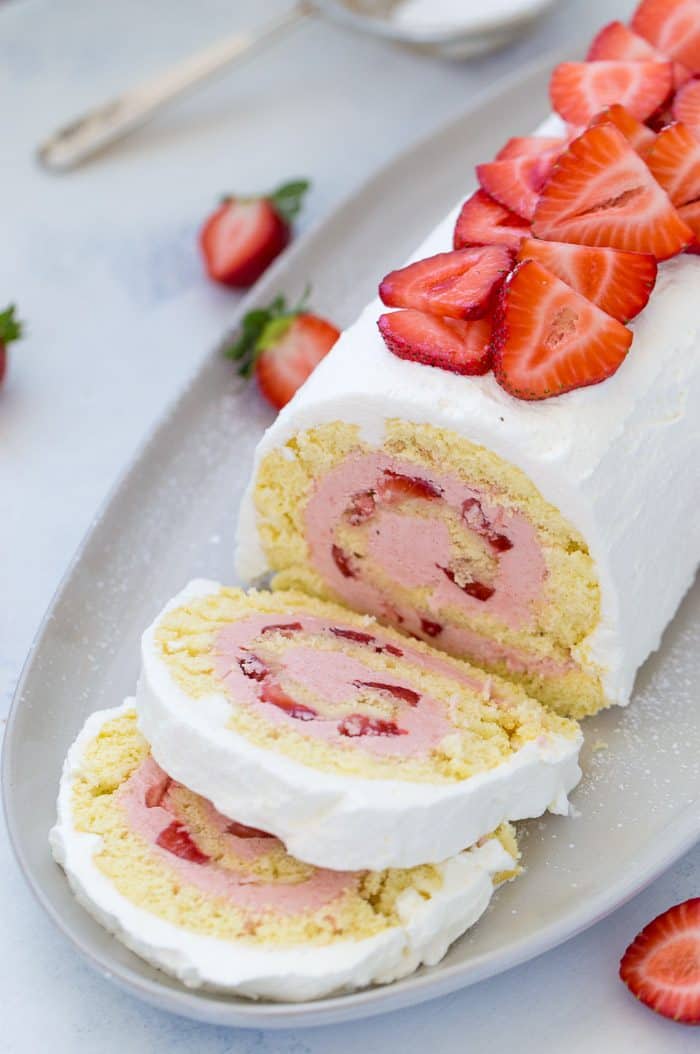 Before we get to the end of summer here, I want to squeeze in one more summer recipe!! Yes I know I know, Labor Day is the unofficial end of summer but we technically still have three weeks until the first day fall so please forgive me.  This strawberry roll cake is a summer favorite and I am not sure why it took me this long to share it with you. It's incredibly easy to make and even easier to customize to your family's favorite berries. The sponge is a light and fluffy vanilla sponge that is filled with a whipped cream cheese strawberry filling and topped with an even lighter fresh whipped cream frosting.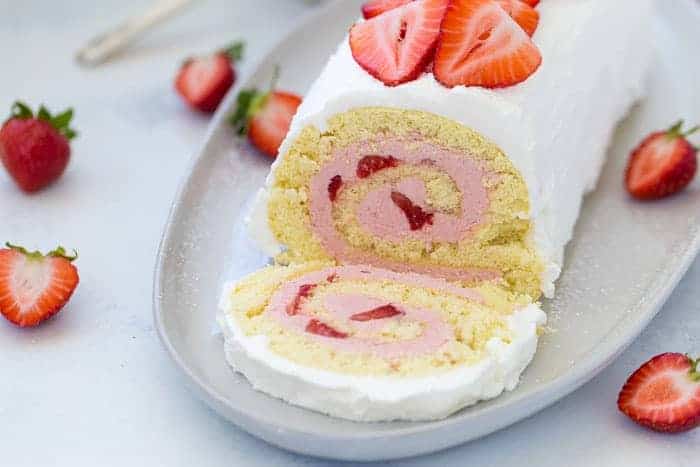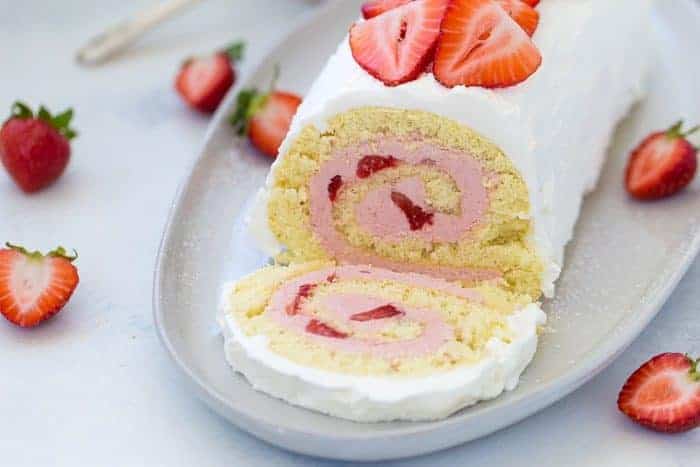 I know we are all getting excited about fall and pumpkin season. Trust me, I am a pumpkin lover like no other. But I am also a fan of savoring the seasons as they happen. Summer is short and sweet and comes with a LOT of produce and flavors to enjoy before we burst out apple spice and cider. My garden is still full of tomatoes, cucumbers, peppers, and beans. So as I can, pickle and freeze all the vegetables, I will continue to enjoy summer's bounty. Join me!!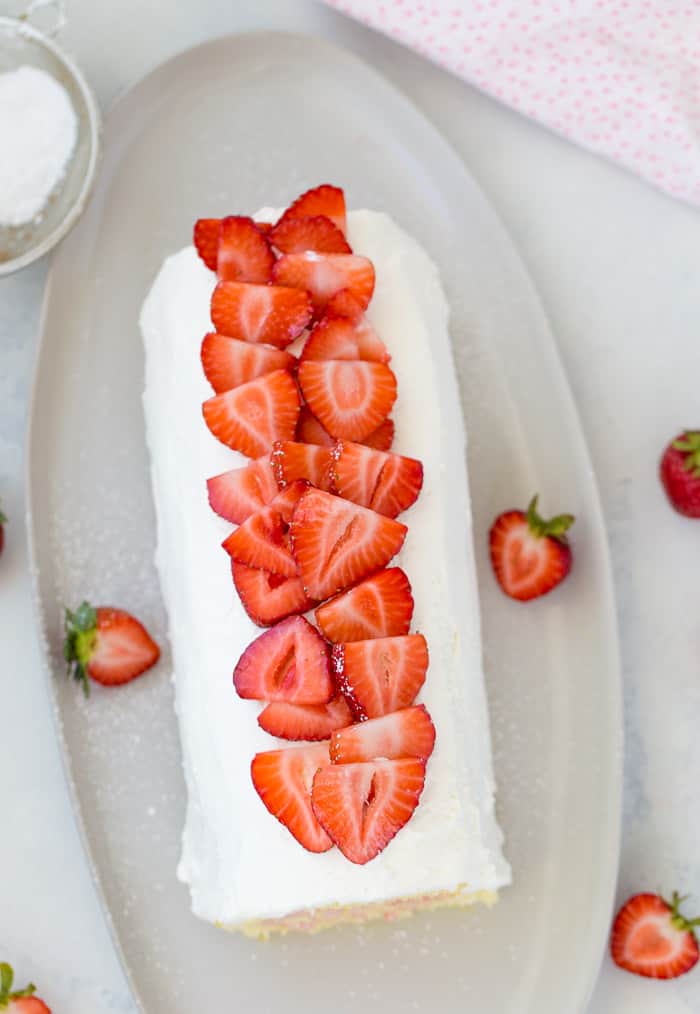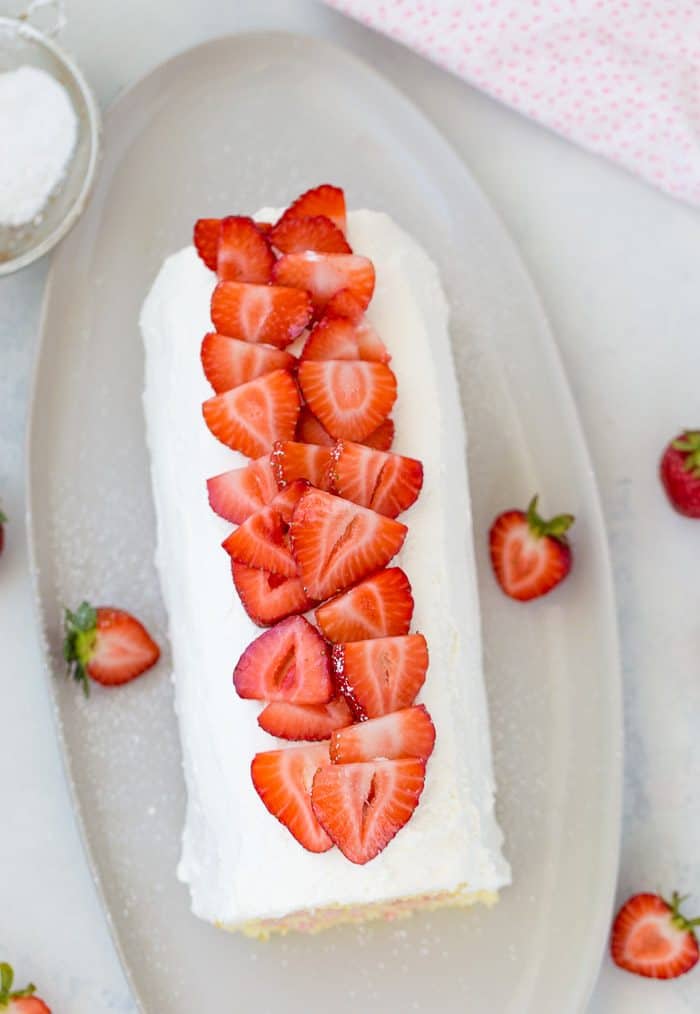 I've made different versions of this summer roll cake and I am sharing today a strawberry version. For this strawberry roll cake, I used a great jelly roll base cake recipe. It is simple, light and fluffy. You can flavor the cake as you like example lemon zest. I used simple vanilla for my cake base. For the filling, I wanted something thicker than whipped cream so I opted for cream cheese frosting. Actually, it was my husband's idea and it turned out great. Whipping in some heavy cream into the cream cheese made for a light and tangy filling. I also folded in some fresh strawberries into the filling for some more berries.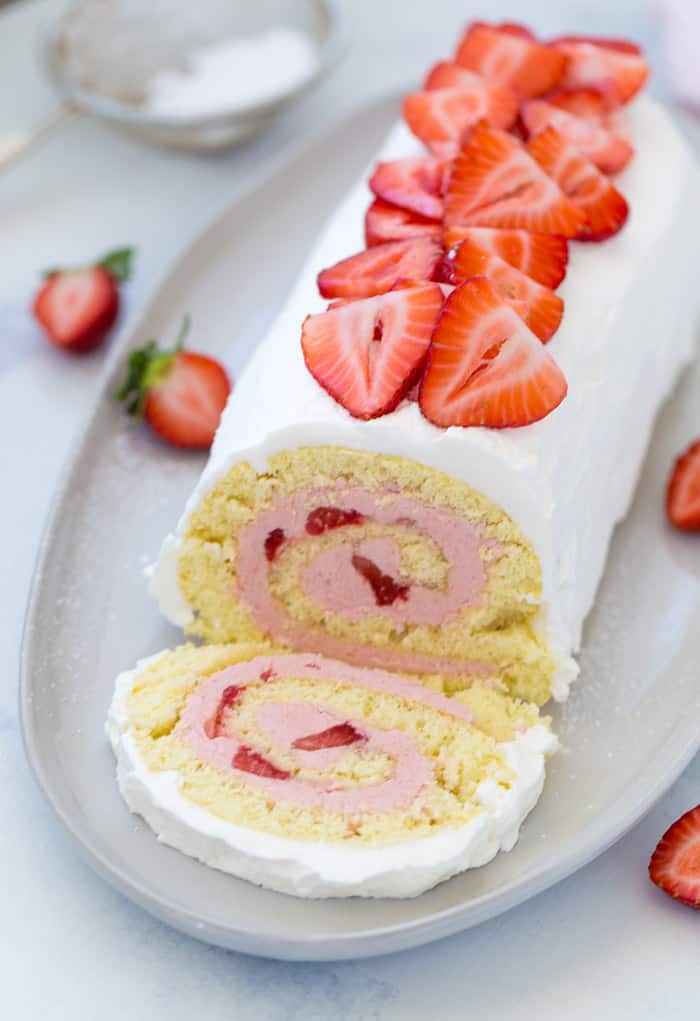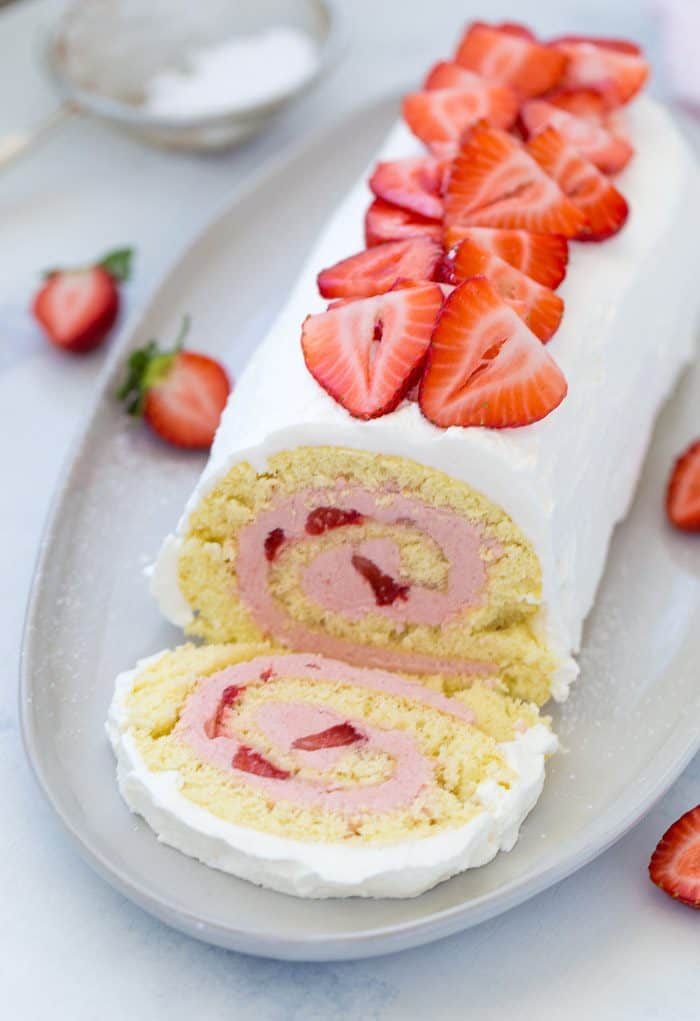 Finally, the cake is topped with a light homemade whipped cream. You can skip this but it was great for presentation and tasted great with it too.
So there you have it, a delicious strawberry roll cake as we say goodbye to summer. It was a busy and hectic summer for us but we enjoyed it. I am looking forward to all the pleasures of the crisp fall air and season.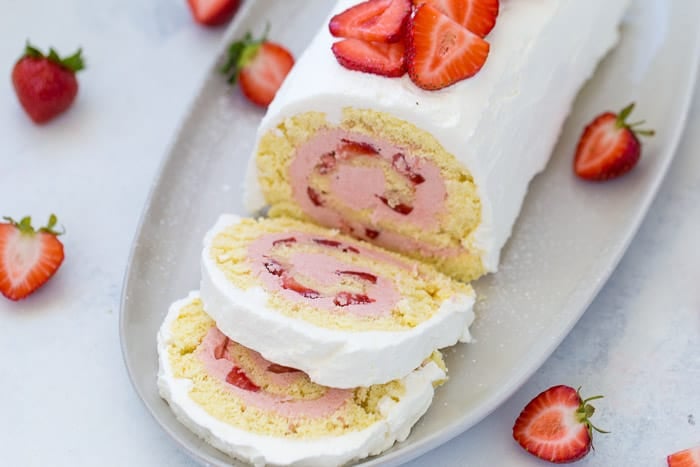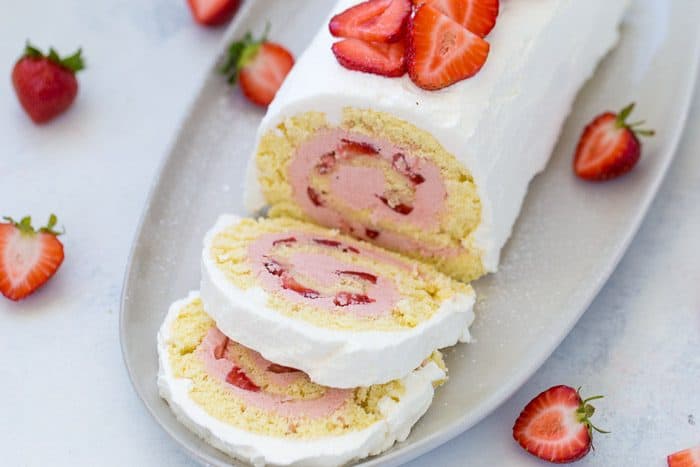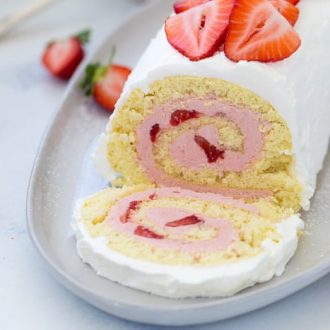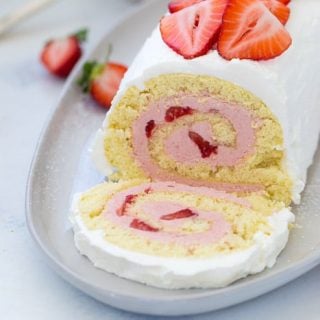 Yield: 1 Roll Cake
Strawberry Roll Cake
A Summer Strawberry Roll Cake with a light and fluffy vanilla sponge filled with a whipped cream cheese strawberry filling.
Total Time
2 hours
28 minutes
Ingredients
¾ cup cake flour, sifted
¾ teaspoon baking powder
¼ teaspoon kosher salt
4 large eggs, at room temperature, separated
2/3 cup granulated sugar, divided
2 teaspoons vanilla bean paste or vanilla extract
1 cup confectioners' sugar
Strawberry Cream Cheese Frosting
2 cups fresh strawberries, hulled and sliced
¼ cup granulated sugar
8 ounces cream cheese, at room temperature
¾ cup heavy whipping cream, cold
½ cup confectioners' sugar
1 teaspoon vanilla extract
Instructions
Preheat oven to 350 degrees F. Spray a 15 x 10-inch jelly roll pan with baking spray. Line with parchment and spray parchment again.
In a small bowl, whisk together the flour, baking powder and salt.
In a medium bowl or the bowl of your stand mixer fitted with the whisk attachment, beat the egg yolks and 1/3 cup of the sugar on high speed until thick, pale and ribbonlike. Add in the vanilla bean paste or extract. Beat until combined. Transfer the egg yolk mixture into a large bowl.
Clean the bowl of the stand mixer. With the whisk attachment, beat the egg whites on medium speed until foamy. Gradually add in the remaining 1/3 cup granulated sugar. Increase mixer speed to high and beat egg whites until soft peaks form.
Fold the egg whites into the egg yolk mixture in 2 additions, until just combined.
Sift the flour mixture over the batter and fold in gently.
Transfer the batter immediately to the prepared pan and spread evenly. You do not want to overwork the batter and deflate the air you just whipped into it.
Bake cake until a toothpick inserted into the middle comes out clean, about 8 minutes.
While cake is baking, dust a clean dish towel with the confectioners' sugar.
When cake is done, immediately loosen the sides of the cake from the pan and turn over onto the prepared towel. Peel off the parchment paper.
Starting with one short end, roll up the cake and towel together and place it seam side down on a cooling rack. Let cake cool completely, about two hours.
In the meantime prepare the filling and frosting. In a medium bowl combine the strawberries and sugar. Let sit for at least 20 minutes to macerate.
In the bowl of your stand mixer, beat the cream cheese until smooth and creamy on medium speed, about 2-3 minutes. Add in the heavy cream, confectioner's sugar and vanilla extract. Beat on medium-high speed until light and fluffy.
Fold in half of the strawberries (without the juices) into the filling.
Gently unroll the cooled cake and spread with the strawberry cream cheese filling, leaving a 1/2 -inch border.
Re-roll the cake without towel. Refrigerate for at least 30 minutes before serving.
Garnish the cake with confectioner's sugar and strawberries. Or top with freshly whipped cream and strawberries.
Notes
Cake Adapted from Bake from Scratch
Recommended Products
As an Amazon Associate and member of other affiliate programs, I earn from qualifying purchases.