Peach Crumble Recipe
This peach crumble recipe is a sweet summer delight with juicy peaches baked under a crunchy golden oatmeal crumb that's made with coconut. Perfect for summer peaches.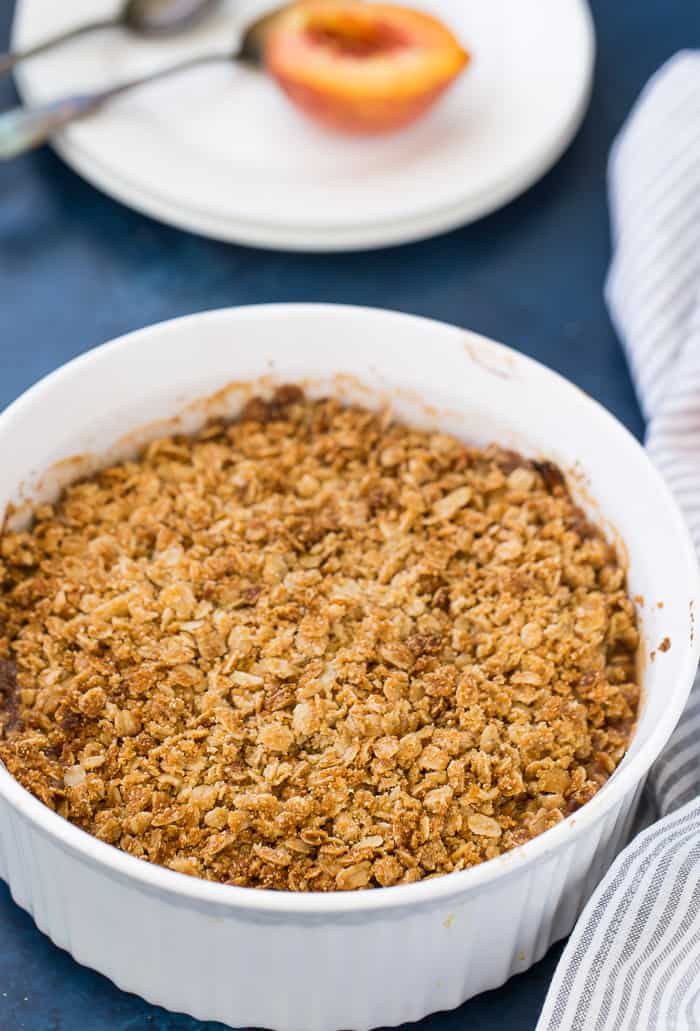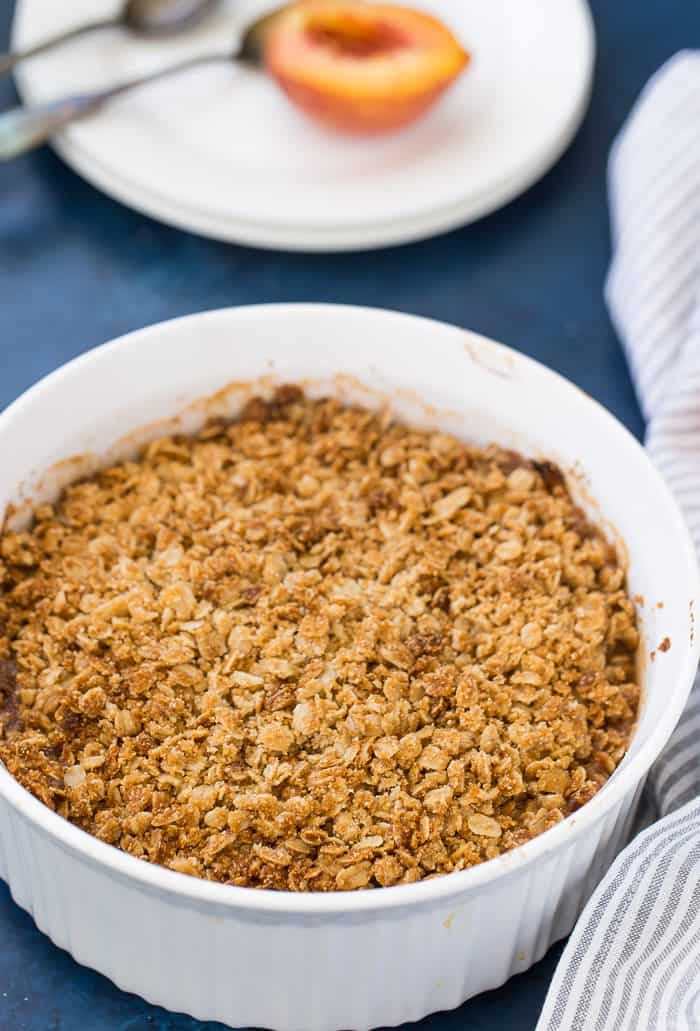 Hi friends! How are you doing? It's been a while since I last checked in with you. How's your summer going? Sadly we are getting to the end of the wonderful season here but not before we have a peach or two!! I have a great peach recipe for you today to add to your summer baking list. Peaches are in prime season so I hope you are planning on enjoying some, wherever you live. This peach crumble recipe is a classic with juicy peaches topped with a crunchy baked oatmeal crumble. Just perfect with a scoop of ice cream. I also suggest you try my fresh peach pie.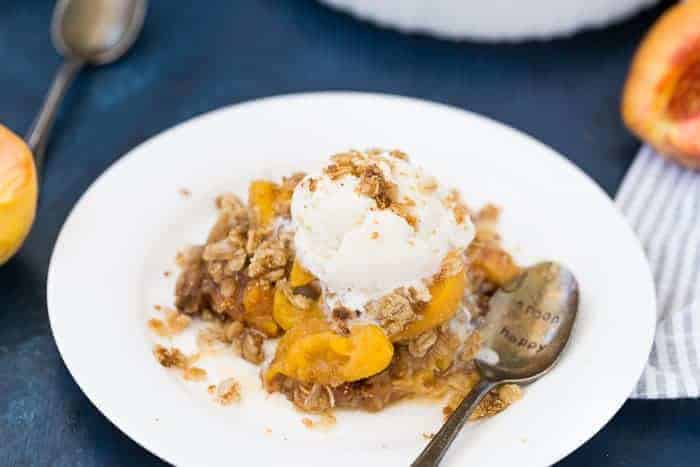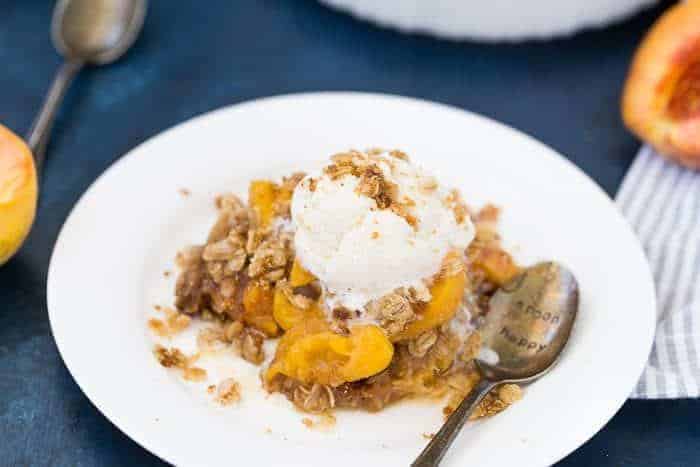 Where did the summer go? This is always the age-old question when the warm weeks fly by. We've had a busy summer and sometimes I regret packing so many things to do in one season. We went to Italy at the start of summer (which I still need to blog about), took road trips to Boston and Washington, DC and went to a family reunion in Myrtle Beach, SC. All this traveling left little time for baking and blogging which I am not complaining about. I was able to enjoy quality time with family and friends and disconnect from the internet (which is always a good idea).
But now that we are finally at the end of the season, I am enjoying the downtime relaxing at home most weekends and turning my oven slowly back on.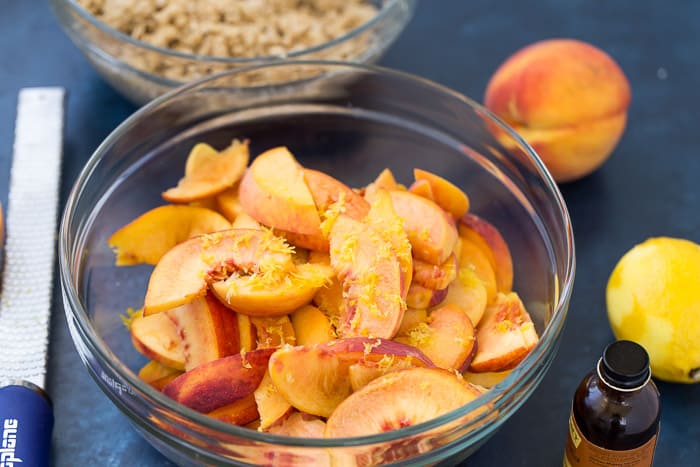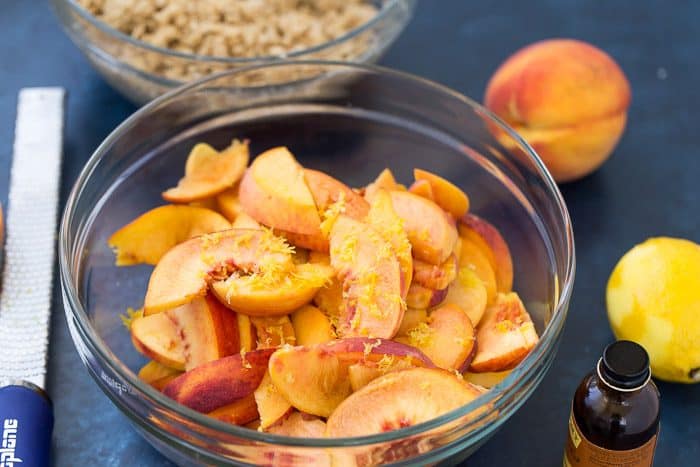 This peach crumble recipe was made just a week ago when I realized I haven't baked with peaches this season. I've been enjoying just snacking on fresh peaches but there's something special about baked peaches with brown sugar that I just can't get enough of. This crumble starts with a basic peach filling – peaches + brown sugar + a thickener and a dash of lemon juice. You can throw in some raspberries too into the filling if you are feeling adventurous. It is a sweet – tangy addition that's blissful. Trust me, peaches + raspberries are meant to be. (See my Peach Raspberry Galette for proof)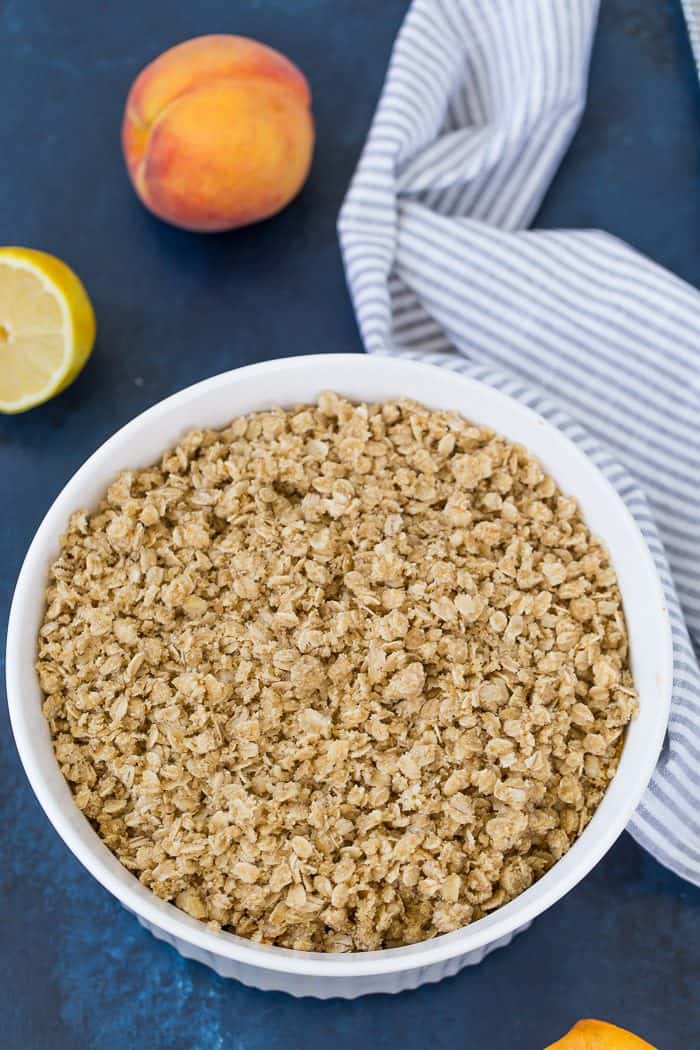 The real game changer is in the crumble. I love love a crunchy top to my pies so this oatmeal crumble topping is a favorite. I used it in this strawberry rhubarb crumble a few years ago and haven't changed it since. It uses coconut oil instead of butter and coconut flour for a unique taste in the oatmeal crumble but you can skip the coconut if you are not a fan (I won't be offended!). Just use equivalent cold butter.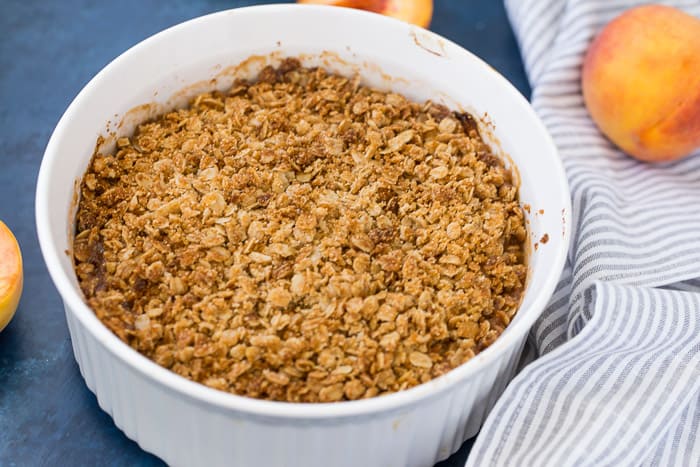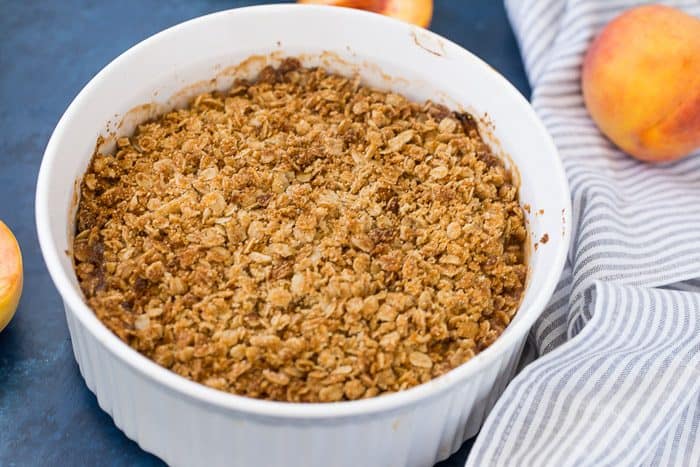 Once the peach is baked to perfection (aka intense bubbling status) and the crumble topping is golden and toasted, you are ready to enjoy this summer delight. Of course, give it a few minutes to cool down and serve when it is NOT scorching hot. Top with a scoop of vanilla bean ice cream and enjoy!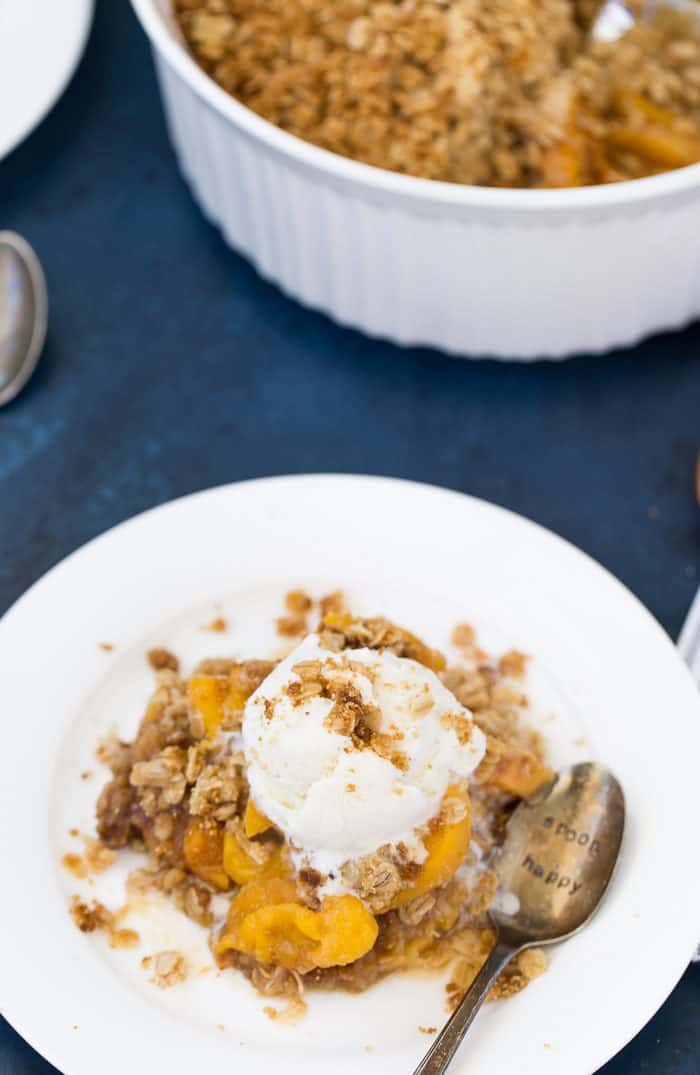 I hope you are enjoying the last few weeks of summer! Make this peach crumble recipe to ensure you are.
More summer desserts to try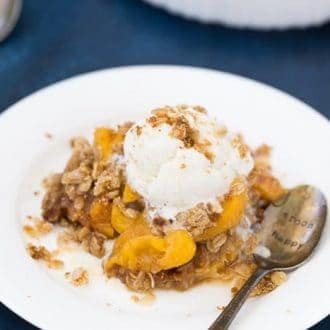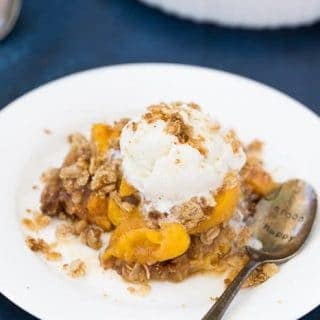 Yield: 3 quart dish
Peach Crumble Recipe
This peach crumble recipe is a sweet summer delight with juicy peaches baked under a crunchy golden oatmeal crumb that's made with coconut.
Cook Time
1 hour
10 minutes
Total Time
1 hour
40 minutes
Ingredients
For the Crumble:
1½ cups old-fashioned rolled oats
¾ cup coconut flour
¾ cup almond meal
¼ cup granulated sugar
¾ cup brown sugar, packed
¼ teaspoon salt
¾ cup coconut oil, melted
For the Filling:
5 cups fresh peaches, sliced
2 cups fresh raspberries (optional but recommended)
1 cup brown sugar
½ cup cornstarch
¼ teaspoon salt
zest and juice of half lemon
Instructions
Preheat oven to 375 degrees F. Grease a 3-quart round or rectangular dish.
In a large bowl, toss the ingredients for the filling until just combined. Make sure all the cornstarch is well tossed. Set aside while you make the topping.
In a medium bowl, combine the rolled oats, coconut flour, almond meal, sugars and salt. Add in the melted coconut oil and mix until clumps form. You can use your hands to mix the mixture and clump some together.
Transfer the filling into the prepared dish. Cover completely with the topping. Place the baking dish onto a baking sheet and bake for about 70 mins, or until fruit is bubbly in the center and edges and topping is golden brown. If needed, cover the baking dish with foil for the last 30 minutes of baking.
Let crumble cool on a cooling rack until warm. Serve warm with a scoop of ice cream.