Winter Citrus Cake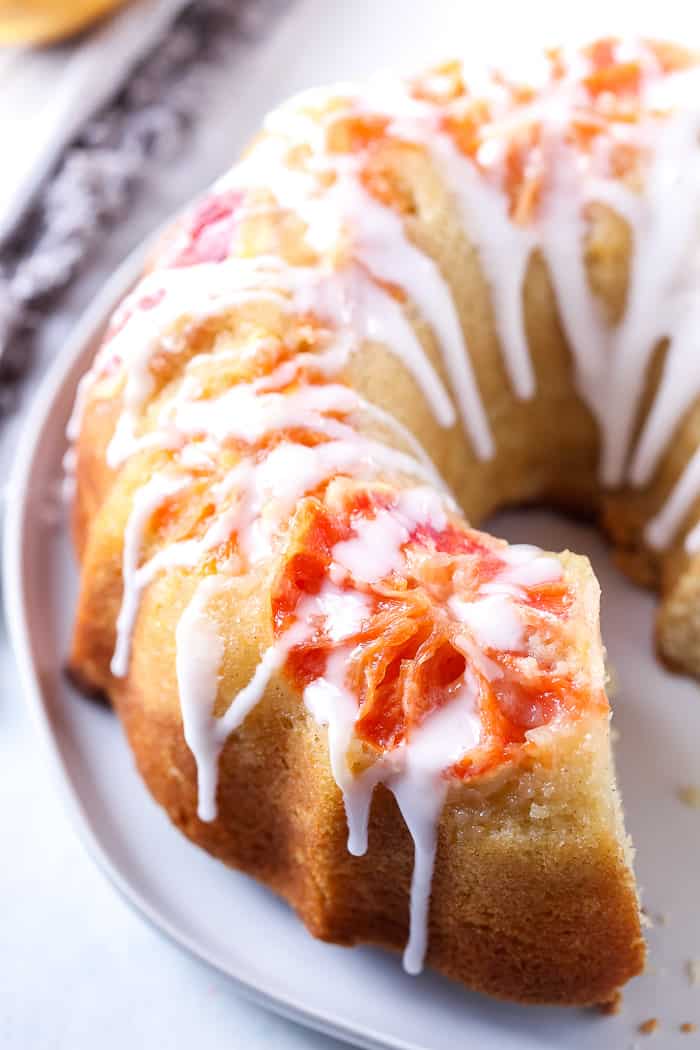 Happy New Year! It is late but we are still in January and seem necessary since this winter citrus cake is my first recipe in 2020! I hope you are having a great start to the year. I enjoyed a wonderful time with my family during the break. Lots of house guests, lots of baking, making cheeseboards for snacks and lots of great memories with the kids. It was just perfect and what the season was about.
I usually take an extra week of vacation in January to start the year off on the right note and foot. I reflect on my achievements, failures/things I could do better and set intentions and goals for the year. Not resolutions to work out more/do xyz diet but habits I would like to leave behind as they are not serving me and new habits or tasks to incorporate into my daily routine. This year, I am adding intentional meditation and yoga as well as mandatory once a month date nights with the hubs.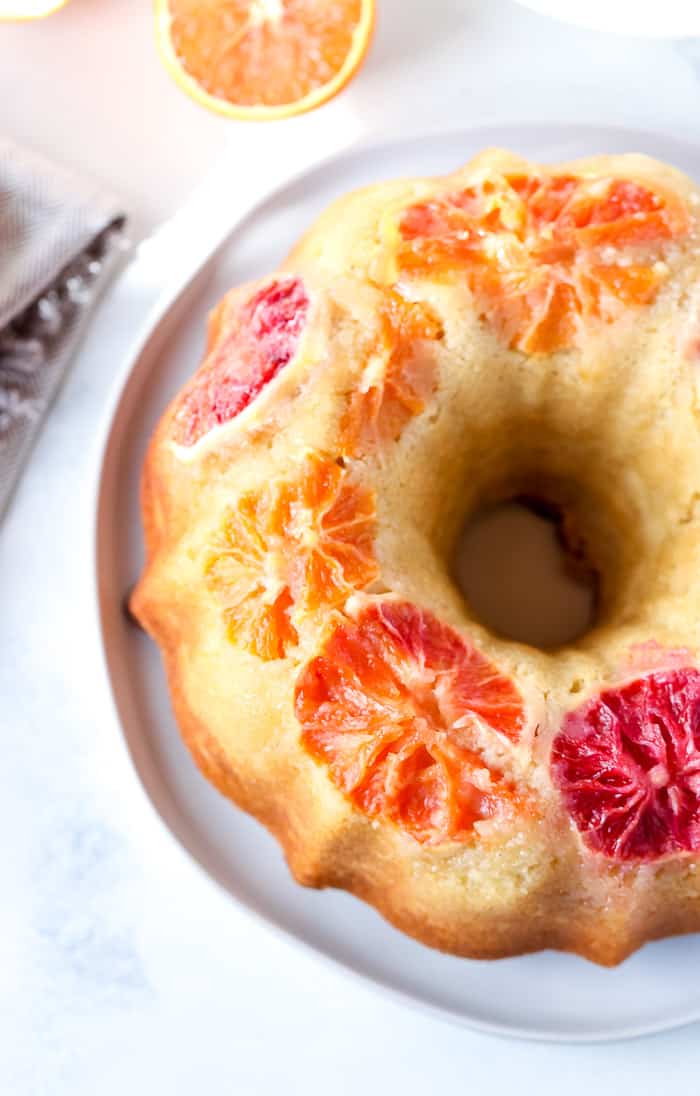 Part of my extra week of January vacation entails getting back to baking and baking for fun. In my opinion, there is no better way to relax than baking something new in the kitchen. So I attempted a few new recipes and planned my Valentine's day content for you (more to come!).
If you follow me on Instagram, you would have seen my struggles with getting this winter citrus cake to look like I wanted. Let me start from the start. I wanted to make a pound cake that is filled with all my favorite winter citrus fruits. I had grapefruits, Caracara oranges, blood oranges, and Meyer lemons. I used all but the Meyer lemons in this cake.
The cake is a spiced olive oil cake that is moist and crumbles in the mouth. It's got a few winter spices (cinnamon, cardamom and a dash of nutmeg) that brings some warmth needed in a winter dessert. The cake is then infused with all three citrus juices; grapefruit juice, blood orange juice, and zest. It is a truly great addition to an already perfectly flavored cake. This winter citrus cake is a must this winter as we get settled into the cold nights.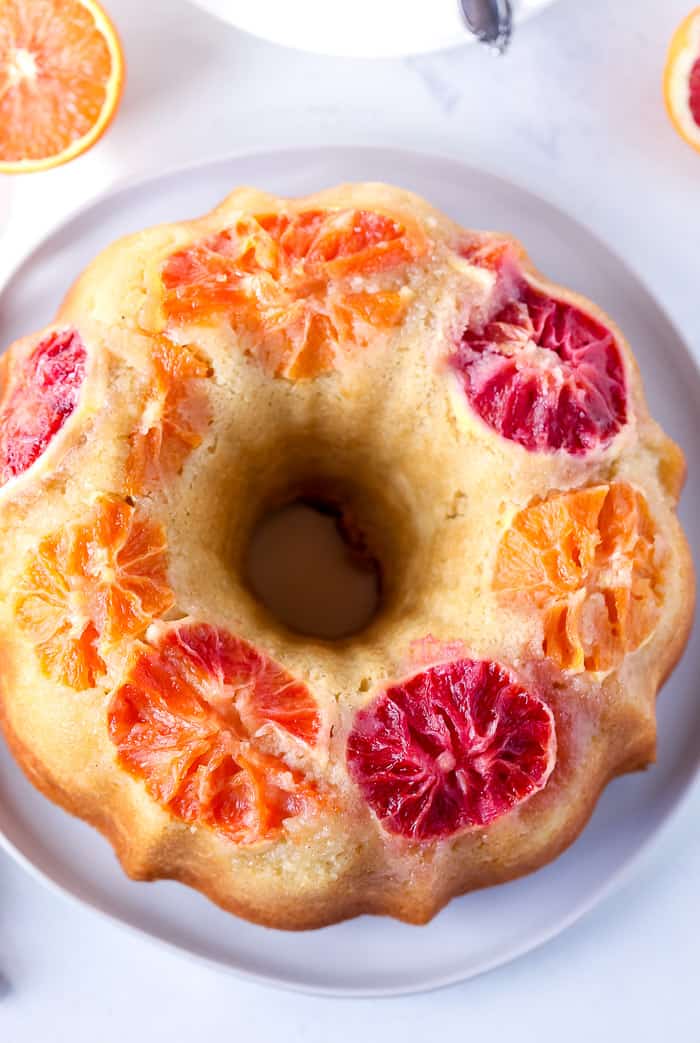 My vision was to display the vibrant colors of the beautiful fruit slices on top of the cake without having them sink or use a flat pan (round cake pan or angel food cake pan/flute pan). I love bundt cakes and that was the vision. However, after a few tries (thin slices, too few slices and tapping the bundt pan), I was unable to get the slices to stay as intact as I wanted. But at each try, the cake tasted amazing and made me love it even more despite the top not living up to my expectations. It, however, made me go back to the roots of why I started baking; to experiment and explore.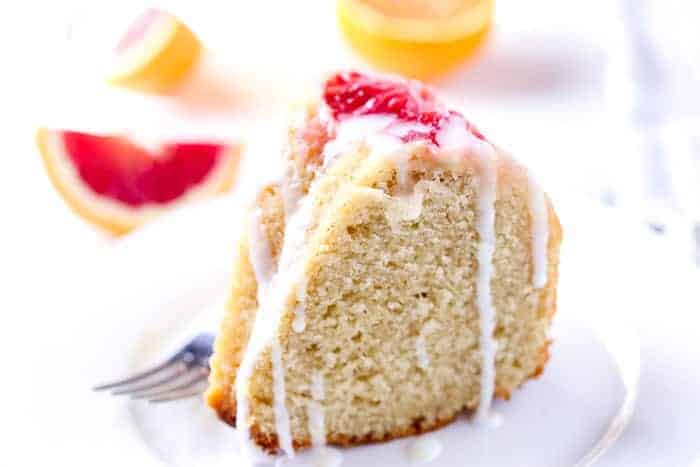 There you have it, my friends. This winter citrus cake is worthy of the first recipe of the year and I hope you add it to your winter baking list.
As for me, I think there is no better way to start a New Year and a new decade than to get back to the roots of why I started to bake. So in that spirit, in 2020, expect more recipes from me that push us a little further and encourage us to experiment more in our kitchen and ovens.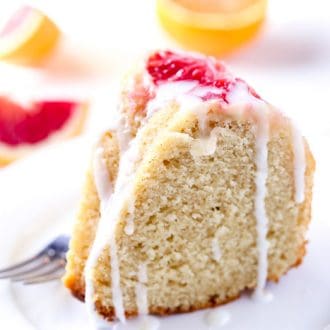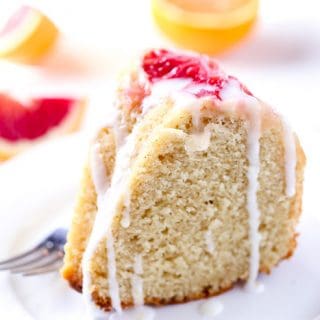 Yield: 1 10-cup bundt cake
Winter Citrus Cake
This winter citrus cake is a spiced olive oil cake that is moist and crumbles in the mouth.
Additional Time
40 minutes
Total Time
1 hour
40 minutes
Ingredients
1/2 cup granulated sugar
2 teaspoons lemon juice
about 3 citruses, thinly sliced, you need enough to nearly cover the bottom of your pan
3 cups all-purpose flour
3 teaspoons baking powder
¾ teaspoon salt
¾ teaspoon cinnamon
¾ teaspoon cardamom
¼ teaspoon ground nutmeg
6 large eggs, at room temperature
2 cups granulated sugar
3/4 cup olive oil
1/4 cup orange or blood orange juice
½ cup citrus juice of your choosing (I used a mix of grapefruit and blood orange)
¼ cup whole milk
1 tablespoon vanilla extract
Zest of 1 blood orange
For Blood Orange icing
1 cup confectioners' sugar, sifted
2-3 tablespoons blood orange juice
Instructions
Preheat oven to 350 degrees. You can use an 8-inch round pan or a bundt pan. If using an 8-inch round pan, grease pan with baking spray, line with a parchment round and grease parchment. If using a bundt pan, grease the bundt pan with baking spray.
In a small saucepan, combine the sugar with ¼ cup water and cook over medium heat until the sugar dissolves completely. Cook for 1-2 minutes. Remove from heat and pour half of the sugar mixture into the bottom of the prepared pan you are using. Arrange the slices of citrus over the sugar in the bottom of the pan. Make sure you line the entire bottom with the fruit. Pour the remaining sugar over the slices. Set aside while you prepare the batter.
In a medium bowl, sift together the flour, baking powder, salt, cinnamon, cardamom, and nutmeg.
In a large bowl or the bowl of your stand mixer, beat the eggs, sugar and olive oil until combined and the eggs are light yellow, about 3-5 minutes on medium-high speed. Add in the orange juice, citrus juice, milk, vanilla extract, and zest. Mix until just incorporated. With the mixer on low, gradually add in the flour mixture and mix until just combined.
Pour cake into prepared pan over the citrus slices. Evenly spread. Bake cake until a toothpick inserted in the center comes out almost clean, about 40 minutes. Let the cake cool completely in the pan before inverting onto a serving plate.
For the icing: combine all the ingredients and whisk until desired consistency. Drizzle the icing over the cake before serving.
Notes
Cake adapted from Adventures of Cooking
Recommended Products
As an Amazon Associate and member of other affiliate programs, I earn from qualifying purchases.