Blackberry Lemon Roll Cake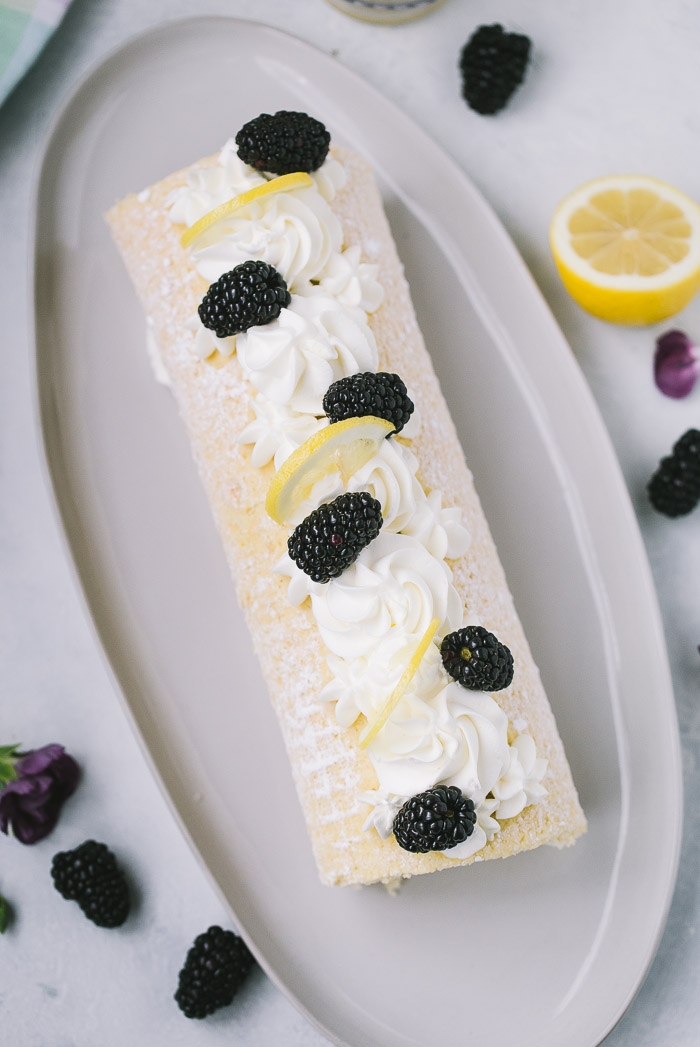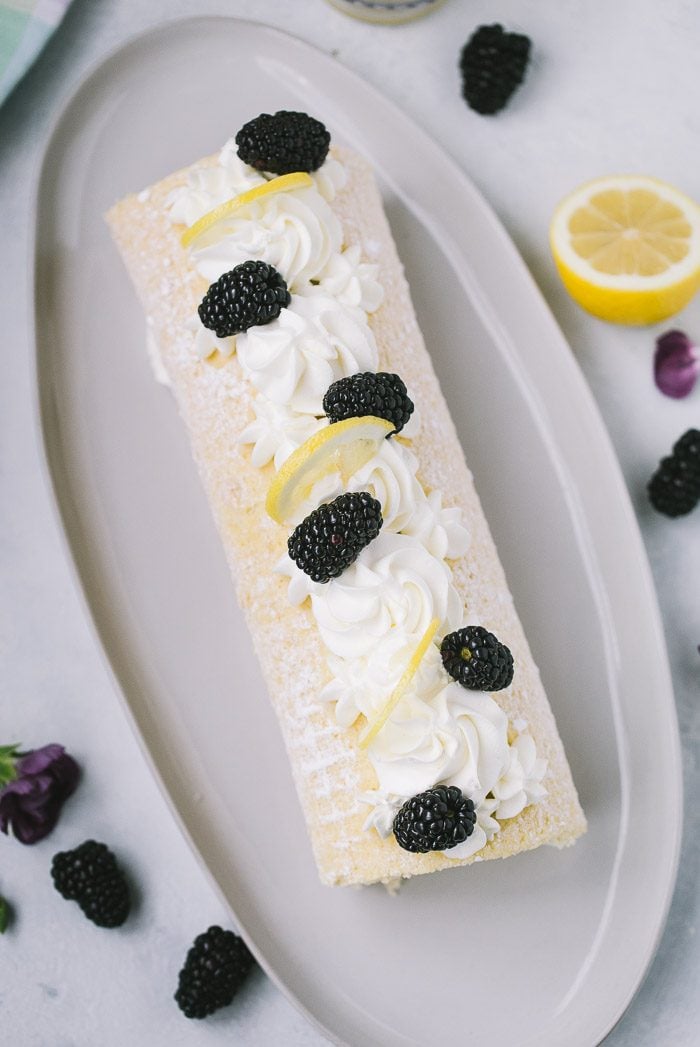 Happy May friends! I can't believe we are in the heart of spring already. Summer is just a few weeks away and I can't wait. But for now, I've been baking a lot of Spring treats. If you check out my lemon recipe archives, you will see that I love LEMON in my desserts and it's not surprising that I am bringing you this blackberry lemon roll cake today. There's something about the sweet, tart and fresh flavor of lemon desserts that just lifts up the mood.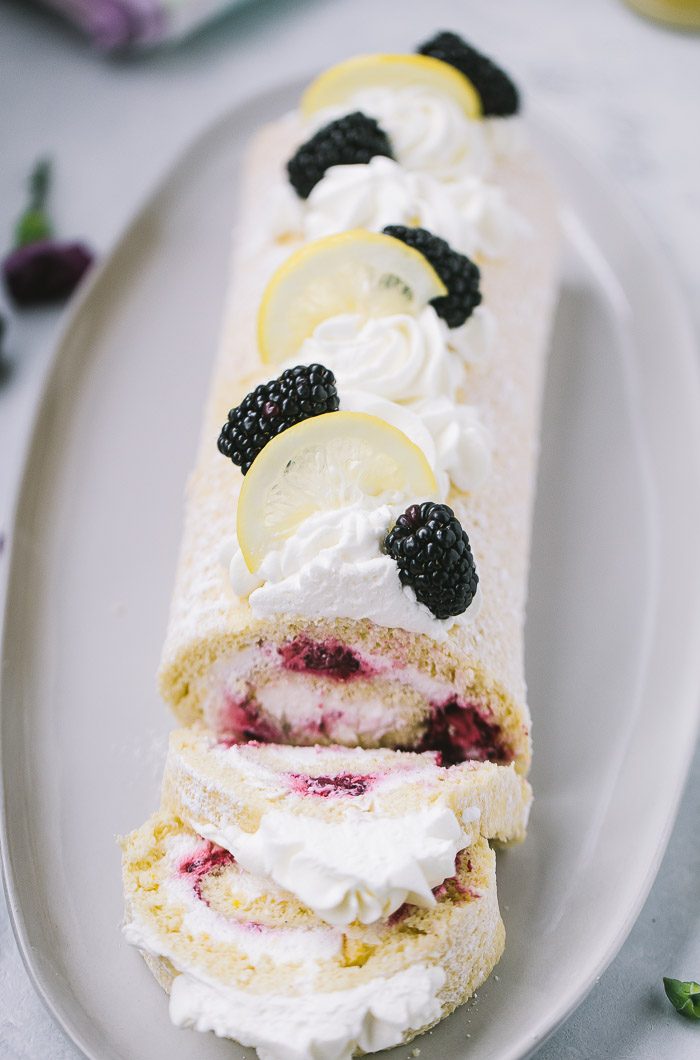 After whipping up this lemon pudding cake a few weeks ago, I had leftover lemons. I was in the mood for a light cake so I decided to make a lemon roll cake. The cake recipe is based on this strawberry roll cake from last summer that was incredible. I love making roll cakes because they are a) very easy to whip up and b) incredibly airy and soft thanks to whipped egg whites and c) always impress a crowd. If you have not yet attempted a roll cake, please do soon and be sure to start with this one!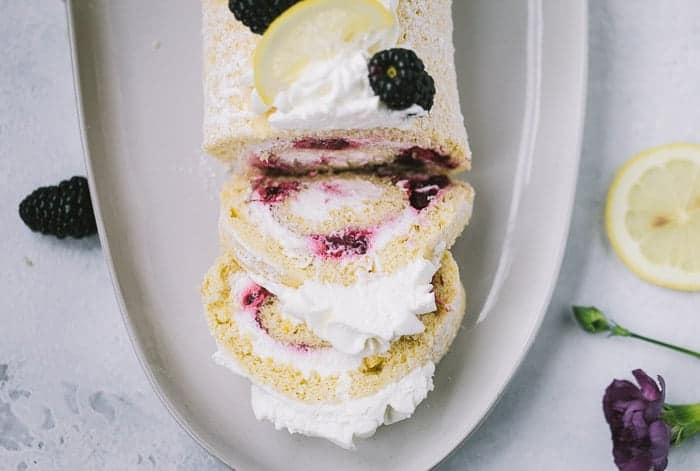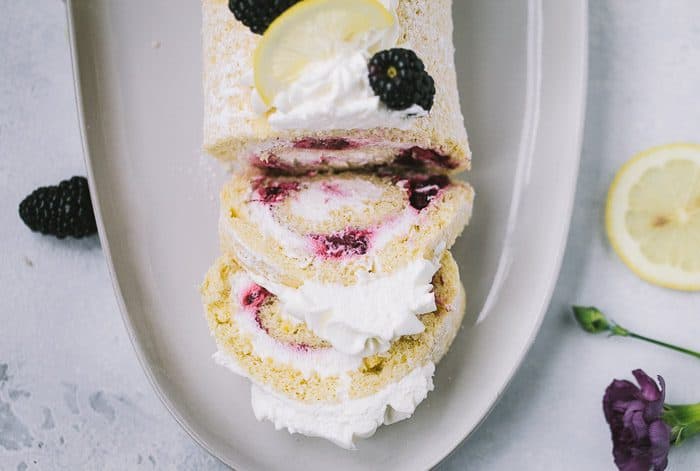 I infused the cake base of this recipe with fresh lemon zest and lemon extract. The cake roll is light, spongy and soft. Since there's nothing like lemon + fresh berry combo, I filled this lemon cake roll with blackberries. A sweet blackberry lemon compote is spread as a filling along with homemade whipped cream.
The combination of blackberry and lemon makes this cake a spring delight that will be perfect for Mother's Day.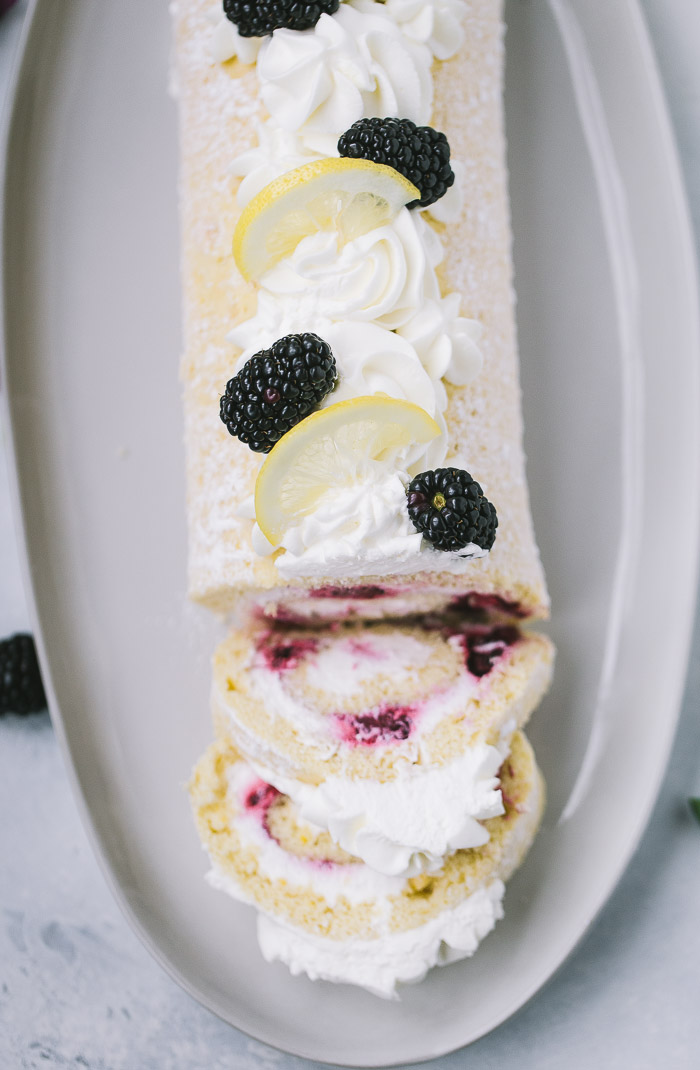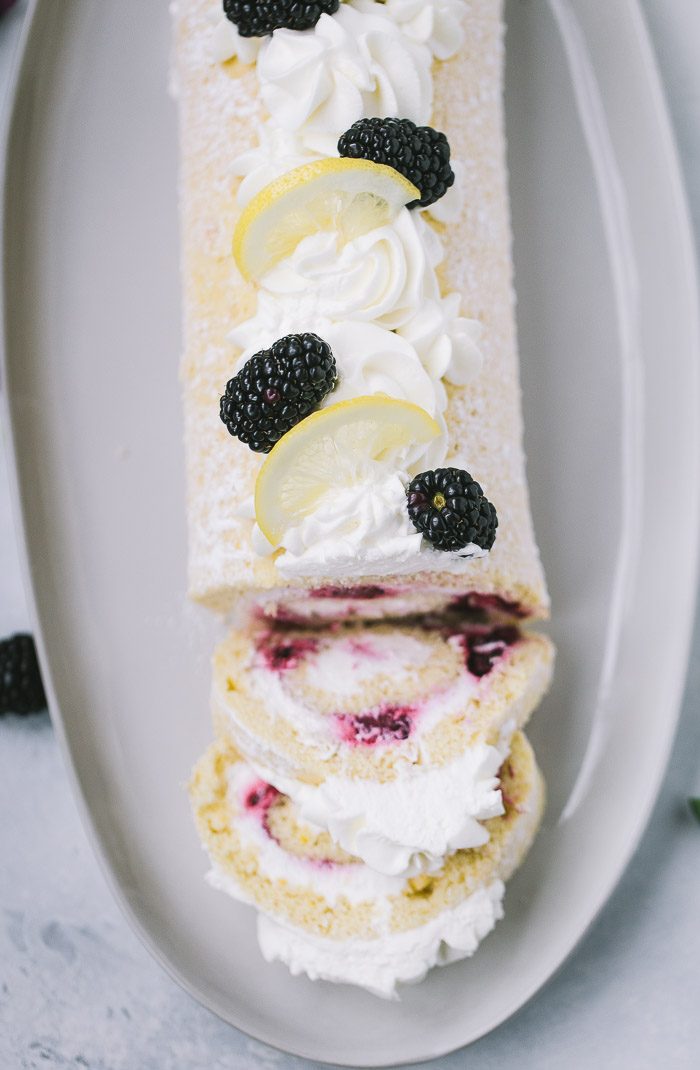 Here are some more Spring and Mother's Day desserts for you: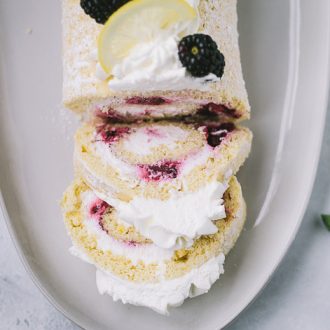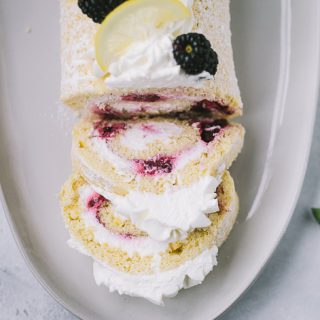 Yield: 1 Roll Cake
Blackberry Lemon Roll Cake
A spring blackberry lemon Roll Cake with a light and fluffy lemon sponge cake filled with sweet blackberry compote and fresh whipped cream frosting.
Total Time
2 hours
28 minutes
Ingredients
For the Cake:
¾ cup cake flour, sifted
¾ teaspoon baking powder
¼ teaspoon kosher salt
4 large eggs, at room temperature, separated
2/3 cup granulated sugar, divided
zest from 1 lemon
1 teaspoon lemon extract
1 cup confectioners' sugar
Blackberry Compote:
2 cups fresh blackberries, hulled and sliced
¼ cup granulated sugar
Whipped Cream
¾ cup heavy whipping cream, cold
½ cup confectioners' sugar
1 teaspoon lemon extract
Instructions
Preheat oven to 350 degrees F. Spray a 15 x 10-inch jelly roll pan with baking spray. Line with parchment and spray parchment again.
In a small bowl, whisk together the flour, baking powder and salt.
In a medium bowl or the bowl of your stand mixer fitted with the whisk attachment, beat the egg yolks and 1/3 cup of the sugar on high speed until thick, pale and ribbonlike. Add in the lemon zest and extract. Beat until combined. Transfer the egg yolk mixture into a large bowl.
Clean the bowl of the stand mixer. With the whisk attachment, beat the egg whites on medium speed until foamy. Gradually add in the remaining 1/3 cup granulated sugar. Increase mixer speed to high and beat egg whites until soft peaks form.
Fold the egg whites into the egg yolk mixture in 2 additions, until just combined.
Sift the flour mixture over the batter and fold in gently.
Transfer the batter immediately to the prepared pan and spread evenly. You do not want to overwork the batter and deflate the air you just whipped into it.
Bake cake until a toothpick inserted into the middle comes out clean, about 8 minutes.
While cake is baking, dust a clean dish towel with the confectioners' sugar.
When cake is done, immediately loosen the sides of the cake from the pan and turn over onto the prepared towel. Peel off the parchment paper.
Starting with one short end, roll up the cake and towel together and place it seam side down on a cooling rack. Let cake cool completely, about two hours.
In the meantime prepare the filling and frosting. In a medium saucepan combine the blackberries and sugar. Cook over medium-low heat until berries break down and juices run, stirring occasionally, about 10 minutes. Remove from heat and transfer to a small bowl. Let cool completely.
In the bowl of your stand mixer, whisk the heavy cream, confectioner's sugar and lemon extract on low speed.. Increase speed to medium-high and whisk until soft peaks form.
Fold in half of the blackberry compote into the whipped cream.
Gently unroll the cooled cake and spread half of the blackberry whipped cream filling over the cake, leaving a 1/2 -inch border.
Re-roll the cake without the towel. Top with the remaining whipped cream. Refrigerate for at least 30 minutes before serving.
Garnish the cake with confectioner's sugar and blackberries.
Notes
Cake Adapted from Bake from Scratch
Recommended Products
As an Amazon Associate and member of other affiliate programs, I earn from qualifying purchases.