Coconut Vanilla Bean Panna Cotta
This recipe for Coconut Vanilla Bean Panna Cotta is sponsored by Sioux Honey Association Co-Op. All opinions are my own.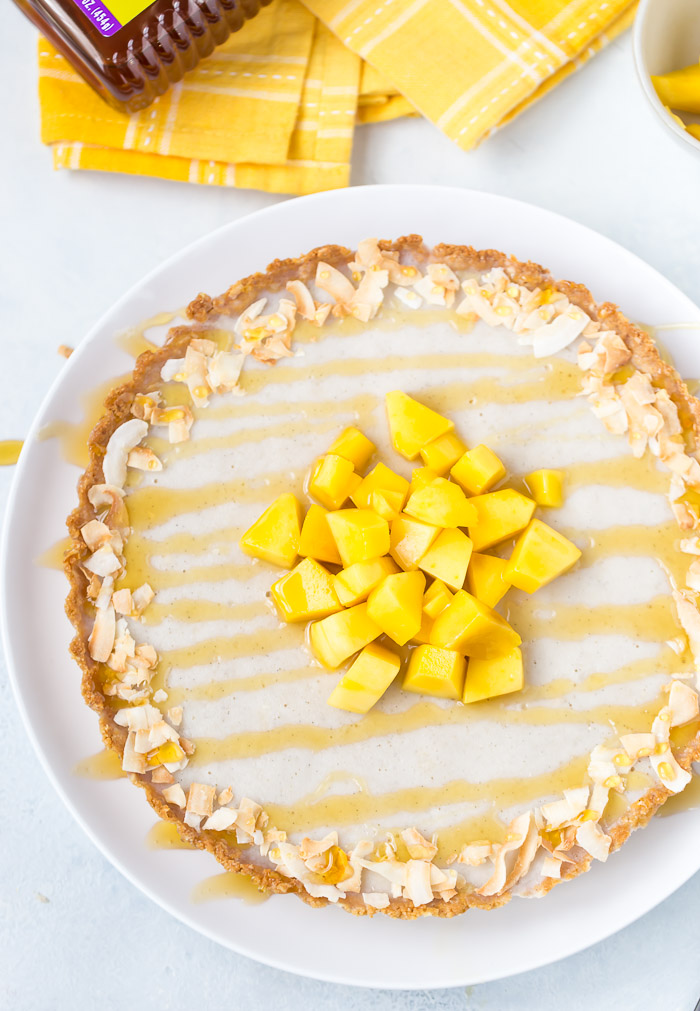 Hello friends! It's been a while since we enjoyed a new recipe for panna cotta. This coconut vanilla bean panna cotta sweetened with Aunt Sue's unfiltered raw honey is my new favorite way to indulge in the creamy custard dessert that is panna cotta.
If you are not familiar with it, panna cotta is a traditional Italian creamy custard dessert that is made with cream, sugar, and milk. It's incredibly simple to make (whisking cream, milk, and sugar together) and just an elegant dessert for entertaining. I've experimented with a lighter version in this buttermilk panna cotta as well as adding some wine to these Pink Moscato panna cotta.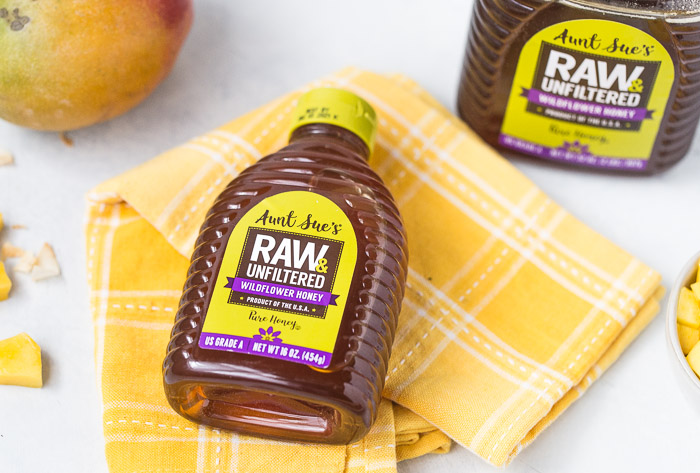 For this coconut vanilla bean panna cotta, I continued my experiment by not only using coconut milk and coconut cream but also sweetening the custard with honey instead of sugar.
I recently tried Aunt Sue's Ray and unfiltered wildflower honey and fell in love with the robust, raw flavor and how it complemented many baked goods. Even more, it was incredible to find out that you can not only find out where this honey comes from, but you can also find out from who it comes from as Aunt Sue's Raw & Unfiltered Honey comes straight from co-op members' of Sioux Honey Association Co-Op. There's nothing better than knowing the generational families that produce such high-quality products.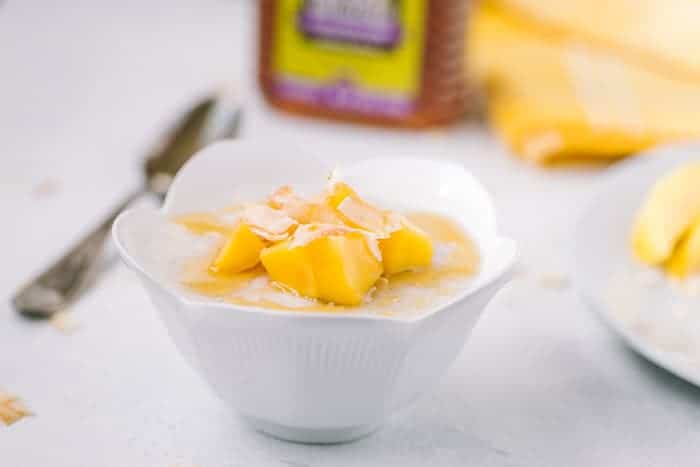 I love substituting honey in baking as it brings in a unique flavor and you use less sugar if any at all. For this panna cotta, I skipped the sugar and used just the honey. With the coconut milk and coconut cream (also a little sweet), you will not miss the sugar. The panna cotta custard is infused in vanilla bean paste for a great vanilla flavor pairing with the coconut and wildflower flavor from the honey. It is a simple, truly unique recipe that will wow any of your dinner guests.
I did give you the option of a crunchy coconut crust in this recipe but it is totally optional. For the tart/crust option, I used my favorite coconut crust from this chocolate coconut tart. It is a dairy free and gluten free crust that pairs well with a lot of other desserts. The coconut crust here is a great addition to your classic panna cotta…crunchy plus mushy filling = a great slice of dessert!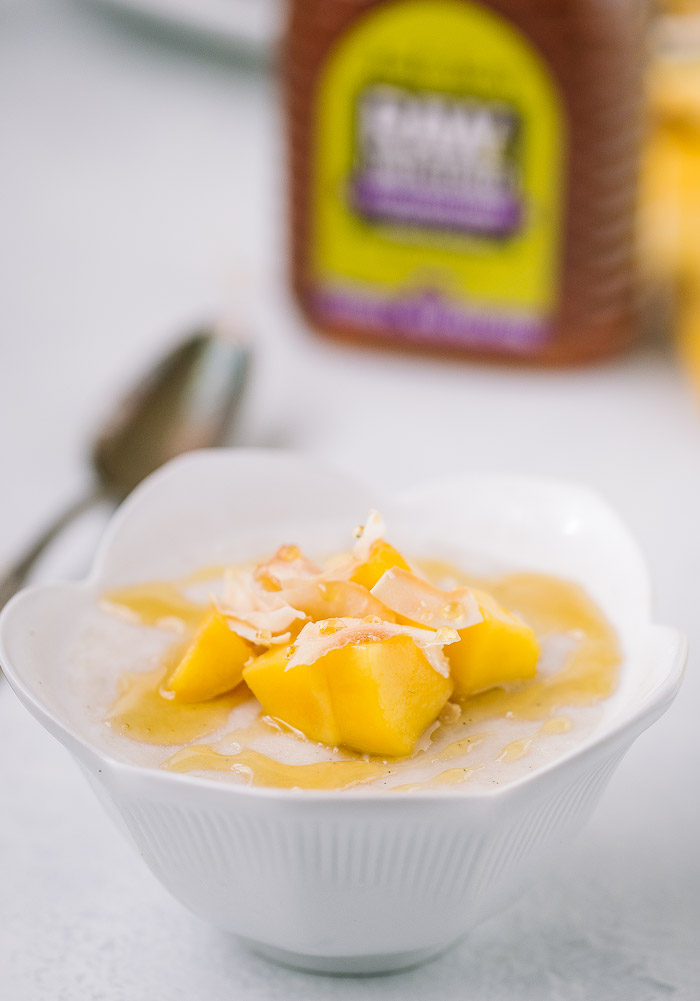 There you have it, friends! A new and exciting panna cotta recipe for you to try this spring. As we get closer to Easter entertaining and Mother's Day, consider adding this easy, delicious and refreshing coconut vanilla bean panna cotta to your menus.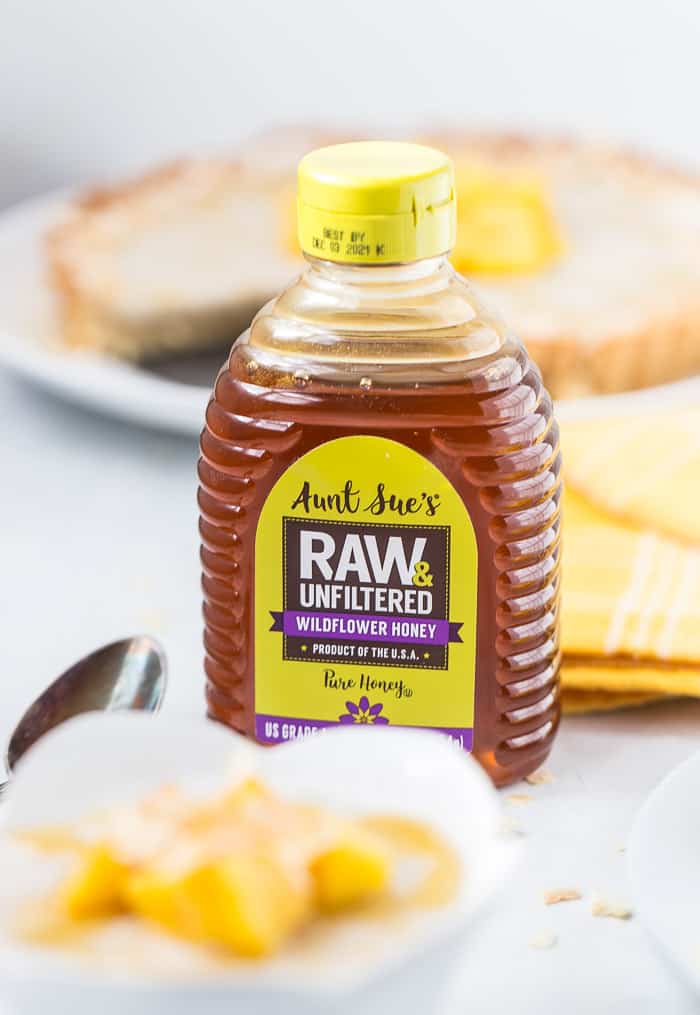 To learn more about the Sioux Honey Association Co-Op and their amazing products (Aunt Sue's Raw & Unfiltered Honey and or Sue Bee Honey), please visit their website at www.siouxhoney.com. You can also find their products in most major grocery stores or online on their website.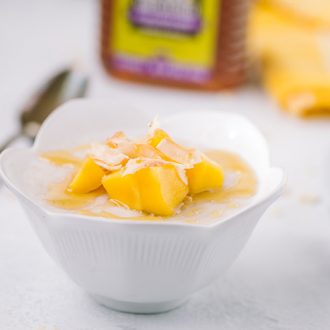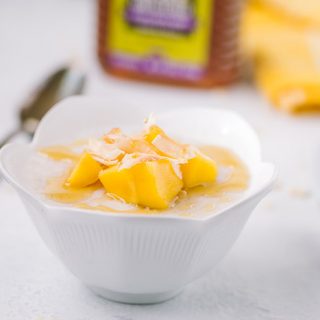 Yield: 1 9-inch tart
Coconut Vanilla Bean Panna Cotta
If you are looking for a unique dinner party dessert, look no further than this refreshing coconut vanilla bean panna cotta. Coconut + vanilla bean + honey!
Total Time
5 hours
42 minutes
Ingredients
For the Crust:
½ cup unsweetened coconut flakes
1 ½ cups almond meal/flour
¼ teaspoon salt
2 tablespoons coconut oil
1- 2 tablespoons Aunt Sue's Raw and Unfiltered Wildflower Honey
For the Panna Cotta:
1 (1/4 ounce) envelope unflavored powdered gelatin
1 (13.5-ounce) can full-fat coconut milk, divided
1 cup coconut cream
2 tablespoons Aunt Sue's Raw and Unfiltered Wildflower Honey
2 teaspoon vanilla bean paste
1/4 teaspoon fine salt
Toppings:
Honey drizzle
Fresh mangoes
Toasted coconut flakes
Crushed pineapples
Instructions
To make Tart Crust:
Heat oven to 350 degrees F. In the bowl of a food processor, combine the coconut flakes, almond meal and salt. Pulse to combine. In a small container, melt the coconut oil and honey together. Pour into the food processor and pulse until well mixed.

Press the crust into the bottom and sides of a 9-inch tart pan. Use the flat bottom of a cup to press hard.

Bake crust in heated oven for 10-12 minutes until golden and firm. Remove from oven and let cool completely.
To make the Panna Cotta:
In a small bowl, place the gelatin. Add in ½ cup of the coconut milk to the gelatin and whisk until combined. Let sit for at least 5 minutes to bloom.

In a small saucepan set over medium heat, combine the rest of the coconut milk, coconut cream and honey. Whisk to combine. Bring to a low simmer, stirring occasionally. Remove the saucepan from heat and stir in the vanilla bean paste and salt.

Slowly whisk in the gelatin mixture into the warm milk mixture until the gelatin dissolves.

Pour the mixture into the tart pan. If you have leftovers, you can pour into a ramekin mold.

Refrigerate until set, about 4-5 hours and preferably overnight.

Serve panna cotta chilled. Top with fresh mangoes, pineapples, toasted coconut and honey drizzle.
Notes
You can skip the crust all together and pour the panna cotta into greased ramekins. Chill overnight. When ready to serve, unmold from ramekins onto a plate.
Panna Cotta filling adapted from The Kitchn
Recommended Products
As an Amazon Associate and member of other affiliate programs, I earn from qualifying purchases.