Bird's Nest Funfetti Sugar Cookies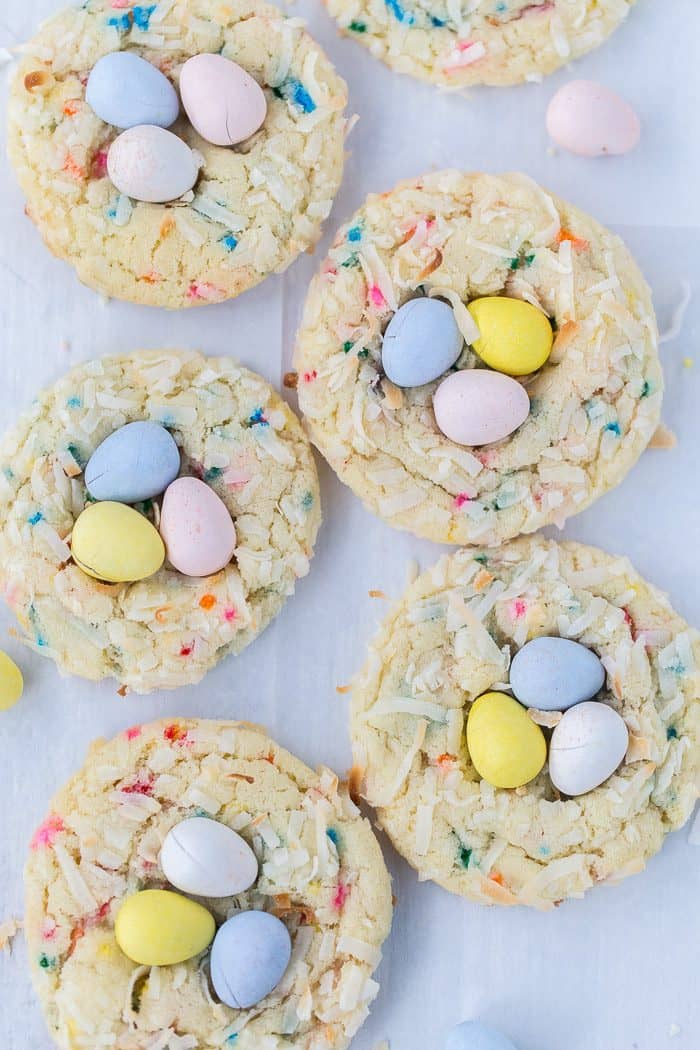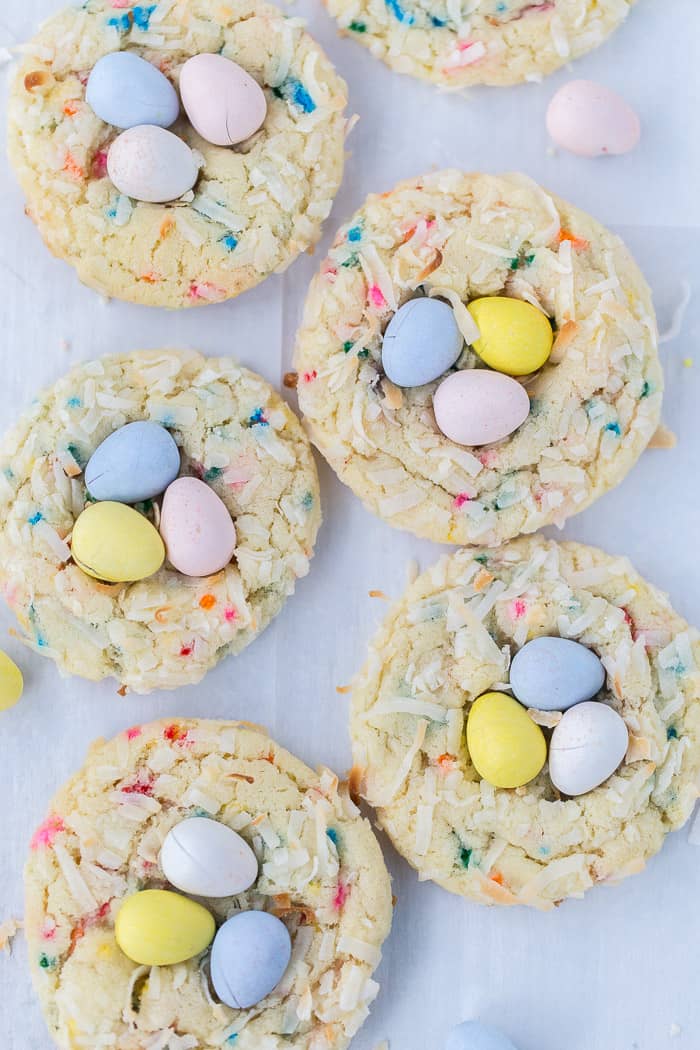 Hi friends! With Easter just around the corner and Spring in the air, I think we are due for a fun Easter recipe. These bird's nest funfetti sugar cookies will be perfect for your Easter baskets and celebrations. They are easy to make and great for kids to help with.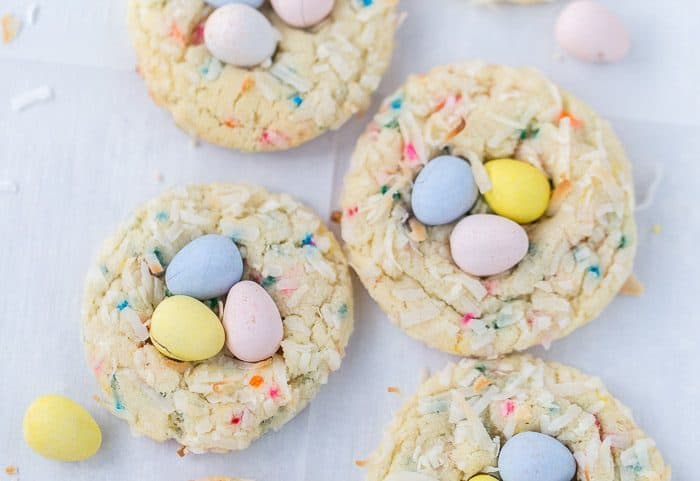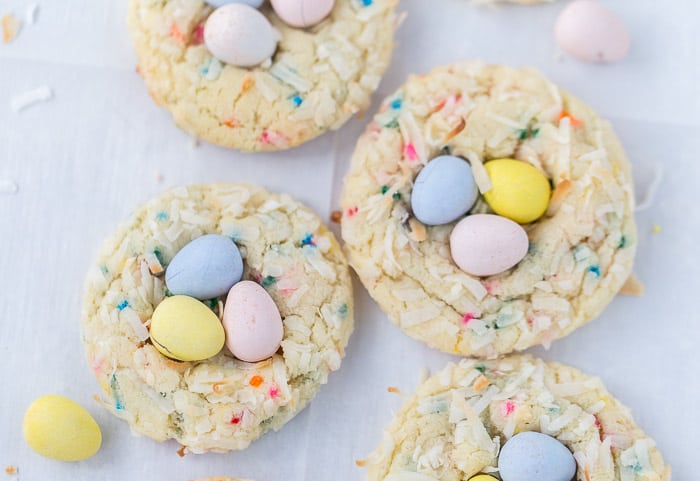 Now that I have two kids, I am nothing but short on time. So when thinking of an Easter treat to make for my toddler's pre-school class, funfetti cookies sounded like a great idea. But as we made a funfetti sugar cookies recipe that I had bookmarked, my toddler suggested we roll the cookie dough in more sprinkles. I guess he had too much fun adding sprinkles to the cookie dough that he wanted more. So I obliged and we used some pastel sprinkles as well as some coconut flakes. It's definitely a fun activity with kids.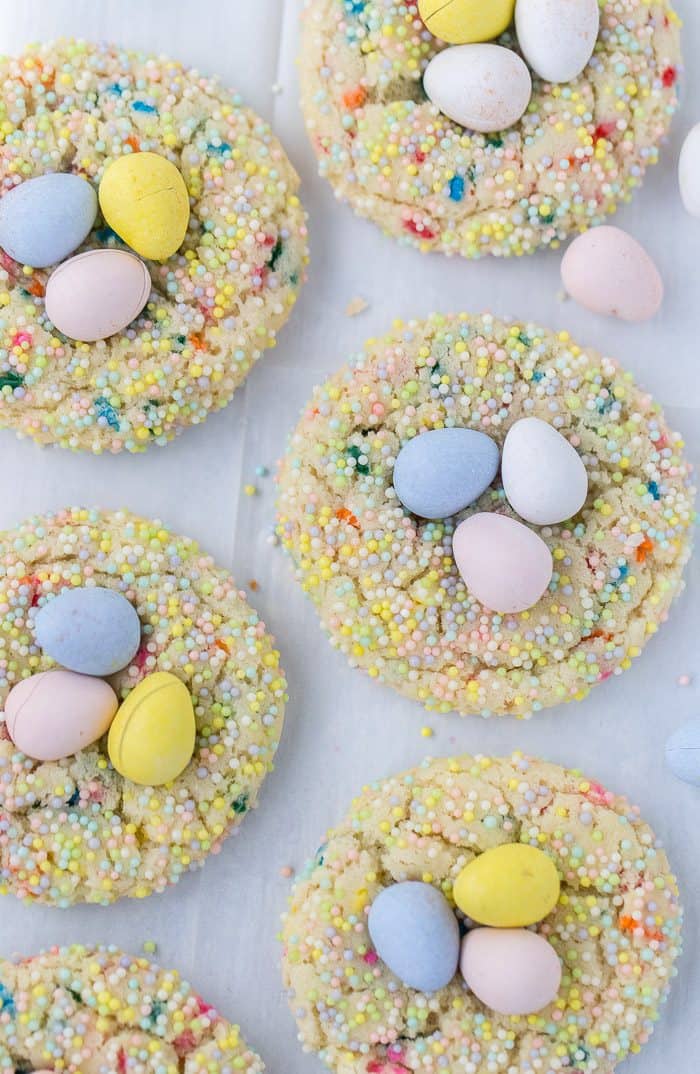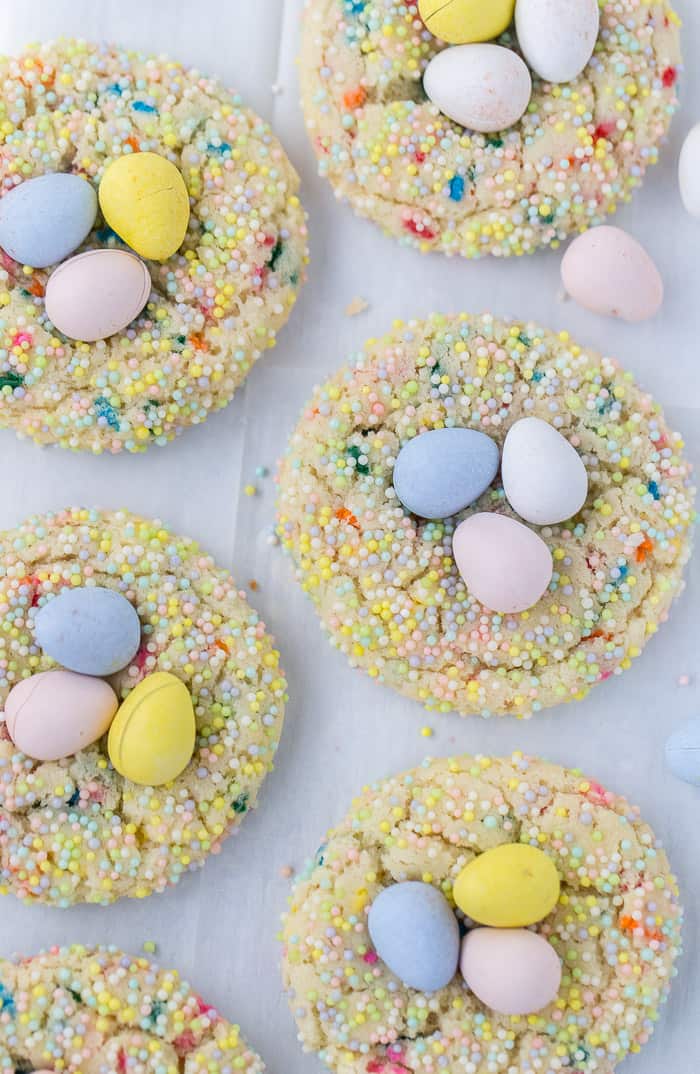 As for the cookies, this is a great recipe for sugar cookies. Sugar cookies can be a hit or miss when you make them from scratch but this recipe checks off all the must-haves. It is crispy on the outside, soft and buttery on the inside. The kind of cookie that will be in your cookie tin for special occasions. I love that it is versatile and can be dressed up like these bird's nest or be simply left as funfetti cookies for all to enjoy.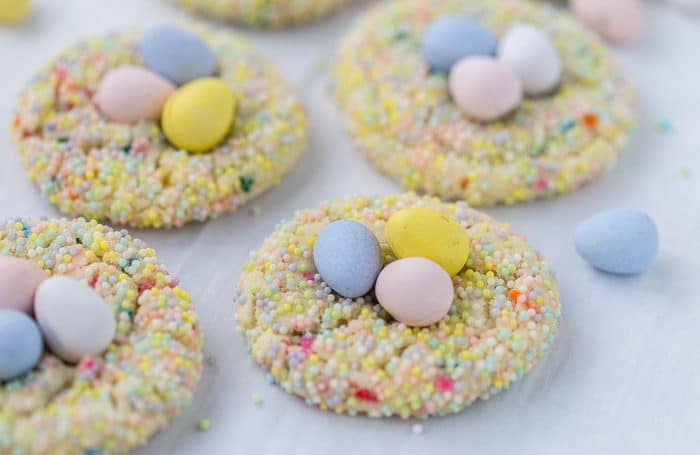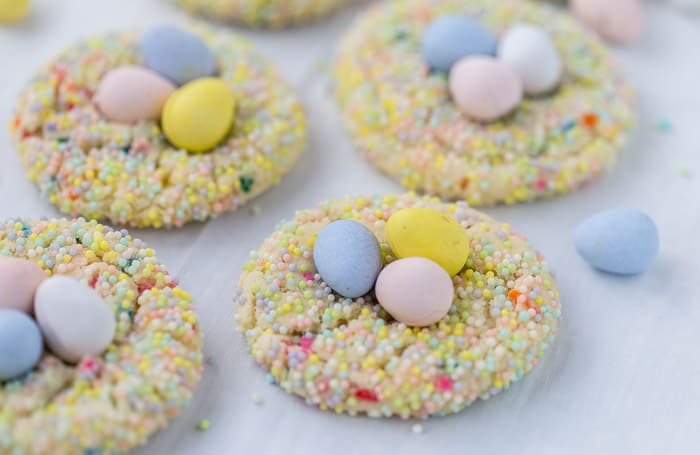 As you deck your Easter baskets with treats, be sure to add these Bird's Nest funfetti sugar cookies to your baskets. They are a sweet treat that will be a hit with kids and adults alike.
Hope you are all enjoying the start of Spring! If you are looking for more Easter recipes, you would like this collection of my favorite Easter recipes I published last week.
Happy Spring Baking 🙂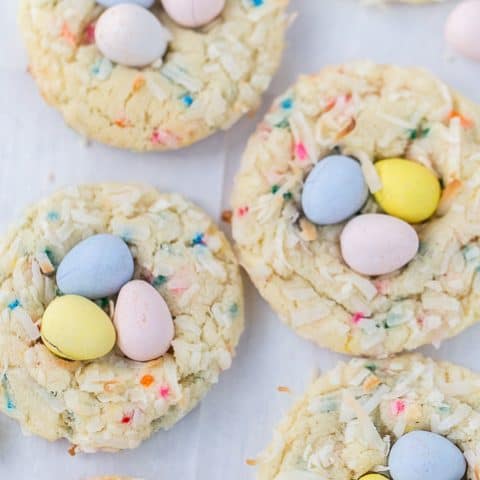 Yield: ~18 cookies
Funfetti Sugar Cookies
These Bird's Nest Funfetti Sugar Cookies are perfect for your Easter baskets. Soft, buttery funfetti cookies rolled in pastel sprinkles and coconut.
Prep Time 20 minutes
Cook Time 11 minutes
Total Time 31 minutes
Ingredients
1 ¾ cup all-purpose flour
1/8 teaspoon cream of tartar
1/8 teaspoon baking powder
½ teaspoon baking soda
¼ teaspoon kosher salt
¼ cup rainbow sprinkles
¾ cup (12 tablespoons) unsalted butter
¾ cup granulated sugar
2 teaspoons pure vanilla extract
1 large egg, room temperature
Toppings:
Pastel Easter sprinkles
Shredded coconut flakes
Mini Cadbury eggs
Instructions
Preheat oven to 350 degrees F. Line two baking sheets with parchment paper.
In a medium bowl, whisk together the flour, cream of tartar, baking powder, baking soda, salt and sprinkles.
In the bowl of a standing mixer, beat the butter and sugar on medium speed until creamy, about a minute or two. Beat in the vanilla extract until combined. Add in the egg as well.
Add in the flour mixture and mix until just combined.
Using a medium cooking scoop, scoop out dough onto prepared baking sheets. Roll each dough in either the pastel Easter sprinkles or the shredded coconut. Space the cookies about 2-inches apart. Bake cookies until golden brown, about 11-12 minutes.
Immediately out of the oven, place 2-3 mini Cadbury eggs in the center of each cookie. Let cool. Enjoy!
MAKING THIS RECIPE? Share it with us on Instagram using #aclassictwist so we can see what you are baking up in your kitchen!