Chocolate Coconut Tart (with Video)
A decadent gluten-free and vegan chocolate coconut tart that starts with a chewy coconut almond crust and is filled with creamy chocolate coconut ganache.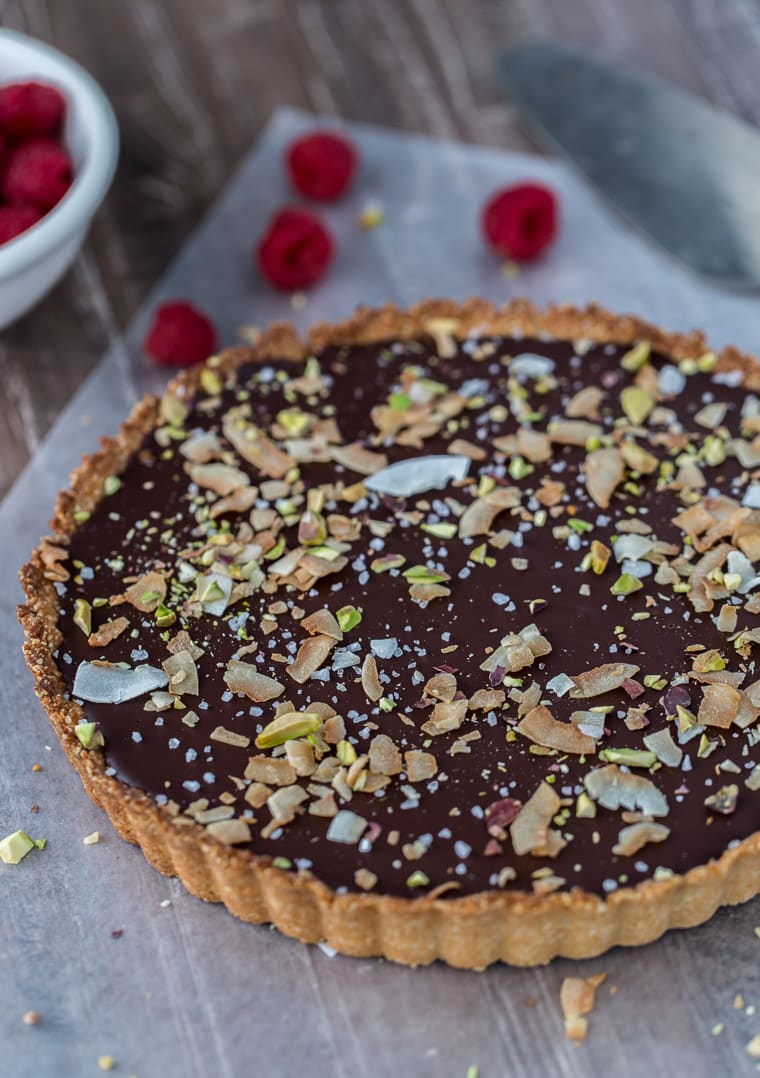 I have some recipes here on the blog that are oldies but goodies. This chocolate coconut tart is one of them and it is getting a makeover today. I made it a few years ago when I was guest posting over on The Daily Dietribe but it has become a favorite for my family that I keep remaking it and tweaking it each time. And it was about time I updated the recipe and also those awful pictures. I can't believe this was stellar work in 2013. Oh how much I've grown 🙂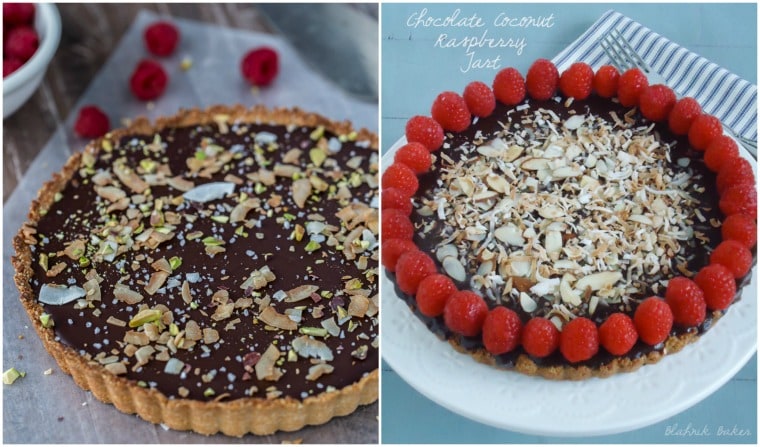 The tart is a classic chocolate ganache tart. It's gluten-free, dairy-free, paleo and vegan. But don't be turned off, as everything about it is delicious. Starting with a coconut almond crust that's crunchy and good. Over the years, I've experimented with coconut flour in the crust and it adds a great texture to it and of course a bit more coconut flavor. So that's the version that is below. If you don't want or have coconut flour, feel free to substitute with almond meal/flour.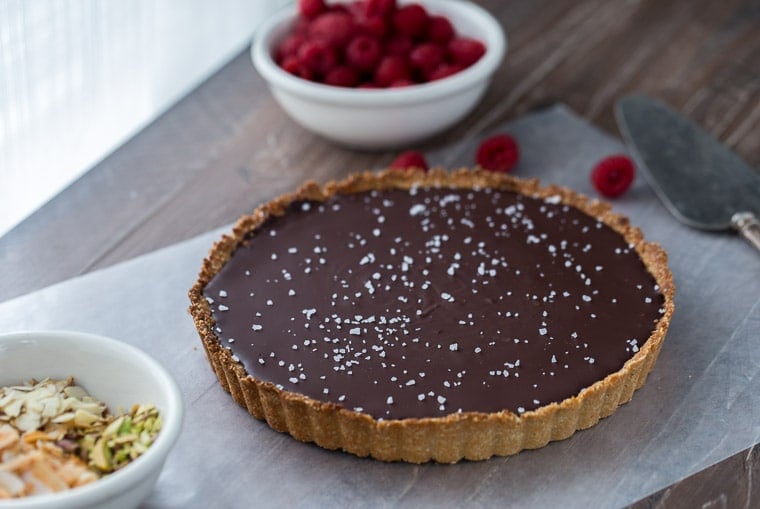 The filling is pure chocolate ganache and a good quality chocolate is necessary to make the filling great. I love using Ghirardelli 60% Bittersweet Chocolate Bars for this. Sometimes I do mix it with Semi-sweet chocolate depending on the audience that is getting the tart. Either way, it is a rich chocolate filling made creamy with coconut milk.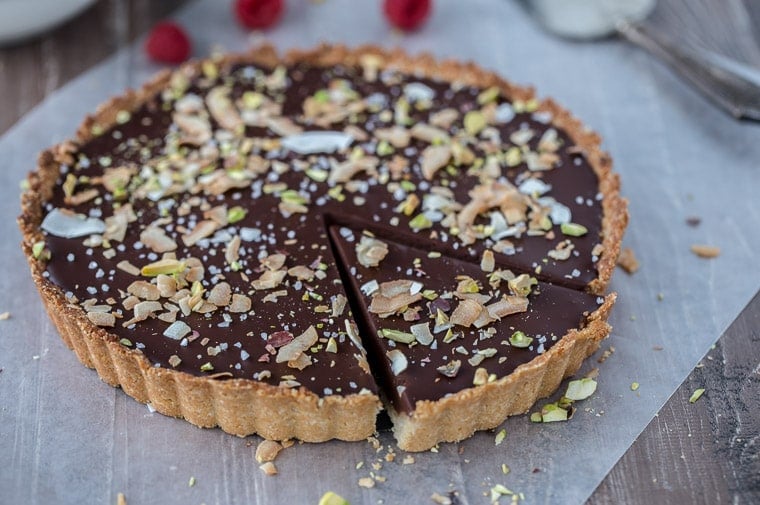 Once set, the tart is ready to be adorned with any kind of toppings. Here I went with toasted coconut flakes, coarse sea salt, pistachios, and raspberries. But feel free to use your favorites and anything you think goes with chocolate.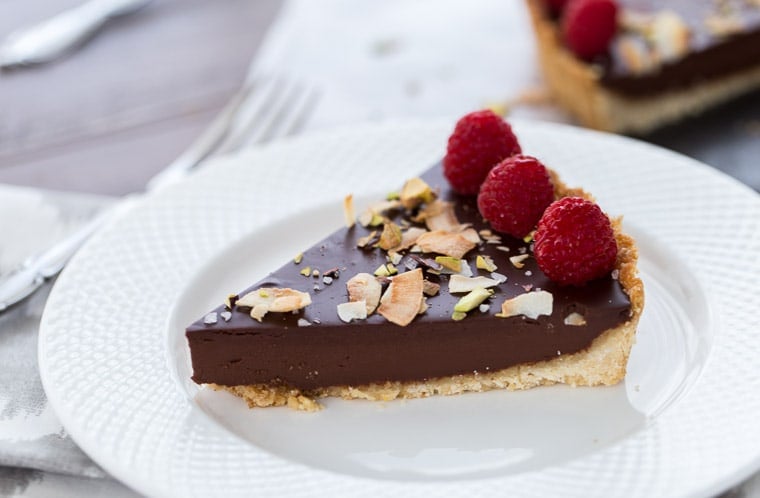 Hope you enjoy this recipe. It is truly a family favorite and I am glad I took the time to revisit it and bring some new life to it.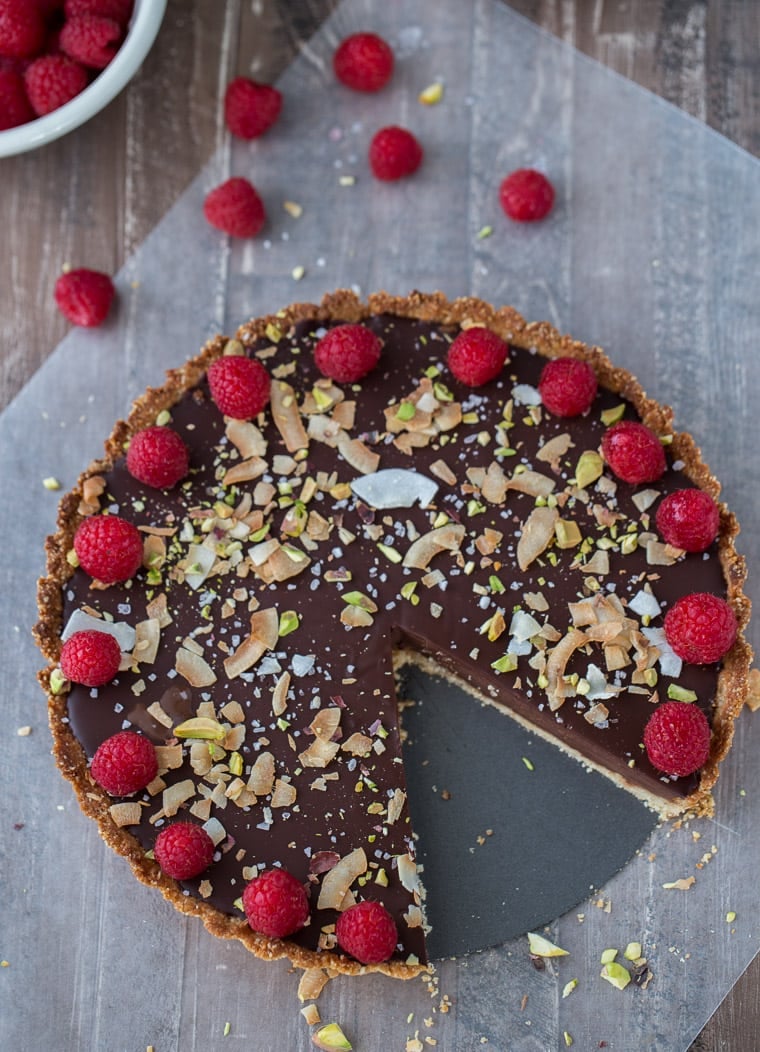 If you are making this recipe, check out the comments from folks who have actually made it and a few more from Pinterest (https://www.pinterest.com/pin/102527328997153051/activity/tried).
Here's a video tutorial for you as well. It's a very easy tart to make and I can see so many ways to customize it. Enjoy!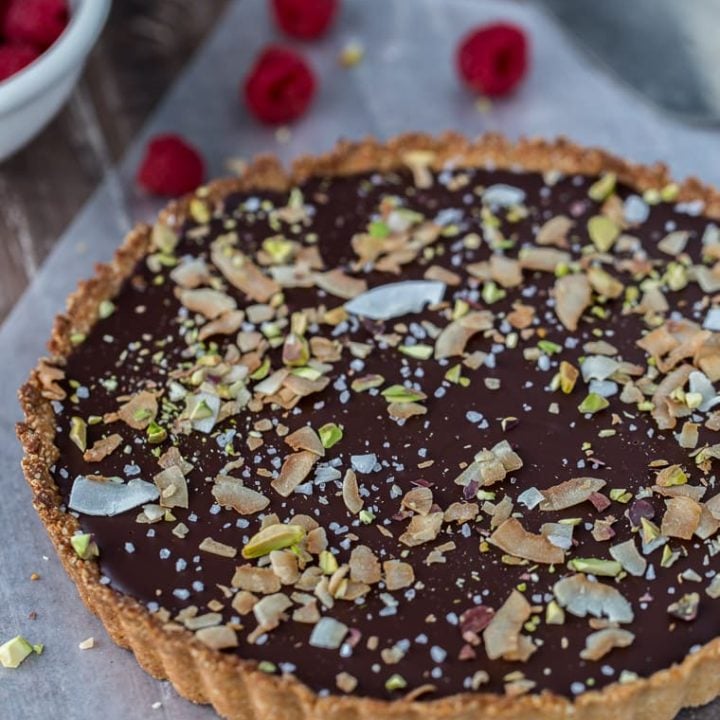 Yield: 1 9-inch tart
Chocolate Coconut Tart with Raspberries and Almond
A decadent gluten free and vegan chocolate coconut tart that starts with a chewy coconut almond crust and is filled with creamy chocolate coconut ganache.
Total Time
3 hours
42 minutes
Ingredients
For the Crust:
½ cup unsweetened coconut flakes
1¼ cups almond meal/flour
¼ cup coconut flour (optional, if you do not have coconut flour substitute with ¼ cup almond meal)
¼ teaspoon salt
2 tablespoons coconut oil
2 tablespoons agave syrup
For Chocolate Filling:
1 cup canned coconut milk
12 ounces bittersweet chocolate, finely chopped (I like using 8 ounces bittersweet and 4 ounces semi-sweet chocolate)
1 teaspoon pure vanilla extract
For the Toppings:
½ cup unsweetened coconut flakes, toasted
½ cup sliced almonds, toasted
¼ cup pistachios (optional)
1 cup fresh raspberries
Coarse sea salt (optional)
Instructions
To make Tart Crust:
Heat oven to 350 degrees F. In the bowl of a food processor, combine the coconut flakes, almond meal, and salt. Pulse to combine. In a small container, melt the coconut oil and maple syrup together. Pour into the food processor and pulse until well mixed.
Press the crust into the bottom and sides of a 9-inch tart pan. Use the flat bottom of a cup to press hard.
Bake crust in the heated oven for 10-12 minutes until golden and firm. Remove from oven and let cool completely.
To make Filling:
In a medium mixing bowl, place the chopped chocolate and set it aside. In a small saucepan, bring the coconut milk to boil gently. Pour the milk over the chopped chocolate and let stand for 2 minutes before stirring until smooth and creamy. Whisk in the vanilla extract.
Pour the chocolate ganache into the cooled tart shell. Chill until set, at least three hours or overnight.
Top with toasted coconut flakes, almonds, pistachios, coarse salt, and fresh raspberries.
Store leftovers refrigerated for up to one week.
Recommended Products
As an Amazon Associate and member of other affiliate programs, I earn from qualifying purchases.
Tools I used in this recipe: (Some affiliates links included)