Red Velvet Donuts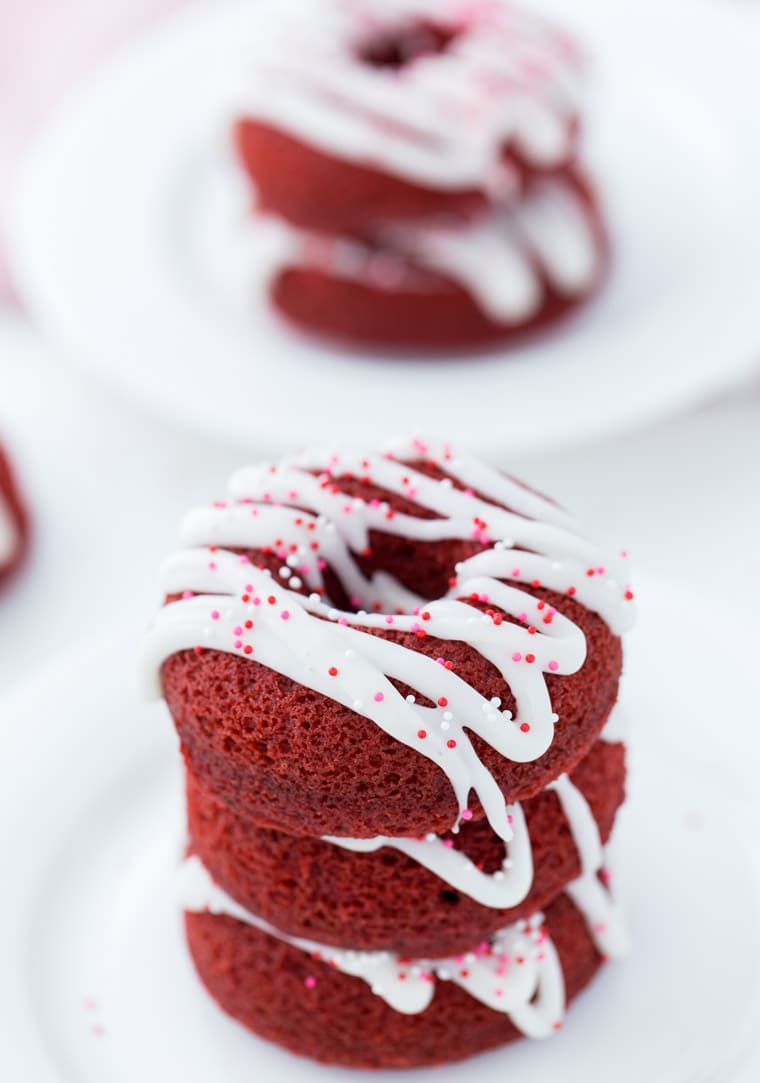 Happy Galentine's Day ladies!! Yes, you fabulous lady reading this. These red velvet donuts were made in your honor and celebrating the amazingness that is you and your support of my little space on the internet. I am thank you for each and everyone of you 🙂
I am joining a few blogger gal pals in celebrating Galentine's Day! Thank you Nancy and Courtney for hosting this party and reminding us to take a break and to celebrate and support all the wonderful women in our lives.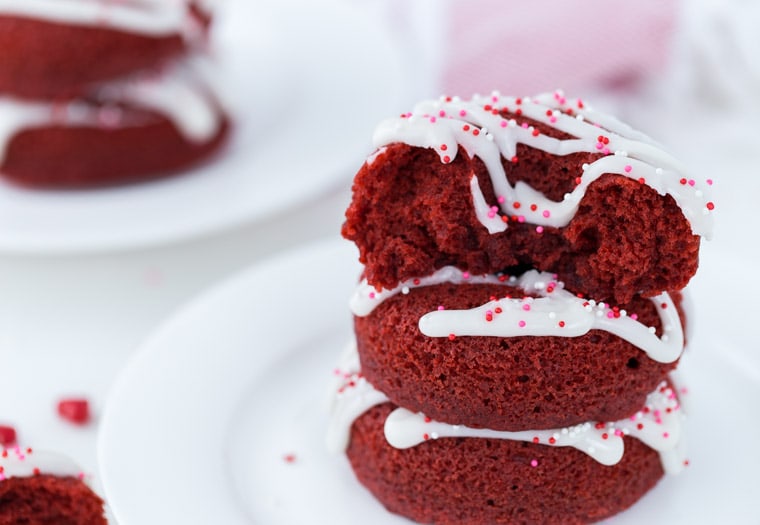 What's Galentine's Day? Some of you may have no idea so here's Leslie Knope (Parks & Rec) to explain: "Oh, it's only the best day of the year. Every February 13th, my lady friends and I leave our husbands and our boyfriends at home, and we just come and kick it, breakfast-style. Ladies celebrating ladies. It's like Lilith Fair, without the angst. Plus frittatas." Got it? It's celebrating the wonderful women in our lives and also recognizing that we need to support each other.  All over brunch with these red velvet donuts.
Like most of my donut recipes on the blog, these babies are baked and are pretty much an excuse to eat cake for breakfast or brunch. With the classic red velvet flavor hiding some chocolate, who can say no to that first thing in the morning?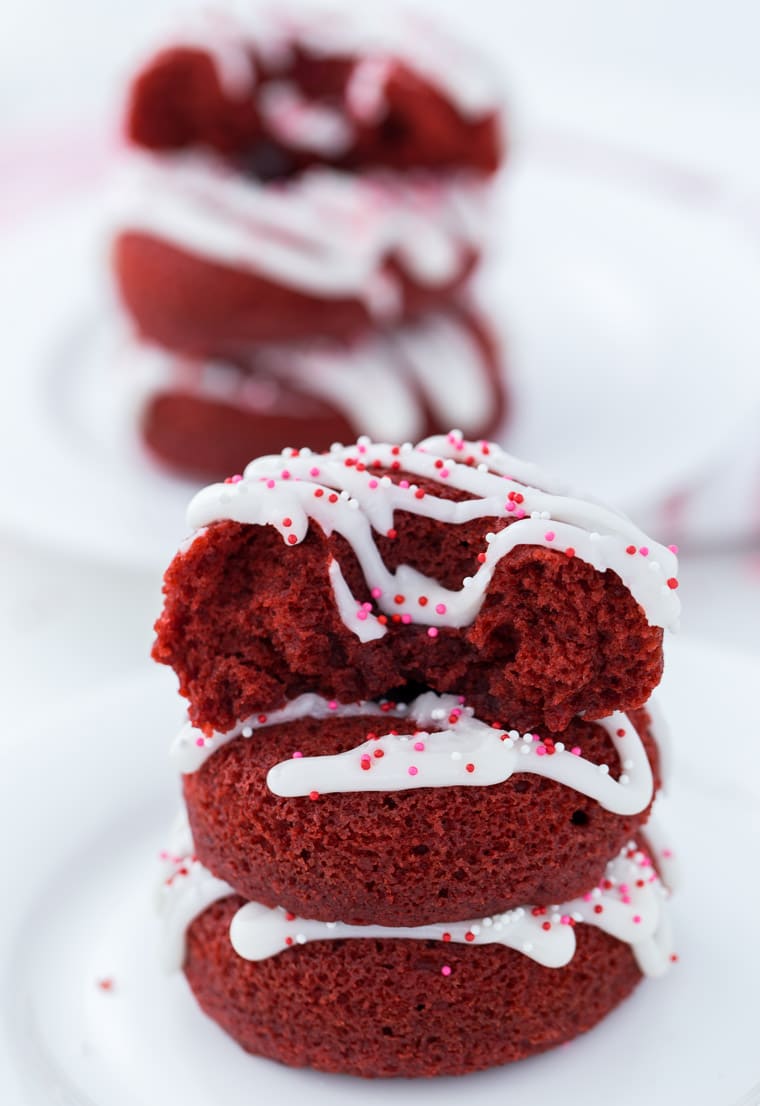 In the spirit of Galentine's Day, I am taking this time to THANK all of you wonderful women in my life. Without you, I cannot be the daughter, sister, wife, mother or friend I am. I rely on your support, advice, friendship and love daily to make it through. You all know who you are and I appreciate you 🙂
Now, go make these donuts for your gal pals and be sure to let them know you are there for them.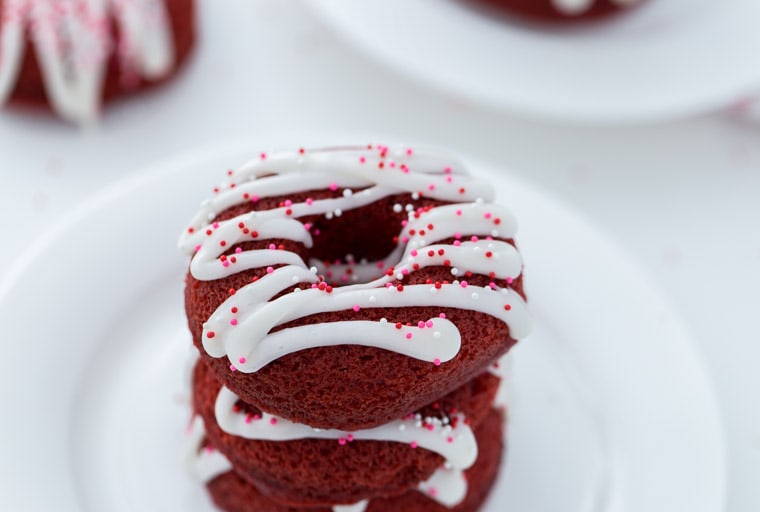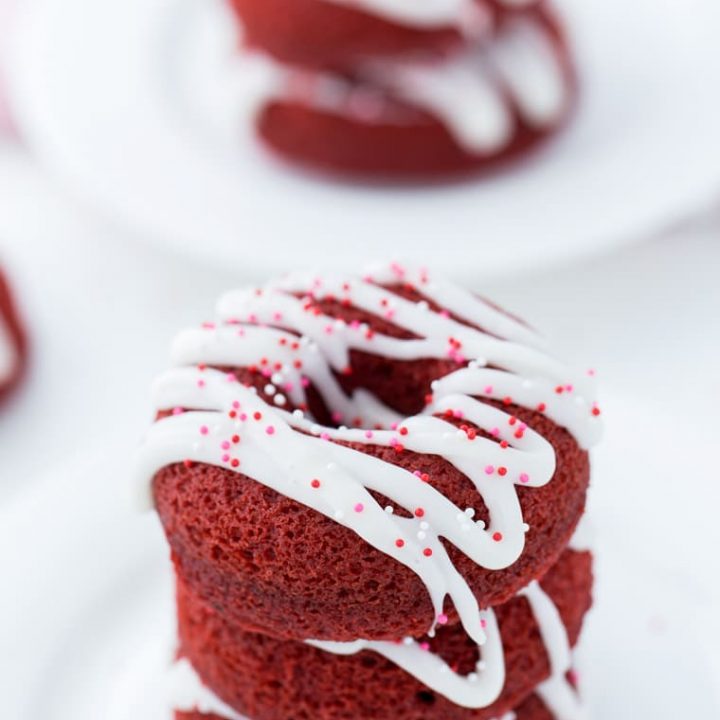 Yield: 8 donuts
Red Velvet Donuts
Prep Time 20 minutes
Cook Time 10 minutes
Total Time 30 minutes
Ingredients
1 ¼ cups all-purpose flour
1/3 cup granulated sugar
1 teaspoon baking powder
3 tablespoons unsweetened cocoa powder
½ teaspoon salt
⅓ cup buttermilk
2 tablespoons vegetable oil
1 large egg
1 teaspoon vanilla extract
2 teaspoons red food coloring
¼ teaspoon baking soda
2 teaspoons apple cider vinegar
For the glaze:
1 cup powdered sugar
3 tablespoons milk
Instructions
Preheat oven to 375 degrees F. Lightly grease a doughnut pan with baking spray and set aside. In a medium bowl, whisk together the flour, sugar, baking powder, cocoa powder and salt. In a measuring cup, whisk together wet ingredients; buttermilk, oil, egg, vanilla extract and food coloring.
Add the wet ingredients to the dry ingredients and mix until just combined. In a small bowl, combine the baking soda with vinegar and mix. It will bubble. Add this mixture to the batter and mix until combined. Do not over mix as you will have rubbery donuts. Using a small spoon, scoop batter into prepared donut pan, filling each about ⅔ full.
Bake for 8-10 minutes or until the donuts are baked through and spring back when lightly touched. Let cool in pan for 1 minute and then transfer to a cooling rack to cool completely. While cooling, make the glaze.
To make glaze, combine the powdered sugar and milk until runny. Spoon glaze over cooled donuts and let it set for 10-15 minutes. Decorate with sprinkles.


I'm so happy to be participating in this year's Galentine's Day with these ladies. Check out their recipes below: