Greek Yogurt Cheesecake with Pomegranate Syrup (No Bake)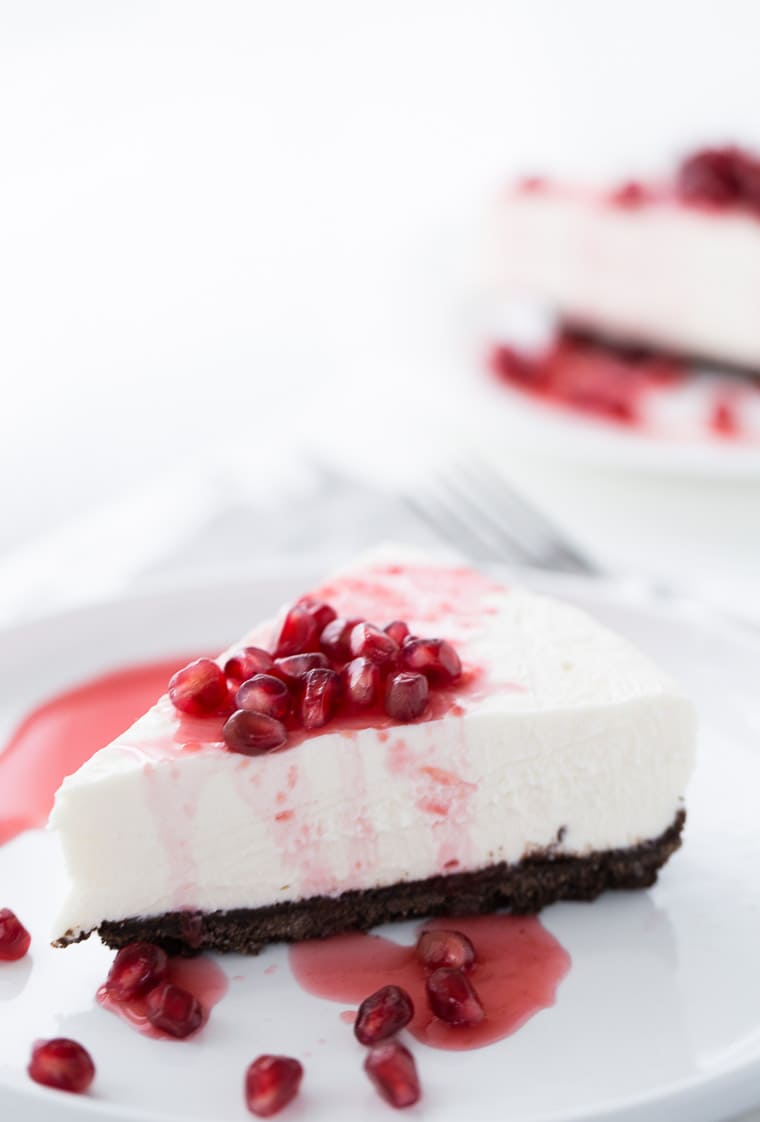 It seems as if I am on a cheesecake kick lately! I've made 4 in the past month when everyone is supposed to be eating healthy 😮 To be honest, I have no idea why the sudden rise in cheesecake recipes other than I make what I feel like. So far you've only seen one, this mini red velvet cheesecake  which you should make  for your Valentine, but the others are on their way starting with this Greek Yogurt Cheesecake with Pomegranate Syrup.
I first saw the recipe as an insert in a magazine. One of those annoying subscribe inserts that falls out every time you open up the magazine. But this time, it has a Greek yogurt cheesecake recipe on one side. I stopped and thought "hmmm, i've never had yogurt in my cheesecake. I bet that's lighter and slightly tangy". And of course I went straight to testing it out!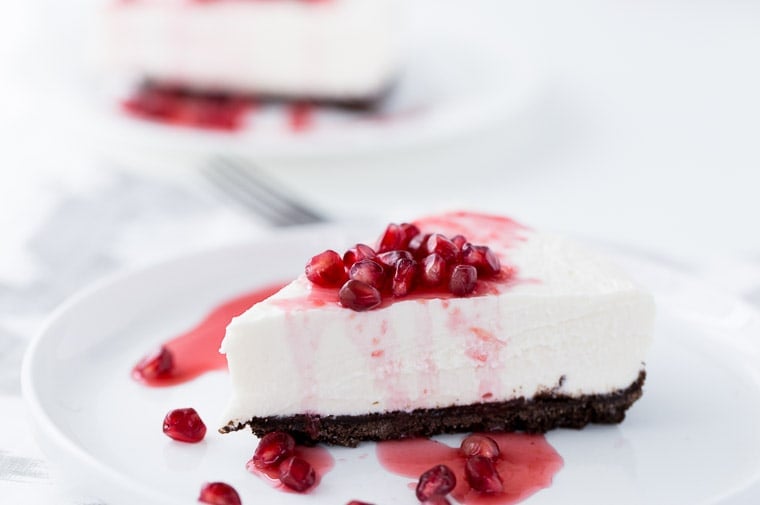 It's exactly as I expected! The cheesecake is lighter than my usual rich cheesecake base but it was for a good reason. The Greek Yogurt gives this cheesecake a slightly tangy flavor and the texture is silky smooth with the cream cheese. To make it "healthier" (because some people roll that way!), I used reduced fat cream cheese and I couldn't tell a difference in the silky texture.
I think the killer here is that pomegranate syrup to top off a slice. It's sweet and can be made thicker than pictured…I was not too patient when finishing off the recipe but the taste was still superb.
Wouldn't this be perfect for Valentine's Day?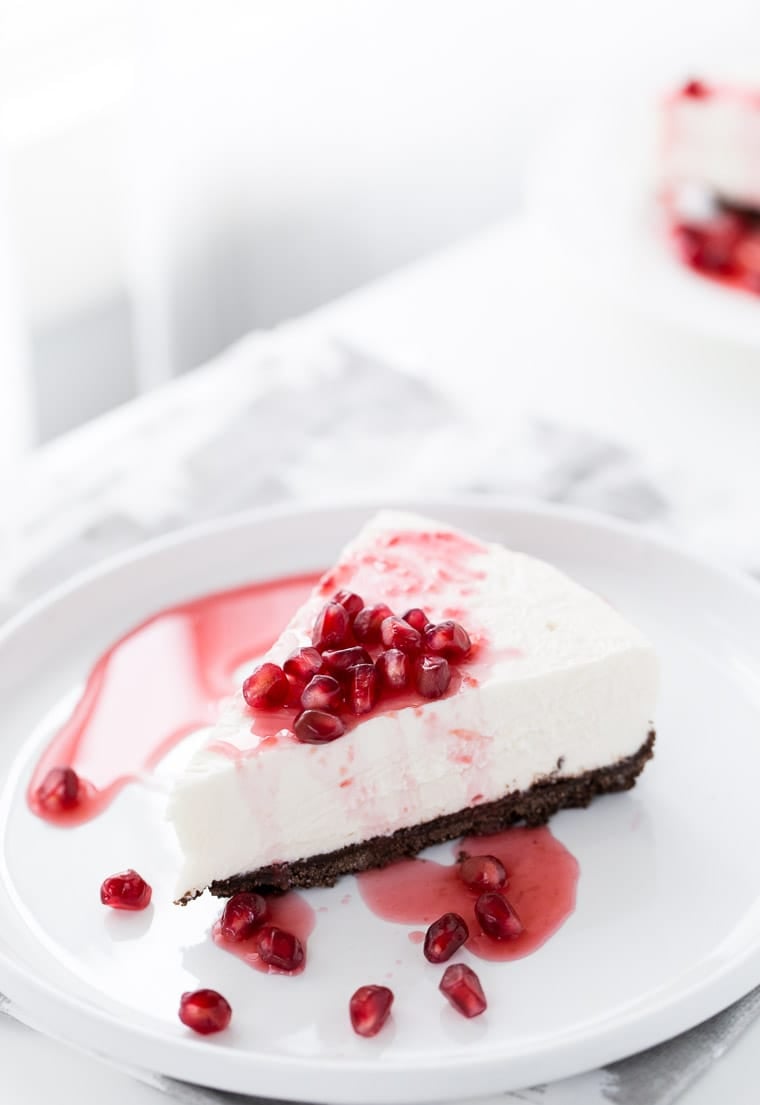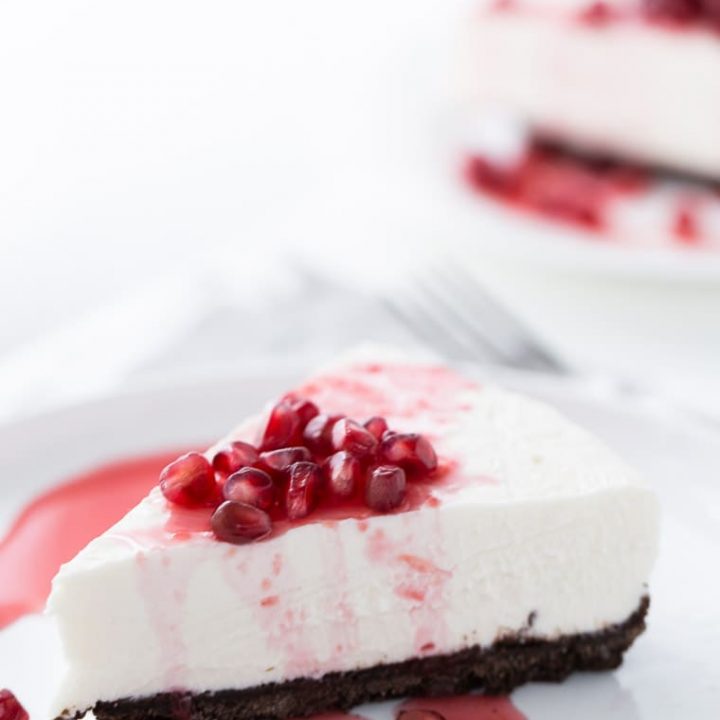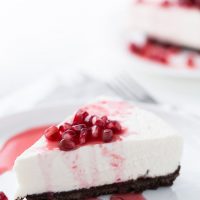 Yield: 1 9-inch cheesecake
Greek Yogurt Cheesecake with Pomegranate Syrup
Ingredients
For Crust:
1 ½ cups graham cracker crumbs
½ cup (1 stick) unsalted butter, melted
¼ cup sugar
Filling:
2 teaspoon powdered unflavored gelatin
24 ounces cream cheese, at room temperature
1 ½ cups plain Greek yogurt
¾ cup granulated sugar
2 teaspoon fresh lemon juice
2 teaspoons vanilla extract
½ teaspoon salt
Pomegranate Syrup
2 cups pomegranate juice (use a flash pasteurized juice not fresh as it could turn brown when cooked)
½ cup granulated sugar
2 tablespoons light corn syrup
Pomegranate seeds (for topping)
Instructions
For Crust:
Spray the bottom and sides of a 9-inch springform pan with nonstick spray. Line the bottom with parchment paper. In a medium bowl, mix together the crumbs, melted butter and sugar. Mix until the mixture holds up together. Spread the crust at the bottom of pan and press into an even layer. Chill the crust until firm, at least an hour. (Alternatively, bake crust at 350 degrees F until golden and firm, about 10-15 minutes. Let cool completely).
For Filling:
Place the gelatin and 1 ½ tablespoon cold water into a small heatproof bowl. Let stand for 5-10 minutes until softened. In the bowl of a food processor, pulse the cream cheese, yogurt, sugar, lemon juice, extract and salt until smooth. Melt the gelatin by setting the bowl over simmering water. Stir until dissolves, about 2 minutes. With the processor still running, drizzle the gelatin into the cream cheese mixture. Pour the cream cheese filling into the prepared crust. Smooth the top and cover tightly with plastic wrap. Chill for at least 6 hours or overnight before serving.
For Syrup:
Combine the pomegranate juice, sugar and corn syrup in a medium saucepan. Bring to a simmer over medium-low heat and simmer, whisking occasionally, until syrup thickens and reduces to ½ cup, about 30-40 minutes. Let cool completely.
Serve cheesecake with syrup and top with fresh pomegranates seeds.