Mini Red Velvet Cheesecake
This Mini Red Velvet Cheesecake is rich and creamy. An easy recipe perfect for your Valentine day celebrations and dinners.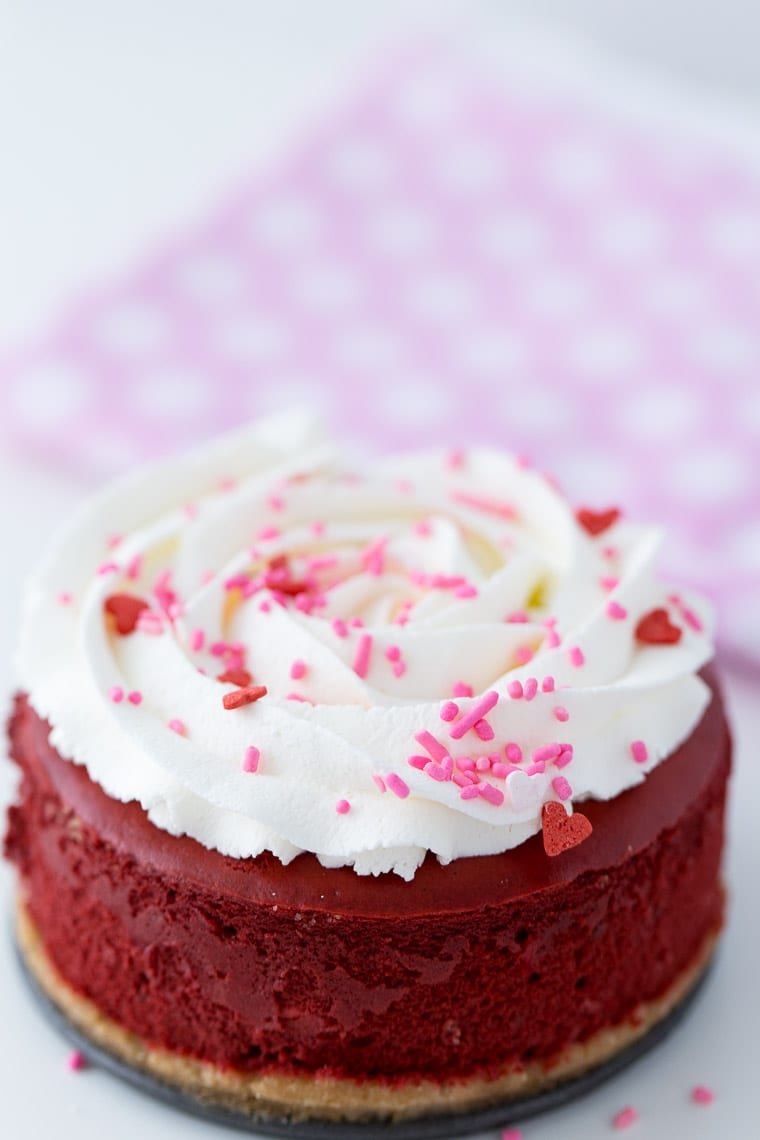 I think it's time we go all red velvet, pink and red hearts around here as Valentine's Day is just around the corner and you need to start thinking of what to make. YES you do!! This mini red velvet cheesecake is a great place to start because after all you want to try the recipe before making it for your Valentine!
We love cheesecake in our house, especially my husband. He loves a rich, decadent cheesecake and I decided it was time to give him a red velvet version since that's our Valentine's Day tradition. Every year since I started baking, he gets a red velvet treat for Valentine's Day. There were these classic red velvet cupcakes, mini red velvet bundt cakes and now these mini red velvet cheesecakes. Can you tell he LOVES red velvet?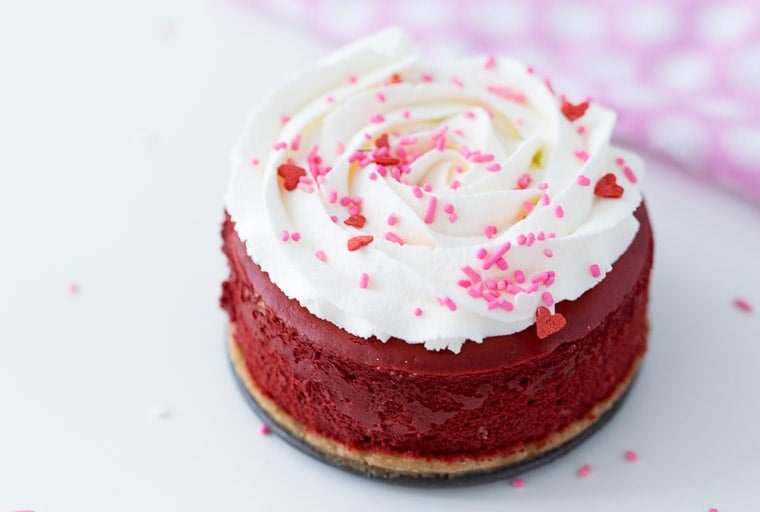 This cheesecake is rich. I am going to put that out there again. It's based off my favorite cheesecake recipe. To make it red velvet, I used buttermilk, added cocoa powder and apple cider vinegar to the base. I also used vanilla wafer cookies for the crust instead of Oreo cookies. Given the creamy, rich and delicious cheesecake, I didn't want to bug it down further with chocolate (YES, I know that sounds ridiculous as I say it out loud). The vanilla crust is perfect here for it! But of course, feel free to use Oreo cookies if you want some chocolate.
I hope you will give this red velvet cheesecake a try! Whether it's for your Valentine or a dinner party, it will be a great hit!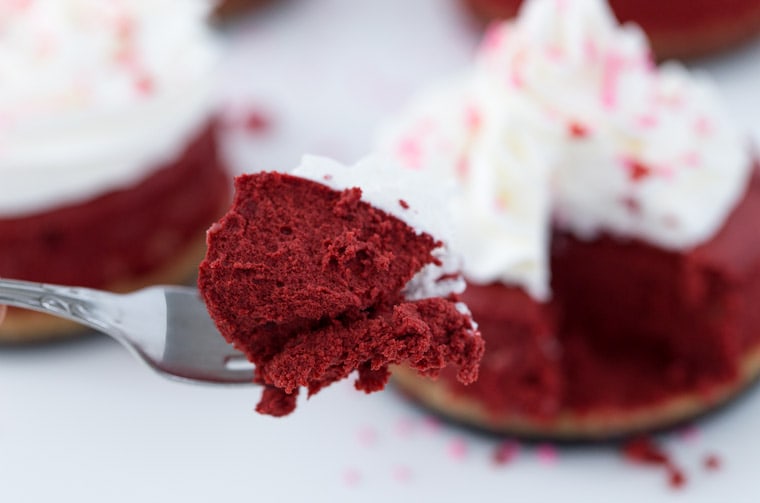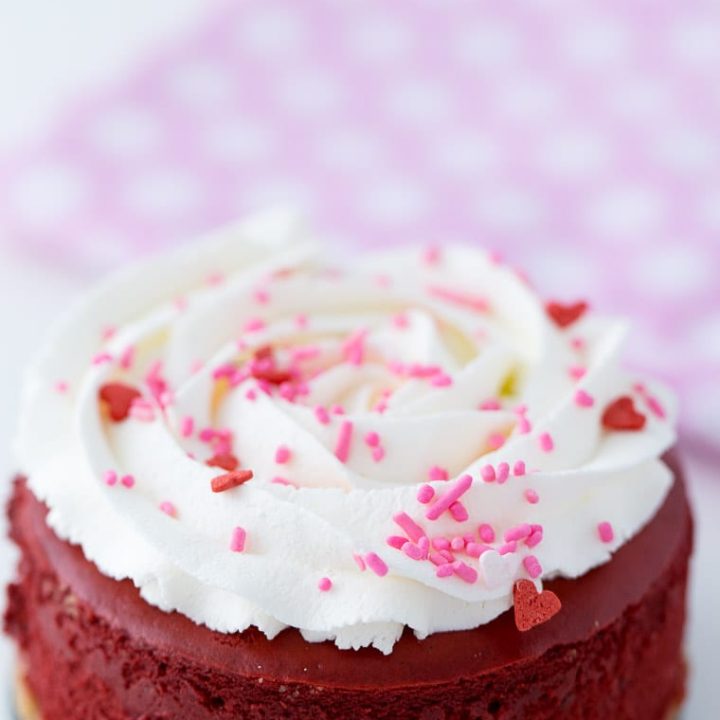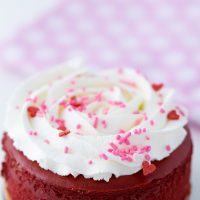 Yield: 4 mini cheesecakes
Mini Red Velvet Cheesecake
Ingredients
For Crust:
• 15-20 Vanilla Wafer Cookies
• a pinch of salt
• 5 tablespoons unsalted butter, melted and cooled
For Filling:
• 2 8-ounce cream cheese blocks, softened at room temperature
• 2/3 cup granulated sugar
• 3 tablespoons unsweetened cocoa powder
• 3 tablespoon buttermilk
• 1 ½ tablespoon all-purpose flour
• 1 ½ teaspoon apple cider vinegar
• a pinch of salt
• 2 teaspoons pure vanilla extract
• 2 eggs, room temperature
• 2 teaspoon red food coloring (or drops of red gel color paste)
Instructions
To make Crust:
Preheat oven to 350 degrees F. Wrap the entire outside of 4 mini springform pans with two sheets of foil. Using a food processor, pulse the cookies into a fine crumb. Add salt and melted butter and process until combined. Transfer the crumbs to the prepared pans and evenly spread it. Use a flat bottom cup and press down on crust to create and even layer. Bake crusts for 8-10 minutes or until golden brown. Let cool while you prepare the filing.
To make Filling:
Reduce oven temperature to 325 degrees F.
In the bowl of an electric mixer, beat the cream cheese on medium speed until smooth and creamy, about 2 minutes. Add sugar and mix until combined, another minute, scraping down bowl as needed. Add in cocoa powder, buttermilk, flour, apple cider vinegar, salt and vanilla extract. Mix well on medium-low speed. Reduce speed to low and add eggs one at a time, mixing each time until combined. Mix filling until smooth for an additional minute.
Divide the filling into the prepared springform pans with crust. Place the mini springform pans into a much larger baking pan. Add hot water into the larger baking pan to reach half way up the side of your springform pans.
Bake cheesecake at 325 degrees F for 30-35 minutes or until the center of the cheesecake slightly jiggles. Then turn off the oven and leave the cheesecakes in the oven for additional 25 minutes. Remove cheesecake from oven and allow to cool at room temperature for at least an hour before chilling. Chill for 6 hours or overnight.
When ready to serve, remove cheesecakes from pan and top with whip cream.