Chocolate Chunk Cookie Dough Truffles
These football chocolate chunk cookie dough truffles are easy, delicious, and perfect for the Big Game! This post is brought to you in partnership with Krusteaz, for whom I am proud to be a brand ambassador. As always, all opinions are 100% mine.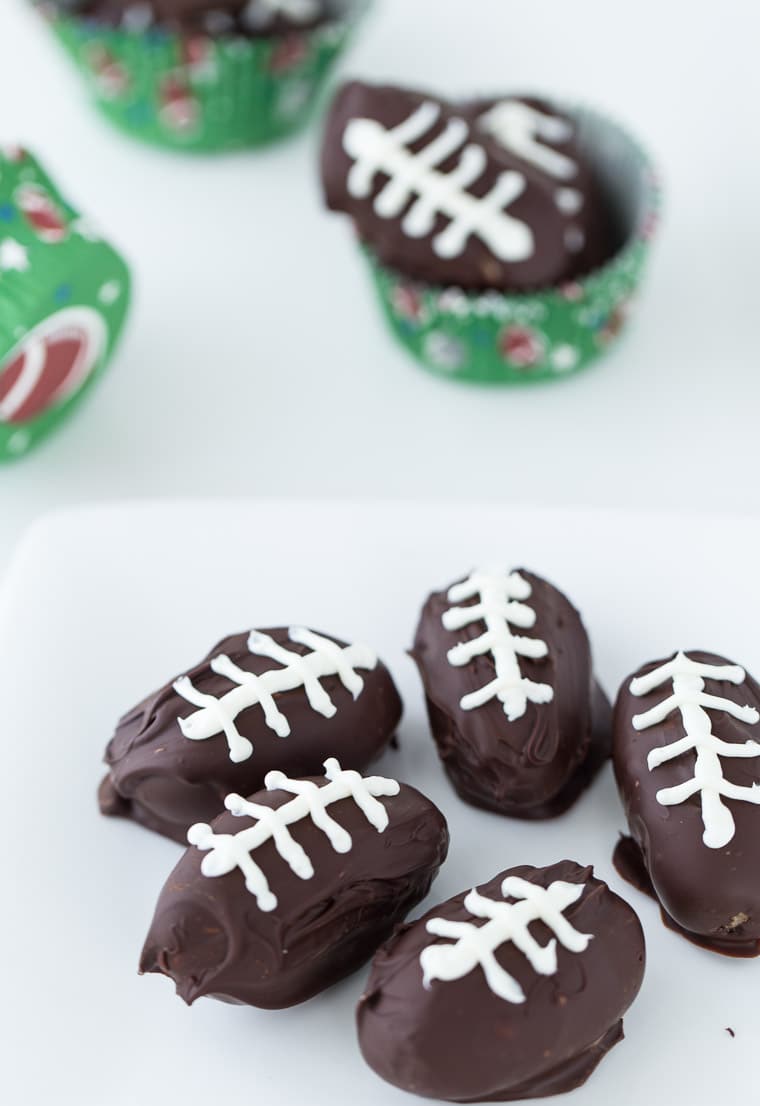 Hi friends! How are you guys? If you were in the path of the storm this past few days, I hope you are safe and warm now. The big blizzard missed us here in Upstate NY, but it was freezing, so we've had a quiet weekend relaxing indoors and making soup to stay warm.
I also whipped up these eggless chocolate chunk cookie dough truffles for the second time! Rumor has it there is a big game coming up, and we all need football-shaped/themed food. I ate my weight in cookie dough and chocolate before shaping a few into footballs.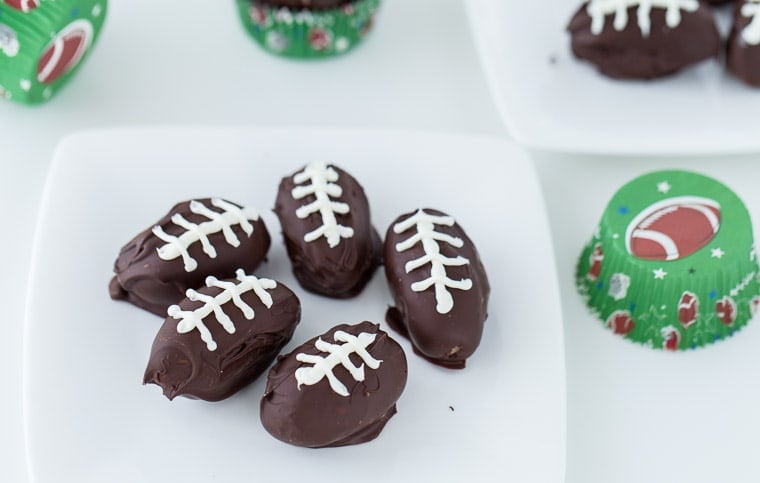 These truffles are easy to make, and I know they go fast at a party. I sent a plateful with my friend last week to a Sunday party, and she said they flew off the plates. I don't blame them, there's nothing like cookie dough and chocolate.
I used my favorite chocolate chip cookie mix from Krusteaz to make the cookie dough here. Leaving out the egg in the instructions kept these safe to eat raw. That just makes it easy for me to eat more without the guilt.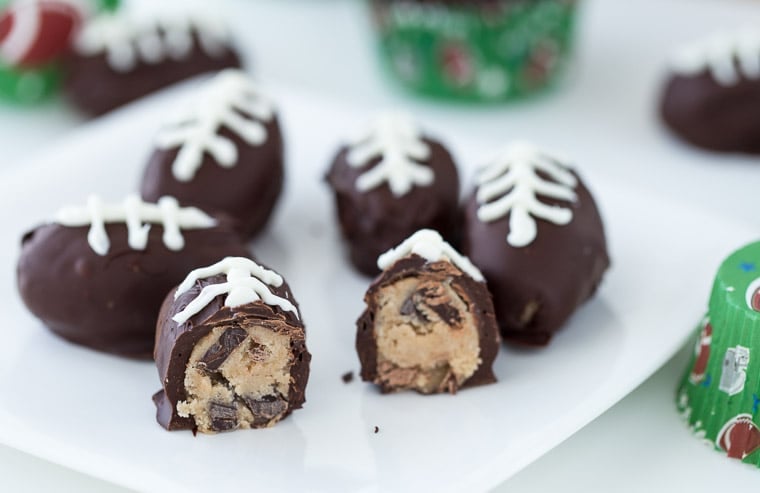 As your prepare for the game, whip up these easy football cookie dough truffles for your guests and try not to eat too many yourself.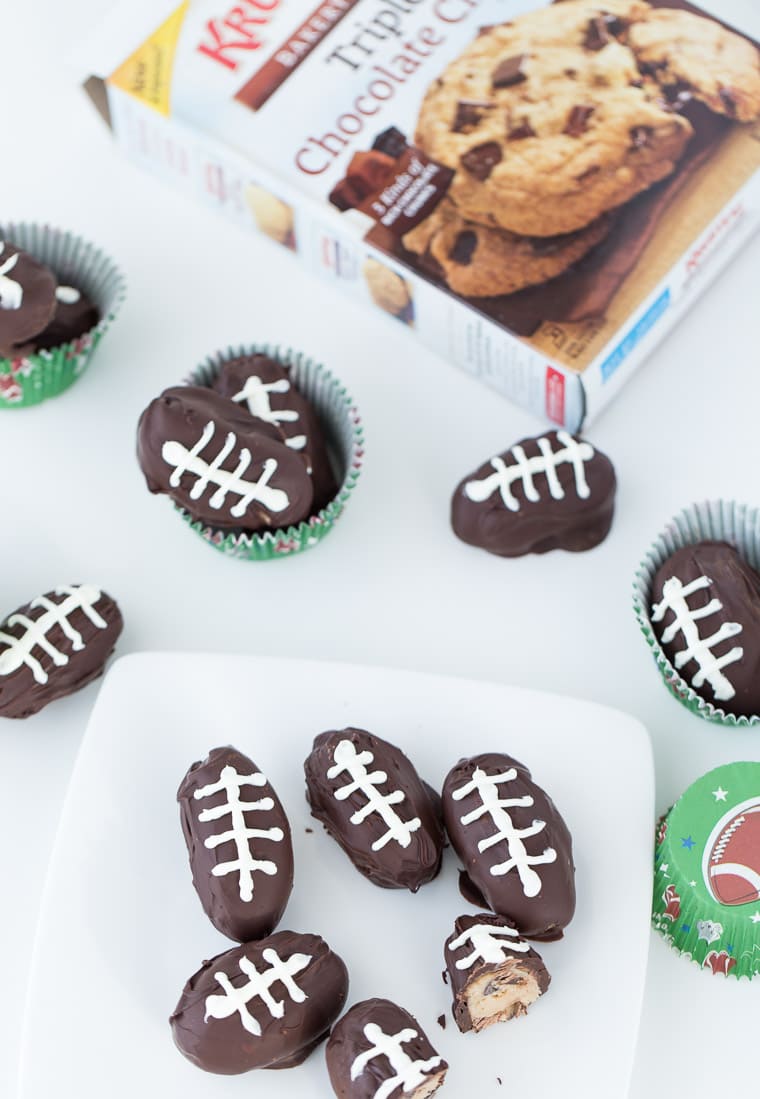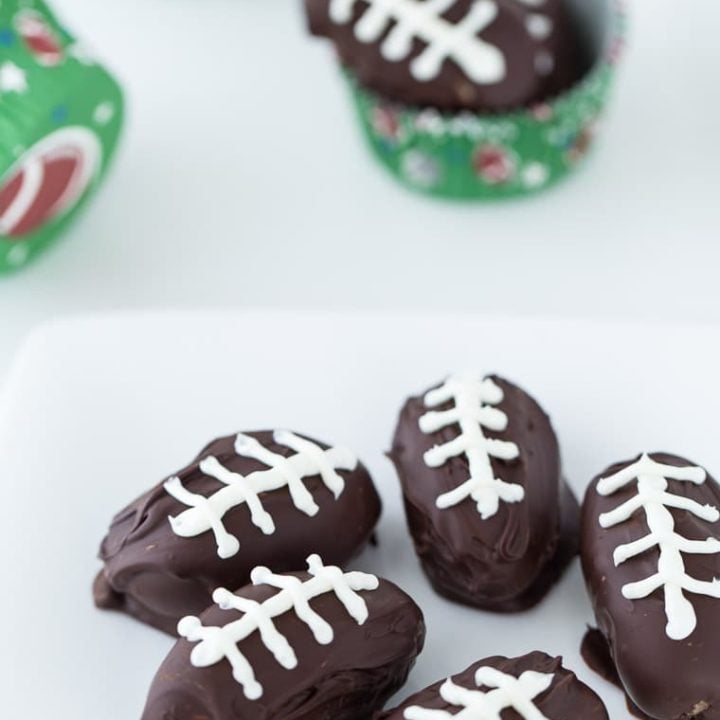 Yield: 20 truffles
Chocolate Chunk Cookie Dough Truffles
Bring these cookie dough truffles to your next football party!
Ingredients
1 box Krusteaz Chocolate Chunk Cookie Mix (or any cookie mix of your choice)
½ cup (1 stick) unsalted butter, softened to room temperature
¼ cup walnuts, finely chopped (optional)
8 ounces semi-sweet chocolate, chopped
2 tablespoons heavy cream (or almond milk)
White icing for topping
Instructions
Line a cookie sheet with parchment paper. Using a hand mixer, cream the butter until light and creamy, about 1-2 minutes on medium speed.
Add in the contents of the box mix and mix on low until just combined. Fold in the walnuts if using.
Roll the dough into a 1 tablespoon-sized ball shaped like footballs. Place on a cookie sheet and chill for at least 30 minutes. If the dough is sticky, flour your hands before rolling.
Combine the chopped chocolate and milk in a microwaveable safe bowl. Melt in the microwave in 30 seconds bursts. Mix until creamy. The quality of your chocolate matters here. Please use a chocolate bar like Ghirardelli or Guittard.
Using a spoon, dip the chilled dough into the melted chocolate, coating each completely. Place dough on the cookie sheet. Chill truffles until chocolate hardens.
Once harden, use the white cookie icing to decorate.
Keep leftovers refrigerated,
Notes
Please use good quality chocolate for dipping.
You can also use chocolate candy melts.
Recommended Products
As an Amazon Associate and member of other affiliate programs, I earn from qualifying purchases.
For more recipe ideas and inspiration, follow Krusteaz on Facebook,Twitter, and Pinterest.