Red Velvet Cupcakes with White Chocolate Cream Cheese Frosting
It doesn't get more classic than a red velvet cupcake for Valentine's Day!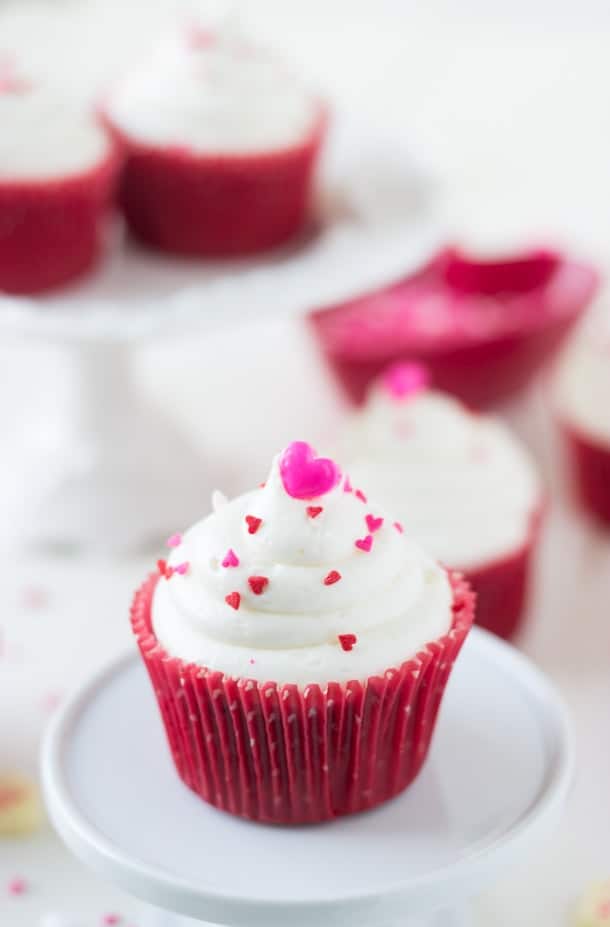 Well hello there! I think it's time we have a classic recipe around here. I love creating and experimenting with new flavors but sometimes a girl just needs a classic dessert whether it's a red velvet cupcake or a real chocolate cake (coming later this week). Nothing beats the classics and why I wanted to stop this week and revisit this baby. Red velvet cupcakes with white chocolate cream cheese frosting!!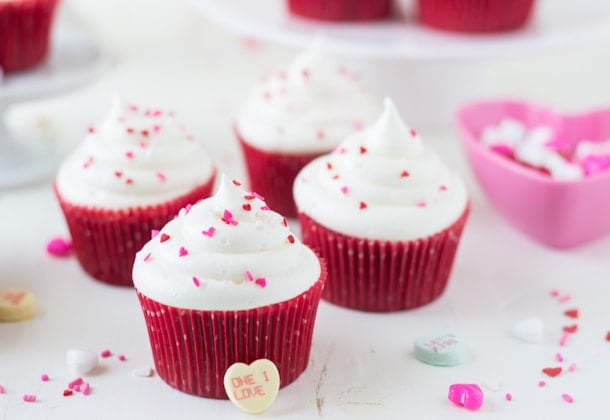 They hail from my absolute favorite red velvet recipe. I found a red velvet cake recipe a while ago that I LOVED and I've been making it for years in various adaptions (mini red velvet bundt cakes seen here). It's actually the first recipe I ever baked. If you've been around here for a while, you know I only started teaching myself to bake about three years ago and this recipe was the first one I tried. Pretty ballsy at the time when I think about it but I'm glad I did. I found Heather's blog and really got inspired to bake from scratch and learn the basics. The rest is history!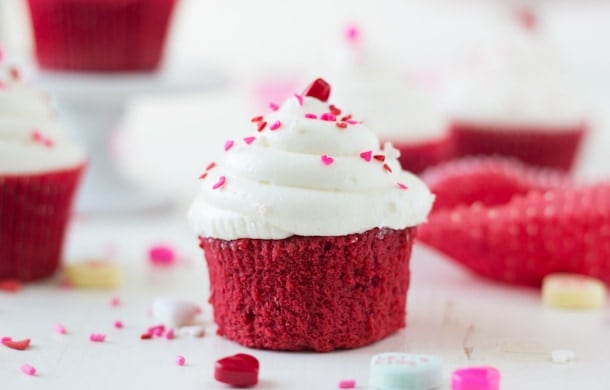 OK these red velvet cupcakes! They are just freaking amazing. Soft, moist and delicious. Just how you want your cupcakes to be and a little extra special with the white chocolate cream cheese frosting. I am not usually a fan of traditional cream cheese frosting (shocker, I know) but I think it's a classic match for red velvet cake so it's a must. But it's even better with some white chocolate. The added sweetness to the tangy cream cheese makes this frosting exceptional.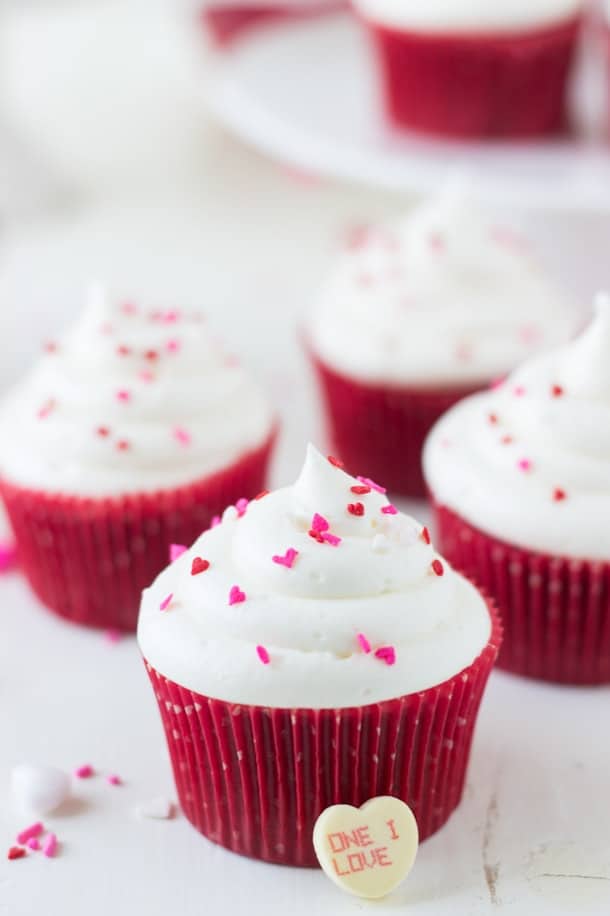 If you are looking for THE Valentine's Day dessert for your special someone, kids or friends look no further than these red velvet cupcakes. They will make everyone happy and feel loved!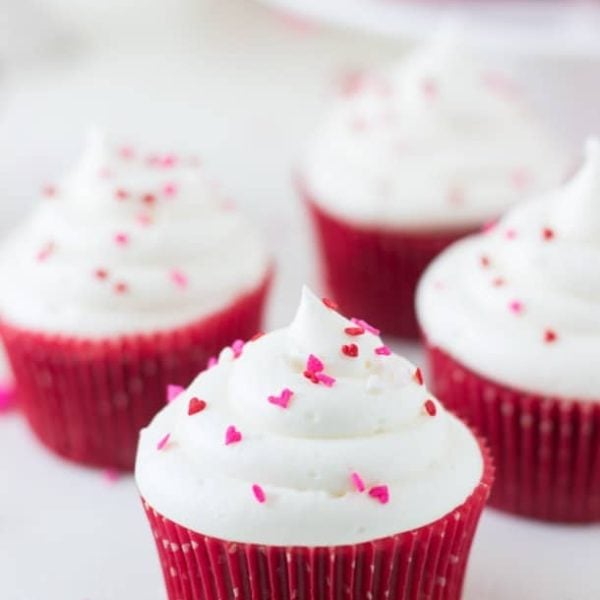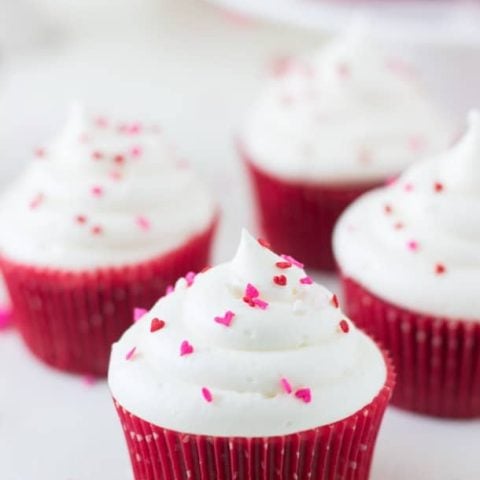 Yield: ~12-15 cupcakes
Red Velvet Cupcakes with White Chocolate Cream Cheese Frosting
It doesn't get more classic than a red velvet cupcake for Valentine's Day!
Ingredients
For the Cupcakes:
1 ¼ cups all-purpose flour
½ teaspoon salt
1 cup granulated sugar
½ cup unsalted butter, softened
1 large egg, room temperature
1 teaspoon pure vanilla extract
½ cup buttermilk, room temperature
2 teaspoons liquid red food coloring
2 teaspoons cocoa powder
¼ teaspoon baking soda
2 teaspoons apple cider vinegar (or regular vinegar)
White Chocolate Cream Cheese Frosting:
8 ounces cream cheese, softened
½ cup (1 stick) unsalted butter, softened
1 teaspoon pure vanilla extract
3 cups sifted confectioners' sugar
2-3 tablespoons milk
4 ounces white chocolate, melted and cooled
Instructions
Preheat oven to 350 degrees. Line a regular muffin tin with cupcake liners.
In a medium bowl, sift flour and salt together, set aside. In the bowl of an electric mixer fitted with the paddle attachment (or using a hand mixer), cream the butter and sugar until light and fluffy, about 3-5 minutes. Add the egg and mix well. Mix in the vanilla extract. Alternate the flour mixture with the buttermilk, beginning and ending with flour mixture.
In a small bowl, mix the red food coloring and cocoa powder until a paste forms. Add this to the batter and mix well. In another small bowl, mix together the baking soda and cider vinegar. It will foam. Add to the batter immediately and mix until well combined in batter.
Divide the batter evenly into the prepared liners, filling about ⅔ full. Bake for 12-14 minutes, or until a toothpick inserted into the center comes out clean. Remove cupcakes from pan and let cool completely on wire racks.
In a large mixing bowl, beat the cream cheese, butter and vanilla until smooth. Add the powdered sugar and milk. Mix on low speed for a minute and then increase to medium-high speed to beat until well combined. Add in the melted chocolate and beat for another minute to combine. Frost cupcakes with buttercream. Decorate with sprinkles and hearts.
Recommended Products
As an Amazon Associate and member of other affiliate programs, I earn from qualifying purchases.
 More Red Velvet Recipes Across the Web:
Baked Red Velvet Donuts – Spoonful of Flavor
Red Velvet White Chocolate Cookies – Mom on Timeout
Mini Red Velvet Cheesecakes – Sally's Baking Addiction
Nutella Red Velvet Poke Cake – Life, Love & Sugar