Roasted Pears with Oat Crumble
Tender, juicy roasted pears are topped with a sweet and crunchy nut-oat crumble and a dollop of mascarpone cheese in this easy, delicious Roasted Pears with Oat Crumble.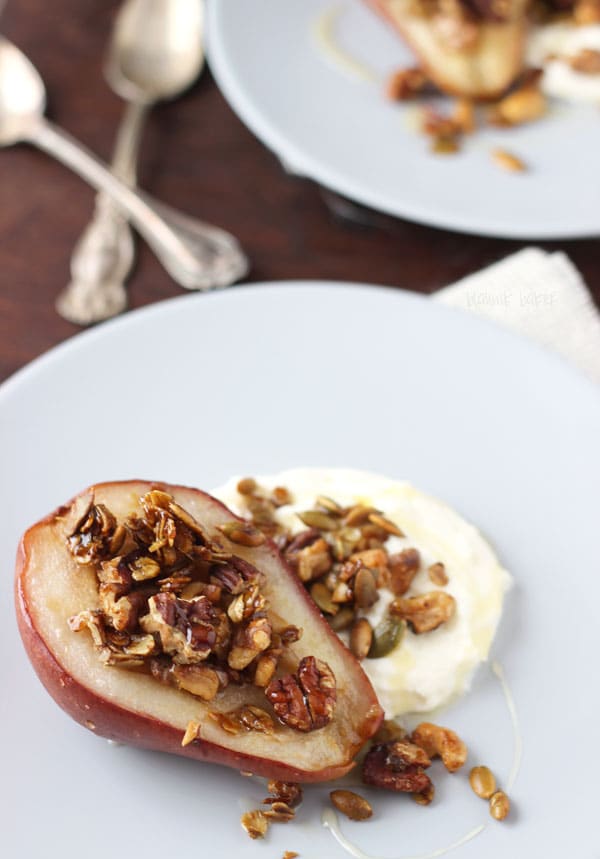 Hey hey!! Today is the first official day of Fall!!!
Yes, I know it has felt like fall for most of us for a few weeks now but I am so excited we can all finally settle in into our boots, scarves, lattes and apple baking…and pumpkins! But let's not forget about the pears. Pears are one of my favorite things to snack on and their abundance in the fall makes me happy. Baked pears are even more amazing as I discovered last year in this spiced pear bread and pear walnut chocolate pie! Those were two are my favorite ways to enjoy pears until I decided to just roast them in this simple roasted pear and oat crumble dessert.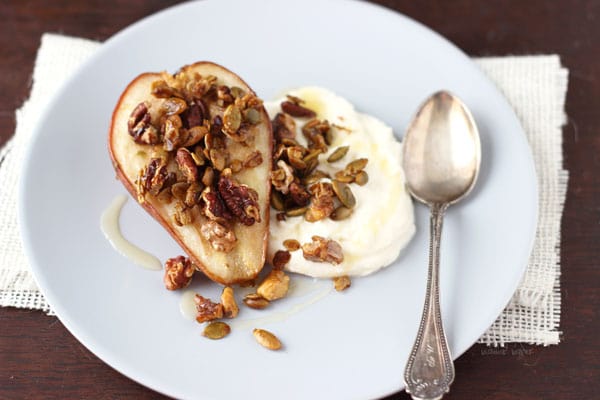 Pears are very underrated and people tend to overlook them next to their fall counterparts. But they are the most delicious baked fruits; they are tender, juicy and have a more intense flavor. Just like these roasted pears! Ripe and firm Bartlett (or Anjou if you like) pears are roasted until soft and topped with an addictive nut-oat crumble and served with a drizzle of honey and a dollop of mascarpone cheese. Simply sweet and crunchy and an indulgent dessert perfect for fall.
My friend Nora over at A Clean Bake is getting ready for her upcoming wedding and is enjoying the hectic planning involved. I am over there today sharing this recipe with her readers. So head over there now to get the recipe for this Roasted Pear with Oat Crumble here.
MAKING THIS RECIPE? Share it with us on Instagram using #aclassictwist so we can see what you are baking up in your kitchen!