Brown Butter Cake with Maple Caramel Buttercream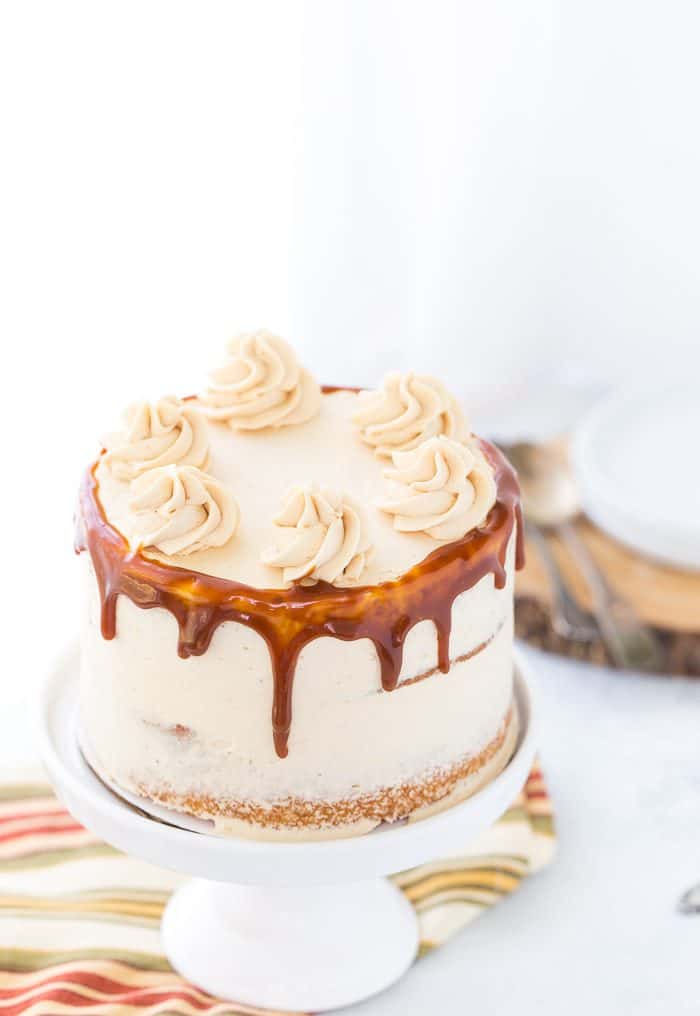 I fell in love with naked cakes all over again a few weeks ago when I made my first wedding cake for a friend's wedding. Aren't they just elegant and beautiful? They are the perfect accessory to a rustic-themed wedding, shower and all. During the practice for the wedding cake, I made a few small layered cakes to get the frosting and technique just right. This brown butter cake with maple caramel buttercream was one of my test subjects. Based on my new favorite cupcake recipe (these caramel corn cupcakes), the cake has a rich nutty brown butter flavor and it's wrapped in a sweet maple caramel buttercream. So so incredible and brings together great fall flavors.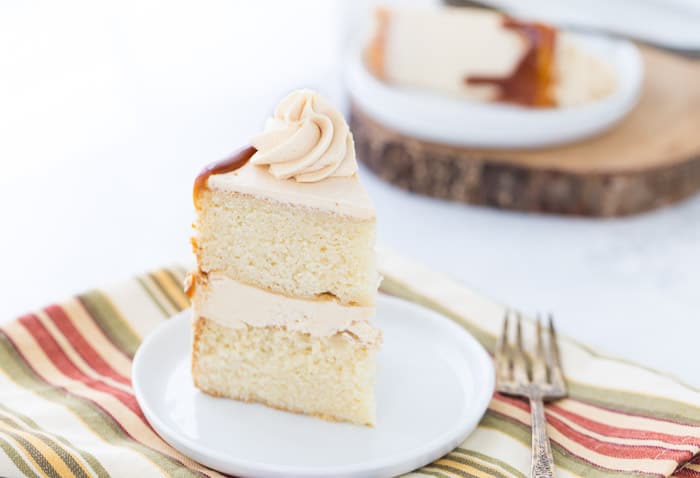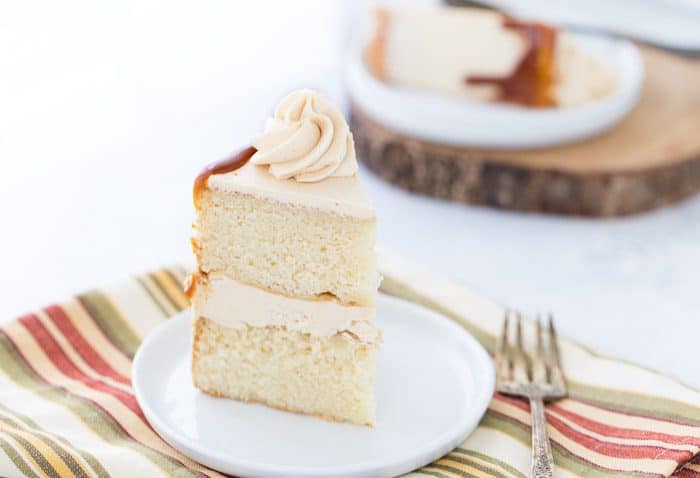 I think I need to address my obsession with caramel. It is pretty obvious that I am a sucker for all things caramel. The minute I hear there is caramel in something, forget it, I am having it. Let alone a unique flavored caramel like bourbon caramel (yum!!), honey caramel (oh my!!) or maple caramel (SOLD!!). Anyway, the point is I will do anything for a good caramel 🙂
Today's adventure in this new flavored caramel started with Amanda's challenge over at lucky number 3. If you don't know her, she the amazing baker behind lucky number 3 and who happened to have won the second season of the great American baking show (she's pretty talented so if you don't follow her already, please do!). She started a monthly bake-off challenge last month and she asked us (her baking enthusiast followers) to whip up any baked goods using the secret ingredient – maple caramel.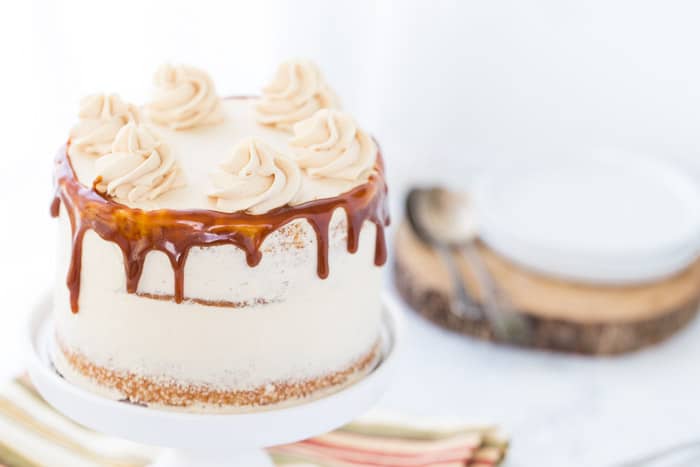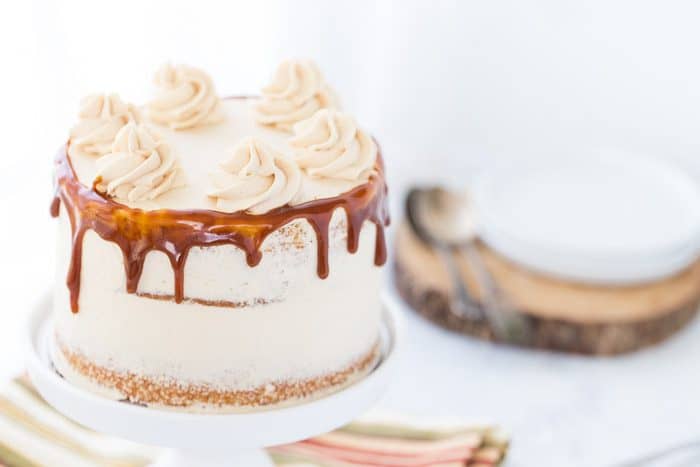 I paired the sweet, earthy maple caramel with a nutty moist brown butter cake. It's a great pair and one you NEED to make for your holidays.
Even if you don't get around to the cake, make this maple caramel. Then slather it in everything from ice cream to pancakes to drizzled over a warm slice of pear galette (coming soon!).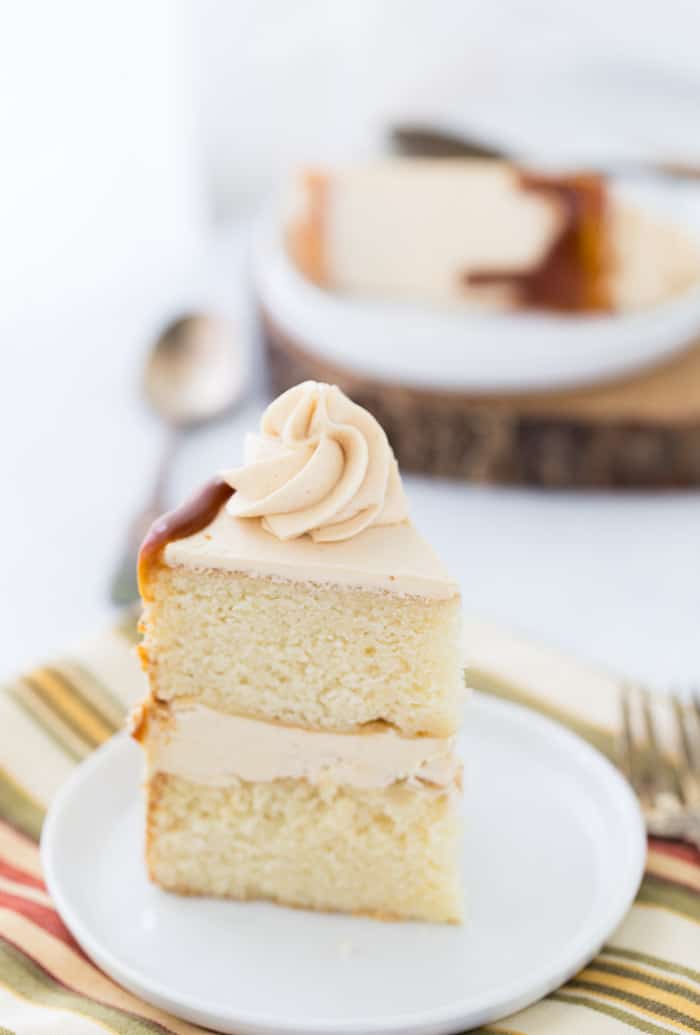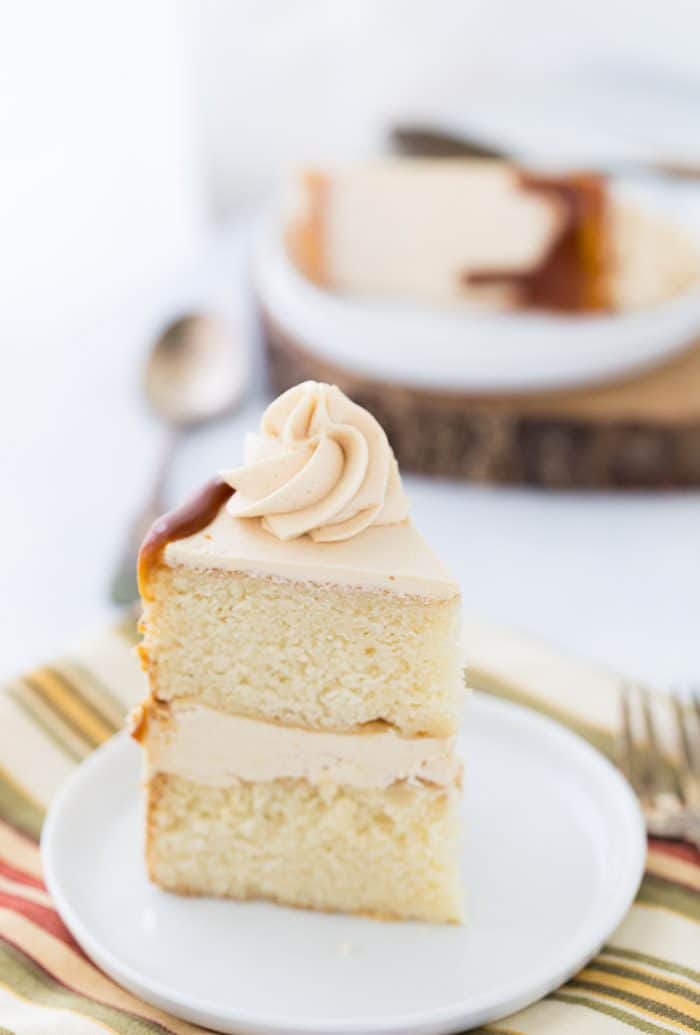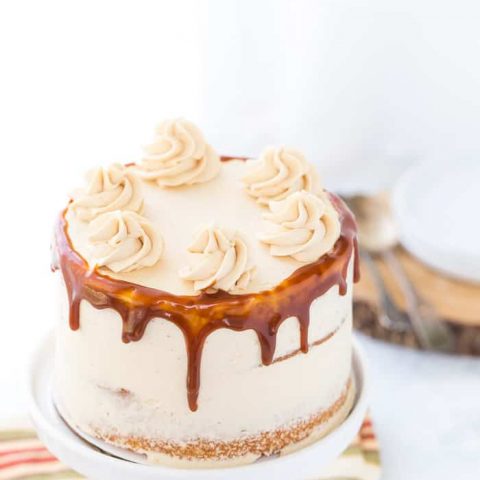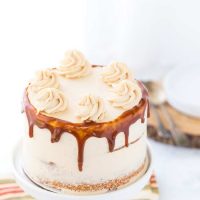 Yield: 1 6-inch cake
Brown Butter Cake with Maple Caramel Buttercream
Prep Time
1 hour
15 minutes
Ingredients
For the Maple Caramel Sauce
½ cup dark maple syrup
1/3 cup + 1 tablespoon heavy whipping cream
1 teaspoon vanilla extract
¾ cup granulated sugar
3 tablespoon water
¼ cup unsalted butter, diced
½ teaspoon salt
1 teaspoon white vinegar
For the Cake:
1/2 cup (1 stick) unsalted butter
1 cup granulated sugar
2 large eggs, room temperature
1/2 cup whole milk, at room temperature
1 teaspoon pure vanilla extract
1 cup all-purpose flour
1/3 cup almond flour
1 teaspoon baking powder
1/2 teaspoon kosher salt
For the Frosting:
1 cup (2 sticks) unsalted butter, softened at room temperature
1/3 cup maple caramel sauce
3 cups powdered sugar
1 teaspoon vanilla extract
Instructions
For maple caramel sauce:
In a medium saucepan set over medium-low heat, cook the maple syrup until it begins to simmer. Once it starts simmering, reduce heat to low and cook until reduced in half, swirling the pan occasionally. It should take about 10 minutes and once it starts to smell toasted, it's done. Let cool slightly.
In a microwave-safe bowl, heat the cream until lukewarm. Whisk in the vanilla extract.
In another medium saucepan, combine the sugar and water. Set over medium heat and cook without stirring. Once it starts to bubble, increase heat to medium-high. Do not stir. Do not walk away from pot. Watch until it turns from clear to a light caramel. Continue cooking until the caramel is a deep amber color.
Remove from heat and whisk in the warm heavy cream continuously. It will bubble violently but continue whisking. Whisk in the maple syrup until combined. Then whisk in the butter until melted. Finally, whisk in the salt and vinegar.
Transfer caramel to a heatproof container and cool to room temperature.
For the cake:
Preheat to 350°F. Grease two 6-inch round cake pans with baking spray and line with parchment. Grease parchment.
In a medium saucepan set over medium heat, melt the butter. Cook the butter, swirling occasionally until the butter is browned. Transfer to a large bowl and let cool slightly about 5 minutes.
Whisk in the sugar, eggs, milk and vanilla extract. In another small bowl, whisk together the flours, baking powder and salt. Add the dry ingredient to the wet ingredients. Mix until gently combined.
Divide the batter equally into the prepared pans. Bake in preheated oven for 22-25 mins or until a cake tester inserted into the center comes out clean.
For the frosting:
Beat the butter and caramel on medium-high speed until light and fluffy.
Add the rest of the ingredients and mix on low speed to combine. Increase speed and beat frosting until fluffy, about 2-3 minutes.
Fill and layer the cake layers with the frosting. Drizzle with caramel sauce and decorate as desired.