Honey Caramel Creme Brulee
This honey caramel creme brulee recipe starts with a honey caramel infused custard and is topped with a sweet cinnamon sugar caramelized topping.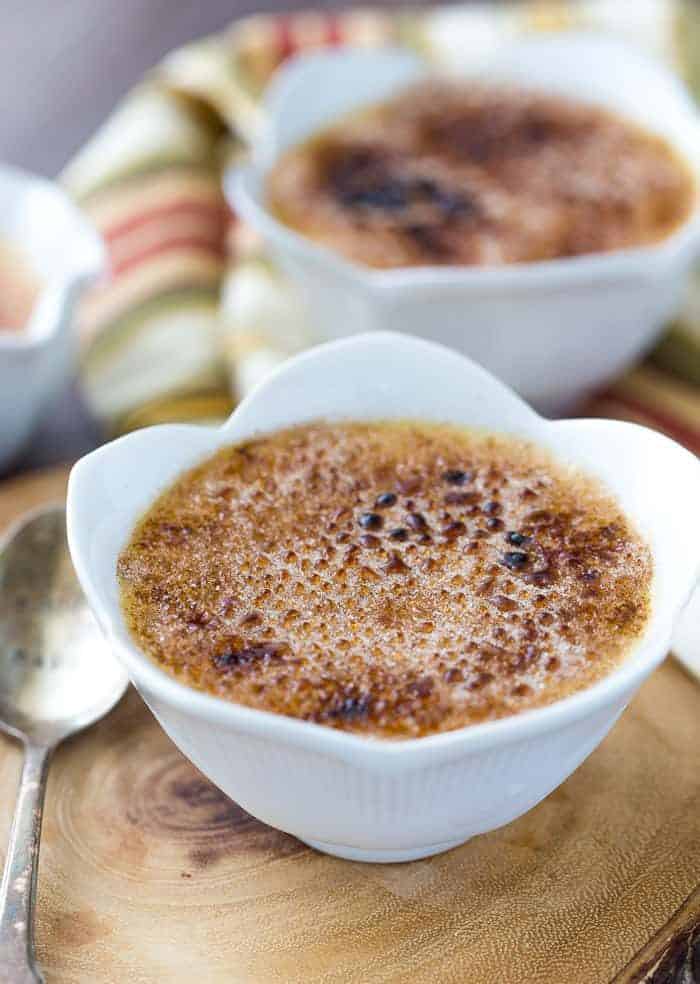 I have a thing for creme brulee and this honey caramel creme brulee today is no exception. Silky, smooth custard underneath a hard shell of caramelized sugar always get it. My first homemade creme brulee recipe came from my OBGYN. She wrote her mother's recipe on the back of a prescription and I transformed it into this vanilla bean creme brulee. Ever since, I've used that as the base recipe for all things creme brulee related including this pumpkin maple creme brulee.
Whenever I need to try some new flavors, I find myself turning to custard desserts for a place to experiment. This honey caramel creme brulee was truly an experiment after my good pal Allie over on Baking A Moment told me about a new caramel she created; honey caramel. She raved about it so much that I had to try it. Even before publishing her apple honey cake recipe with it, she texted me the honey caramel recipe. It was incredible as she described, so earthy and perfect for fall spiced desserts. I wondered what to use this caramel in as I was going through my fall baking list, I decided on a creme brulee and what a great idea it turned out to be. The creamy custard is greatly enhanced with this honey caramel sauce that is rich in flavor.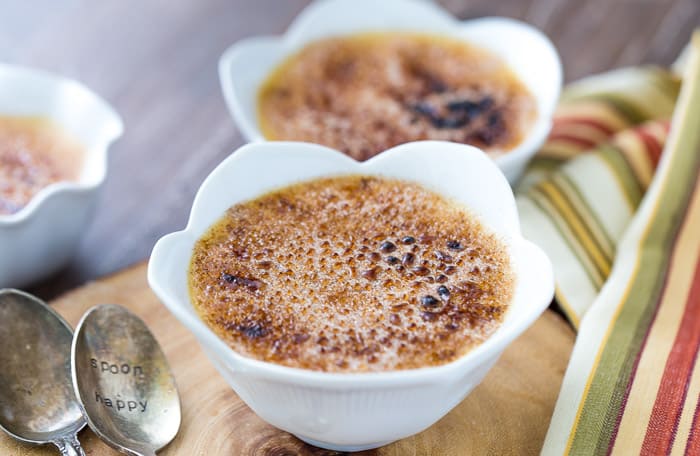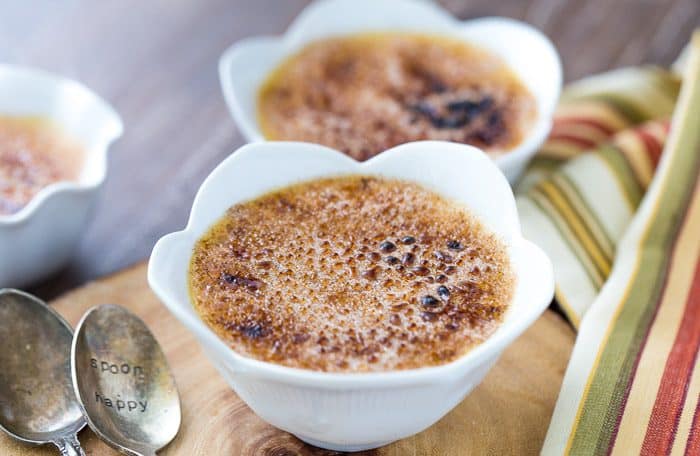 The custard is infused with sweet honey caramel – you really taste the honey in it. And it is all topped off with a cinnamon sugar topping. Caramelized cinnamon sugar on top a silky smooth custard is just about as amazing as it gets with a dessert. You won't ask for more!!
Seriously!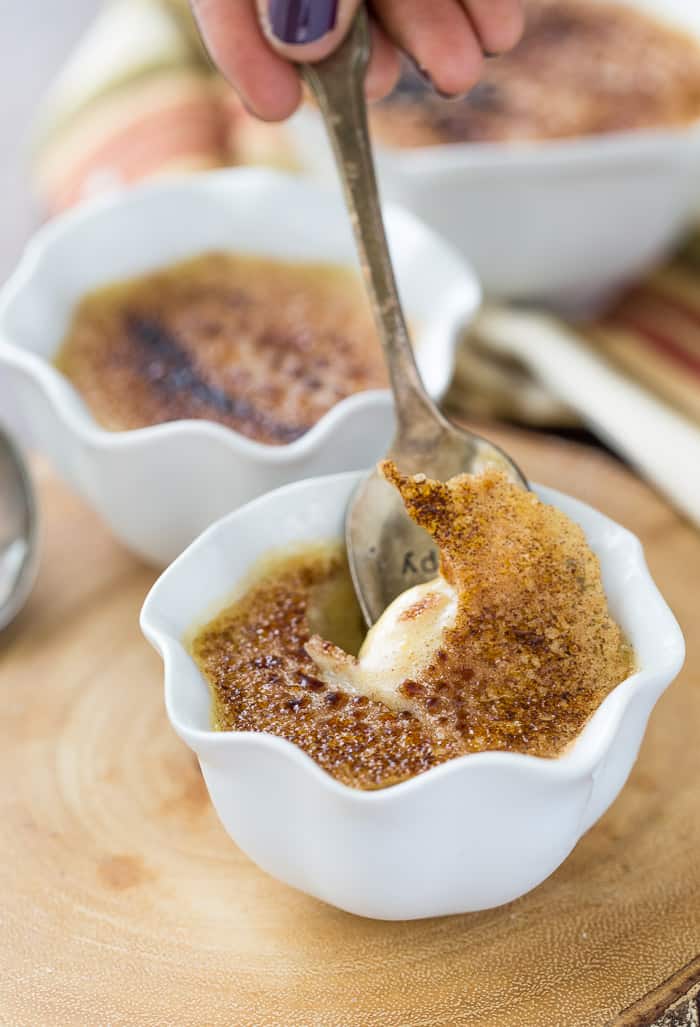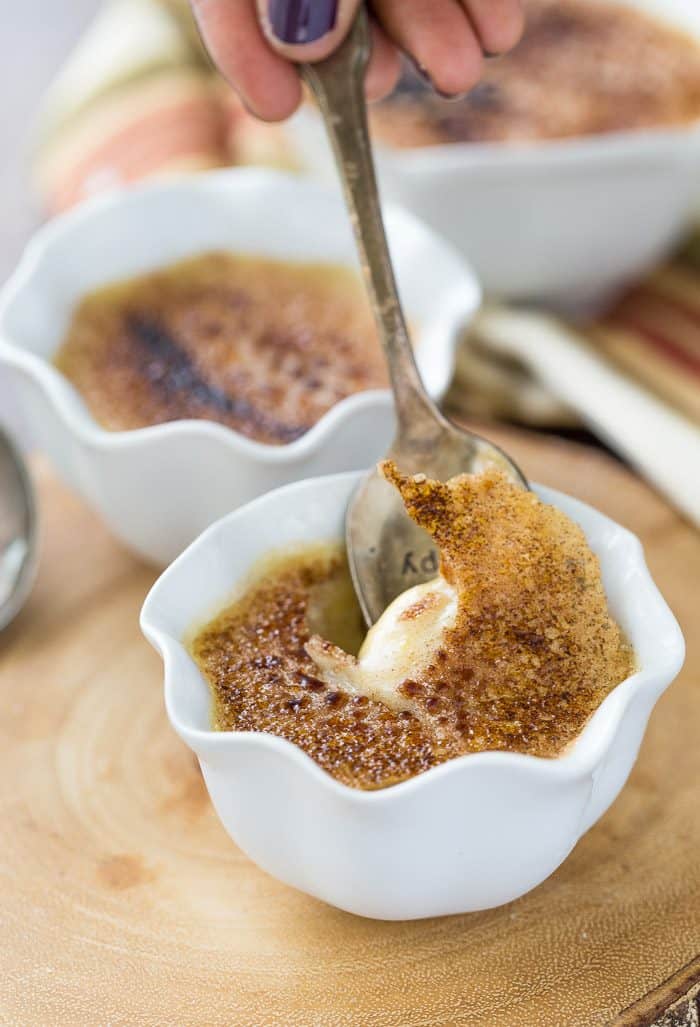 If you are in search of a new baking project or a need to try out some new fall flavors, this recipe is for you. You will be happy with how easy it is and how amazing the results are. Enjoy!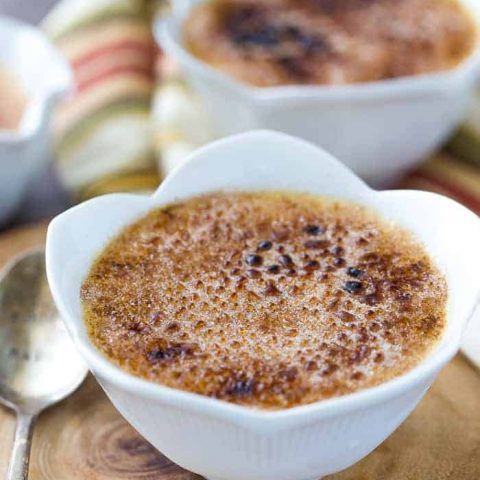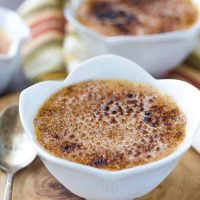 Yield: 3 6-ounce ramekins
Honey Caramel Creme Brulee
This honey caramel creme brulee recipe starts with a honey caramel infused custard and is topped with a sweet cinnamon sugar caramelized topping.
Total Time
1 hour
30 minutes
Ingredients
For the Honey Caramel:
1/2 cup heavy whipping cream
2 1/2 tablespoons unsalted butter
1 teaspoon  salt
1/2 cup granulated sugar
1/4 cup honey
1 tablespoon water
For the Creme Brulee:
1 1/4 cups heavy whipping cream
1/4 cup honey caramel (see above) or homemade caramel sauce
2 teaspoons vanilla extract
4 large egg yolks
Topping:
1/4 cup granulated sugar
3/4 teaspoon ground cinnamon
Instructions
For the Honey Caramel:
In a small heavy-bottomed pot set over medium heat, combine the cream, butter, and salt. Heat until the butter and salt are melted and dissolved.
In another medium pot, combine the sugar, honey, and water. Bring to a gentle boil over medium heat, swirling the pot occasionally. Continue to boil the mixture until the mixture is amber-colored. Be careful at this point not to burn the sugar mixture.
Reduce heat to low and gently pour in the cream mixture while whisking constantly. Remove from heat immediately and transfer to a heat-safe bowl. Let cool slightly, about 10 minutes, before using for creme brulee. Store the rest of the caramel refrigerated.
For the Creme Brulee:
Preheat oven to 300 degrees F. Prepare 3 6-ounce ramekins by spraying them with baking spray and setting them into a larger baking pan.
Heat the heavy cream in a medium saucepan over medium heat until the cream starts foaming around the edges. Do not boil. Remove from heat and let cool undisturbed for about 10 minutes. Add in the caramel sauce and vanilla extract.
In a large bowl, whip the egg yolks and caramel until pale yellow in color and slightly thicken. While stirring constantly, gradually add the hot cream mixture into the egg mixture. Add the cream slowly to avoid cooking the eggs. Mix until well combined.
Pour equal amounts into prepared ramekins (8 ounces each). Transfer ramekins to baking pans (9-inch or bigger) and fill baking pans with hot water about halfway up the sides of ramekins.
Bake custards until set but still jiggly in the center, about 35-40 minutes. Remove from the oven and let cool on the cooling rack. Cover with plastic wrap and refrigerate for at least 4 hours or overnight.
When ready to serve, mix the granulated sugar and cinnamon in a small bowl. Sprinkle generously over the top of each ramekin. Use a kitchen torch to caramelize/melt the sugar.
Serve immediately.