Caramel Corn Cupcakes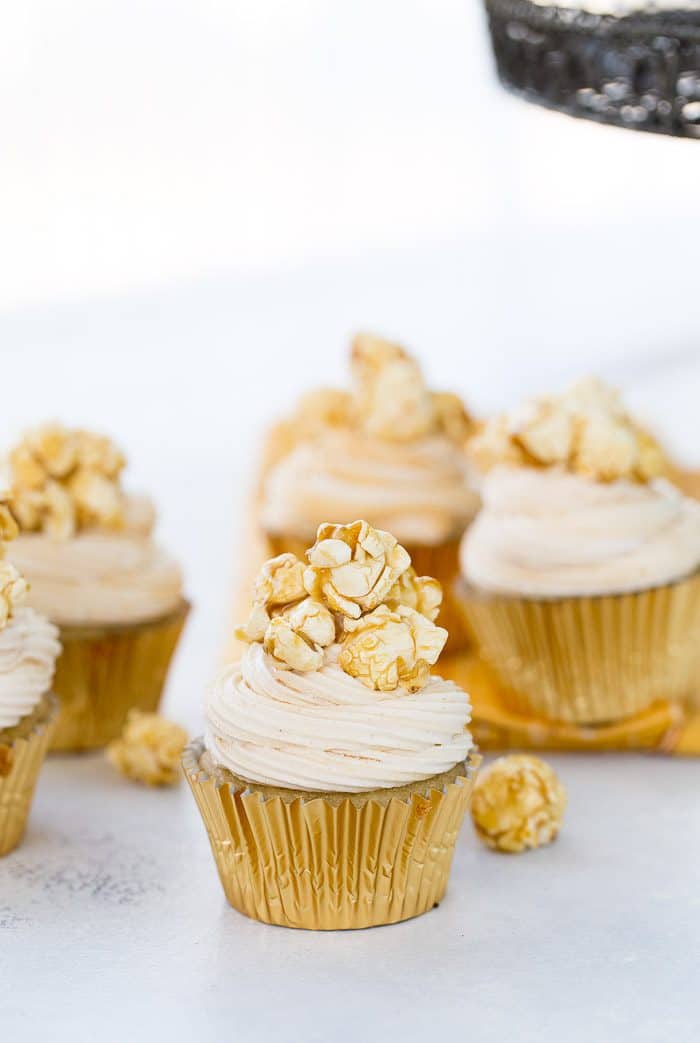 Hi friends! I'm here today with another cupcake recipe for you. It's been crazy busy on my end with family obligations and work that I hardly have time to create new recipes. But every now and then I bake up something sweet from a magazine to wind down or to bring to an event. These caramel corn cupcakes came out of my kitchen recently and I was seriously blown away by the simplicity of the flavors but yet incredible cupcake.  There's nothing better than a moist delicious cupcake and that's exactly what these are.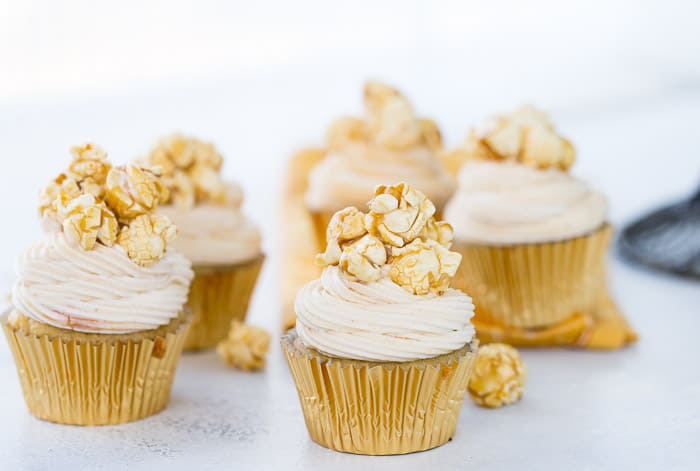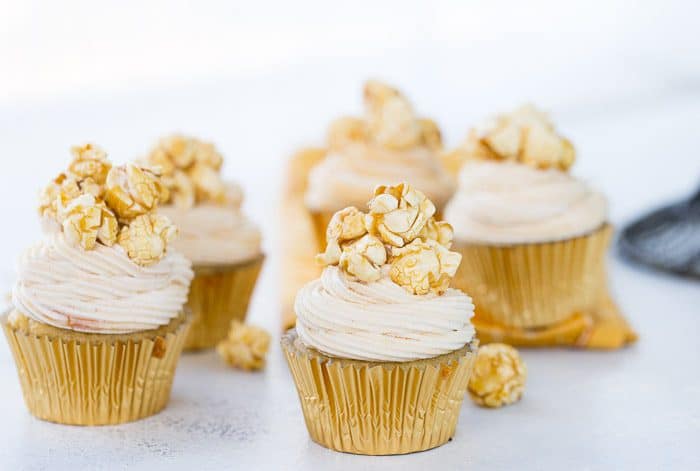 The cupcakes were the cover recipe of last month's Food Network Magazine and it caught my eye. And for once I actually made the recipe. Most times I bookmark and pin recipes but hardly get around to making them. I am sure you do too. But I had a request for cupcakes and these came to mind. I am so glad I gave them a try as they are now my new favorite fall cupcakes. And that says a lot as I have many good fall cupcake – spiced apple cupcakes with marshmallow frosting, brown sugar cupcakes, and chocolate pumpkin cupcakes.
What makes these caramel corn cupcakes special is that they start with a simple browned butter cupcake. The batter is filled with nutty browned butter bits (the BEST kind of bits!) and the flavor that adds is incredible. Topped with a sweet caramel frosting, the flavors of caramel corn are shining in these cupcakes.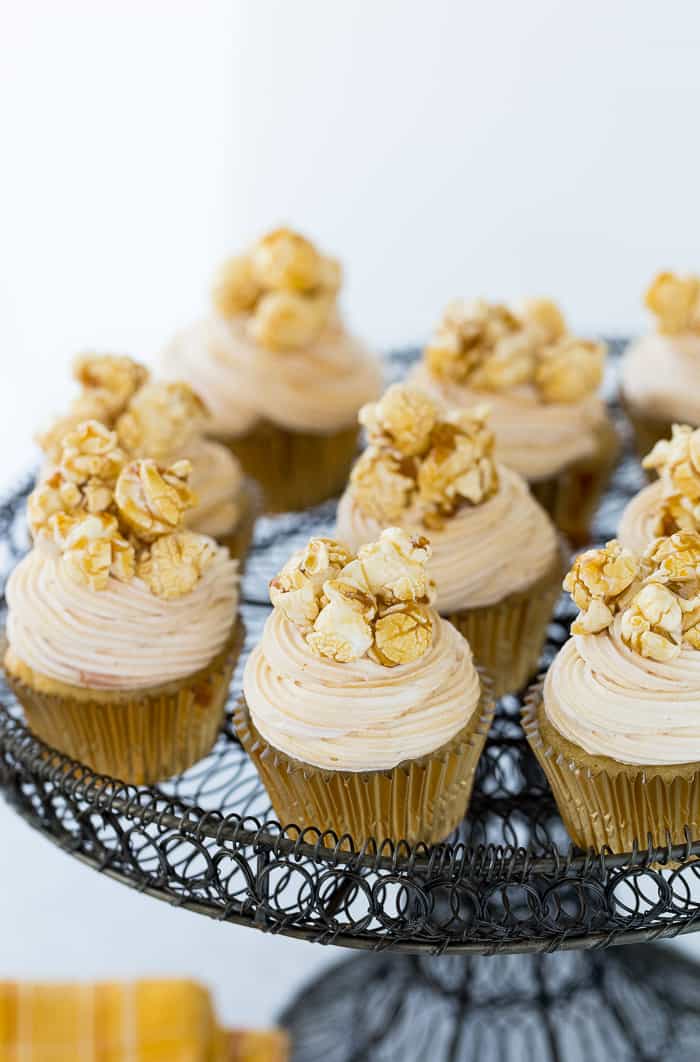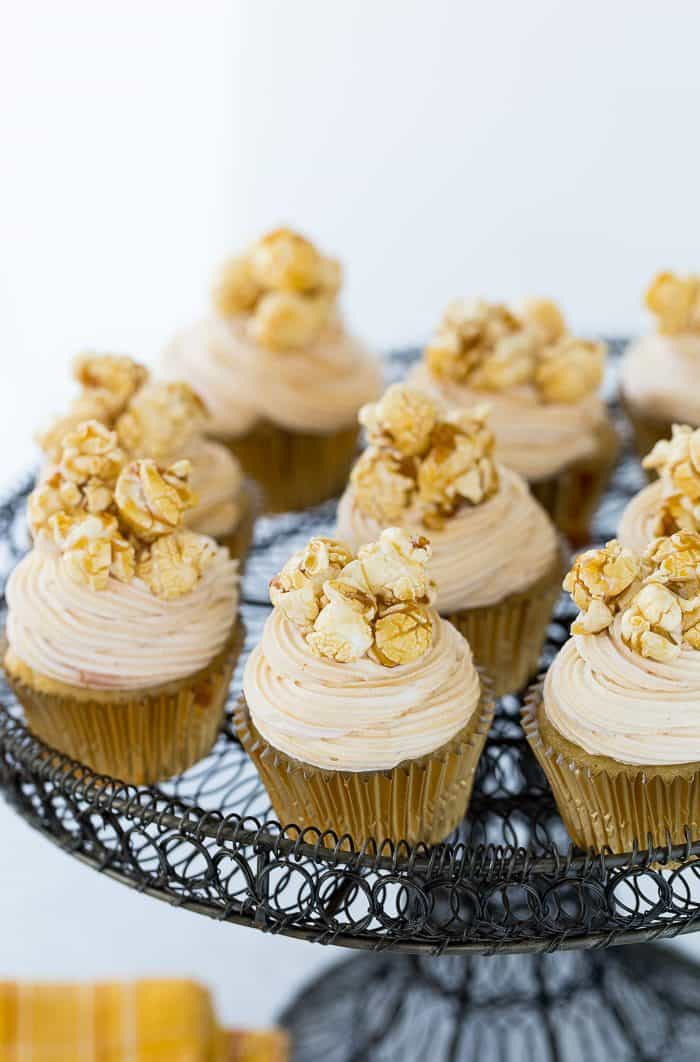 So add these to your fall baking list and even beyond that as they are going to be a go-to for me. I need to make a cake version and see how that turns out. Stay tuned!!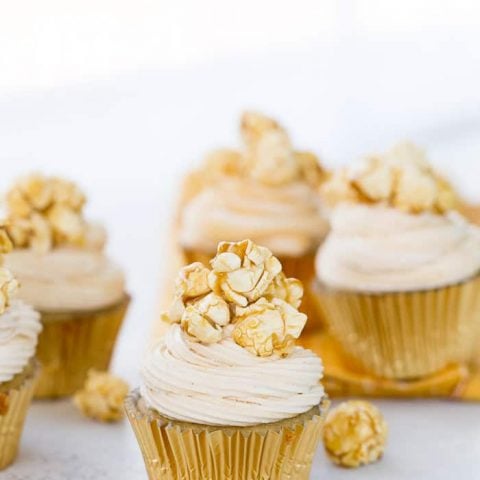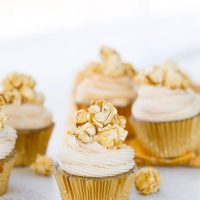 Yield: ~24 cupcakes
Caramel Corn Cupcakes
These caramel corn cupcakes are sweet with nutty brown butter cupcakes topped with fluffy caramel frosting. You get all your favorite caramel corn notes.
Ingredients
For the cupcakes:
1/2 cup (1 stick) unsalted butter
1 cup granulated sugar
2 large eggs, room temperature
1/2 cup whole milk, at room temperature
1 teaspoon pure vanilla extract
1 cup all-purpose flour
1/3 cup almond flour
1 teaspoon baking powder
1/2 teaspoon kosher salt
For the frosting:
1 1/2 sticks (12 tablespoons) unsalted butter, at room temperature
1/2 cup brown sugar
2 cups confectioners' sugar
3/4 teaspoon pumpkin pie spice
1/8 teaspoon salt
1/2 teaspoon pure vanilla extract
1/2 cup caramel, for swirling
Caramel corn, for topping
Instructions
Preheat to 350°F. Line a 12-cup muffin tin with muffin cups.
In a medium saucepan set over medium heat, melt the butter. Cook the butter, swirling occasionally until the butter is browned. Transfer to a large bowl and let cool slightly about 5 minutes.
Whisk in the sugar, eggs, milk and vanilla extract. In another small bowl, whisk together the flours, baking powder and salt. Add the dry ingredient to the wet ingredients. Mix until gently combined.
Divide the batter into the prepared muffin cups, filling each 2/3 full.
Bake the cupcakes for 18-22 minutes or until a toothpick inserted into the center comes out clean. Let cool completely before frosting.
For the frosting, beat the butter and brown sugar on medium-high speed until light and fluffy. Add the rest of the ingredients (except the caramel) and mix on low speed to combine. Increase speed and beat frosting until fluffy, about 2-3 minutes. Using a rubber spatula, swirl in the caramel into the frosting. Do not mix so you will have some streaks.
Transfer to a piping bag fitted with your favorite tip. Frost cupcakes.