Maple Spiced Pear Cake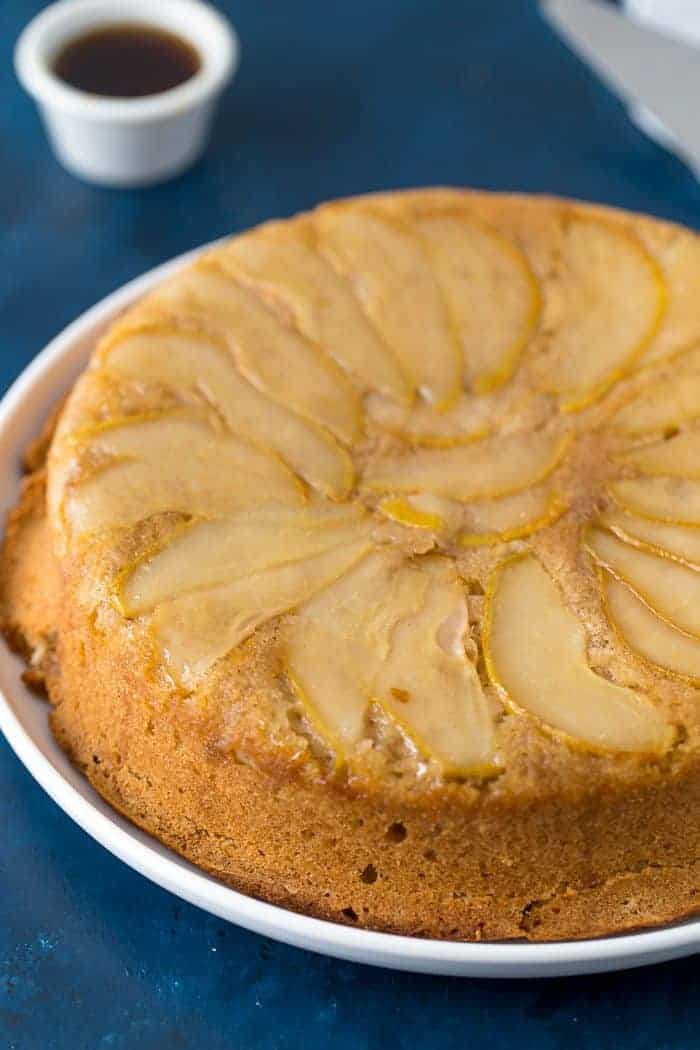 Hello friends! I hope you are having a great start to your week. How are we in November already? Let alone be halfway through it?. The fall season is zooming by fast as we approach winter. However, we still have a few weeks left and I intend to enjoy all the flavors of this season. One of my favorite fall produce to bake with is pears. They are incredible in baked goods, especially when spiced with the warm spices of the season. This upside-down maple spiced pear cake is the first pear dessert in my kitchen this season.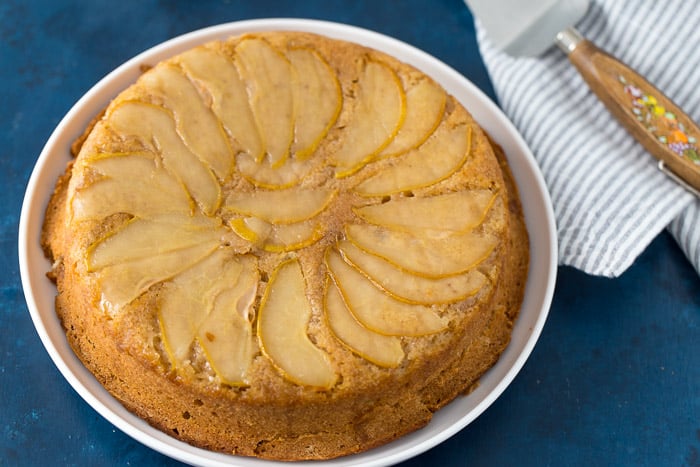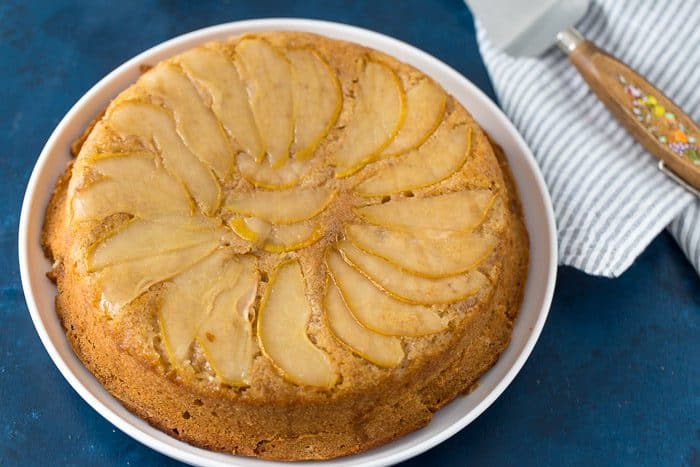 In the past, I've poached pears in spiced liquids like in this spiced poached pear crumble, as well as used poached pears in a tart such as this pear walnut pie. However, I've never used them in a cake and in this case, the pears are truly the star of the show. This maple spiced pear cake is the definition of how simple ingredients can be transformed into something spectacular.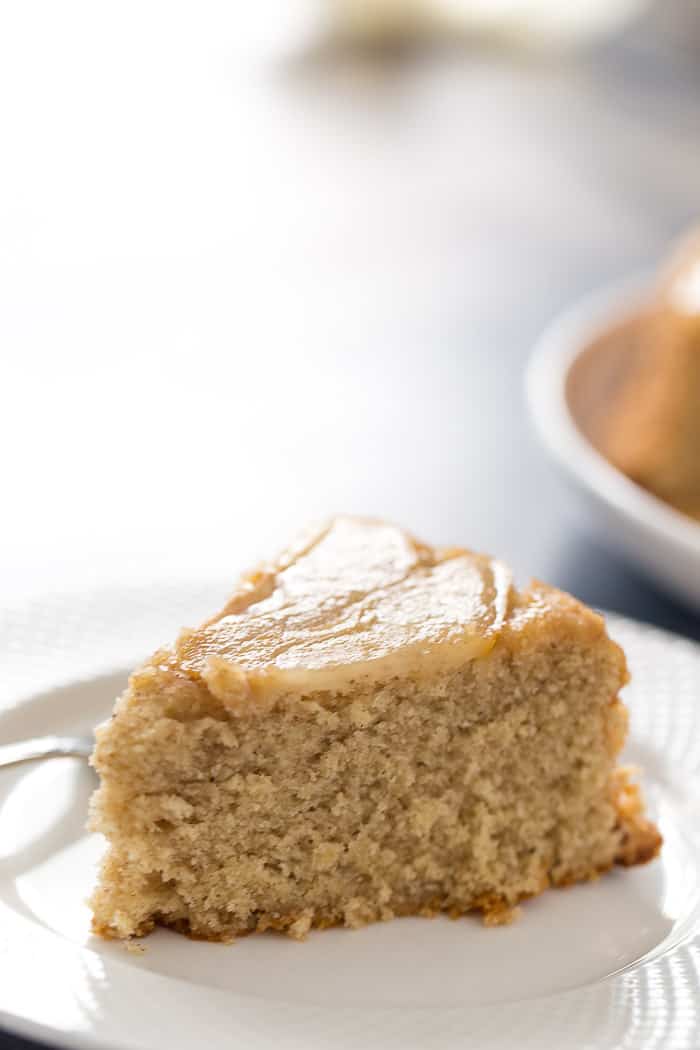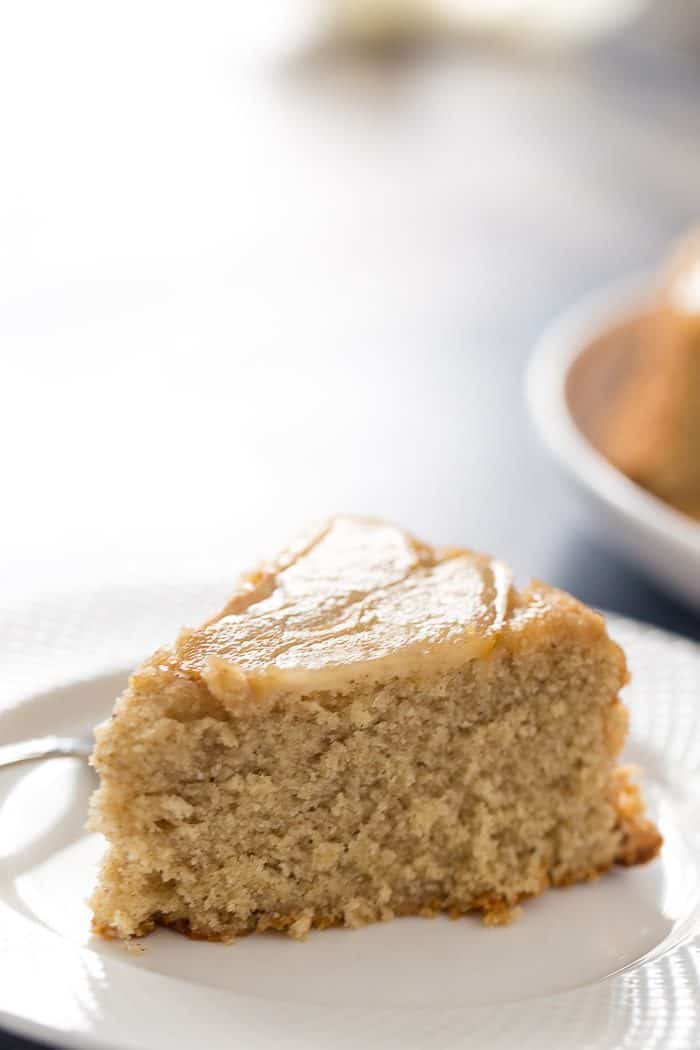 You start with a simple butter cake that is spiced with your favorite fall spices and sweetened with pure maple syrup. The pears are cooked as the cake bakes and turn out tender and poached. Combined with a soft tender cake, each bite in this cake is blissful. Feel free to drizzle some maple on top to finish off the flavors.
If you are looking for a unique, simple and delightful cake, try this spiced pear cake! You need to add it to your fall baking list and may I dare suggest your Thanksgiving dessert menu? It would be different and appealing to all your guests.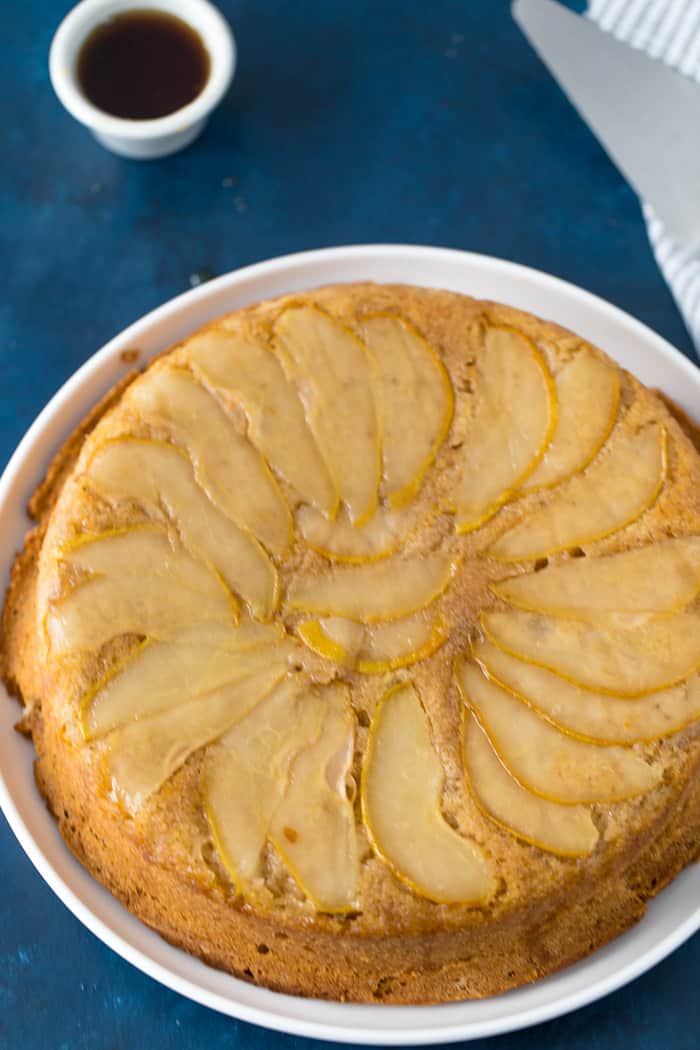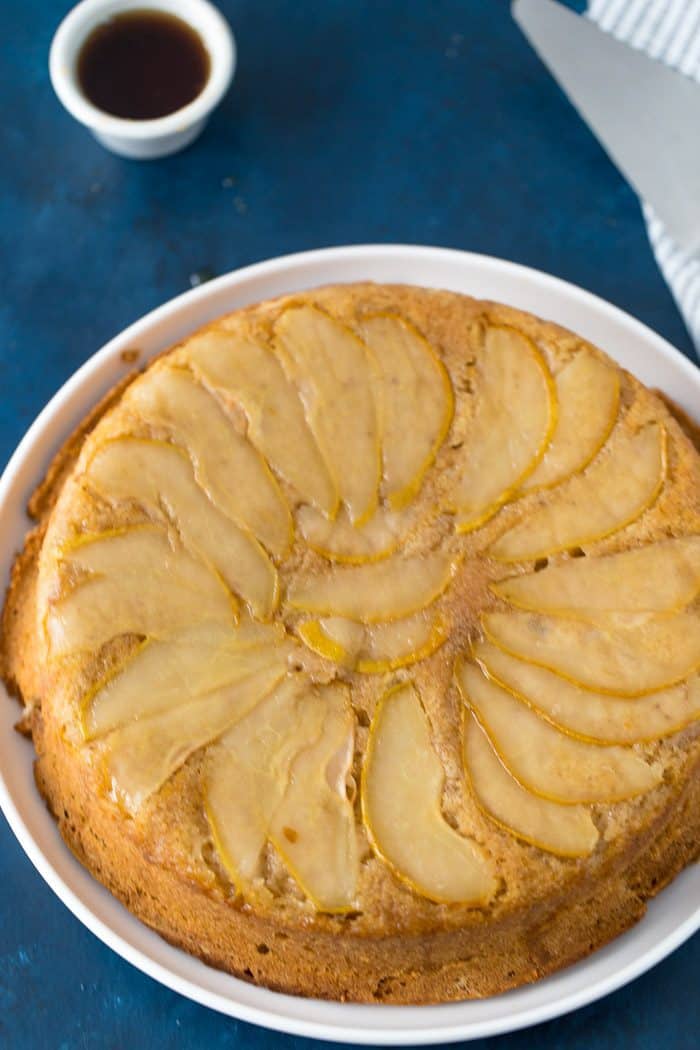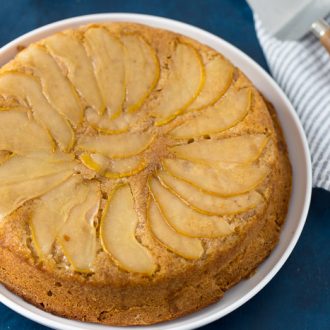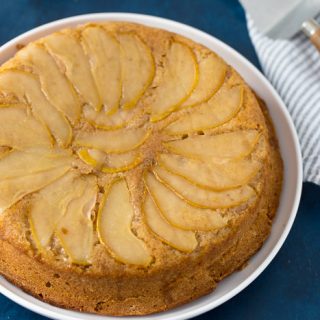 Yield: 1 9-inch round cake
Upside Down Spiced Pear Cake
A one layer rustic pear cake that is simple and elegant. A buttery, tender cake is layered with fresh pear slices.
Total Time
1 hour
25 minutes
Ingredients
¾ cup unsalted butter, softened at room temperature
1/2 cup granulated sugar
2 large eggs, at room temperature
1 ½ teaspoons pure vanilla extract
21/4 cups all-purpose flour
1 teaspoon baking powder
3/4 teaspoon baking soda
1 teaspoon ground cinnamon
½ teaspoon kosher salt
½ teaspoon ground ginger
¼ teaspoon ground nutmeg
1/4 cup whole milk
2 green pears, cored and thinly sliced (I used Bartlett pear)
Instructions
Preheat oven to 350 degrees F. Grease a 9-inch cake pan with baking spray. Line with parchment and grease parchment.
In a medium bowl, cream the butter and sugars together on medium speed until light and fluffy, about 3 minutes. Add in the eggs, one at a time, and mixing to combine after each addition. Beat in the vanilla extract.
In a medium bowl, whisk together the flour, baking powder, baking soda, ground cinnamon, salt, ginger, and nutmeg.
Reduce mixer to low speed and gradually add in the flour mixture to the butter, alternating with the milk mixture, beating until combined.
Arrange the sliced pears in the prepared pan along the outer edge and filling in the center. Spoon the batter over the pear slices, spreading it gently to have an even layer. Be careful not to move the pears.
Bake cake until golden brown and a toothpick inserted in the middle comes out clean, about 50-55 minutes. Let cake cool in pan on a wire rack for 10 minutes. Invert onto a wire rack. Brush with maple syrup.
Let the cake cool slightly. Serve warm with a drizzle of maple syrup and/or a dollop of crème fraiche.
Notes
Adapted from Food Network Magazine Nov 2019