Pumpkin Spice Cupcakes with Caramel Cream Cheese Frosting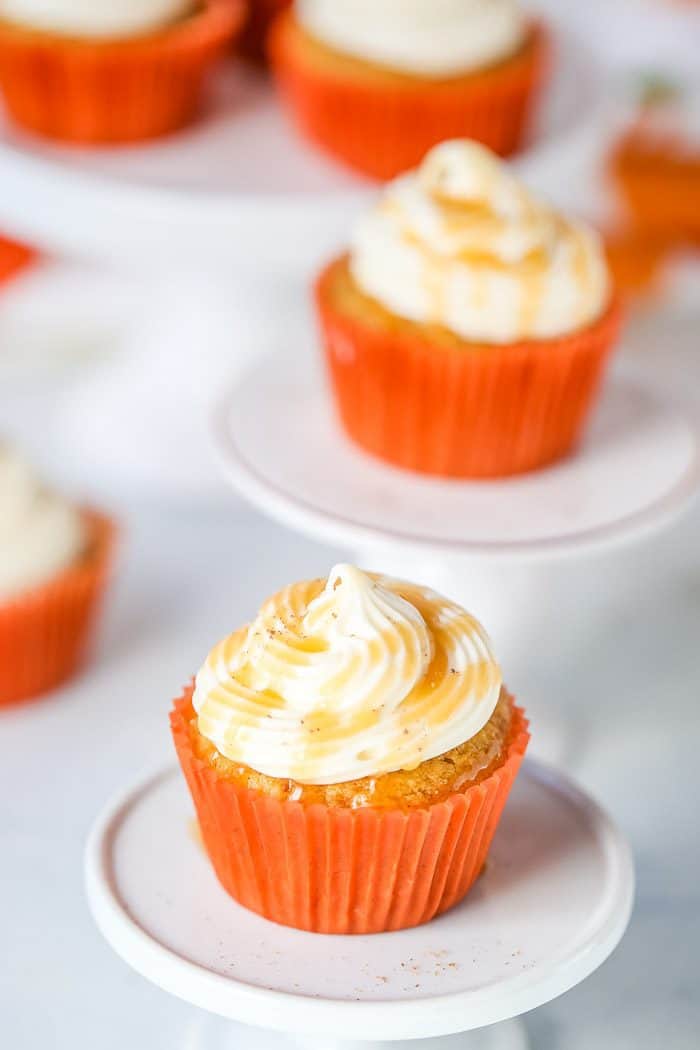 It's been 6 years since I published this recipe (9/9/13) and it's about time I updated the pictures and post. One thing about these pumpkin spice cupcakes is that they have stood the test of time. They are still my go-to pumpkin cupcakes of the season and are perfect every time I bake them. There is no way to mess them up, I promise. I'm leaving the text below as is and only updating the pictures and recipe with some new tweaks I've made to improve on the directions. I hope you enjoy my favorite pumpkin spice cupcake paired with a sweet caramel cream cheese frosting.
************************************************************************************************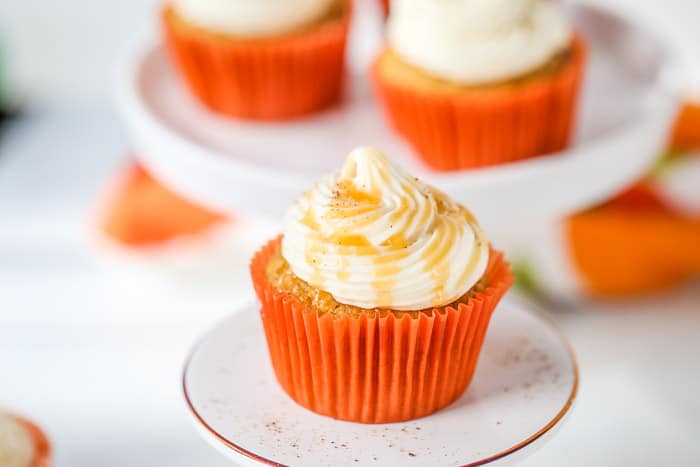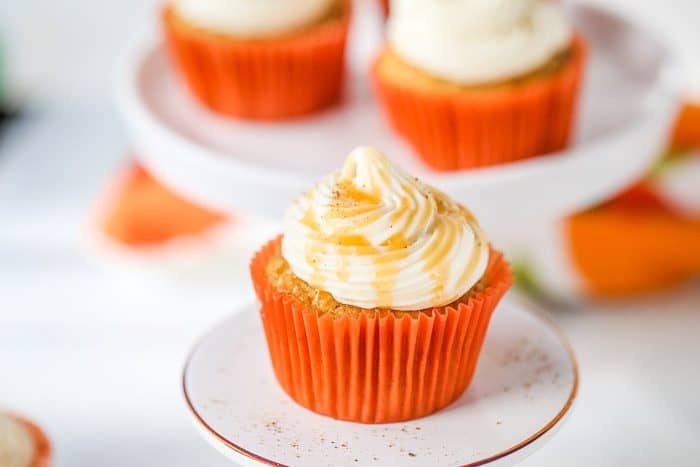 I know I know it is only September but I couldn't wait any longer to indulge in some pumpkin baked goods. I blame it on Starbucks for getting me in the mood so early. They rolled out their pumpkin spice lattes last week and I've been all over it. It's my favorite fall drink and I think I've had at least 6 in the past week. Sheer indulgence! Plus it's been in the 60's here for weeks now so technically it's fall. But who am I kidding, regardless of Starbucks, I love fall and I can't wait. So I am celebrating the arrival of fall with these pumpkin spice cupcakes with caramel cream cheese frosting.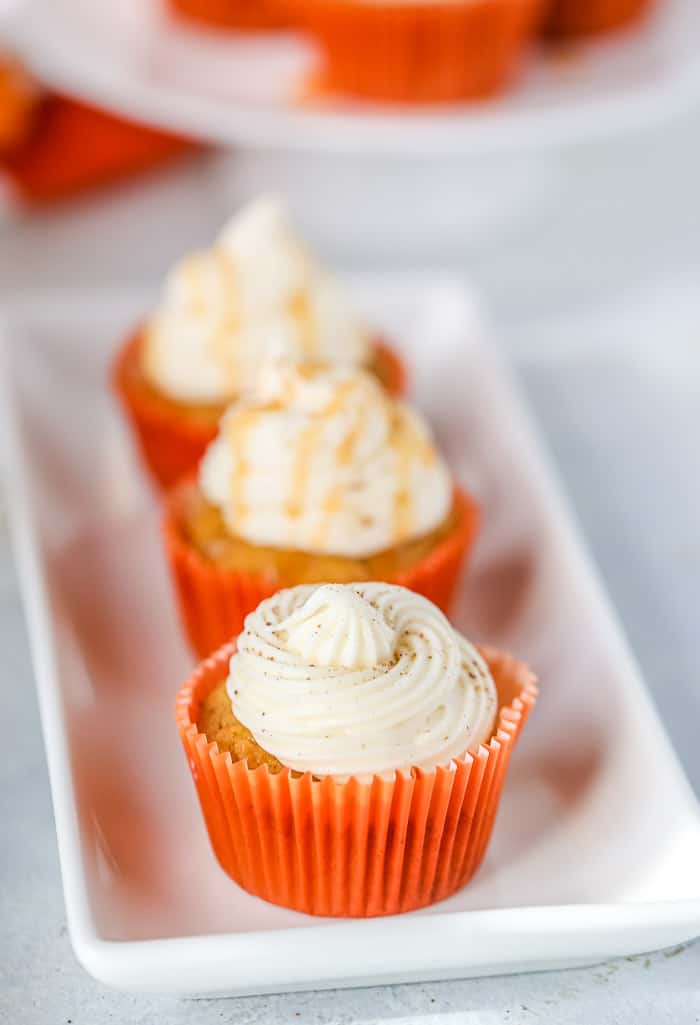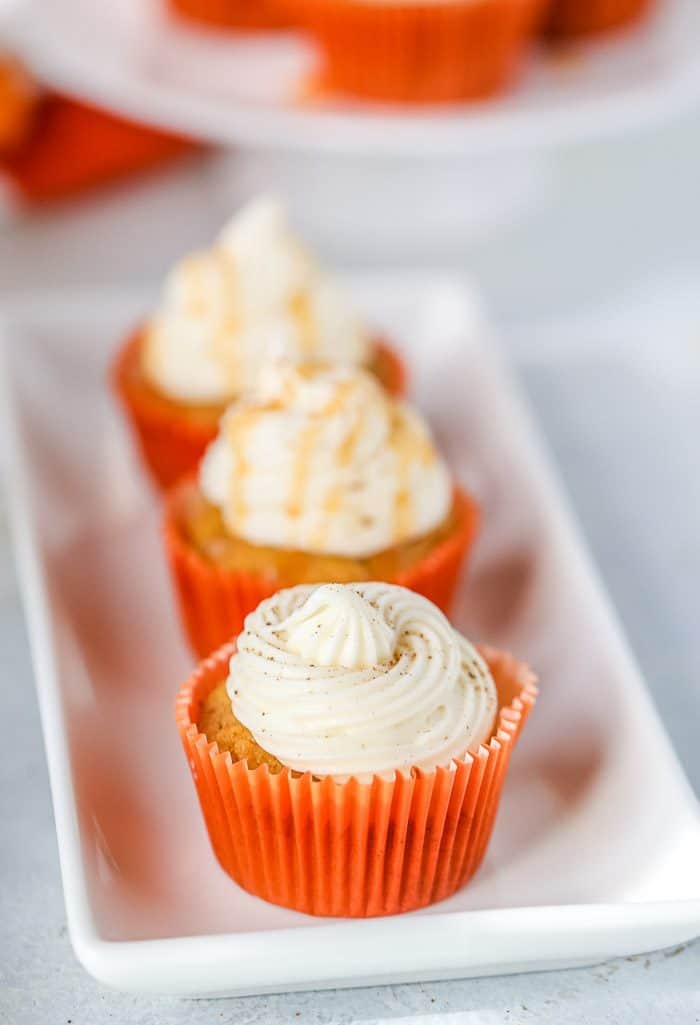 Usually, I am all about produce you can harvest right now, which are apples at their beginning stages. I've bought two batches of apples in the hopes of making something but that has not happened yet. I keep eating all the apples before I can bake with them. Ridiculous. The apples from orchards here in Upstate NY are just so juicy and irresistible. But until I can get myself to bake with apples, let's talk about these pumpkin spice cupcakes!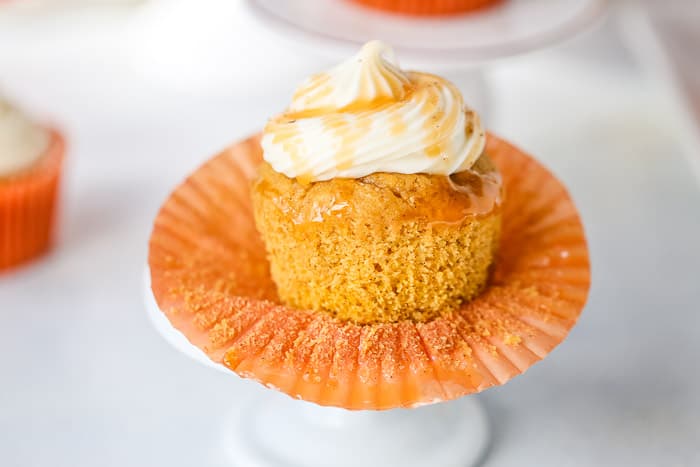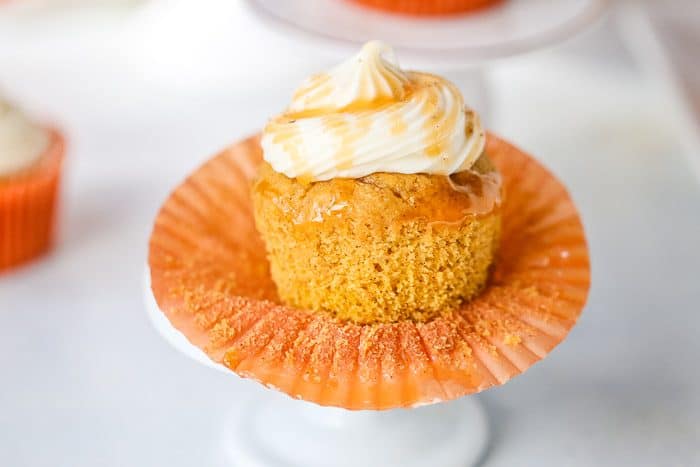 These pumpkin cupcakes are plenty moist, flavorful and loaded with warm spices of the fall. They can definitely be enjoyed on their own (as I did a few) but why stop there? Topped with caramel cream cheese frosting just takes an incredible cupcake to the next level. The original recipe uses brown butter in the cupcakes which I skipped but feel free to do so. You know I love me some brown butter but I was in a rush when I made these and didn't want to wait for the butter to cool down.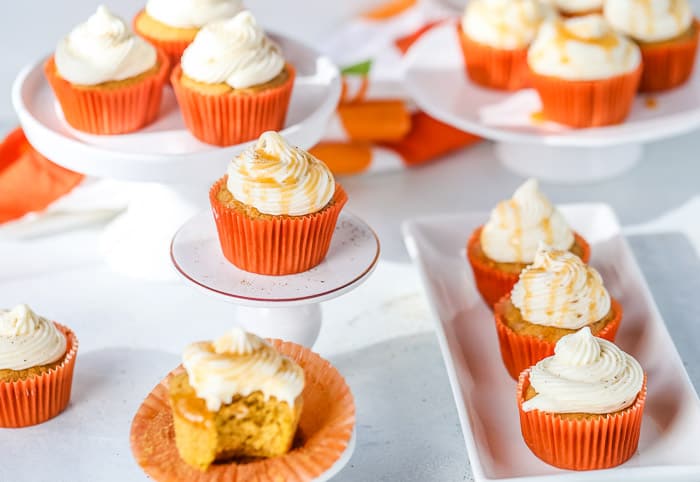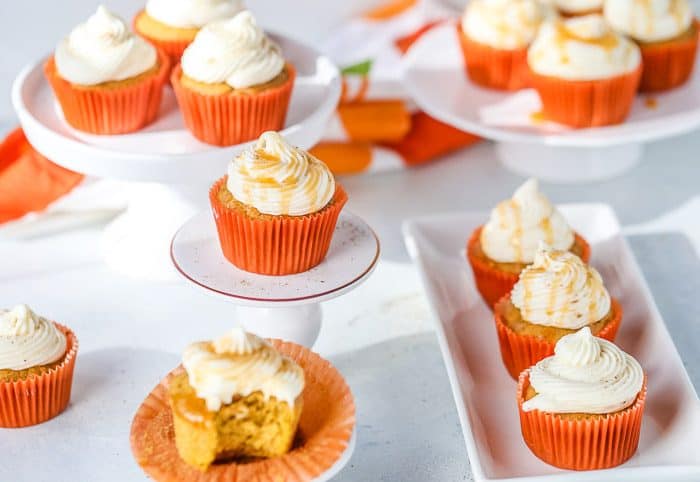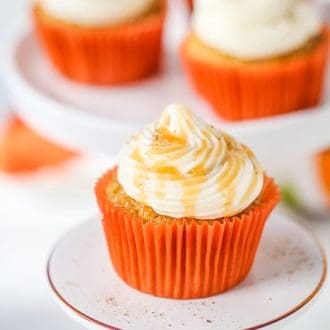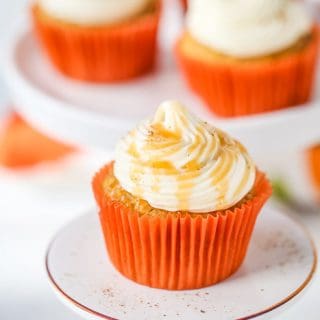 Yield: About 12-15 cupcakes
Pumpkin Spice Cupcakes with Caramel Cream Cheese Frosting
These pumpkin spice cupcakes are plenty moist, flavorful and loaded with warm spices of the fall!
Ingredients
For the Cupcakes:
1⅔ cups all-purpose flour
2 teaspoons baking powder
1 teaspoon kosher salt
½ teaspoon ground cinnamon
¼ teaspoon freshly grated nutmeg
⅛ teaspoon ground cloves
¾ cup (1 ½ sticks) unsalted butter, room temperature
1 cup packed light brown sugar
½ cup granulated sugar
1 cup pumpkin puree
2 large eggs, room temperature
For Frosting:
1 (8 ounces) package cream cheese, at room temperature
½ cup (1 stick) unsalted butter, at room temperature
4 cups powdered sugar, sifted
1 teaspoon pure vanilla extract
2 tablespoon homemade caramel sauce
Instructions
!For the Cupcakes:
Preheat oven to 350 degrees F. Line cupcake tins with liners and set aside.
In a medium bowl, whisk together the flour, baking powder, salt, cinnamon, nutmeg, and cloves.
In the bowl of an electric mixer, cream the butter and sugars until light and fluffy on medium speed, about 3 minutes. Add the pumpkin puree and mix until combined. Add the eggs one at a time, mixing well before each addition. Scrape bowl as needed.
Reduce the speed to low and slowly add the dry ingredients. Mix until just combined.
Divide batter into prepared baking liners. Bake for 12-15 minutes or until a toothpick inserted into the center comes out clean.
!For Frosting:
In the bowl of an electric mixer, beat butter and cream cheese on medium-high until completely smooth about 2-3 minutes.
Reduce speed to low and add sugar, one cup at a time. Beat until combined. Add vanilla and caramel sauce and beat to combine. Increase speed to medium and beat frosting until smooth and fluffy.
If the buttercream is not thick enough, place in the fridge for 20 minutes to an hour until firm enough to pipe.
Notes
I used a Wilton tip 1M to pipe the frosting.
Recommended Products
As an Amazon Associate and member of other affiliate programs, I earn from qualifying purchases.
So if you are in the mood to enjoy fall like I am, you need to whip up these cupcakes soon! Grab a cup of pumpkin spice latte while you are at it too 🙂
Next on my list are some pumpkin spice latte cupcakes!! Coffee and pumpkin are the next best thing. Do you have any recipes for those??
Here are some more pumpkin recipes: