Mom's Pumpkin Chocolate Chip Cake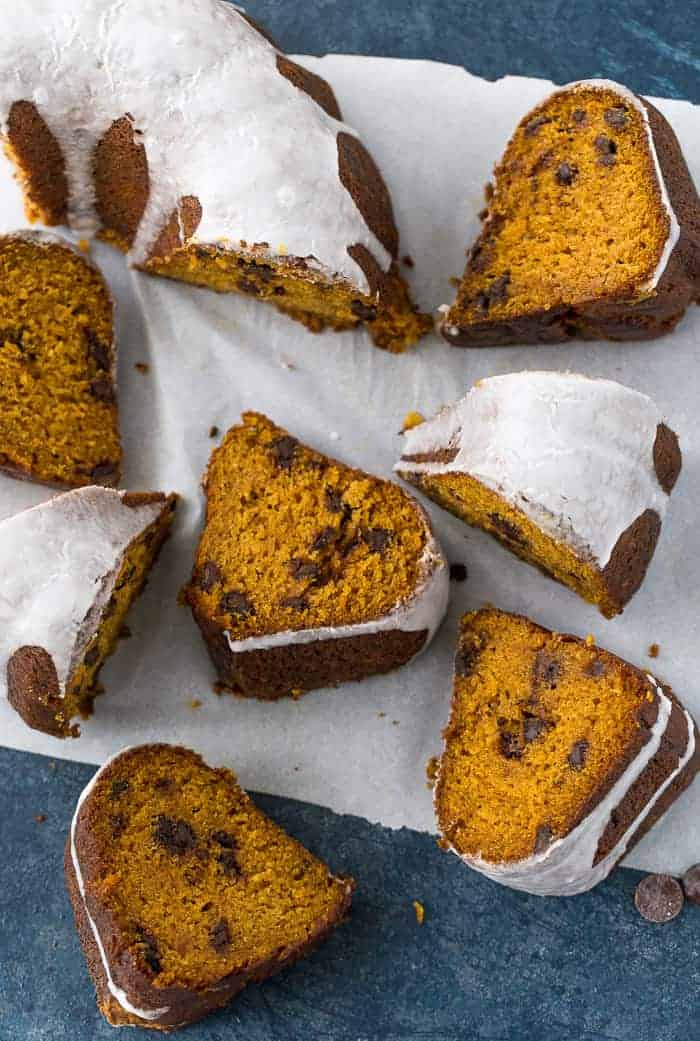 I am back with another family legacy recipe for you. This time it's mom's pumpkin chocolate chip cake. Like this Grandma's Apple cake recipe, this legacy recipe is not from my side of the family. It hails from one of my best friends mom. My friend wanted her mom's pumpkin chocolate chip cake as one of the recipes at her recent wedding and she shared it with me since I was baking the sweets for the big day. I fell in love immediately with the taste and vibrant color of the cake that I had to beg her to let me share it with you all. It's a moist pumpkin cake (thanks to the use of vegetable oil) packed with pumpkin flavor, hints of spices and indulgent chocolate.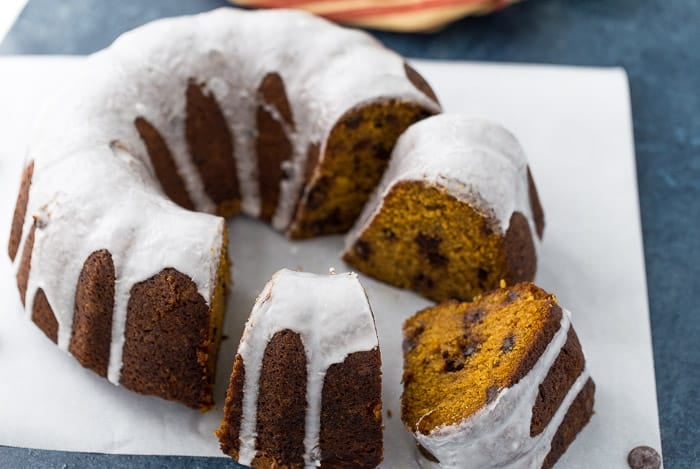 I know pumpkin + chocolate combo is always controversial. There are those who LOVE it and those who HATE it. But with most things in life, I say try it and decide for yourself. For me, I love it as it is just the right amount of chocolate in a pumpkin cake.
Like all mom's recipe, this pumpkin chocolate chip cake is easy to whip up. It's a matter of combining the wet ingredients with the dry ingredients in one bowl and whisking to perfection. Since it's baked as a bundt cake, it's a slow and long bake time, about an hour and 15 mins. You have to be patient for it. Once it's all baked and slightly cooled, you can top the cake with an icing or sprinkle with powdered sugar. Pictured here is a slight cinnamon icing but I've also tried this recipe with just powdered sugar and it was delicious.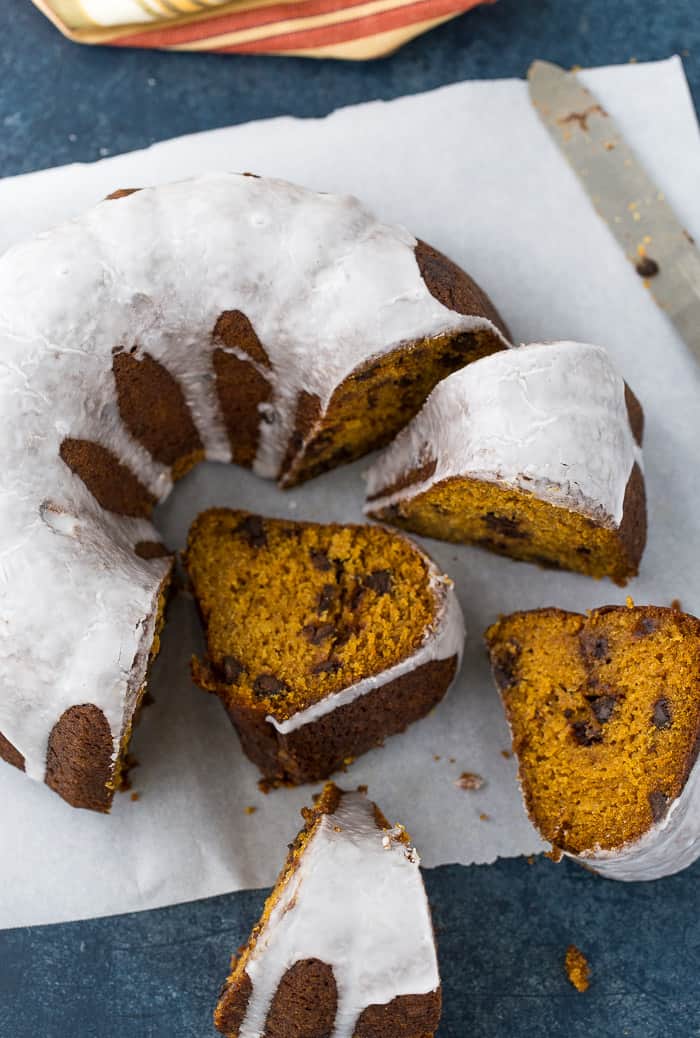 This recipe is now going to be my go-to for pumpkin cake as it has been for my friend. I've made it as cupcakes (for the wedding a few weeks ago), as a layer cake and now as a bundt cake. It's very versatile and needs to be in your recipe box. And even though I hate to say it, if you don't want the chocolate chips, just leave them out. The cake still is amazing without it.
Thank you LTP for sharing your mom's pumpkin chocolate chip cake recipe with me and now everyone!!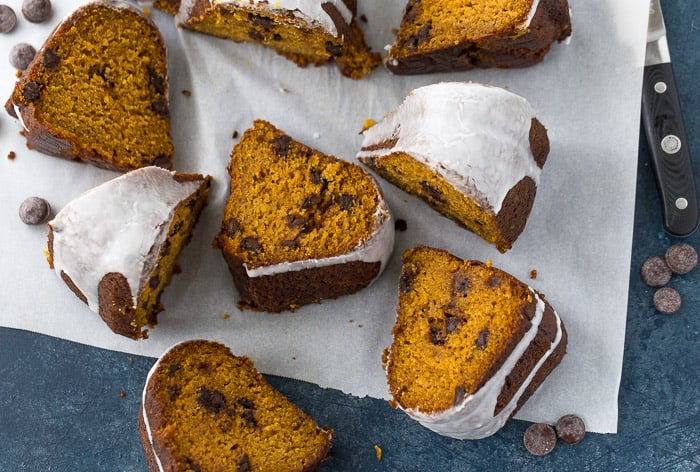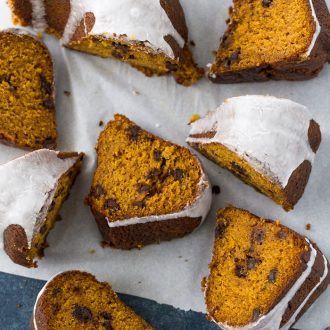 Pumpkin Chocolate Chip Cake
Everyone loves mom's pumpkin chocolate chip cake recipe because it is a moist pumpkin cake packed with pumpkin flavor, hints of spices and indulgent chocolate.
Ingredients:
2 cups all-purpose flour
2 cups granulated sugar
2 teaspoons baking powder
2 teaspoons baking soda
1/2 teaspoon kosher salt
1 teaspoon ground cinnamon
1/4 teaspoon ground nutmeg
1 cup vegetable oil
4 large eggs
2 cups canned pumpkin puree (not pumpkin pie filling)
1 cup chocolate semi-dark chips
For icing:
1/2 cup powdered sugar
a pinch of ground cinnamon
2-3 tablespoons water
Directions:
Preheat oven to 350 degrees F. Grease a large (12-cup) bundt pan with baking spray.
In a large bowl, sift together the flour, sugar, baking powder, baking soda, salt, cinnamon, and nutmeg. In another large bowl, whisk together the oil, eggs and pumpkin puree. Add the dry ingredients to the wet ingredients and mix until just combined. Stir in the chocolate chips.
Spoon the batter into the prepared bundt pan. Bake cake until a cake tester inserted into the center comes out clean and cake is golden brown, about 1 hour and 15 minutes.
 Let cake cool for at least 10 minutes in the pan before inverting onto a wire rack.
To make the icing, whisk together all the ingredients to desired consistency. Pour the icing over the cooled cake and allow icing to set for 10-15 minutes before serving.
MAKING THIS RECIPE? Share it with us on Instagram using #aclassictwist so we can see what you are baking up in your kitchen!