Sweet Potato Scones with Maple Icing
These Sweet Potato Scones with Maple Icing are sponsored by Eggland's Best, but all opinions expressed are my own. Thank you for supporting the brands that make it possible for me to keep creating authentic recipes for you!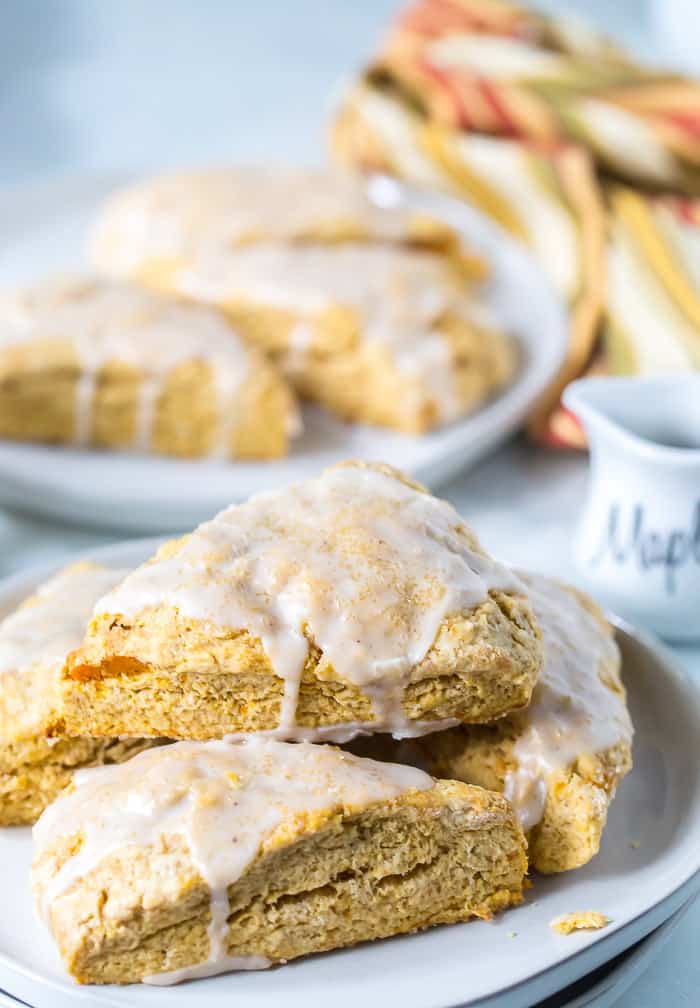 Hi friends! I have another great recipe for you today. These sweet potato scones are screaming Fall and all the wonderful things that it brings. From warm spices to cozy sweaters, to more family meals, fall is all about enjoying quality time with loved ones.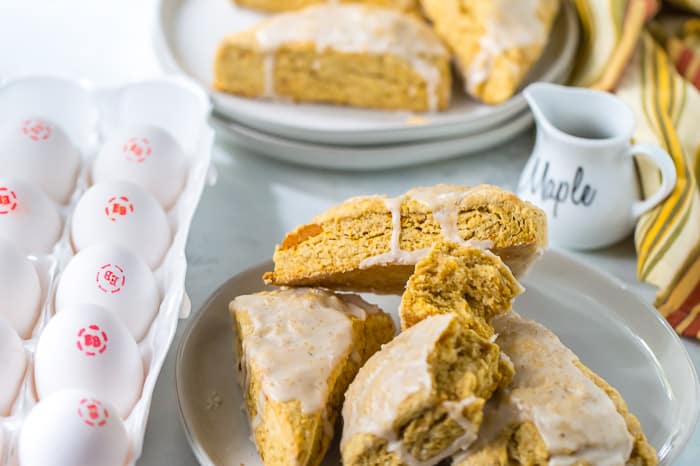 When Eggland's Best asked me to share a family-friendly meal in honor of National Family Meals Month® in September, I decided to share these sweet potato scones as they have become a staple in our home. The adults enjoy it with a cup of coffee while the kids pair it with fruits and milk for breakfast or a snack. It is a family favorite at my house. Even the 18-month-old has "scone" in her vocabulary because she is always asking for more.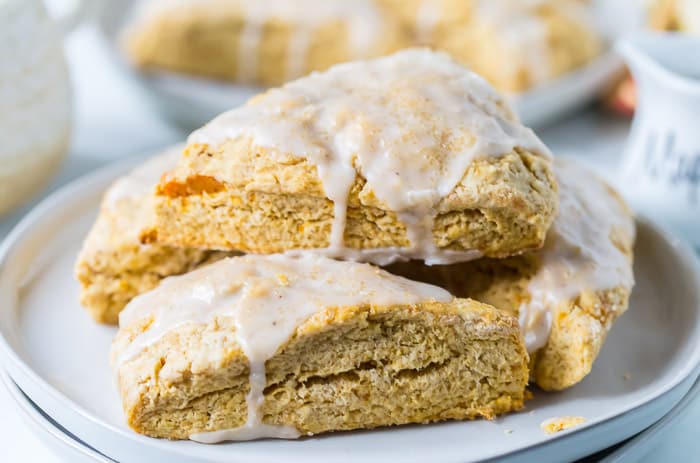 Over the past few months, we have all been spending more time together and enjoying more meals together. At the beginning of the lockdown measures, having to cook three meals a day every day was challenging but over time we found ways to make it easier (meal prep, easier meals, take-outs, etc.) and enjoyable.
One thing that stood out was that we all enjoyed mealtimes despite the long days. Our kids are 1 and 5 and are always on the move. Mealtimes are the rare times they stop, and I can attempt to have longer conversations with them, especially the 5-year-old. He tells the craziest stories when he is eating, and I look forward to them especially after a long day of juggling working from home and keeping up with kids. Mealtimes are my favorites!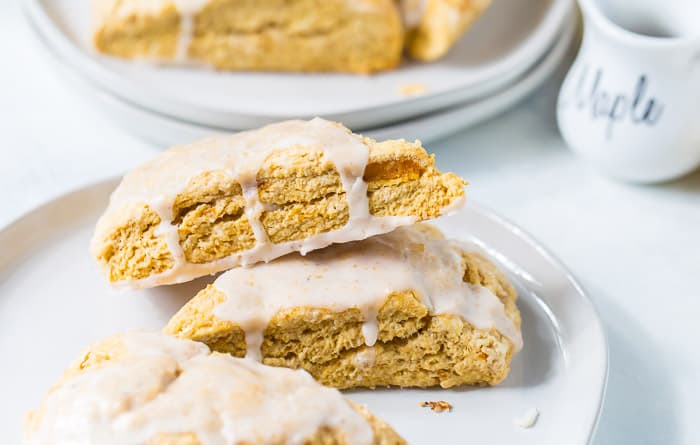 They are made with sweet potatoes- a nutritious vegetable that my kids usually enjoy. However, even if your kids don't enjoy sweet potatoes, you can sneak it in there for them and they won't even know it. I am a master of veggie and nutrition sneak attack, which is one of the reasons why I love using Eggland's Best (EB) eggs as they are superior. Compared to ordinary eggs, EB eggs contain 6x more Vitamin D, more than double the Omega-3s, and 25% less saturated fats. Using them in all of my recipes ensures I am helping to bring in the most nutrition to my family.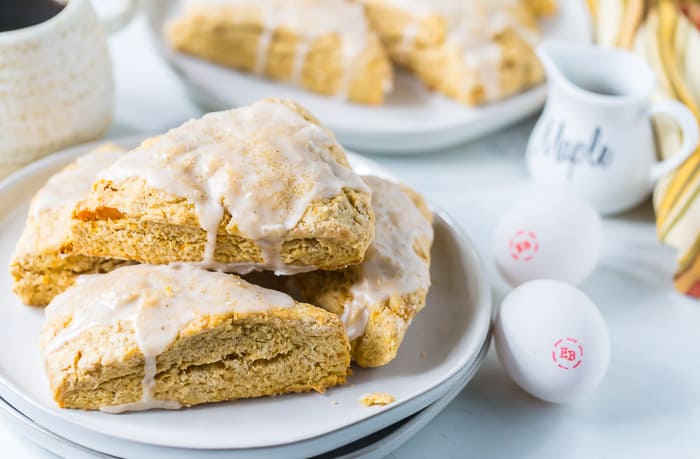 To get families excited about cooking meals together, Eggland's Best is giving fans the chance to win from hundreds of prizes to make mealtime easier, including a chance to win a Grand Prize of $5,000 to upgrade your kitchen in the Better Family Meals Instant Win Sweepstakes 2020!
Now through October 2, fans can visit www.EBFamilySweeps.com to instantly win one of the hundreds of prizes like gift cards, cookware, and more, while also being entered for the $5,000 Grand Prize. You are encouraged to try your luck once per day to gain additional entries towards the Grand Prize.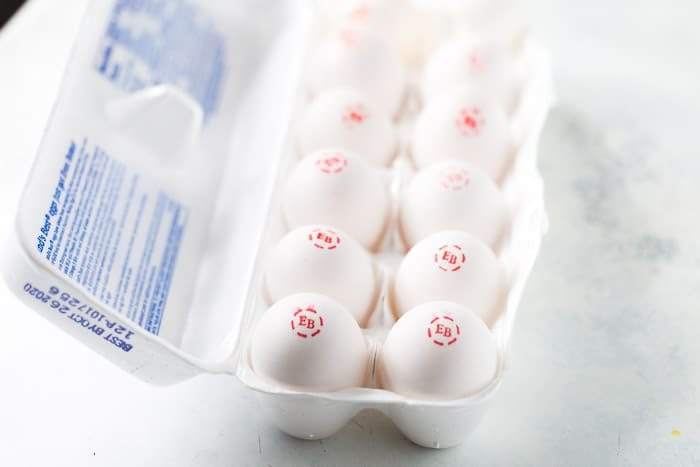 Now back to the scones… If you are new to making them, let me walk you through it. They are SO easy to make and even perfect to have kids help in.
To start, whisk together all your dry ingredients. Flour, spices, and brown sugar are whisked together.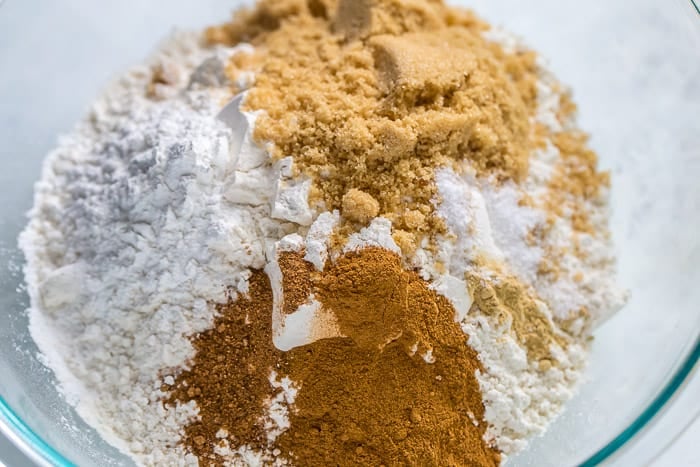 Using a pastry cutter, cut in cold butter into the flour. The butter brings in the flakiness we all love in scones.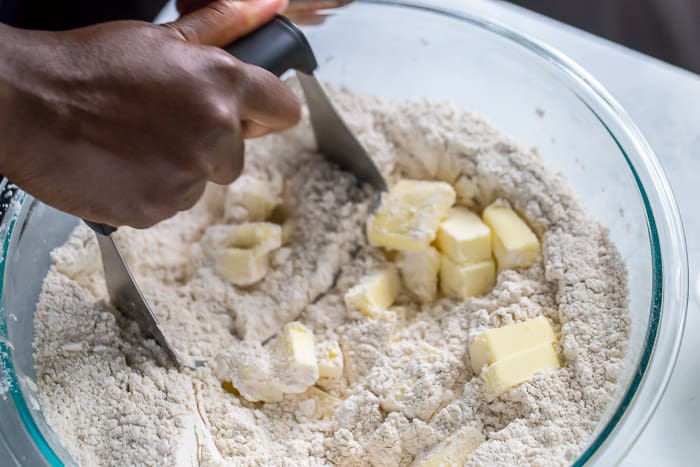 Then mix in the wet ingredients. Mashed sweet potatoes, EB eggs, and milk.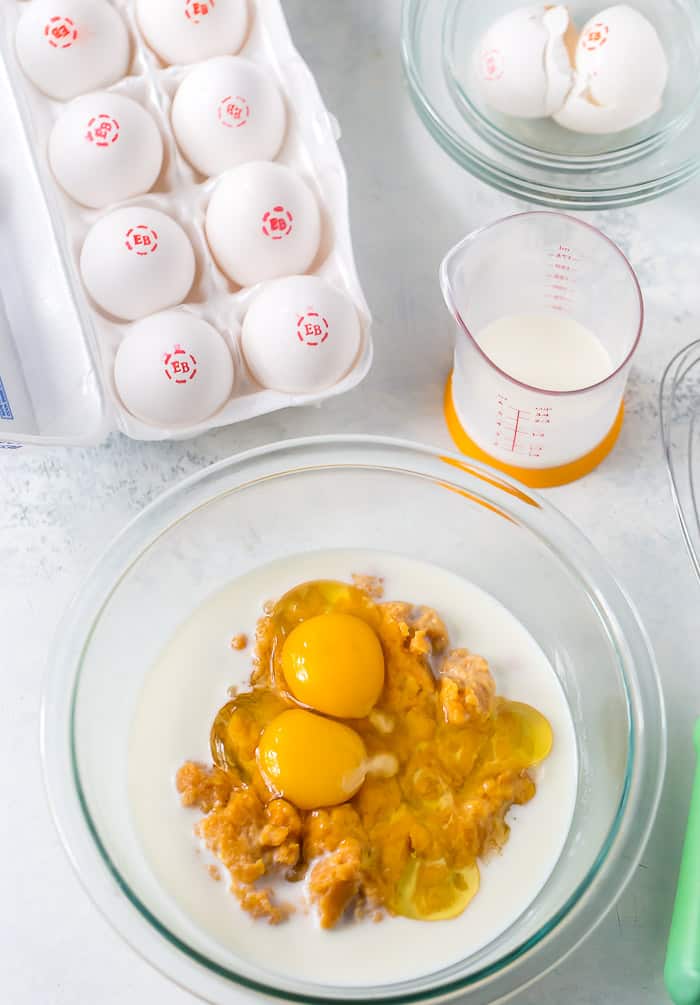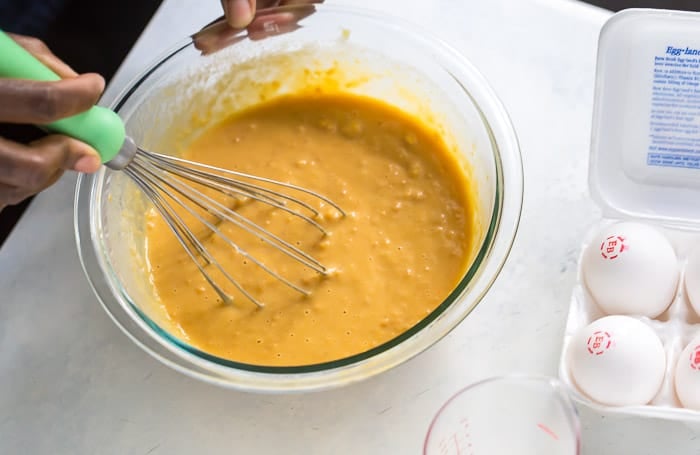 Add these to the dry ingredients and fold in gently. While making scones, you don't want to overwork your dough.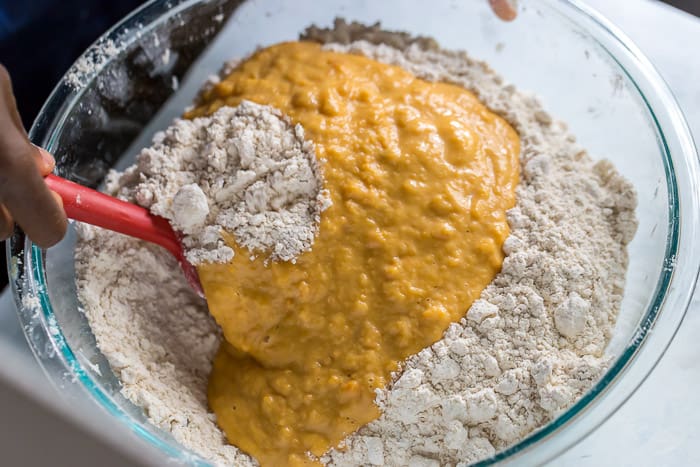 Turn the dough out onto a floured surface and gently knead together a few times. About 4-5 turns.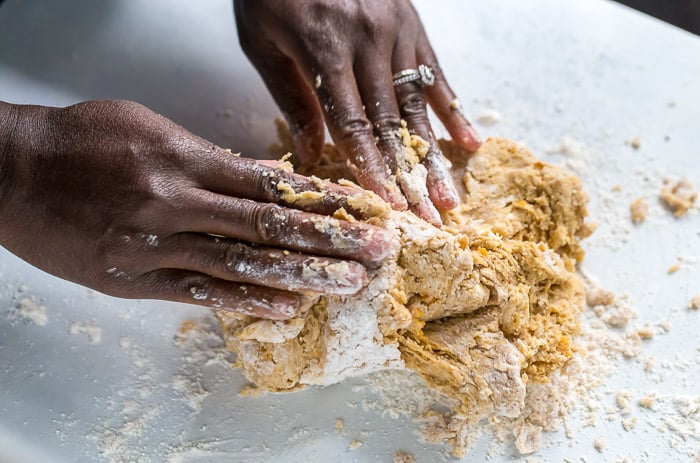 Then pat into a circle and cut into wedges.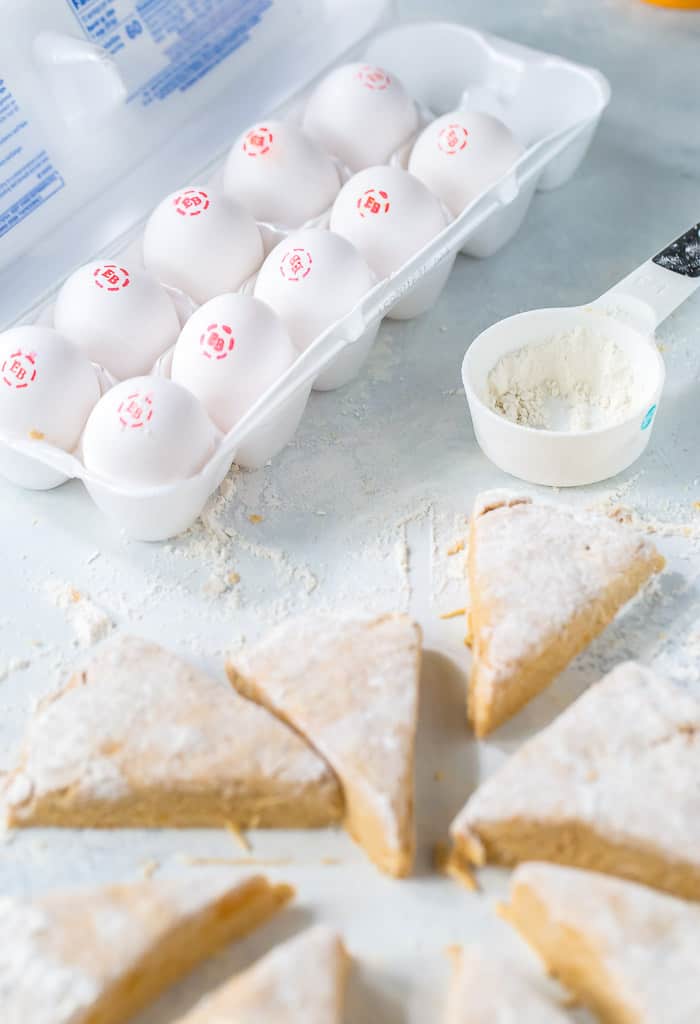 Each wedge is brushed with milk and sprinkled with sparkling sugar.
And that's it. You bake for just 12 minutes.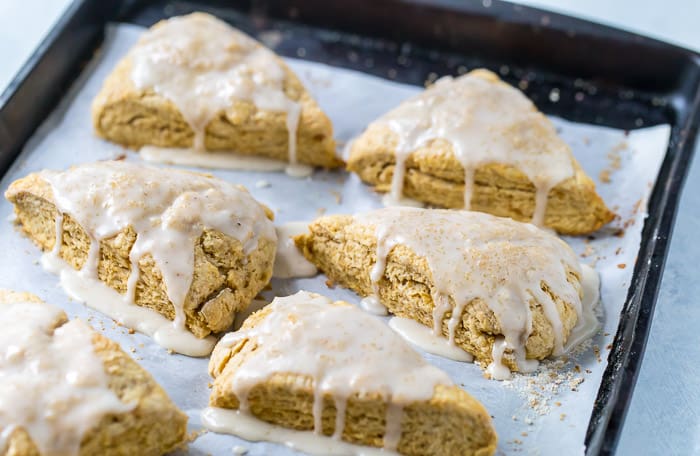 And when they come out, you top them with a sweet maple icing. Maple syrup and nutmeg combined in this icing make for a great fall topper.
There you have it, friends. These scones are tender, flaky, and perfectly spiced. Perfect on a crisp fall afternoon with a cup of coffee or for breakfast.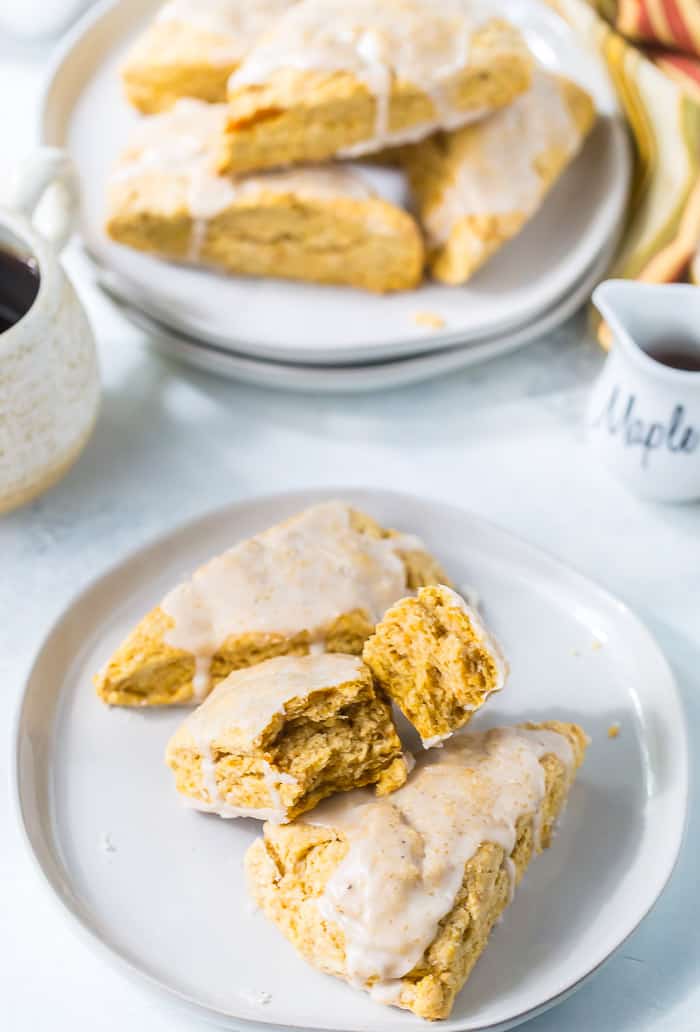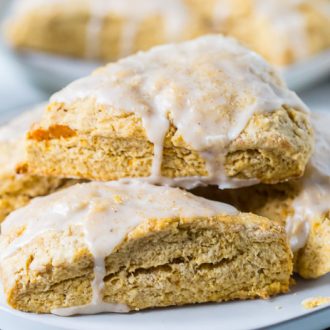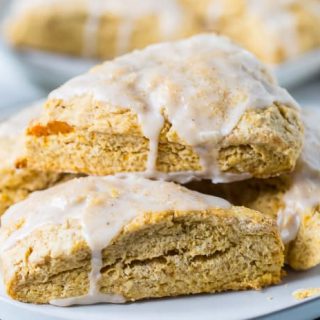 Yield: 16 scones
Sweet Potato Scones with Maple Icing
Sweet Potato Scones with Maple Icing - spiced and perfect with a cup of coffee.
Ingredients
4 1/2 cups all-purpose flour
1/2 cup light brown sugar
4 teaspoons baking powder
3 teaspoons pumpkin pie spice
1 teaspoon ground cinnamon
1/2 teaspoon ground nutmeg
1/2 teaspoon baking soda
1/2 teaspoon kosher salt
1 cup (2 sticks) cold butter, cut in cubes
2 large Eggland's Best eggs, at room temperature
1 1/2 cup mashed sweet potatoes
2/3 cup milk, divided
For the Glaze:
2 cups confectioners' sugar
1/4 cup maple syrup
1/4 teaspoon ground nutmeg
Instructions
Preheat oven to 400 degrees F. Line two baking sheets with parchment paper.
In a large bowl, whisk flour, brown sugar, baking powder, pumpkin pie spice, cinnamon, nutmeg, baking soda, and salt.
Using a pastry cutter, cut in the butter into the dry ingredients until the resembles coarse crumbs.
In another bowl, whisk together the eggs, mashed sweet potatoes, and all but 1/4 cup of the milk. Add the wet ingredients into the dry. Stir until just combined and the dry ingredients are moistened.
Turn the dough onto a lightly floured surface. Knead gently, about 5-7 times. Divide the dough into two equal halves. Pat each dough into an 8-inch circle. Cut the circle into 8 wedges. Transfer each wedge onto the prepared baking sheet, placing each an inch apart. Brush each wedge with remaining milk. Optional: you can sprinkle each scone with cinnamon sugar.
Bake scones for 12-15 minutes or until golden brown.
Remove from baking sheet and let cool on wire rack. To make the glaze, combine all the ingredients. Drizzle over the warm scones.
Recommended Products
As an Amazon Associate and member of other affiliate programs, I earn from qualifying purchases.
Nutrition Information:
Yield:
16
Serving Size:
1
Amount Per Serving:
Calories:

274
Total Fat:

3g
Saturated Fat:

2g
Trans Fat:

0g
Unsaturated Fat:

1g
Cholesterol:

30mg
Sodium:

268mg
Carbohydrates:

56g
Fiber:

1g
Sugar:

25g
Protein:

5g