Pumpkin Cinnamon Rolls with Maple Cream Cheese Icing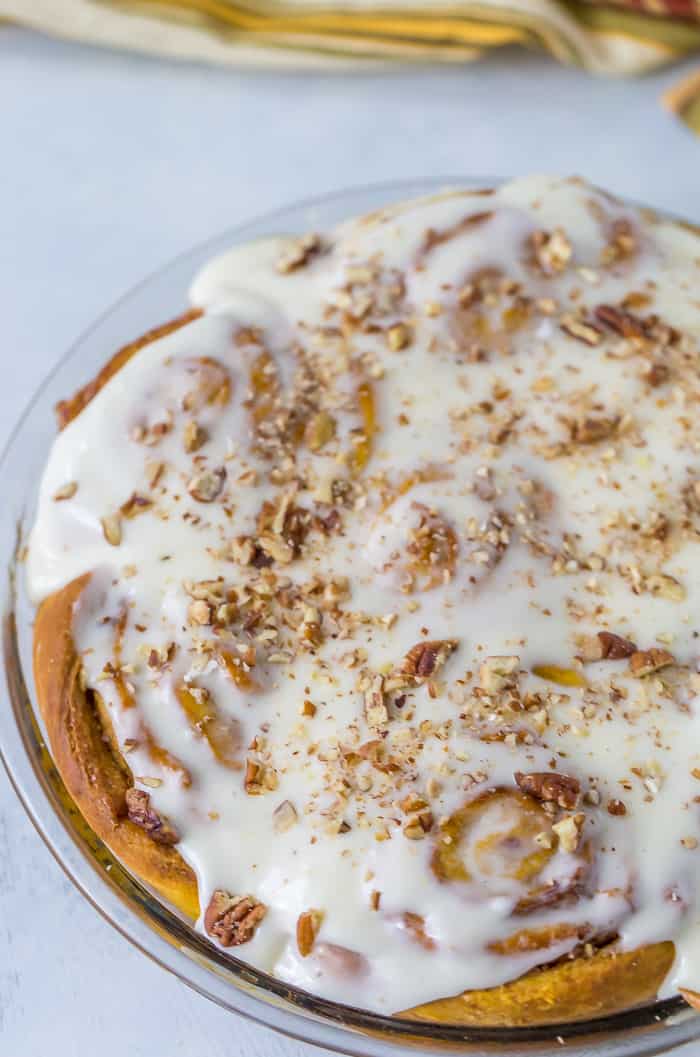 Hello friends! How are you doing? I hope you are all well and staying healthy. As we start the month of October, I am excited to bring you the first pumpkin recipe of the season. These pumpkin cinnamon rolls are indeed a great way to start the pumpkin train as well as the weekend.
We are officially in October and I feel ready to jump into all the pumpkin recipes of the season. While I am not against enjoying things whenever you feel like, I try to focus on what is in season. As an Upstate NY transplant, NY apples are a huge part of my fall experience and they take up most of my September when they are in peak season. So I tend to focus on creating recipes centered around apples and also pears in September. These apple crumble muffins and apple cider cupcakes were some from September.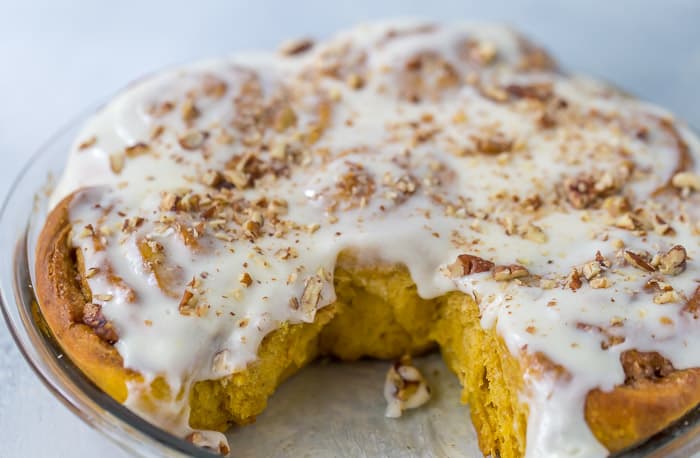 As a pumpkin lover, I've been yearning to make pumpkin cinnamon rolls ever since these salted caramel apple cinnamon rolls. They are rich in pumpkin flavor and oozing with maple syrup cream cheese icing. It's just what dreams are made of or weekends are made of.
Making cinnamon rolls at home can be a lot of work however the investment is SO worth the results. These pumpkin cinnamon rolls start with a dough that is spiced with cinnamon, nutmeg, and ginger. The dough is them infused with pumpkin puree and left to rise for about an hour.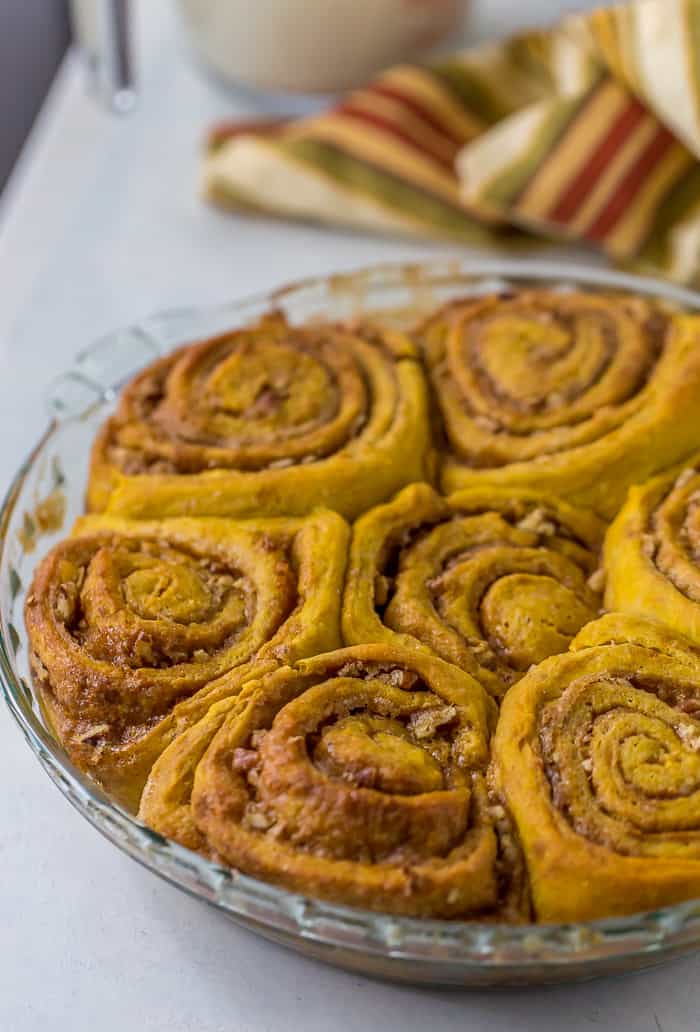 For the filling, browned butter is drizzled over the rolled dough. The iconic cinnamon-sugar mixture is then scattered over the nutty butter and pressed slightly into the dough to allow it all to soak in. Here you can add in finely chopped pecans if you'd like for some added crunch. This is optional of course.
The rolls are then left to rise a second time before baking until golden brown. While the dough bakes, make the icing. A maple cream cheese icing that is so so good and hard not to eat by the spoonful. But try to resist as the icing is even better when slathered over the freshly baked warm rolls.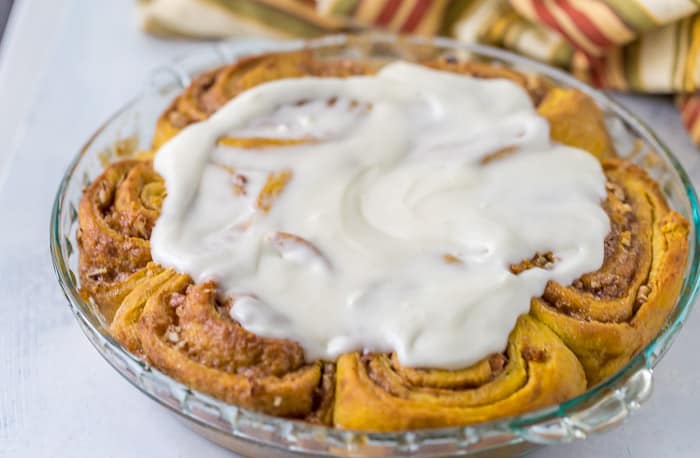 These pumpkin cinnamon rolls are a delight and a must this fall and winter season. As we enjoy more lazy weekends and cooler mornings, add this cinnamon roll to your fall baking list. You won't regret it!
Happy October!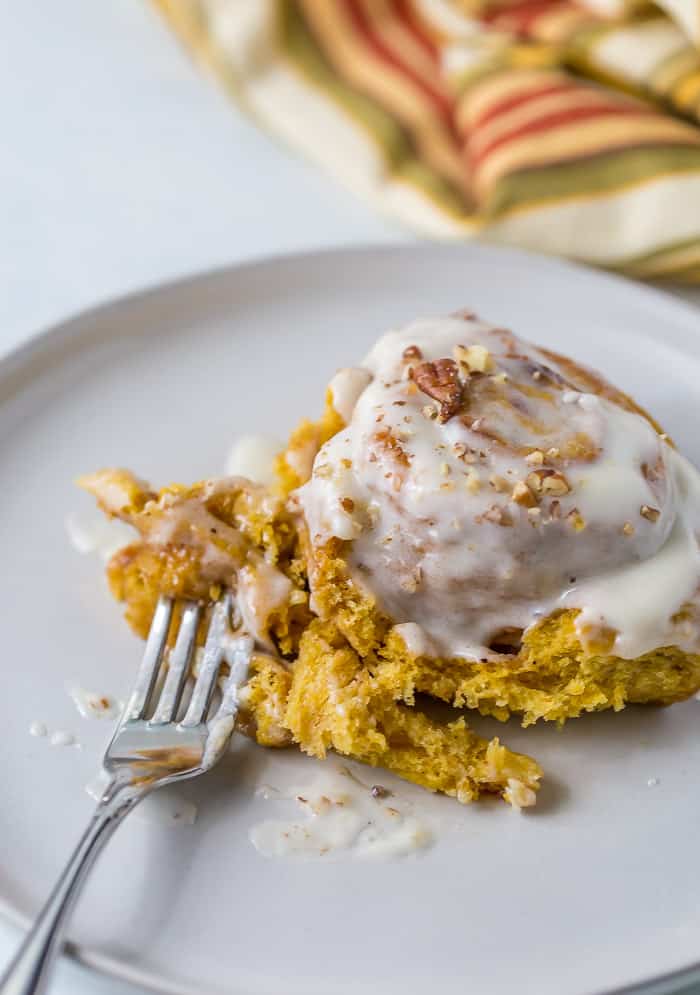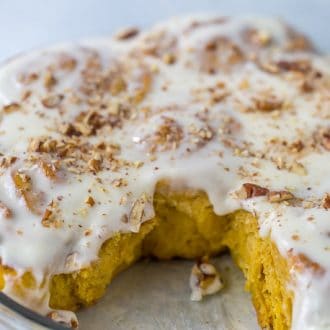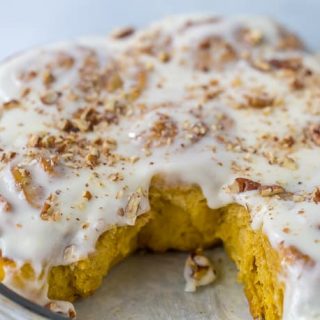 Yield: 2 9-inch pie dishes
Pumpkin Cinnamon Rolls with Maple Cream Cheese Icing
Pumpkin cinnamon rolls slathered with sweet maple cream cheese icing.
Total Time
2 hours
50 minutes
Ingredients
For the Dough
1 1/2 cups Whole Milk
1/2 cup Vegetable Oil
1/2 cup granulated Sugar
1 package (2 1/4 Teaspoons) Active Dry Yeast
1 cup Pumpkin Puree
4 cups All-purpose Flour
1/2 teaspoon Ground Cinnamon
1/4 teaspoon Ground Nutmeg
1/4 teaspoon Ground Ginger
1/2 cup (additional) All-purpose Flour
1/2 teaspoon Baking Soda
1/2 teaspoon (heaping) Baking Powder
1/2 teaspoon kosher salt
For the Filling
1 stick (1/2 cup) unsalted butter
1/2 cup granulated Sugar
1/2 cup Brown Sugar
1/2 teaspoon Cinnamon
1/4 teaspoon Ground Nutmeg
1/2 teaspoon Ground Ginger
1 cup Finely Chopped Pecans
For the Icing
8 ounces (1 package) Cream Cheese, Softened
3 cups powdered Sugar
1/4 cup Whole Milk
2 tablespoons maple syrup
Dash Of Salt
Instructions
In a heavy-bottomed pot, combine the milk, oil, and sugar. Heat until hot and sugar dissolved, but not boiling. Remove from heat and let cool until just warm (not hot) before sprinkling the yeast over the mixture. Let sit for 5 minutes. Stir in the pumpkin puree.
In a medium bowl, whisk together the flour, cinnamon, nutmeg, and ginger. Add these dry ingredients to the mixture in the pot.
Mix until all incorporated. Cover the pot with the lid and allow the dough to rise in a draft-free warm area, about 1 hour or until dough doubles in size.
Add in the ½ cup flour, baking soda, baking powder, and salt. Stir to combine.
Meanwhile, prepare the filling. In a small saucepan, melt the
butter. Cook until lightly browned, whisking occasionally. Remove from heat and transfer to a small bowl (Alternatively, you can just melt in a microwave and skip the browning) In another small bowl, combine the sugars, cinnamon, nutmeg, and ginger
Prepare 2-3 pie plates by spraying with baking spray. Alternatively, you can also use a large casserole dish.
Once the dough is ready, transfer to a lightly floured surface and roll dough into a large rectangle (about 10 by 30). Drizzle all of the melted butter over the dough. Smear it into the dough with your fingers. Generously sprinkle the cinnamon-sugar mixture all over the butter. Lightly press down the sugar into the and dough. Sprinkle ½ cup to ¾ cup of chopped pecans over the sugar.
Starting the with the longest edge towards you, tightly roll the dough into a log. Pinch the edges together at the end. Transfer the dough to a cutting board. Cut the dough into 1-inch thick rolls using either a serrated knife or dental floss or baking twine.
Transfer the rolls to the prepared pan. Cover the pan with a kitchen towel and let rolls rise, doubling in size, for about 30 minutes.
Meanwhile, preheat oven to 375 degrees.
Bake rolls until golden brown, about 20 minutes.
Meanwhile, make the frosting. In a medium bowl, combine all the ingredients and beat until fluffy. Add more milk if you want the frosting to be runnier or add more powdered sugar for a thicker frosting.
Spread the frosting over the rolls as soon as they come out of the oven. Sprinkle remaining pecans.
Enjoy rolls warm.
Recommended Products
As an Amazon Associate and member of other affiliate programs, I earn from qualifying purchases.