Pumpkin Spice Latte Cupcakes with Coffee Cream Cheese Frosting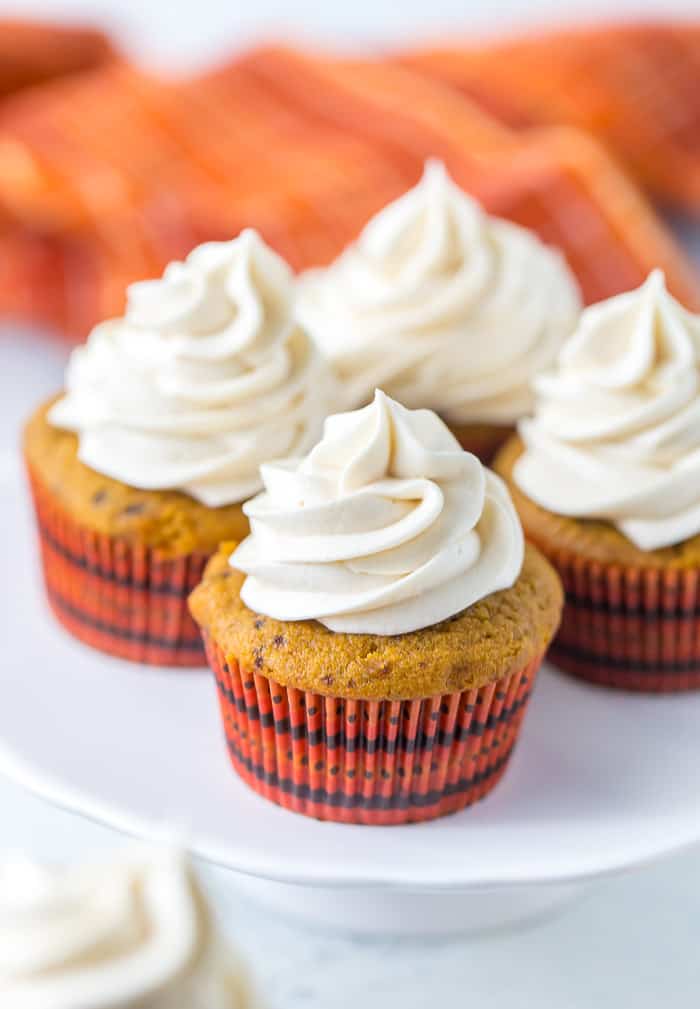 Happy Monday! Happy Cupcake Mondays. I love starting the week with one of my favorite things to bake, cupcakes! There's nothing better than these miniature-sized cakes full of flavor and stunning looks. These pumpkin spice latte cupcakes have been a long time in the making.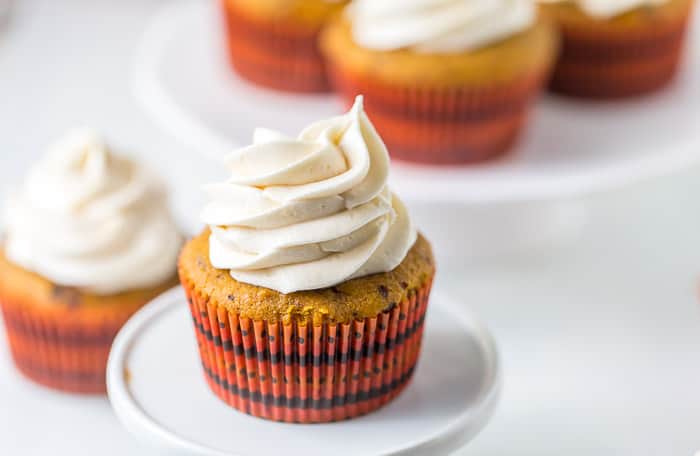 If you are new around here, you may not know that I have a thing for Starbucks latte inspired bakes. From caramel macchiato cake to peppermint mocha cupcakes to chile mocha cupcakes and now these pumpkin spice latte cupcakes, I am a fan of anything coffee and seasonal flavors. Recreating lattes to cake form is clearly a passion.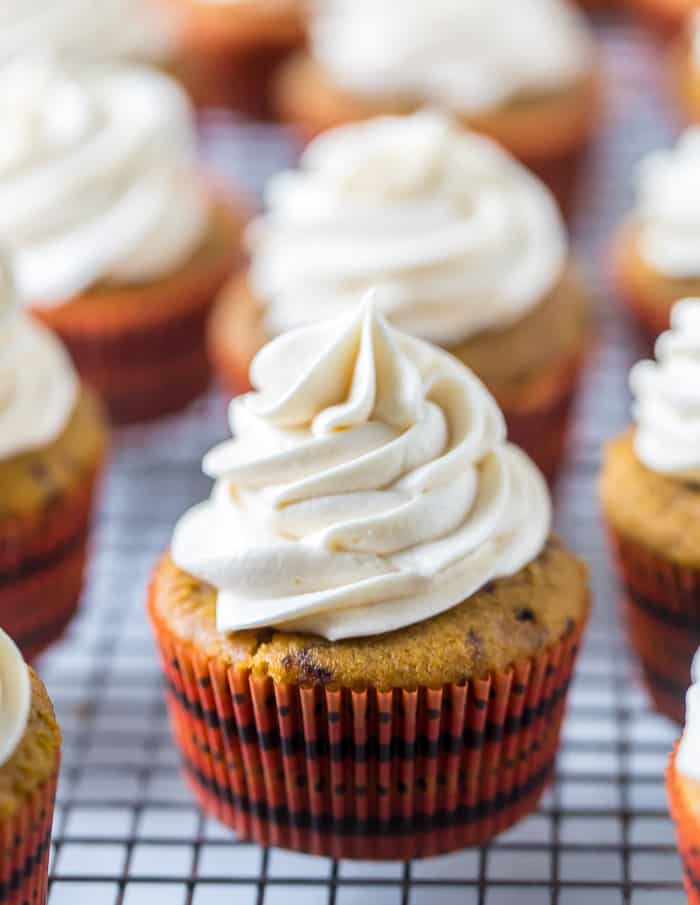 Like it's namesake, these pumpkin spice latte cupcakes blend pumpkin spice flavor with rich mocha. Unlike the namesake drink, these cupcakes have actual pumpkin in them. The cupcake batter is infused with pumpkin puree, pumpkin spice, and espresso powder. In the one's pictures, I didn't dissolve the instant espresso powder that I used. However, I would recommend dissolving the espresso powder for a more blended flavor.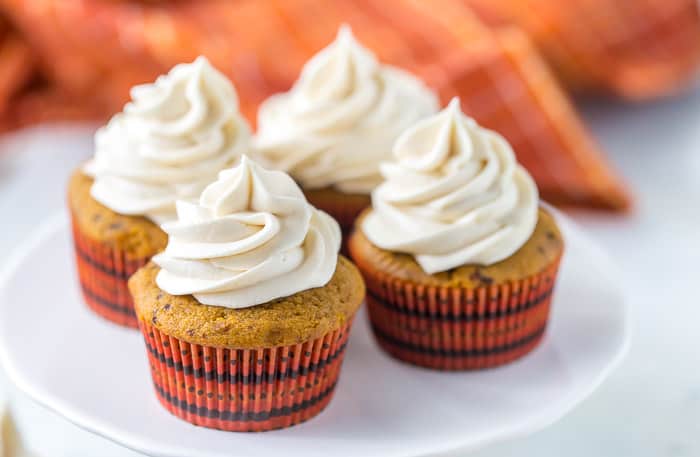 The cupcakes are then topped with cream cheese frosting. What are pumpkin cupcakes without cream cheese frosting? Wait, don't answer that. They are nothing. So these pumpkin cupcakes are topped with a coffee cream cheese frosting because more coffee is always a good idea. Especially these days with two kids under 5 and below.
So there you have it, friends. New pumpkin spice latte cupcakes for your fall baking list and they are a must if you 1) like good cupcakes 2) love some coffee in your desserts 3) enjoying eating cream cheese frosting by the spoonful or 4) you love all the above.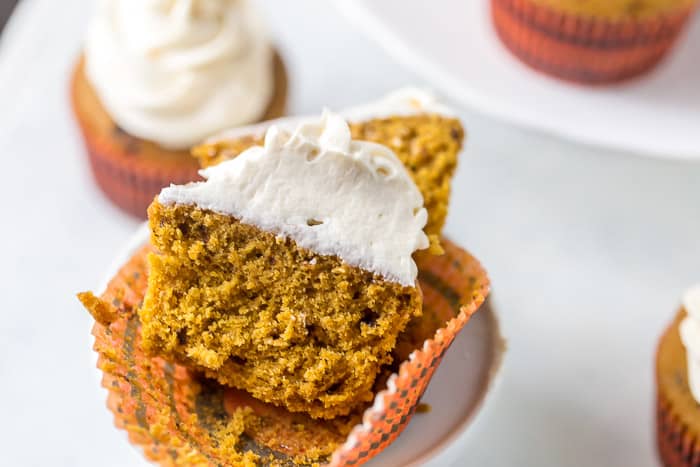 Happy baking!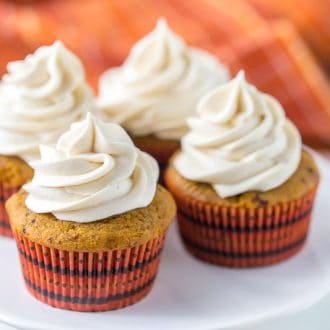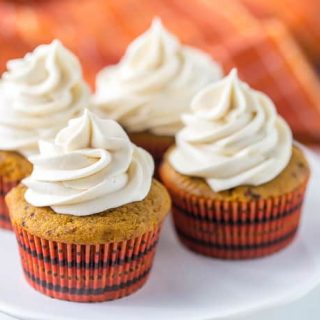 Yield: About 15-18 cupcakes
Pumpkin Spice Latte Cupcakes with Coffee Cream Cheese Frosting
These pumpkin spice latte cupcakes are filled with pumpkin spice, real pumpkin, and coffee flavor.
Ingredients
For the Cupcakes:
1⅔ cups all-purpose flour
2 teaspoons baking powder
1 teaspoon kosher salt
½ teaspoon ground cinnamon
¼ teaspoon freshly grated nutmeg
⅛ teaspoon ground cloves
¾ cup (1 ½ sticks) unsalted butter, room temperature
1 cup packed light brown sugar
½ cup granulated sugar
1 cup pumpkin puree
2 tablespoons instant espresso powder
2 large eggs, room temperature
For Frosting:
1 (8 ounces) package cream cheese, at room temperature
½ cup (1 stick) unsalted butter, at room temperature
4 cups powdered sugar, sifted
1 teaspoon pure vanilla extract
1 tablespoon instant espresso powder dissolved in 1 tablespoon water.
Instructions
!For the Cupcakes:
Preheat oven to 350 degrees F. Line cupcake tins with liners and set aside.
In a medium bowl, whisk together the flour, baking powder, salt, cinnamon, nutmeg, and cloves.
In the bowl of an electric mixer, cream the butter and sugars until light and fluffy on medium speed, about 3 minutes.
In a small bowl, whisk the pumpkin puree with the espresso powder. Let sit for a few minutes so the coffee granules dissolve. Add the pumpkin puree into the eggs and mix until combined.
Add the eggs one at a time, mixing well before each addition. Scrape bowl as needed.
Reduce the speed to low and slowly add the dry ingredients. Mix until just combined.
Divide batter into prepared baking liners. Bake for 12-15 minutes or until a toothpick inserted into the center comes out clean.
!For Frosting:
In the bowl of an electric mixer, beat butter and cream cheese on medium-high until completely smooth about 2-3 minutes.
Reduce speed to low and add sugar, one cup at a time. Beat until combined. Add vanilla extract and coffee and beat to combine. Increase speed to medium and beat frosting until smooth and fluffy.
If the buttercream is not thick enough to pipe, place in the fridge for 20 minutes until firm enough to pipe.
Notes
I used a Wilton tip 1M to pipe the frosting.
Recommended Products
As an Amazon Associate and member of other affiliate programs, I earn from qualifying purchases.