Roasted Sweet Potato Soup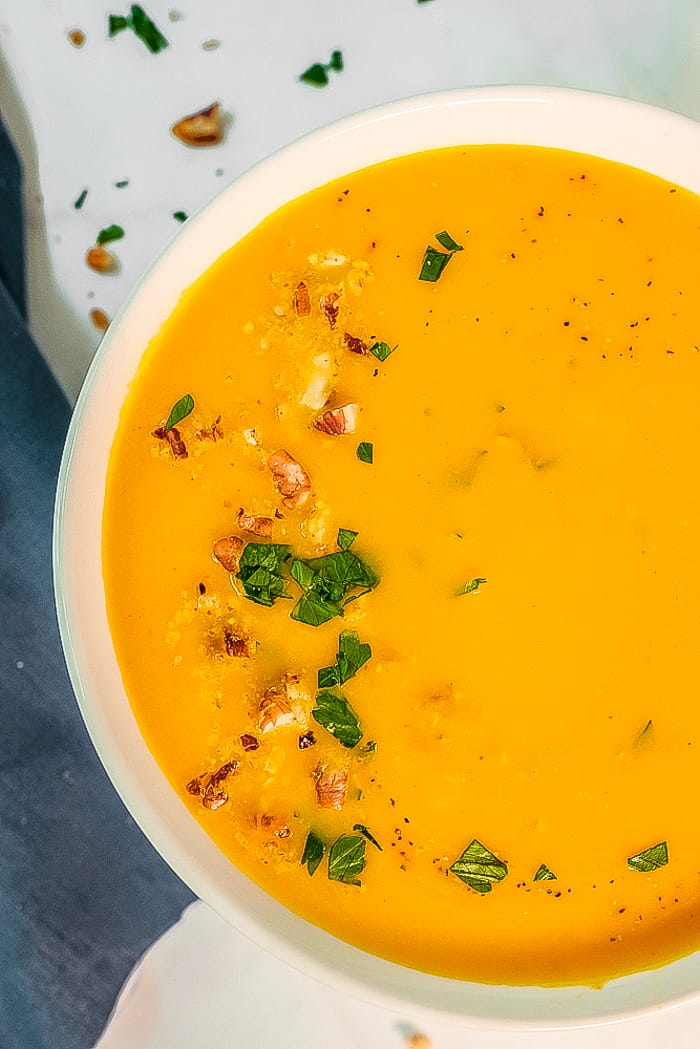 Hello friends! I hope you are all doing well and enjoying the fall season. It's been a while since we did a savory recipe. I'm bringing you this delectable Roasted Sweet Potato soup to fill that gap.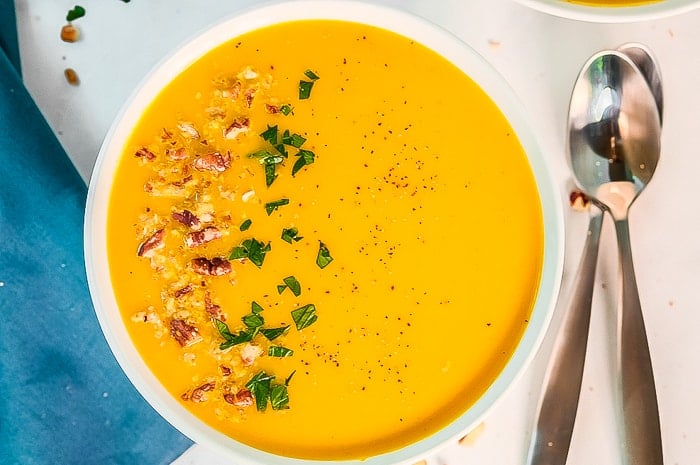 It is officially soup season!! I say that with lots of excitement as I am a lover of good soup. I grew up with my mom's African pepper soup as one of my favorite comfort foods. From the warmth of the steaming bowl to the spicy flavors within and the sweet potato chunks, I always fondly think of her soup in the cold winter months. How I miss the warmth and lack of seasons in Sierra Leone.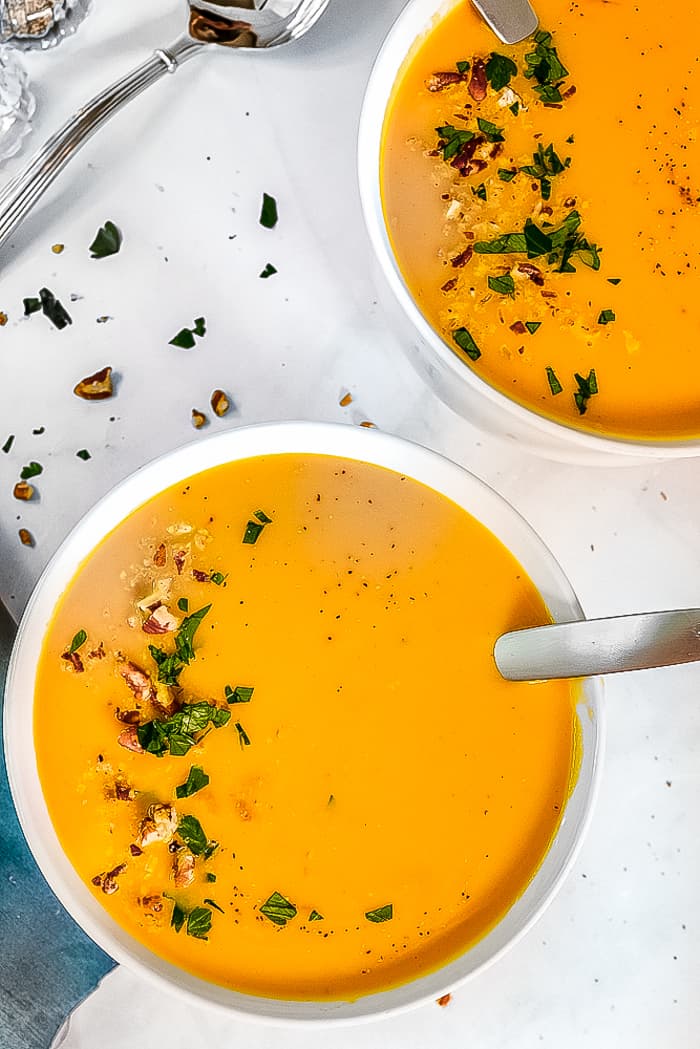 These days, my taste in soup swings between spicy broths to creamy sweet broths. This sweet potato soup falls in the creamy but savory bucket. I really LOVE sweet potatoes and you will find me trying to sneak it into anything. Especially to encourage my kids to benefit from the nutritional values but also to expose them to some nostalgia of my childhood. These sweet potato scones from last week are one way we enjoy it in baked sweets.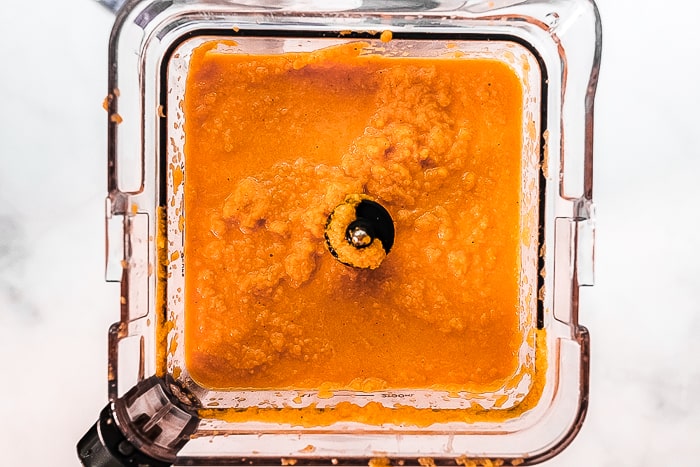 This soup starts with chunks of sweet potatoes, roasted with spices. The sweet potatoes are then pureed with coconut milk. Using coconut milk in this soup not only adds a depth of flavor but it also makes it healthier and suitable for those with dairy intolerances. You still get the creaminess you would from heavy cream but with a little bit more flavor. There's lots of room for you to also personalize your flavors here. Add in fresh thyme when you roast the sweet potatoes or add in some paprika or chili powder. The world is your oyster.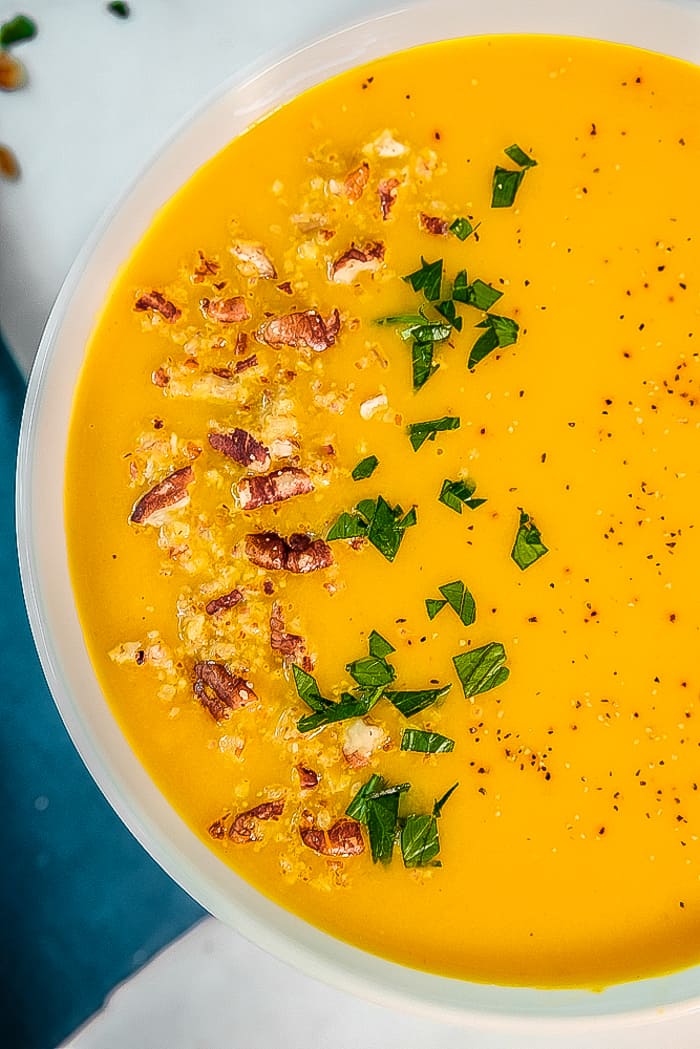 This roasted sweet potato soup is a fall delight and one you will keep coming back to over and over again. As we get into colder, crisper fall mornings and evenings, don't forget to add this to your fall recipe list.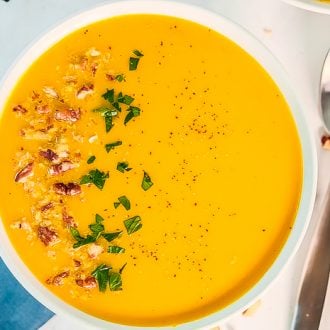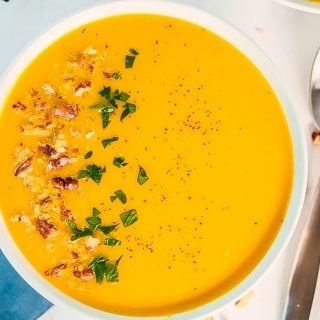 Roasted Sweet Potato Soup
This creamy roasted sweet potato soup is dairy-free, vegan, and easy to make.
Ingredients
2 pounds of sweet potatoes ( 3-4 medium-sized sweet potato)
2 tablespoons olive oil, divided
1 medium onion (yellow), chopped
2 cups vegetable stock/broth.
1 -13 ounce (400 milliliters) can coconut milk
1 teaspoon garlic powder
¼ teaspoon salt
¼ teaspoon black pepper
1 teaspoon paprika
1 teaspoon chili powder
1 teaspoon ginger powder
Pinch of cayenne pepper
Optional (Cilantro, or parsley, and crushed pecans for garnish.)
Instructions
Preheat oven to 400 degrees F. Line a baking sheet with foil.
Peel and cut the sweet potatoes into small chunks. Drizzle with 1 tablespoon olive oil. Season with salt and pepper to taste. Add in onions. Transfer to the baking sheet, spreading to a single layer.
Roast sweet potatoes until tender, about 20 minutes. Remove from oven and transfer to a food processor bowl or blender.
Add in the vegetable broth, coconut milk, and spices in a blender and mix well for 1-2 minutes. (If your blender cannot fit all of the ingredients at one time, then you can do half and then the other half. Just make sure you use half of the liquid for both as this will help the potatoes and onions blend better.)
Transfer the blended mixture into a large heavy bottom pan set over medium heat. Bring to a simmer and let cook for about 30 minutes.
Once the soup is cooked if you want an even smoother texture you can let the soup cool a bit then add it back to the blender and mix until you get the desired consistency.
Let cool and serve!
Garnish with crushed roasted pecans and or parsley or
cilantro for added flavors and textures.
Refrigerate any leftovers for up to 3-4 days.