Snickerdoodle Cheesecake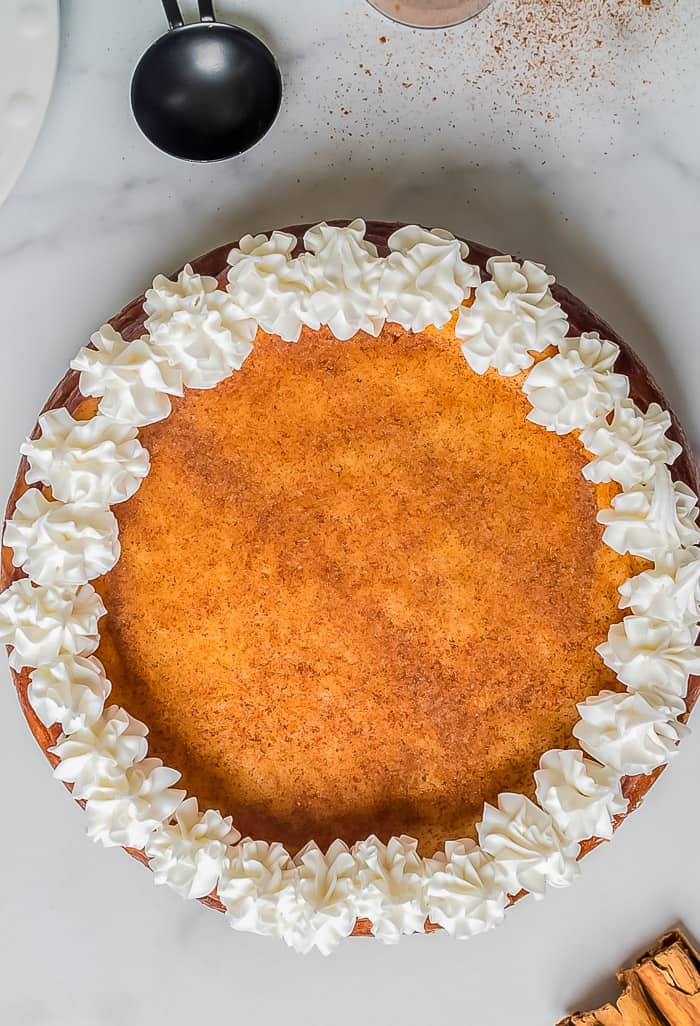 Hi guys! I know everyone else is knee-deep in pumpkin bakes but here I am holding on to flavors that are just as good, if not even better. Snickerdoodle!! This Snickerdoodle cheesecake celebrates the warmth of apple spice and sugary goodness in a creamy, fluffy cheesecake.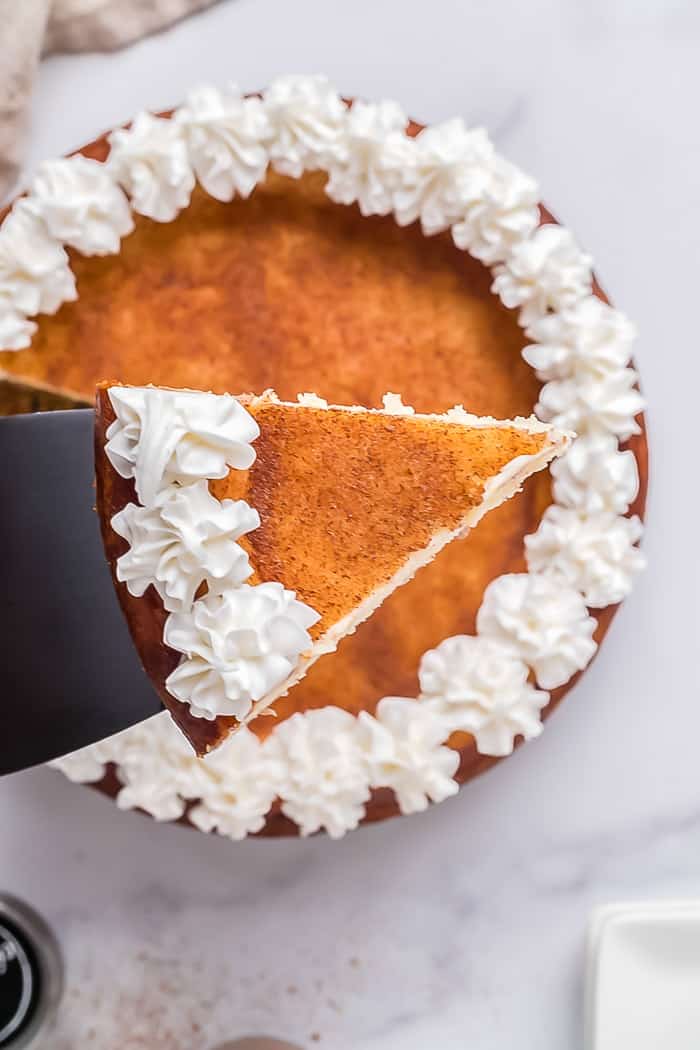 I don't know about you but nothing beats a warm snickerdoodle cookie. From the soft inside to the chewy exterior full of cinnamon and rolled in sugar, it is one of my favorite cookies. I wanted to bring that same joy to this cheesecake.
This snickerdoodle cheesecake starts with a gingersnap crust. I love gingersnap crusts as the flavor completes most fall desserts. I used this same crust in my swirled pumpkin cheesecake and it was a hit last year. So with this snickerdoodle cheesecake, we are bringing that same spiced crunchy crust to the party.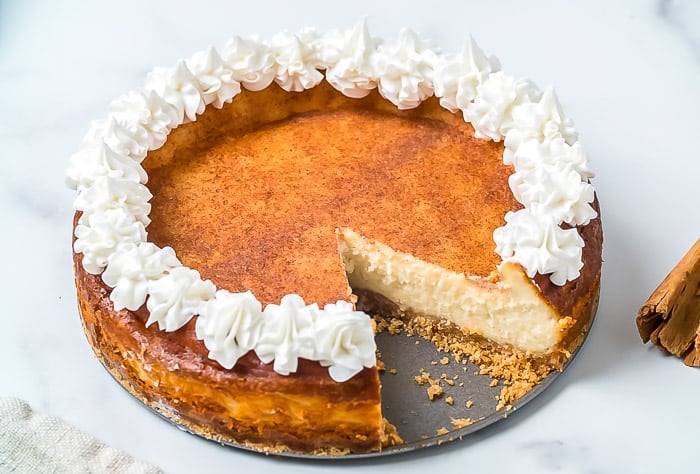 The filling is also my go-to cheesecake batter tailored to the flavors I want. Cream cheese whipped with brown sugar and infused with ground cinnamon for warmth. The cheesecake is baked up to perfection and then topped with the cinnamon-sugar goodness we all love in snickerdoodles. I decided to let the cinnamon sugar topping sit overnight as I think it better dissolves into the cheesecake.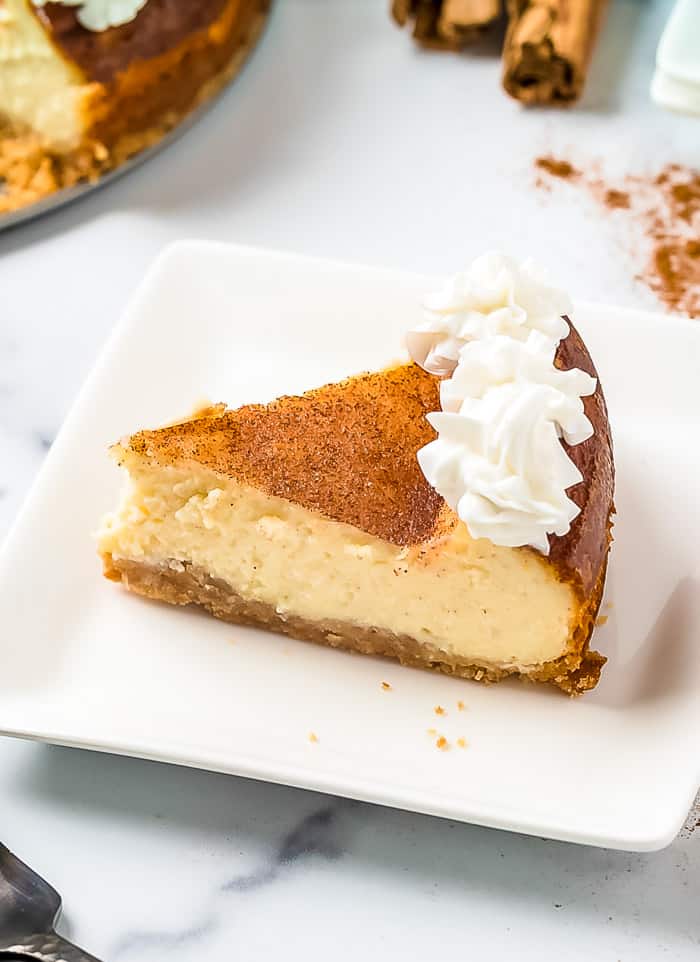 However, you can choose to add the cinnamon sugar topping right before you serve if you'd like the immediate crunchy sugar feel. Regardless of which way you add the cinnamon sugar topping, you will get the intense flavors that make this snickerdoodle cheesecake a delight.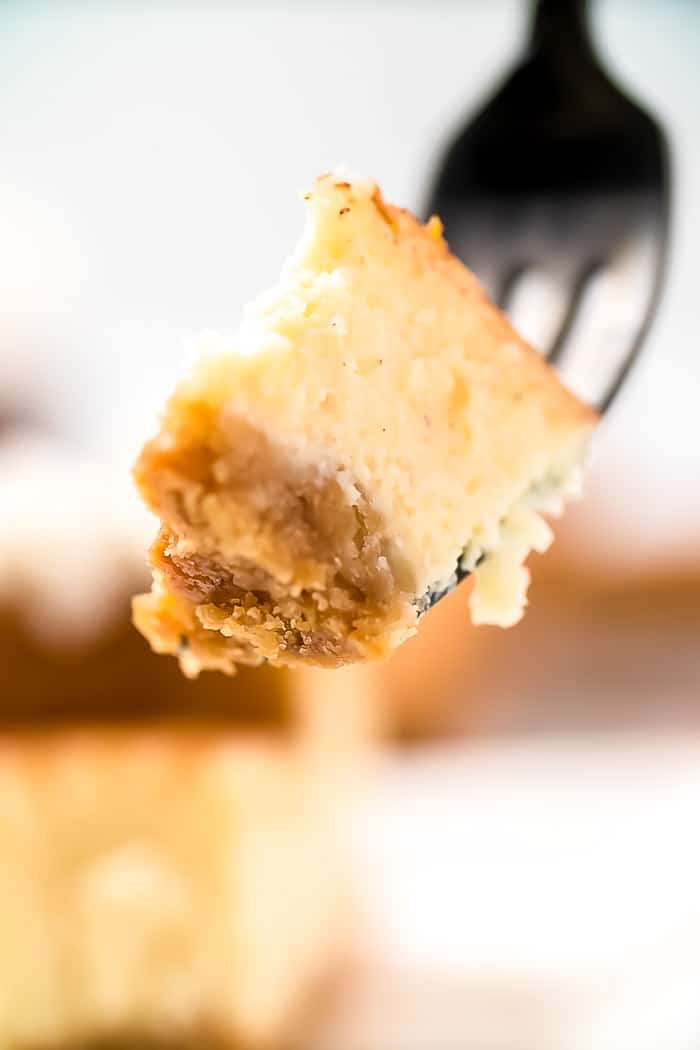 If you are a fan of cheesecakes, this is one you need to add on your fall baking list. It is a seasonal perfection that would be a hit with anyone you share it with. At the very least, it allows you to take a break from pumpkins and enjoy other classic fall flavors.
Happy Baking!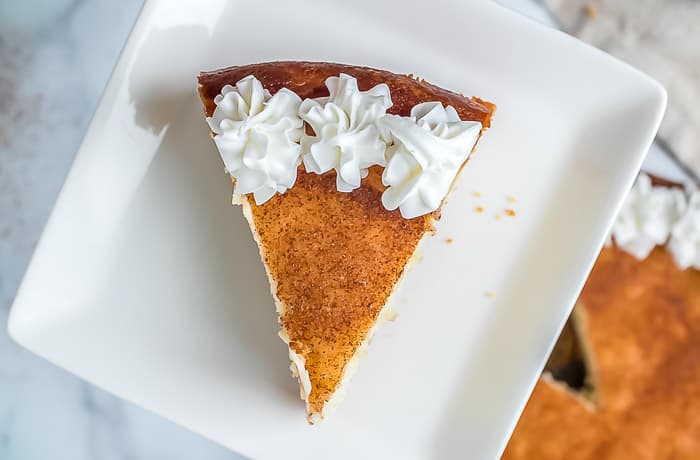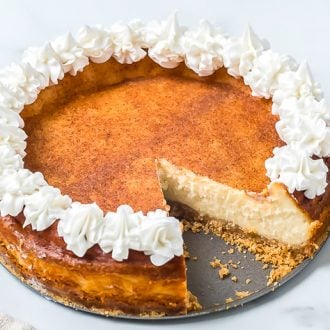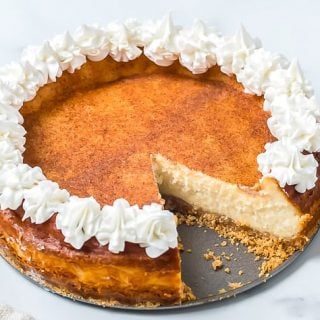 Yield: 9-inch Cheesecake
Snickerdoodle Cheesecake
This snickerdoodle cheesecake is a fall classic that is made of a gingersnap crust, brown sugar cheesecake filling, and cinnamon sugar topping.
Total Time
5 hours
40 minutes
Ingredients
For the Crust:
30 gingersnap cookies
1/4 cup granulated sugar
3 tablespoons unsalted butter, melted
For Filling:
24 ounces (3 blocks) cream cheese, at room temperature
3/4 cup light brown sugar
1/3 cup heavy whipping cream
2 tablespoons all-purpose flour
1 tablespoon ground cinnamon
2 teaspoons vanilla extract
3 large eggs, at room temperature
Topping:
2 tablespoons granulated sugar
2 teaspoons ground cinnamon
Whipped Cream
Instructions
Preheat oven to 350 degrees F. Wrap the entire outside of a 9-inch springform pan with two sheets of foil.
Using a food processor, pulse the cookies into a fine crumb. Add the sugar and melted butter and process until combined. Transfer the crumbs to the prepared pan and evenly spread it. Use a flat bottom cup and press down on crust to create an even layer. Bake crust for 10 minutes. Let cool while you prepare the filling.
Lower oven to 325 degrees F.
In a large bowl, mix cream cheese and brown sugar on medium speed until light and fluffy. Add in heavy whipping cream, flour, cinnamon, and vanilla extract. Mix on low until combined and then on medium speed, about 1-2 minutes. Reduce speed to low and beat in the eggs, one at a time, until just combined. Mix the filling until smooth.
Pour the cream cheese mixture over the cooled crust.
Place springform pan into a much larger baking pan. Add hot water into the larger baking pan to reach halfway up the side of your spring-form pan.
Bake at 325 degrees F for one hour minutes. Then turn off the oven and leave the cheesecake in the oven for an additional 45 minutes. Remove cheesecake from the oven and from water bath and allow it to cool at room temperature for at least an hour.
In a small bowl, mix the cinnamon and sugar together. Sprinkle cinnamon-sugar mixture evenly covering the cheesecake. Refrigerate cheesecake for at least 4 hours or preferably overnight before serving
Remove cheesecake from pan and top with whipped cream to serve.
Recommended Products
As an Amazon Associate and member of other affiliate programs, I earn from qualifying purchases.