Swirled Pumpkin Cheesecake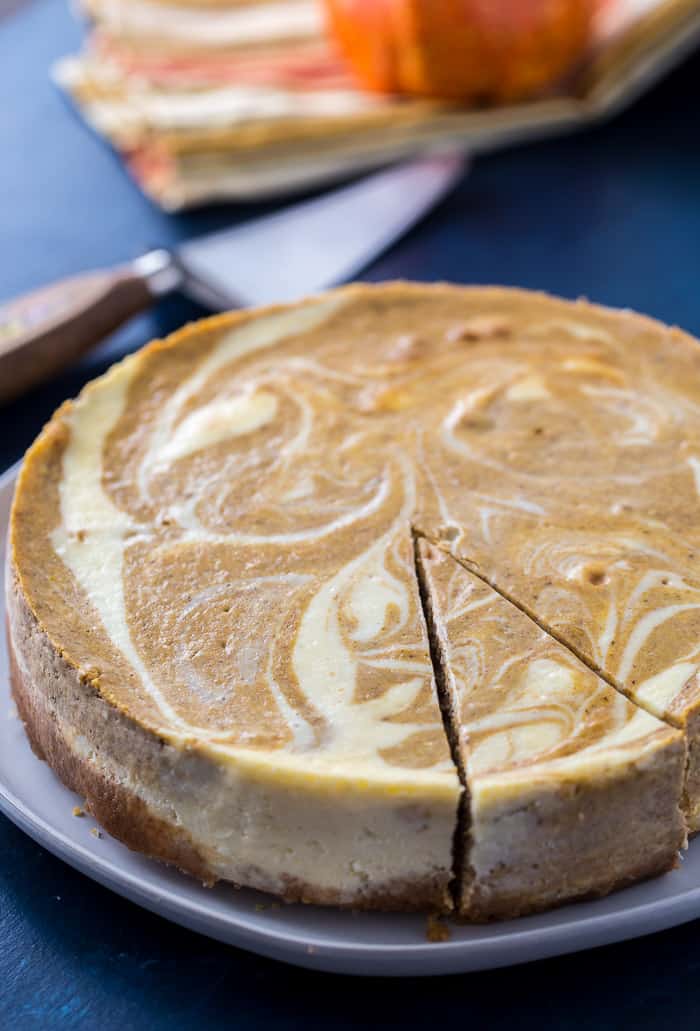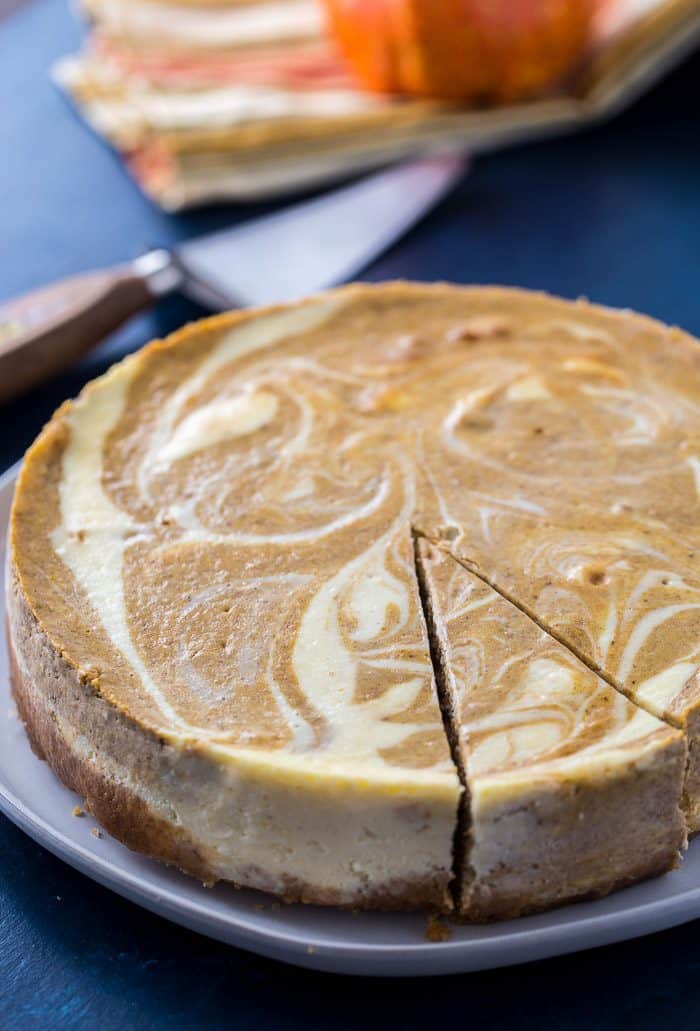 You guys, Thanksgiving is just around the corner. Are you ready?? I know I am not ready and just can't accept it is upon us. I hope you are handling it better than me but I am here to help you with a brand new recipe for your Thanksgiving table. This swirled pumpkin cheesecake is here to impress your guests and your tastebuds.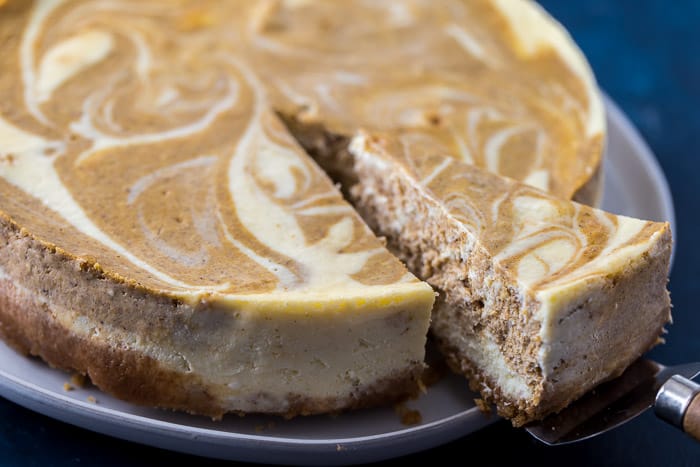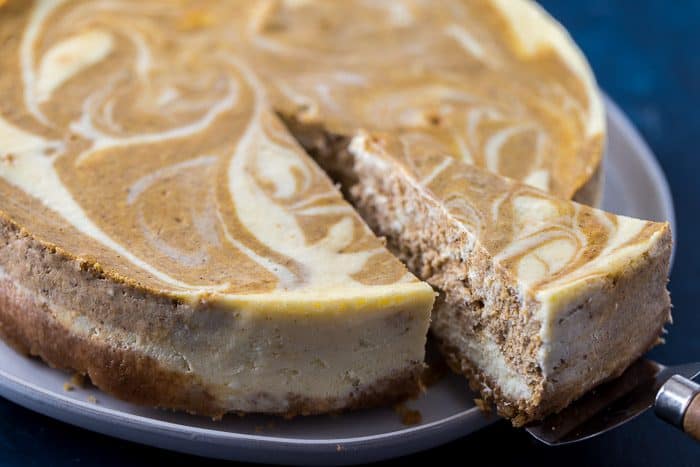 We all know dessert is the star of the show on Thanksgiving (sorry turkey!). Now if you have been around here for a while, you know I have a very healthy Thanksgiving archive which includes your classics like classic Pumpkin Pie recipe, Apple Pie, Pumpkin Cake, and cupcakes. However, cheesecake is underrepresented in my thanksgiving dessert line up so this year I decided to fix that. This swirled pumpkin cheesecake is about to become your new favorite.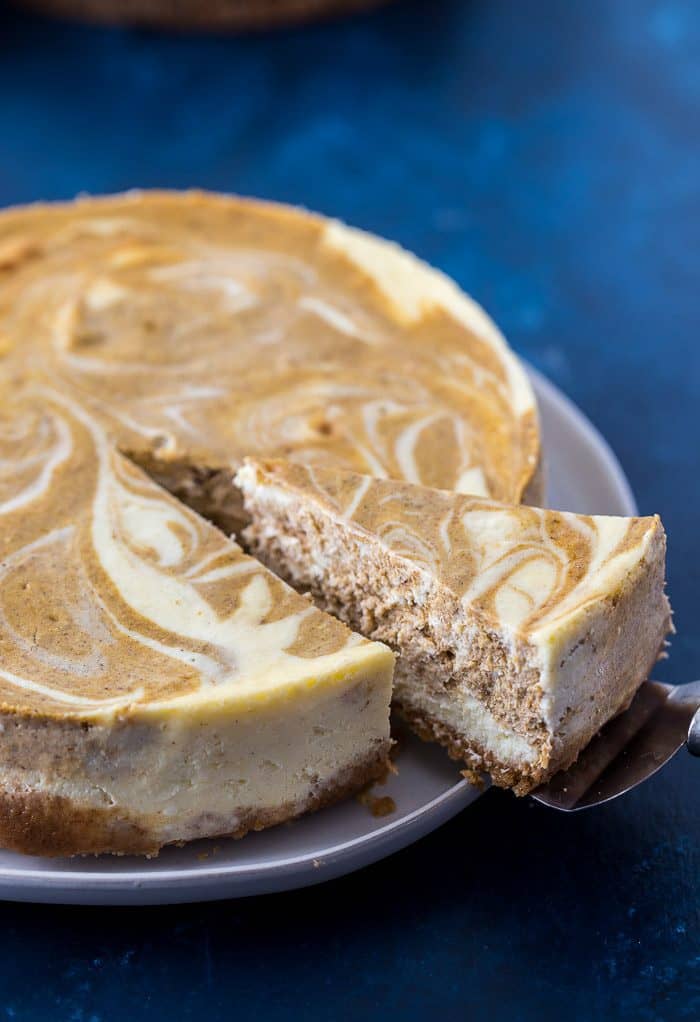 I used my go-to cheesecake base for this recipe. You can find the original here in this white chocolate cheesecake which is an oldie but goodie around here. To this base, I added pumpkin pie spice and pumpkin puree. The puree is swirled into the cheesecake for a lovely visual effect however you don't have to. So you get your pumpkin flavor, warm spices and a creamy, decadent cheesecake in one bite! This pumpkin cheesecake is incredible.
Without much ado my friends, do make this pumpkin cheesecake for your holiday gatherings. You won't be disappointed.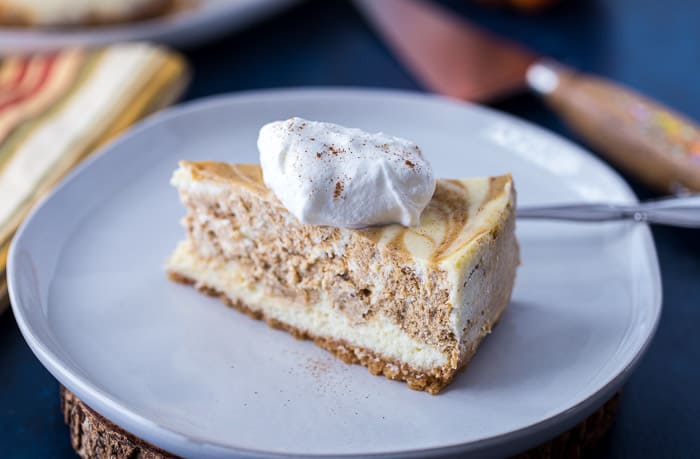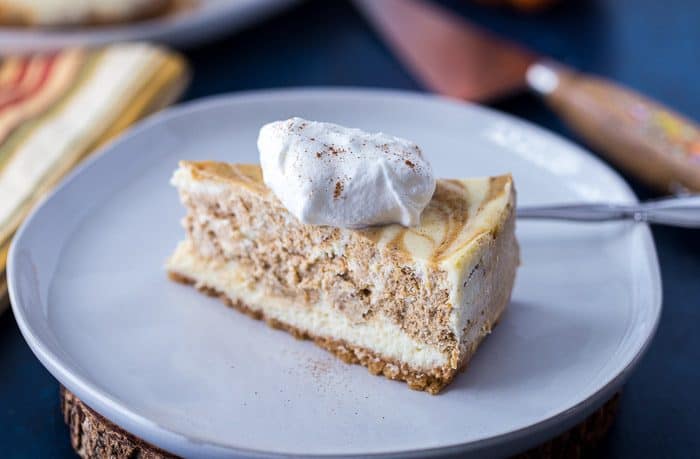 If you are looking for more thanksgiving dessert ideas, feel free to browse my Thanksgiving recipe archives for more.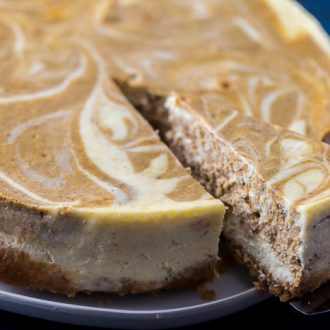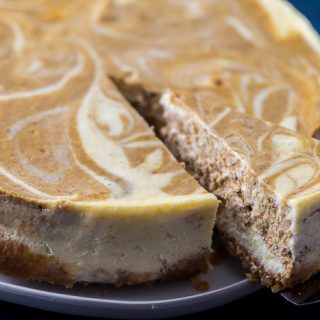 Yield: 1 9-inch cheesecake
Swirled Pumpkin Cheesecake
This perfectly spiced swirled pumpkin cheesecake is both creamy and crunchy for the perfect treat!
Cook Time
2 hours
45 minutes
Total Time
9 hours
30 minutes
Ingredients
For Crust:
30 gingersnap cookies
1/4 cup granulated sugar
3 tablespoons unsalted butter, melted
For the Filling:
32 ounces (4 blocks) cream cheese softened at room temperature
1 cup granulated sugar
1 ½ tablespoon all-purpose flour
1 ½ tablespoon heavy cream
1 teaspoon pumpkin pie spice
¼ teaspoon salt
2 teaspoons pure vanilla extract
3 large eggs, room temperature
1 cup canned pumpkin
Instructions
Preheat oven to 350 degrees F. Wrap the entire outside of a 9-inch springform pan with two sheets of foil.
Using a food processor, pulse the cookies into a fine crumb. Add the sugar and melted butter and process until combined. Transfer the crumbs to the prepared pan and evenly spread it. Use a flat bottom cup and press down on crust to create an even layer. Bake crust for 10 minutes. Let cool while you prepare the filling.
Reduce oven temperature to 325 degrees F.
In the bowl of an electric mixer, beat the cream cheese on medium speed until smooth and creamy, about 2 minutes. Add sugar and mix until combined, another minute, scraping down bowl as needed. Add in flour, heavy cream, pumpkin pie spice, salt and vanilla extract. Mix well on medium-low speed. Reduce speed to low and add eggs in one at a time, mixing until combined. Mix filling until smooth for an additional minute.
Spoon half of the batter into the cooled crust. Using a rubber spatula, fold in the canned pumpkin into the remaining batter. Spoon the pumpkin batter over the plain, adding it in dollops. Use a butter knife or small offset spatula, swirl the pumpkin batter into the plain.
Place springform pan into a much larger baking pan. Add hot water into the larger baking pan to reach halfway up the side of your spring-form pan.
Bake at 325 degrees F for one hour minutes. Then turn off the oven and leave the cheesecake in the oven for an additional 45 minutes. Remove cheesecake from oven and allow to cool at room temperature for at least an hour. Remove foil and refrigerate for at least 6 hours or overnight.
Remove from pan when ready to serve. Serve with whipped cream.