Pumpkin Cake Bars with Brown Butter Frosting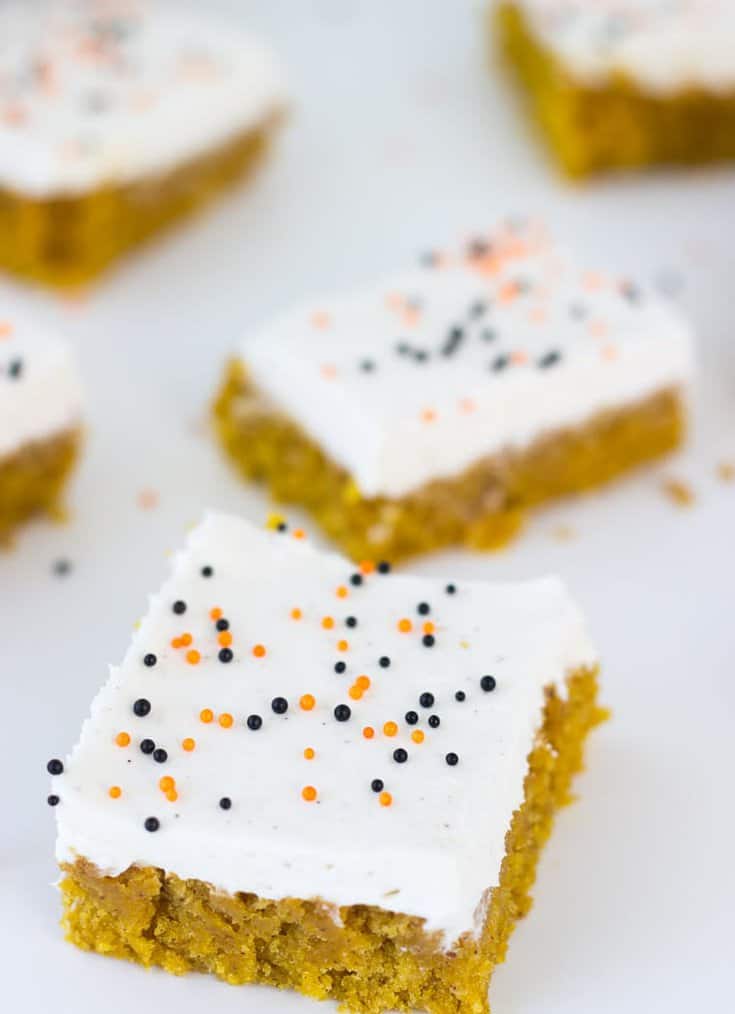 We are back on the pumpkin trail folks. It seems as if I've only posted one or two pumpkin recipes this entire fall and we should change that. To be honest, I only get into pumpkin eating after most of my apples are gone. I figure we have till Thanksgiving to enjoy pumpkin so why rush it? I know I am a minority in that line of thinking.
But these pumpkin cake bars with brown butter frosting started the pumpkin kick in my house again.  A simple (and favorite) spiced pumpkin cake recipe is made in a brownie pan and topped with sweet nutty brown butter frosting. Cut into bars and sprinkled with some fall inspired colors, we have a delicious treat perfect for Halloween festivities and beyond.
Should I really say more to convince you? I didn't think so. I am sure I got you at pumpkin anyway. But while I still have you here, I want to tell you about one of my favorite charities, Cookies for Kids.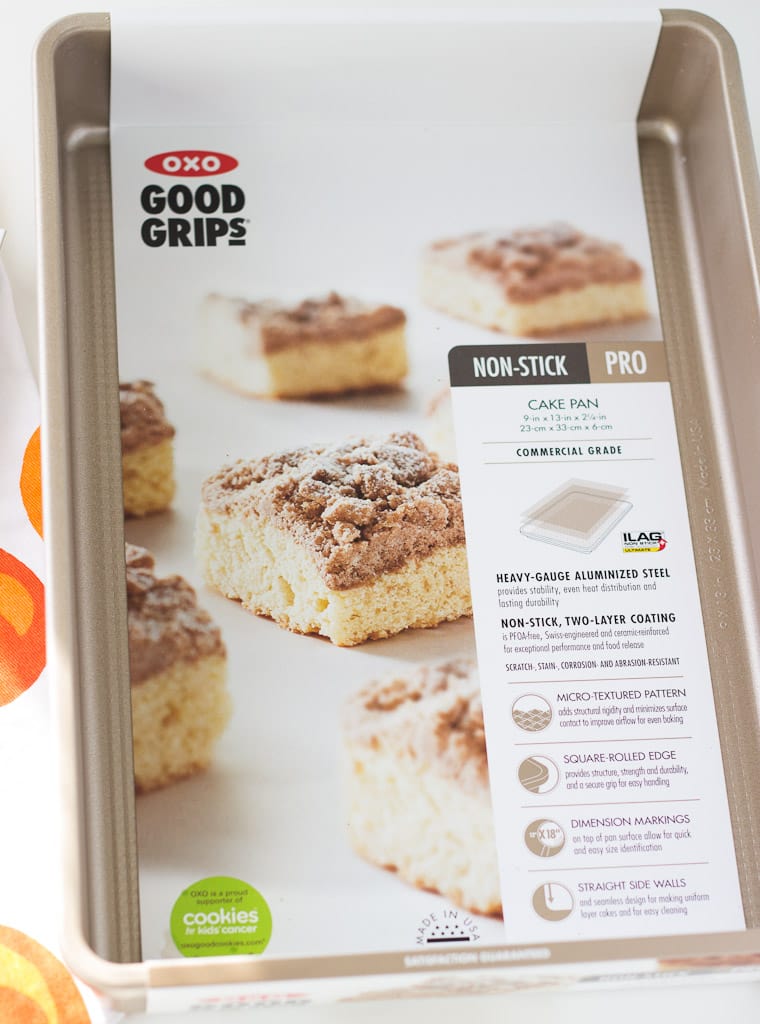 Every year, OXO supports Cookies for Kids' Cancer through their #OXOGoodCookies program where they encourage everyone to bake a difference with OXO for Cookies for Kids' Cancer. Cookies for Kids' Cancer was founded by two OXOnians (OXO employees) who were inspired by their son Liam's battle with pediatric cancer, a disease which claims the lives of more children in the US than any other disease. Cookies for Kids' Cancer provides inspiration and support to allow anyone to easily get involved in fundraising to find a cure for pediatric cancer. This year, OXO will donate up to $100,000 to support Cookies for Kids' Cancer, through their specially marked bakeware (the green sticker in my brownie pan above!). 25 cents for each specially marked product will go towards supporting pediatric cancer research up to our $100,000 commitment.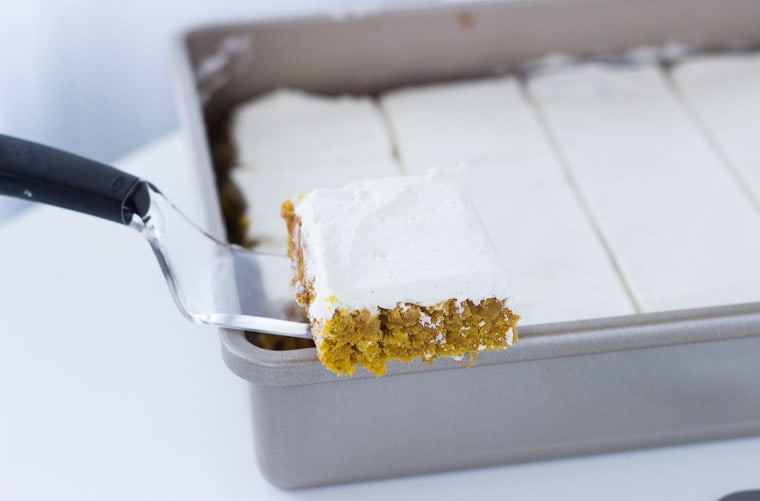 In addition, as part of their campaign, they will be donating $100 to Cookies for Kids' Cancer for each blog post dedicated to this campaign in October. Amazing right? These pumpkin cake bars are helping a little towards pediatric cancer research (and I am all about organizations that give research as we are struggling to get funds to understand these diseases). Head out there and buy some green sticker OXO bakeware!!
For more information, follow OXO on social media: Twitter, Instagram and Facebook.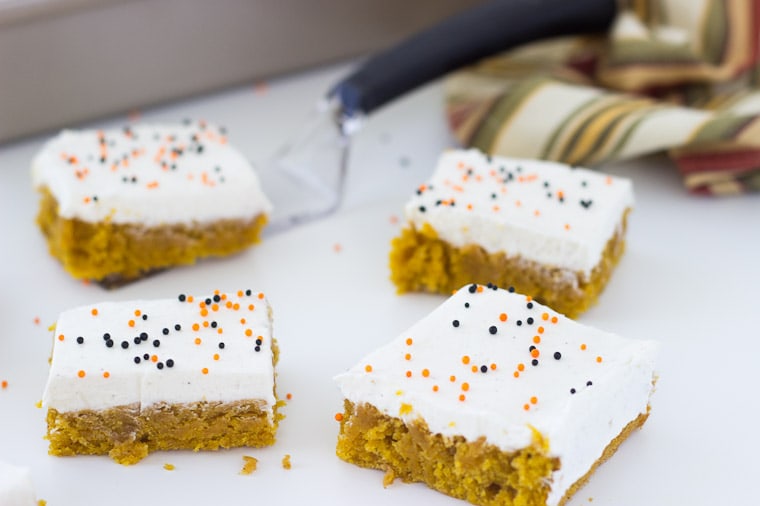 PS: Have a happy Halloween and a great weekend!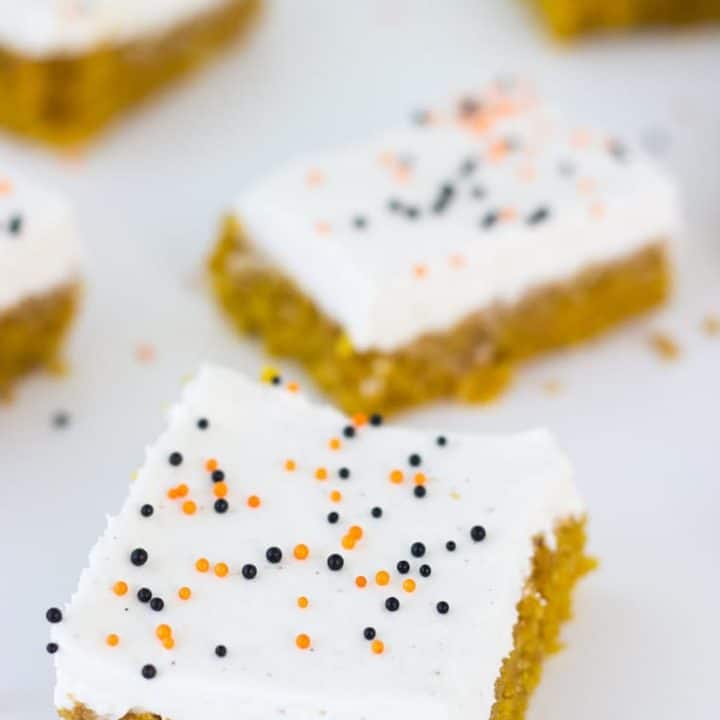 Yield: ~18-20 bars
Pumpkin Cake Bars with Brown Butter Frosting
Prep Time 30 minutes
Cook Time 25 minutes
Total Time 55 minutes
Ingredients
For Cake:
2 cups all-purpose flour
2 teaspoons baking powder
3/4 teaspoon baking soda
1 teaspoon salt
1 1/2 teaspoon cinnamon
1 teaspoon ground ginger
1/4 teaspoon ground cloves
1 1/2 cups packed brown sugar
4 large eggs, room temperature
3/4 cup vegetable oil
1 1/2 cups pumpkin puree
1 teaspoon vanilla extract
1/2 cup milk, room temperature
For brown butter cinnamon buttercream
1 cup (2 sticks) unsalted butter, melted and browned
2 teaspoon vanilla extract
1 teaspoon ground cinnamon
3-4 cups powdered sugar
Instructions
For Cake:
Preheat the oven to 350 degrees F. Butter and flour a rectangular 9 x 13-inch pan.
In a large bowl, whisk together the flour, baking powder, baking soda, salt, cinnamon, ginger, nutmeg, and cloves.
In the bowl of your Stand Mixer, beat the brown sugar and eggs until light and fluffy. Gradually add in vegetable oil and mix until just combined. Beat in pumpkin puree and vanilla extract. Alternate the dry ingredients and milk, in three batches, and beat until combined between each addition.
Divide batter equally into prepared pans. Bake cake 20 to 25 minutes, until a cake tester inserted into the center comes out clean. Let cake cool in pan completely before frosting.
For frosting:
In a large bowl, beat all the ingredients together on low speed until combined. Increase speed to medium and beat until fluffy.
Spread frosting over cooled cake and cut into bars.
Disclaimer: This is not a sponsored post. I was selected to be part of OXO's Blogger Outreach program, for which I received a brownie baking set to use to make these pumpkin cake bars. All opinions are 100% mine.