Pumpkin Cupcakes with Brown Sugar Swiss Meringue Buttercream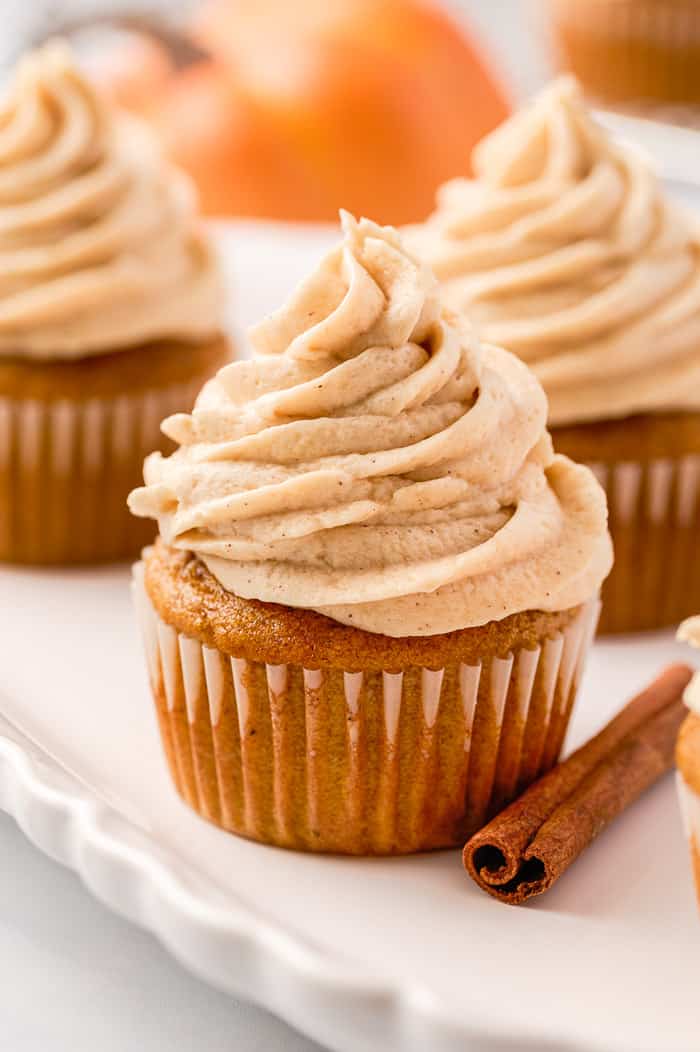 Hi, there my friends! Even though Halloween is over, that doesn't mean the pumpkin flavor craving ends. It is in fact; just the beginning. So many of us love those overpriced Pumpkin Spice drinks from big coffee chains, and Pumpkin scents burning through our house. What if you could have the smell of sweet pumpkin spice wafting through your home AND have a delicious treat that doesn't break the bank?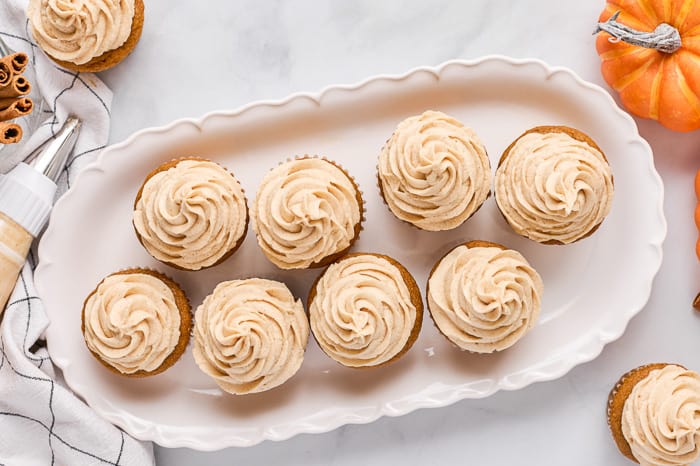 Pumpkin Cupcakes with Brown Sugar Swiss Meringue Buttercream are a favorite among friends and family for the holidays. I know anytime these are served, I need to double the recipe or I will have some not-so-happy guests asking why I didn't have more ready. There is nothing worst than hangry party guests am I right?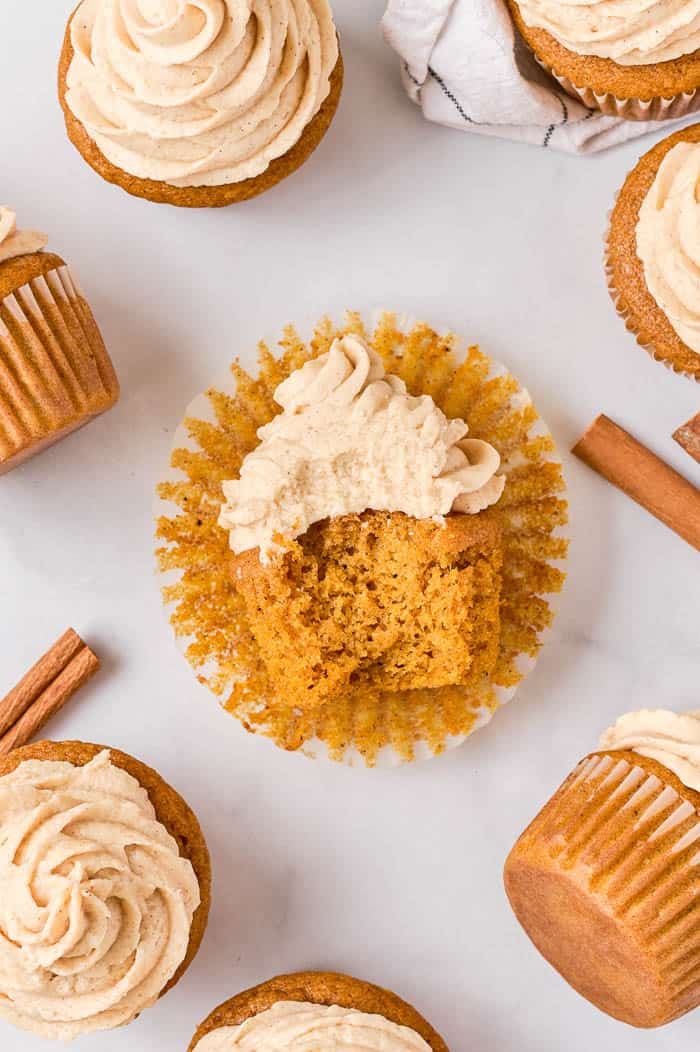 Each cupcake is packed with pumpkin puree, cinnamon, cloves, and ginger for the best fall-inspired dessert you will have this holiday season. I know, I know. Adding cloves and ginger to such a sweet dessert doesn't sound too appealing at first, but I promise you, the flavors combine so well you will be mad you haven't tried it before.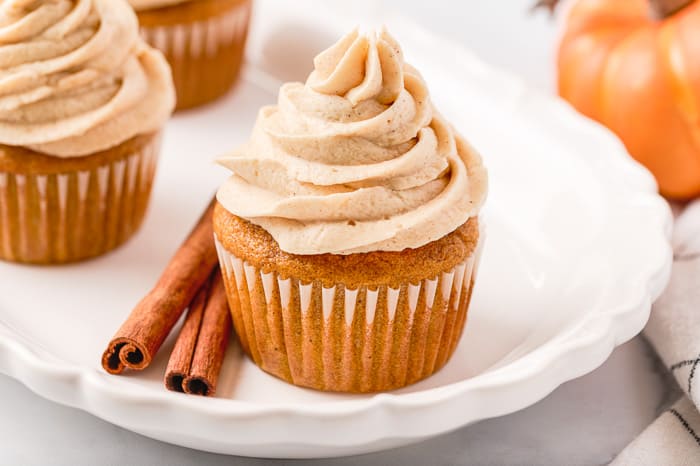 Now for the sweet part, a Brown Sugar Cinnamon Swiss Meringue Buttercream to complement those spices in the cupcakes. Swiss meringue buttercream is by far my favorite buttercream. It is silky, whipped, and not so sweet. To be, it is the perfect complement for spiced desserts.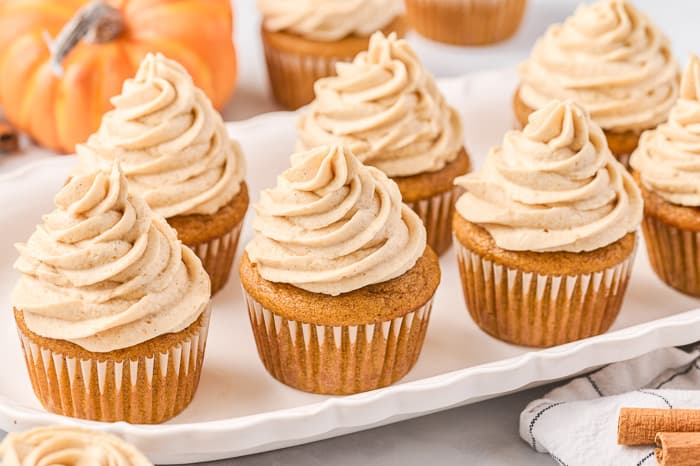 Let's go through how to whip up these pumpkin cupcakes. If you don't wish to see step-by-step, then simply scroll to the bottom for the recipe.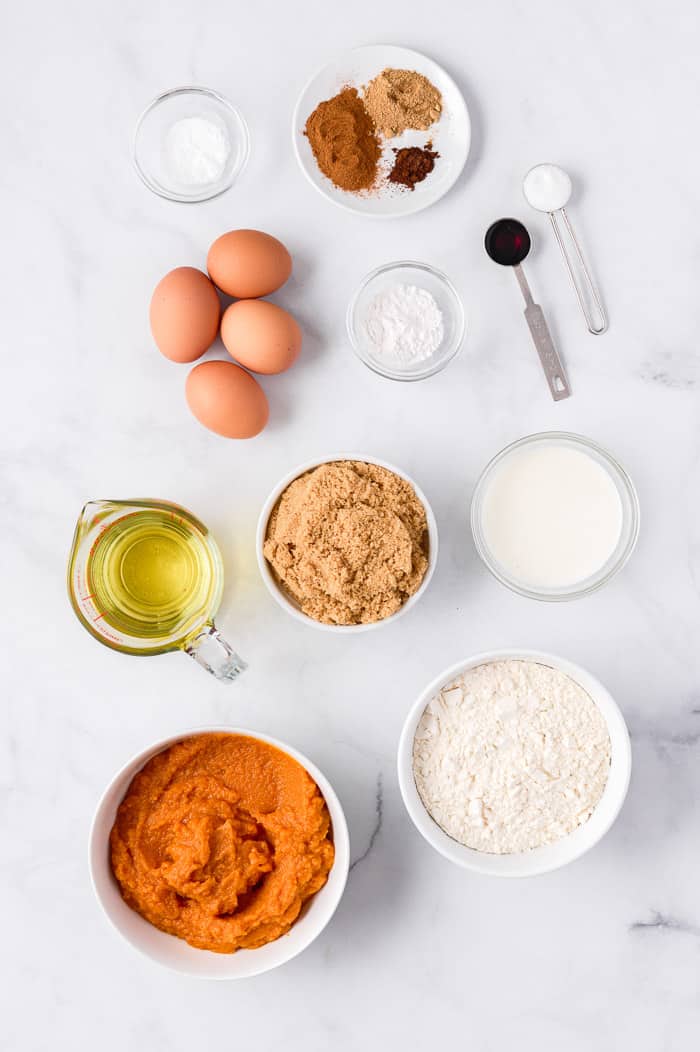 Start by combining your dry ingredients together in a large bowl.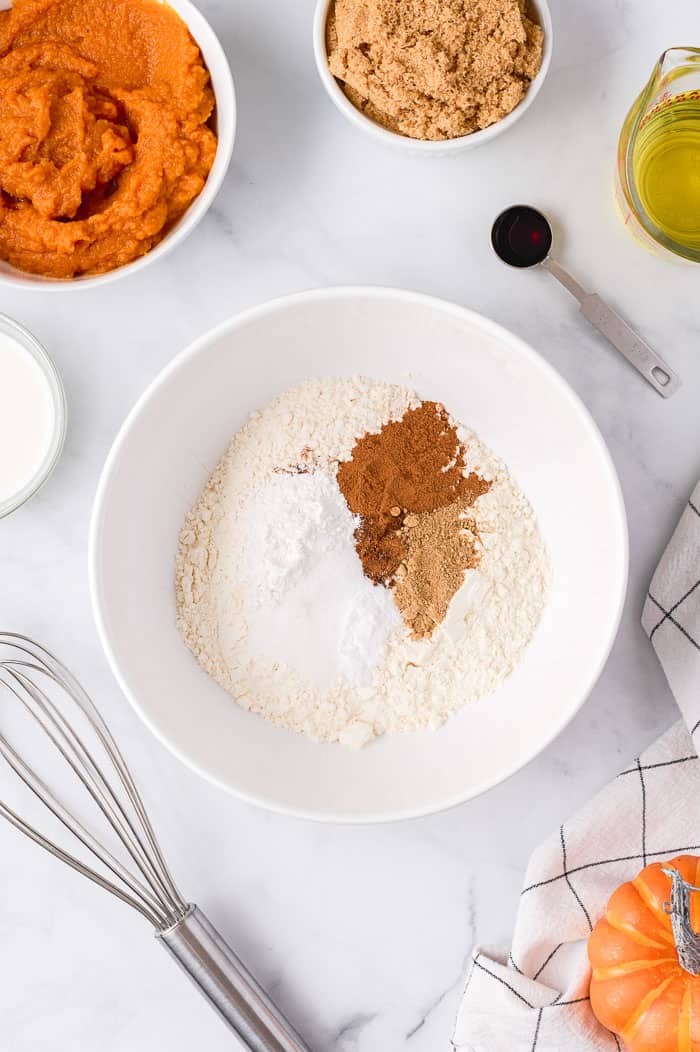 Using your stand mixer, combine brown sugar and butter. Then add the oil and mix together. This makes a moist cupcake!!
Add in the pumpkin puree and vanilla extract.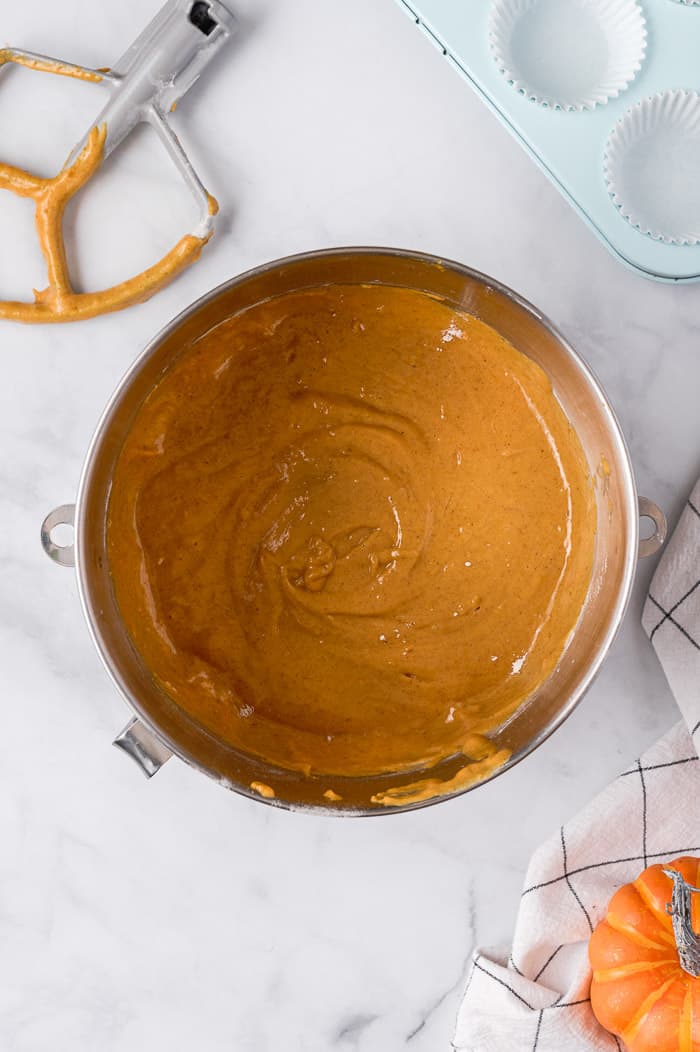 Combine your wet and dry ingredients together till fully incorporated.
Divide batter into prepared tins.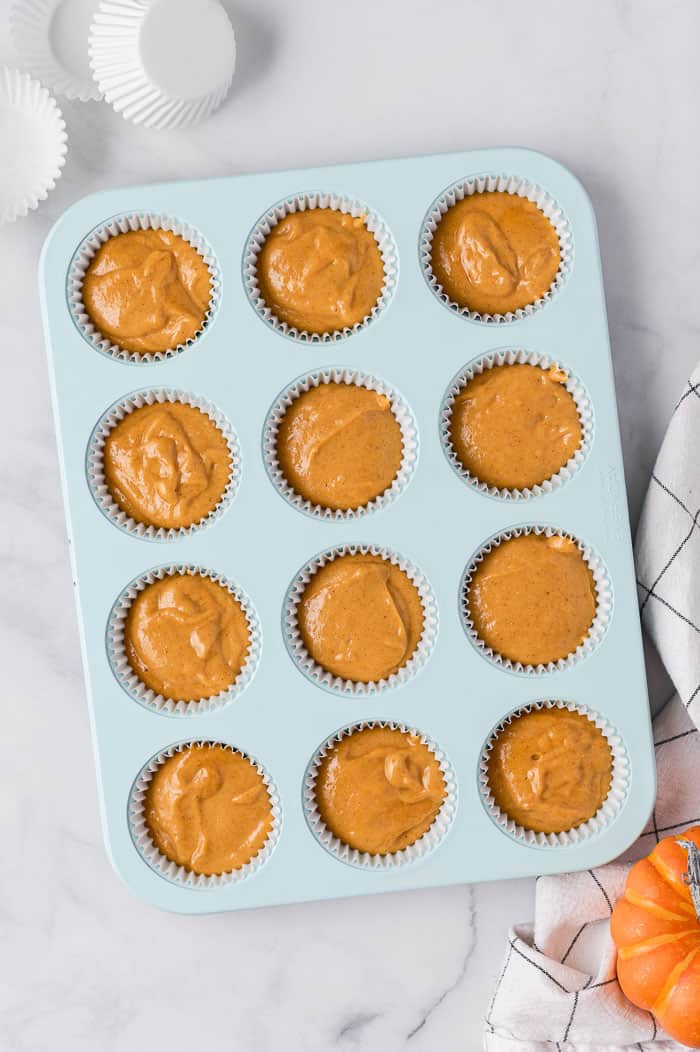 Bake and then cool your cupcakes prior to frosting.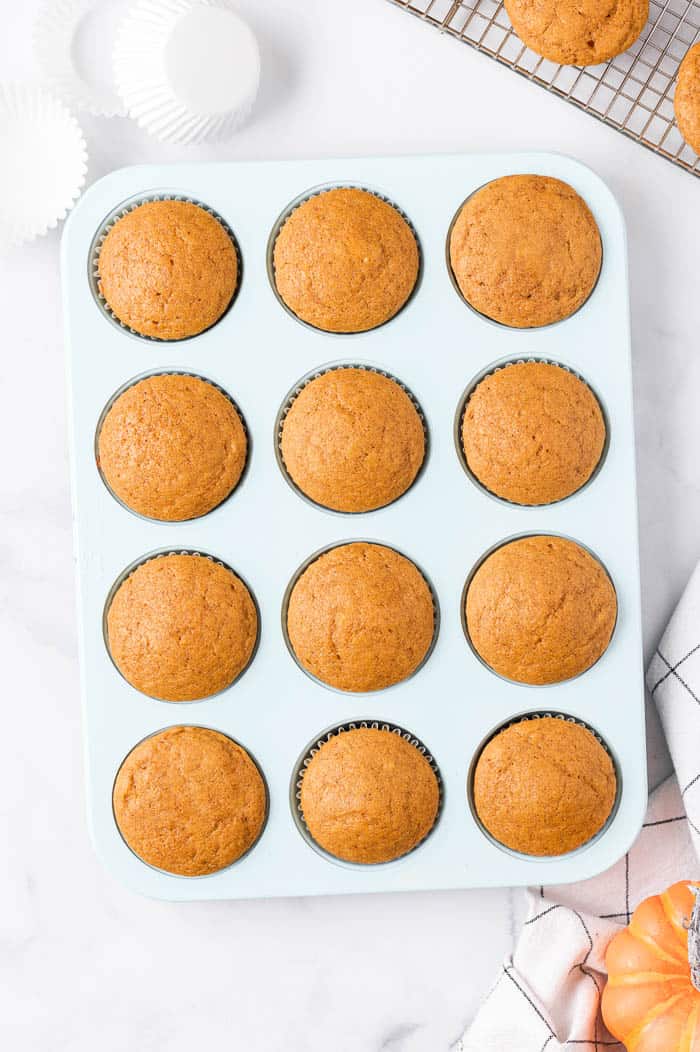 Now, let's make that Brown Sugar Swiss Meringue Buttercream!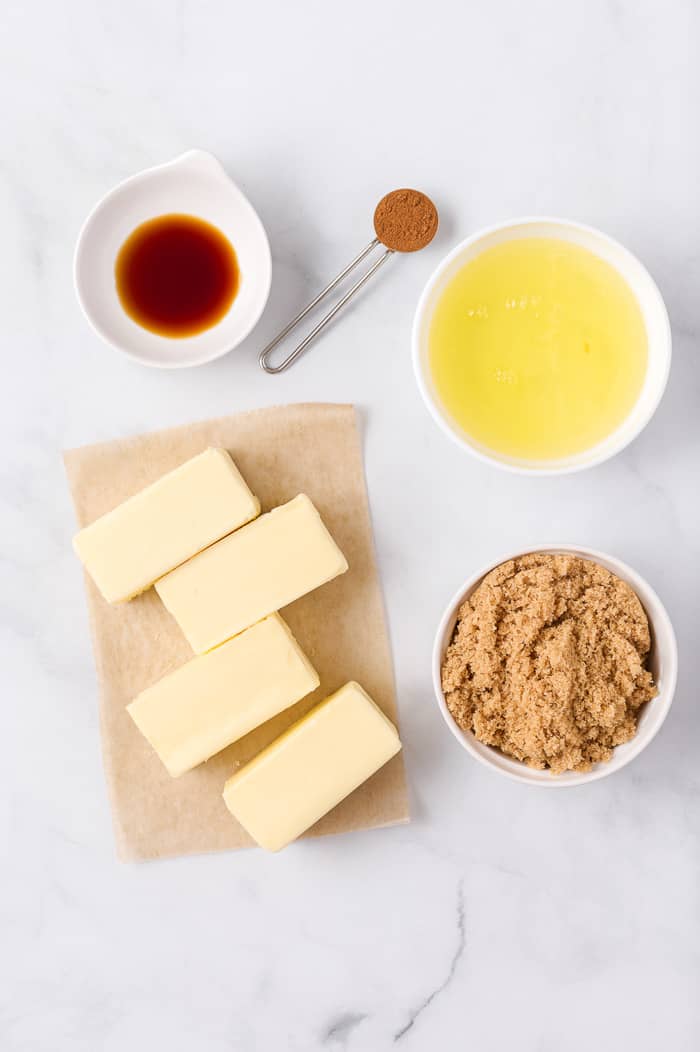 Place a pot on the stove and simmer your water.
Add a heatproof bowl over top so it does not touch the water and add egg whites and brown sugar.
Mix until sugar is dissolved.
Use a stand mixer to whisk egg white mixture until light and fluffy. Increase speed until peaks form.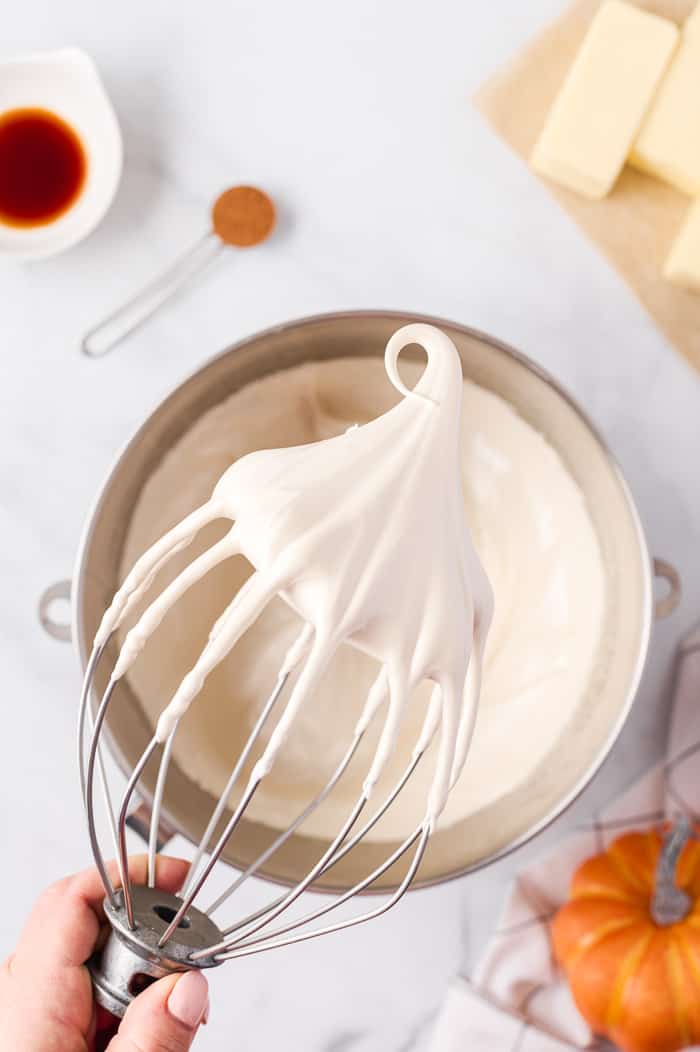 Change to your flat beater attachment and add a cube of butter at a time.
Add in vanilla and cinnamon.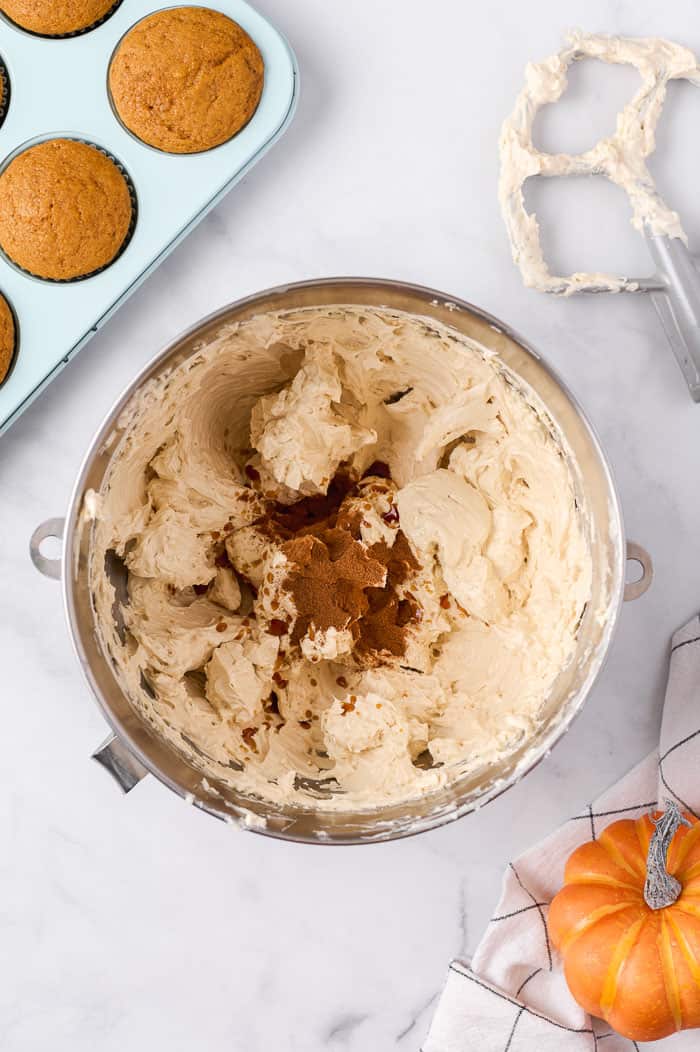 Frost those Pumpkin Cupcakes with your Brown Sugar Swiss Meringue Buttercream to your heart's content.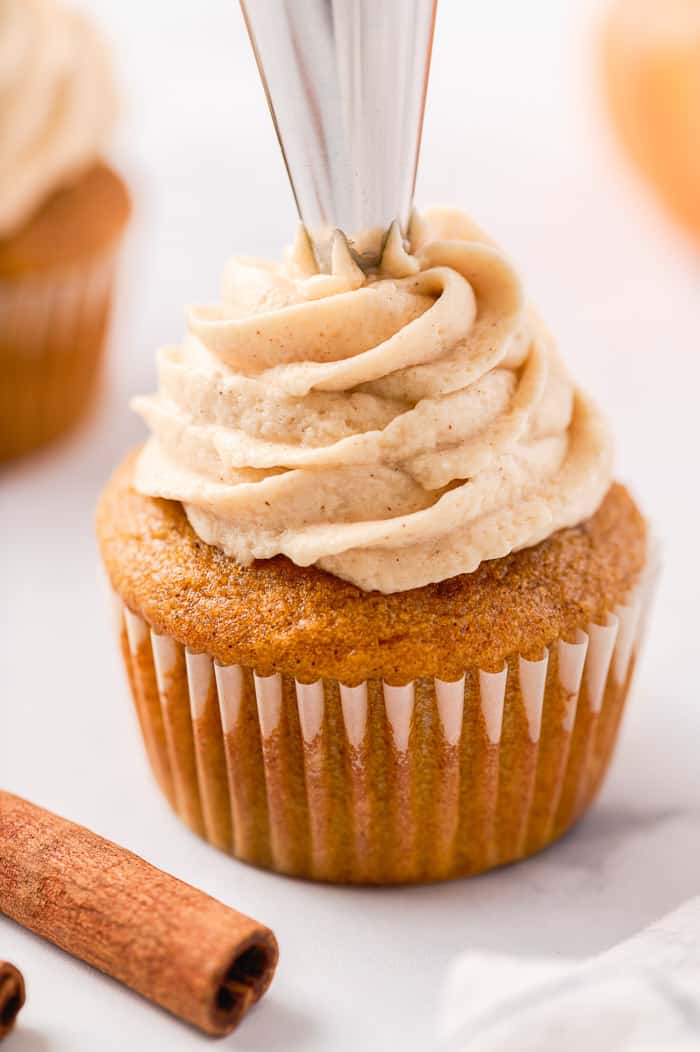 The last thing you have to do is serve and watch how quickly they get devoured.
If you are a serious pumpkin nut like me, then you may want to check out these similar recipes on the blog. Chocolate Pumpkin Cupcakes, Pumpkin Spice Latte Cupcakes with Coffee Cream Cheese Frosting, and so many other pumpkin recipes here.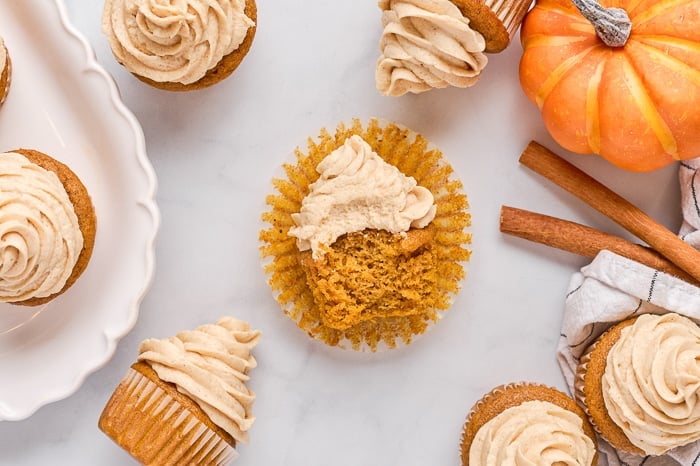 If this delectable dessert is making it to your holiday menu, let me know in the comment section below. When sharing your beautiful masterpieces across social media make sure to tag #aclassictwist so I can admire your work. I love seeing what is written on paper come to life all around the globe.
Make sure to keep checking in for more holiday-inspired meals for you to share with your loved ones.
As always, have a wonderful week, and thanks for supporting me 🙂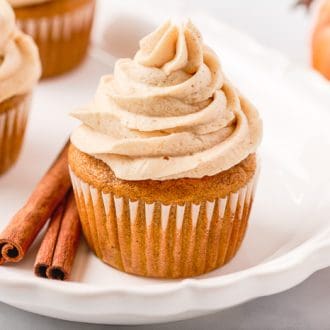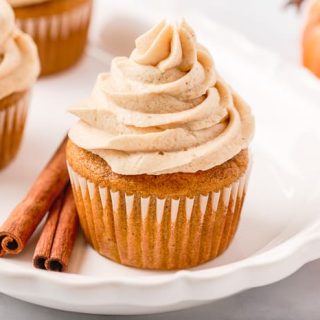 Yield: ~24 cupcakes
Pumpkin Cupcakes with Brown Sugar Swiss Meringue Buttercream
This spiced pumpkin cupcake with brown sugar swiss meringue buttercream is caramelized and full of fall spices.
Ingredients
For CupCakes
2 cups all-purpose flour
2 teaspoons baking powder
3/4 teaspoon baking soda
1 teaspoon salt
1 1/2 teaspoon ground cinnamon
1 teaspoon ground ginger
1/4 teaspoon ground cloves
1 1/2 cups packed brown sugar
4 large eggs, at room temperature
3/4 cup vegetable oil
15 oz (1 1/2 cup) pumpkin puree
1 teaspoon pure vanilla extract
1/2 cup milk, room temperature
For brown sugar cinnamon swiss meringue buttercream
5 large egg whites, room temperature
1 1/4 cup light brown sugar
2 cups (4 sticks) unsalted butter, room temperature
1 teaspoon pure vanilla extract
1 teaspoon ground cinnamon
Instructions
For Cupcakes:
Preheat the oven to 325 degrees F. Line two muffin tins with cupcake liners.
Whisk together the flour, baking powder, baking soda, salt, cinnamon, ginger, and cloves in a large bowl.
In the bowl of your stand mixer, beat the brown sugar and eggs until light and fluffy. Gradually add vegetable oil and mix until just combined.
Beat in pumpkin puree and vanilla extract.
Alternate the dry ingredients and milk in three batches, and beat until combined between each addition.
Divide batter into the prepared cupcake liners. Bake cupcakes for about 12 to 15 minutes, until a cake tester inserted into the center, comes out clean.
Let cupcakes cool in the pan for 2-3 minutes before transferring them onto a wire rack. Let cool completely before frosting.
For brown sugar cinnamon swiss meringue buttercream:
Whisk together egg whites and brown sugar in a heatproof mixing bowl set over (NOT IN) a pan of simmering water.
Whisk until warm and sugar are dissolved (mixture should feel completely smooth when rubbed between your fingers), 2 to 3 minutes. Remove from heat.
With a mixer on medium speed, whisk the egg white mixture for 5 minutes (using the whisk attachment).
Increase speed to medium-high, and whisk until stiff, glossy peaks form and the meringue has cooled (test by feeling the bottom of the bowl), about 6 minutes.
Reduce speed to medium and switch to the flat beater attachment. Add butter, one piece at a time, beating well after each addition. Keep mixing until the butter incorporates into the meringue, about 3-4 minutes. Once it comes together, keep beating until the buttercream is smooth. It takes a little bit but keep on mixing. IT WILL COME TOGETHER.
Beat in vanilla extract and ground cinnamon.
Use immediately or store in an airtight container in the fridge for up to a week.
Recommended Products
As an Amazon Associate and member of other affiliate programs, I earn from qualifying purchases.