Pumpkin Spice Bomboloni
Pumpkin spiced anything and everything season is back in full swing! Jump on the bandwagon & let the scent of fall fill your home as you make these Pumpkin Spice Bomboloni. They are insanely delicious treats!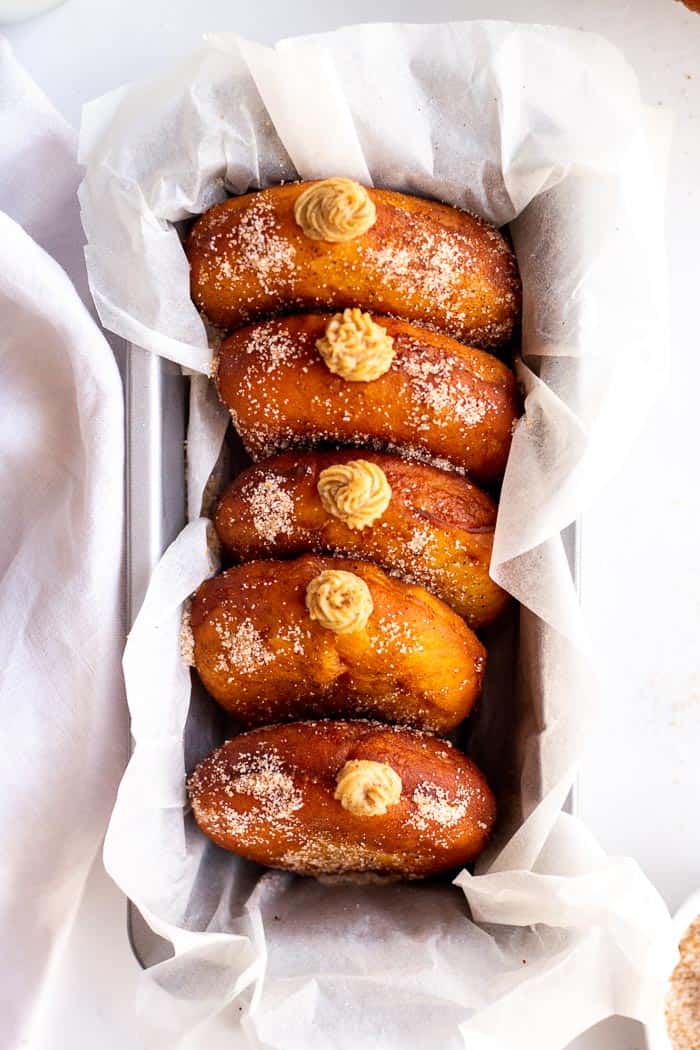 Welcome back, everyone. Have I mentioned before how deep my love for donuts goes? I know many of you can relate to the feeling that comes over you when you walk into a donut shop or local gas station early in the morning and your eyes immediately light up from the wonderful aroma of fresh pillowy donuts.
Before I began my baking journey years ago, my mind was pretty closed to all the varieties they come in. Glazed or Chocolate Donuts were all I knew for years and I really don't know how I deprived my taste buds for so long. That brings us to what you all are all here for, Pumpkin Spice Bomboloni.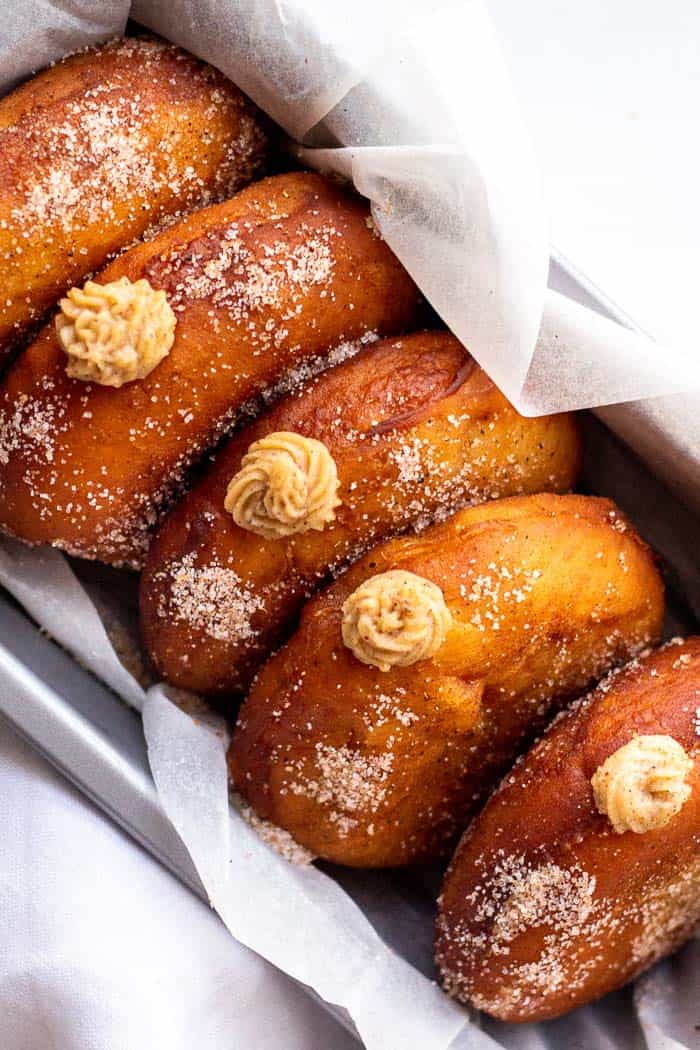 You are probably wondering what in the world a Bomboloni is. Bomboloni is an Italian donut that is baked in a circular shape intended to be filled with your choice of jam, cream, or custard. Similar to the jelly donuts that are so popular in the US.
I found my love for these donuts a few years ago and never looked back. The donut is fluffy and dense to be able to hold in all your delicious filling. So you know I had to "spice" it up for the season and create a seasonal donut that encompassed the most popular fall flavor; pumpkin spice!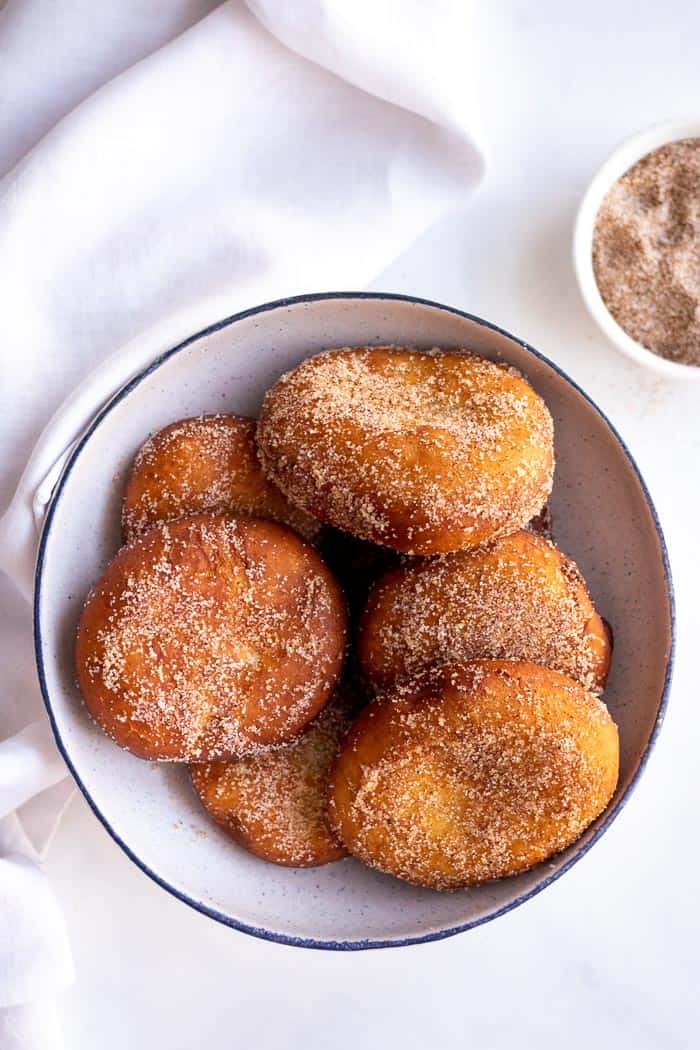 Adding a creative twist to recipes is what I do, so with this one I switched up how to include the pumpkin pie spice. Instead of adding into the custard filling, it's inside the donut itself and the sugar coating the outside. Adding it to the dough makes the flavor more intense and ensures you get the same great taste in every bite.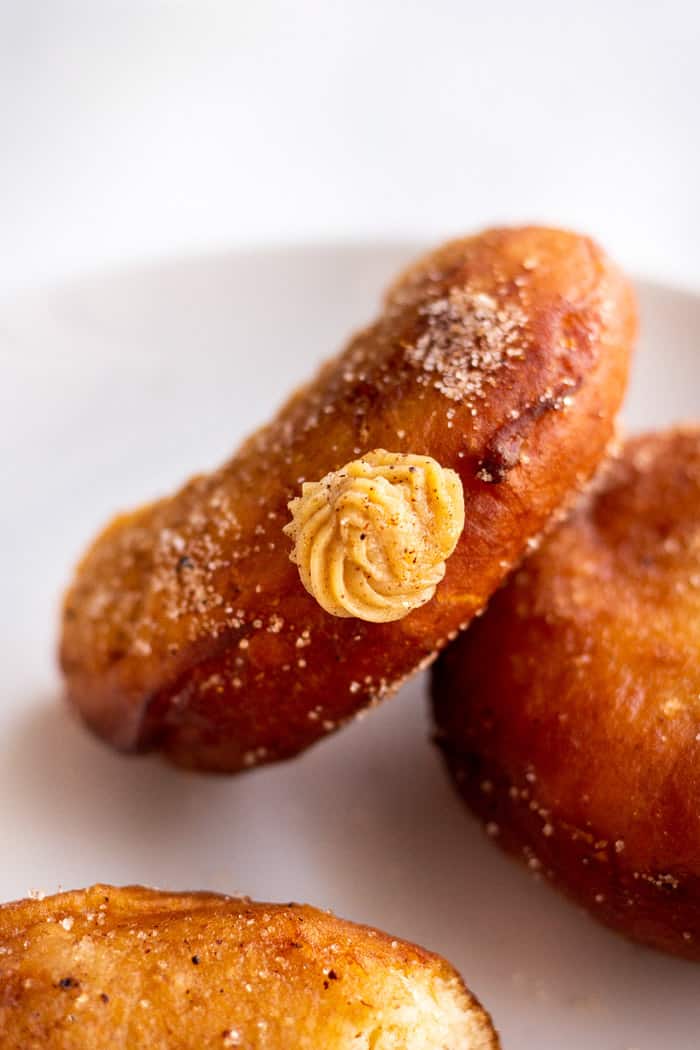 Let's not waste any more time talking and start baking! If you don't want to see the step-by-step instructions then you can simply skip down to the bottom for the recipe.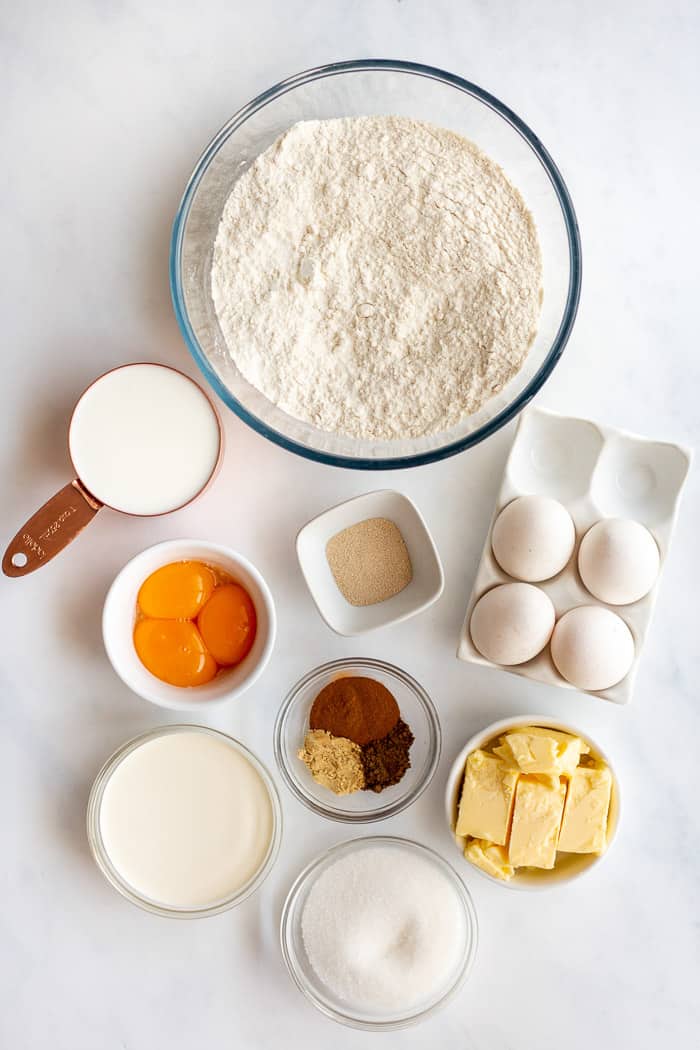 Start by mixing the dry ingredients, butter, and milk in a large bowl.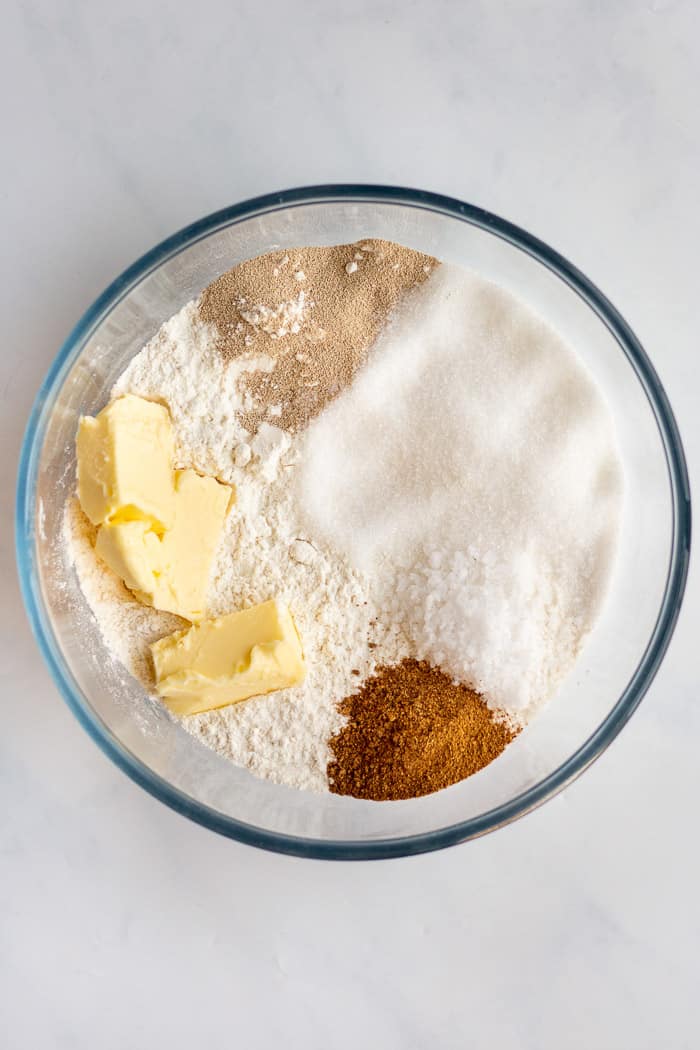 Mix everything together and then add in Pumpkin Pie Spice.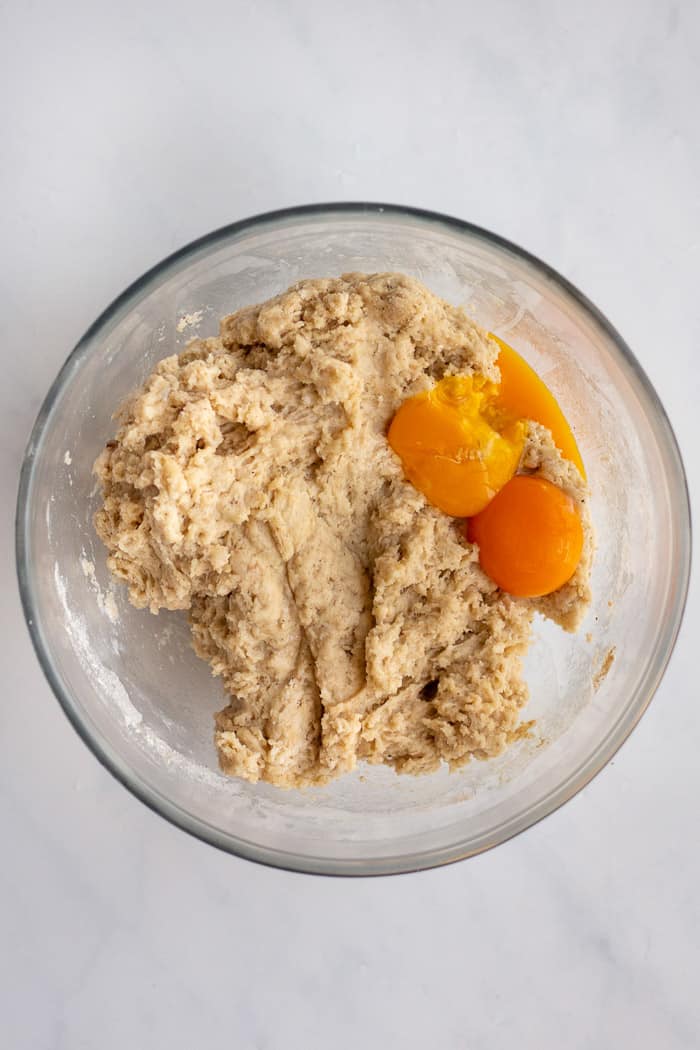 Add egg yolks to dough and mix until smooth.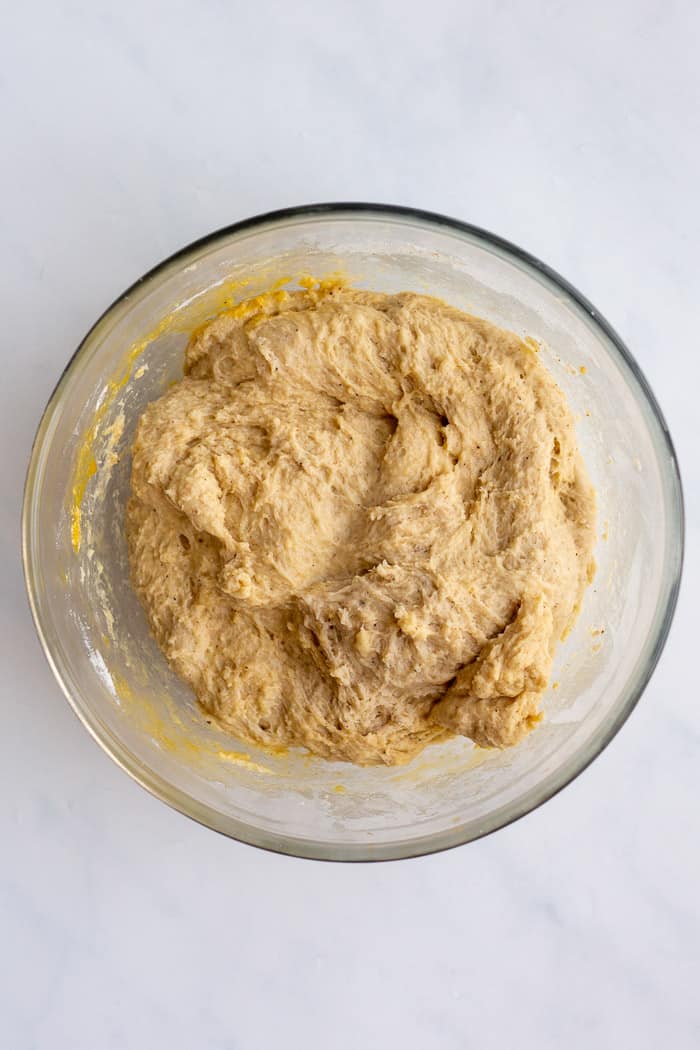 Roll your dough and cut into 3-inch rounds.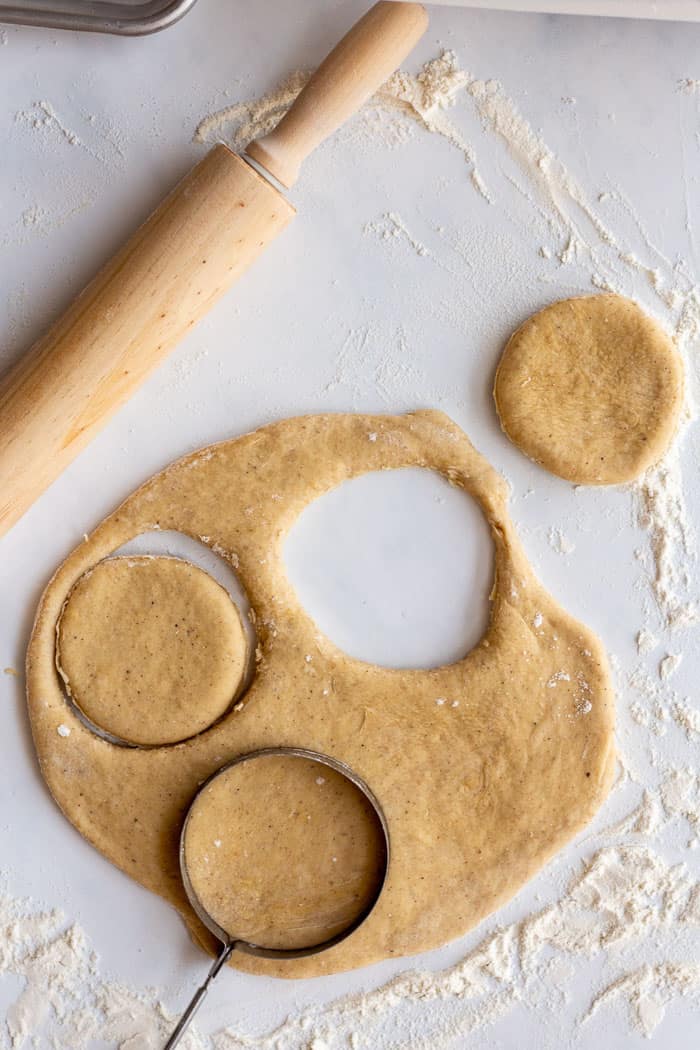 Cover and let rise.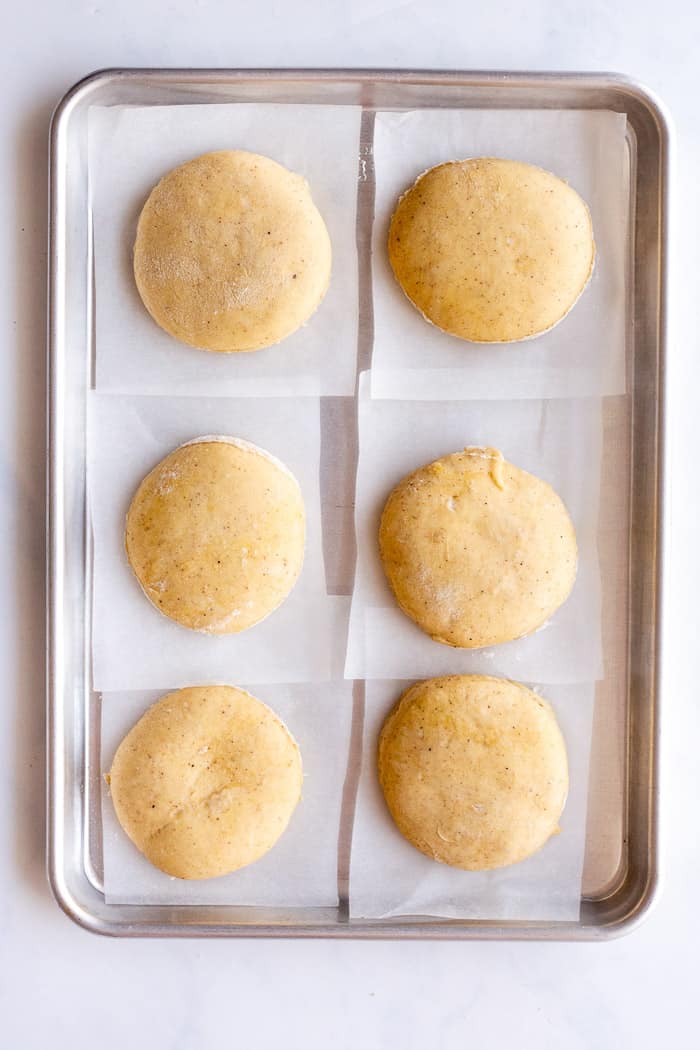 While the dough is rising you can start making your Cinnamon Custard.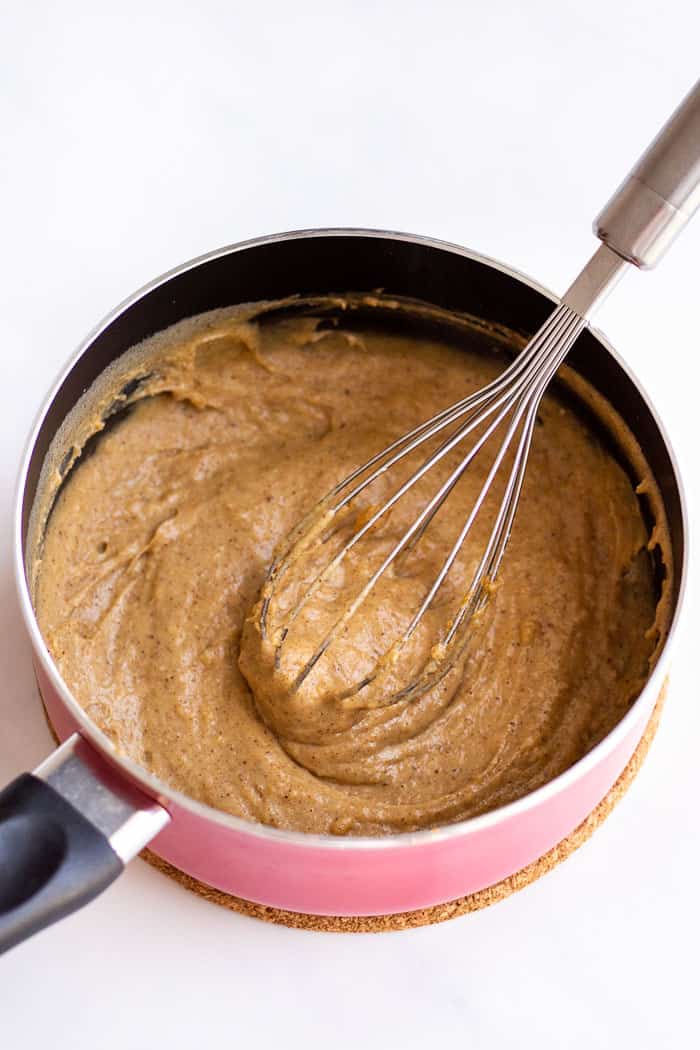 Fry your Bombolini donuts for 1-2 minutes until golden brown.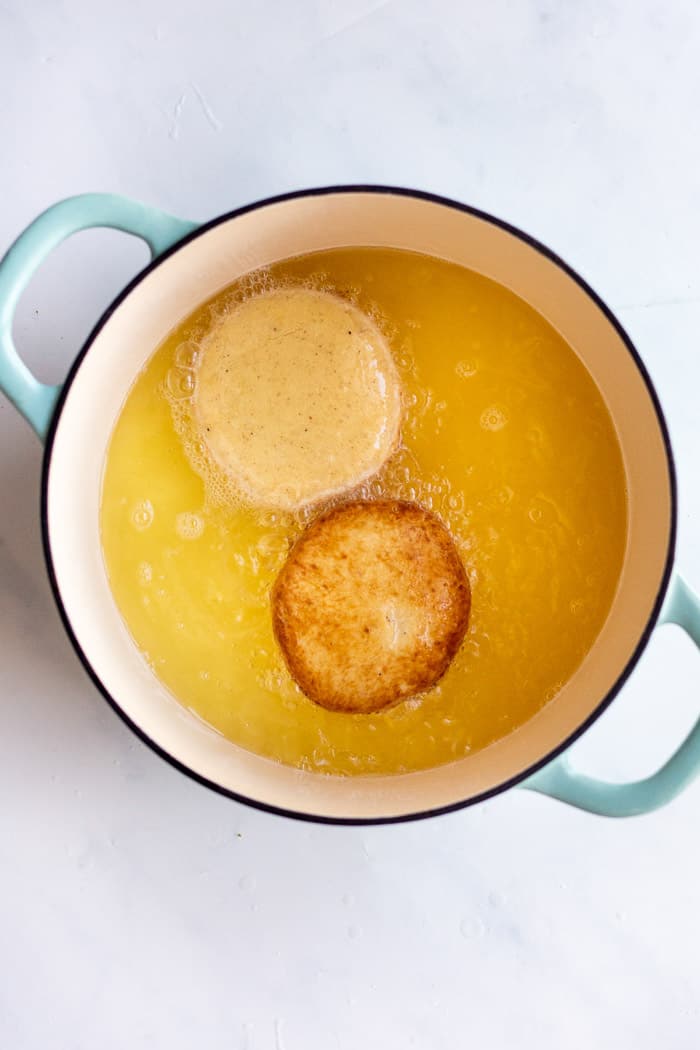 Add the Pumpkin sugar coating to a shallow dish.
Roll your donuts right in the Cinnamon sugar and coat the entire outside.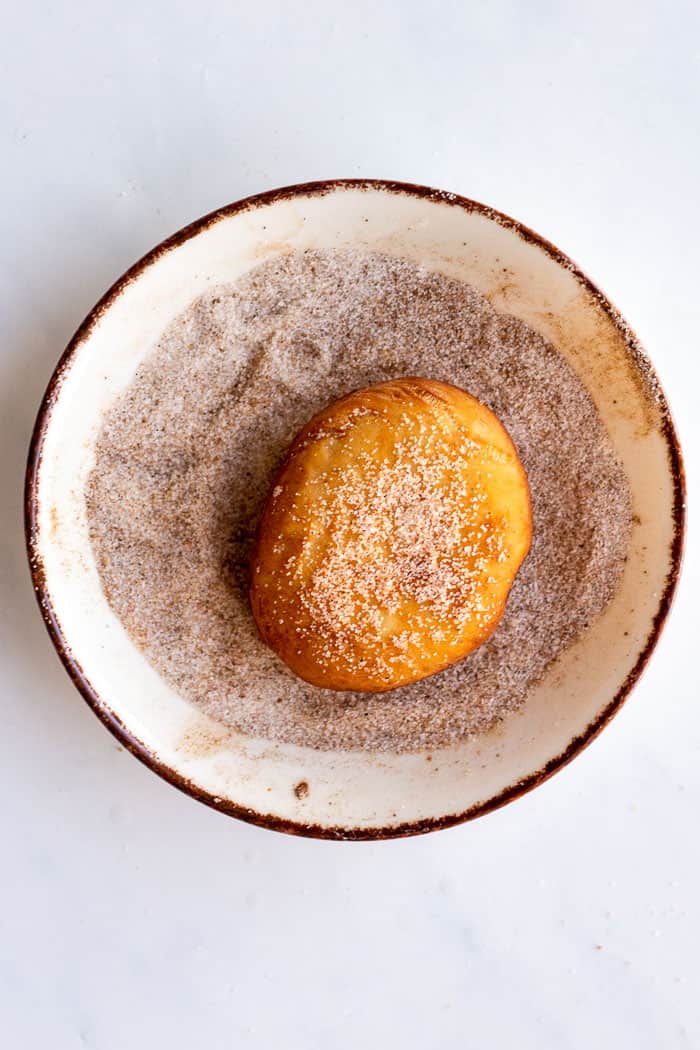 Add your Cinnamon custard into a piping bag and fill each Bombolini.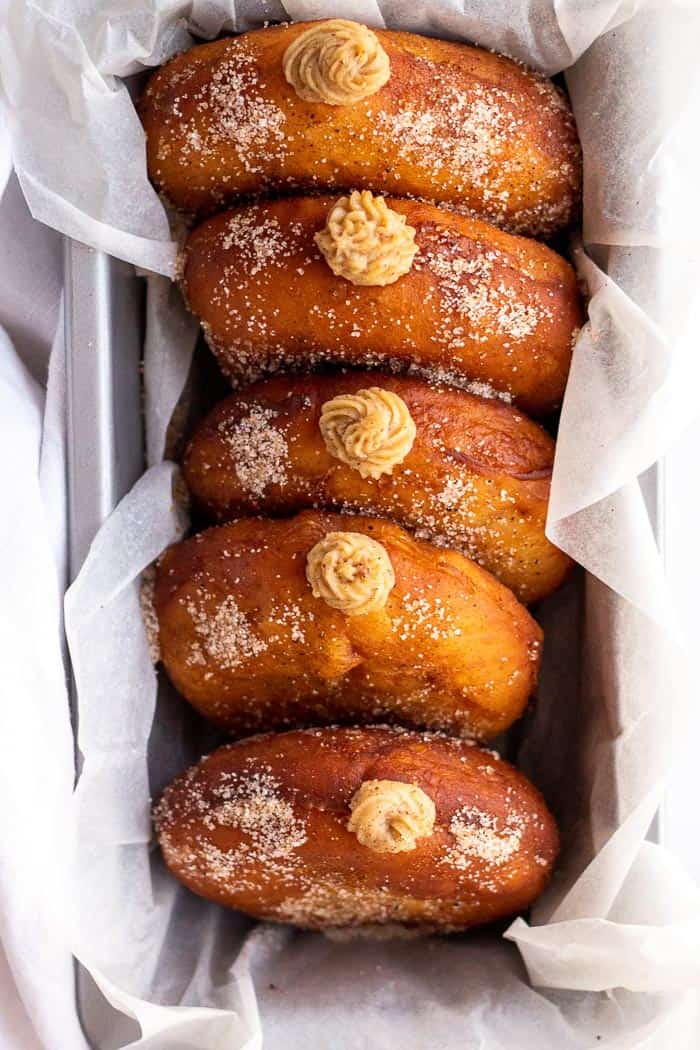 Serve warm and enjoy the sweet spices of fall for breakfast.
This is the perfect way to start your weekend by filling the house with all the wonderful aromas of the season. Have friends come over for a girl's brunch? Share these Pumpkin Pie Spice Bombolini's and show off your culinary skills. No matter who you share these with, they will surely be hooked on such a fantastic flavor.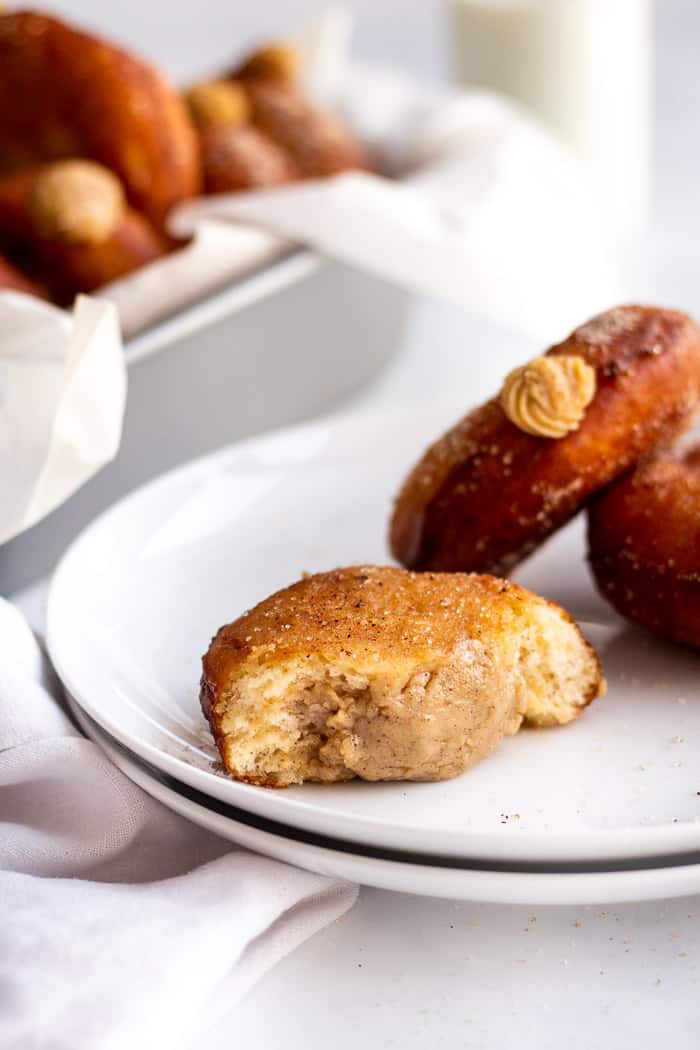 What do you think about the flavor? Have you ever tried Bombolini donuts before? Let me know in the comment section below. If you share across social media, make sure to tag #aclassictwist so I can see your beautiful creations.
If you share my passion for donuts, try Caramelized Pear and Mascarpone Donuts or Lemon Filled Donuts.
Until next time, have a good day and happy baking!
FAQs
What's the difference between Bomboloni & Doughnut?
The American doughnut usually has a hole in the center, while the bomboloni is like a jelly doughnut, made completely round and intended to be filled with custard, jam, or cream.
Can you freeze leftover bombolini?
It is always best to eat the doughnuts immediately, or you could keep them unfilled in an airtight container at room temperature for 1-2 days at most. If filled they should be kept in the refrigerator for a couple of days. Freezing is not a good idea.
How to make your own pumpkin spice mix?
If you can't find pumpkin pie spice you can make your own. Simply mix in a small bowl ½ teaspoon ground nutmeg, 2 teaspoons ground cinnamon, 2 teaspoons ginger powder, half teaspoon ground cloves, or allspice. This is enough to make the bomboloni.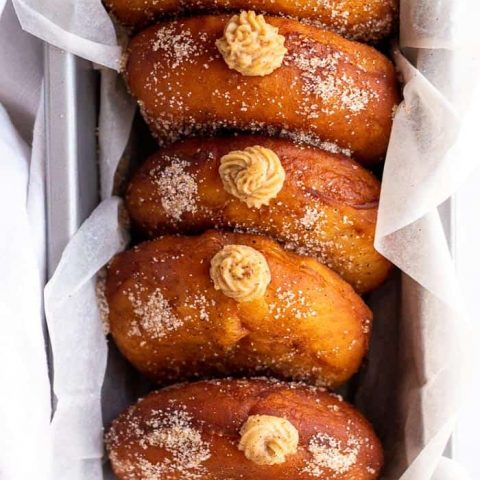 Yield: 12 servings
Pumpkin Spice Bomboloni
Total Time
2 hours
50 minutes
Ingredients
For the Bombolini:
8 cups all purpose flour
½ cup granulated sugar
½ cup salted butter, softened
2 teaspoon instant yeast
1 teaspoon salt
2 cups whole milk,
3 egg yolks
2 teaspoons pumpkin spice
Sugar coating for the bombolini:
2 teaspoons pumpkin spice
1 cup granulated white sugar, preferably fine grain
Cinnamon Custard:
1 cup whole milk
4 large egg yolks
½ granulated white sugar
3 tablespoons all purpose flour
2 teaspoons ground cinnamon
1 cup heavy whipping cream, chilled
Vegetable oil for frying, sunflower or canola oil works great
Instructions
For
the dough, combine all-purpose flour, granulated sugar, salted butter,
instant yeast, salt and the 2 cups of whole milk in a bowl. Mix using a
mixer with a dough hook. Add 1 tablespoon of milk if the dough is too dry.

Once
it's well incorporated, mix in the 2 teaspoons of pumpkin spice.
Let
the dough rest for 5 minutes.
Add
the 4 egg yolks to the dough and mix again until all the yolks are well
incorporated and the dough is smooth and elastic.
Roll
the dough out to half an inch thick sheet on a lightly floured surface and
cut into 3inch rounds using a cookie cutter or a glass.
Place
the rounds on a large tray lined with baking paper. Cover with a towel and
let rise to double its size in a warm place (about 1-2hrs).
Prepare
the cinnamon custard while waiting for the bombolini to rise. Whisk
together the 3 egg yolks and caster sugar.
Sift
the flour and 2 tsp cinnamon over the egg yolks and sugar mixture. Mix
until smooth and combined.
Bring
the milk to a boil in a small pot and pour over the mixture, whisking
continuously to avoid any lumps.
Return
the mixture to the pot and cook over medium heat until it thickens.
Once
thickened, remove from the heat and place a piece of cling film over the
surface of the mixture to avoid the "skin" to form. Cool completely in the
refrigerator.
When
dough is ready to be fried: Heat oil to 340°F in a large deep pot or a
deep fryer. Carefully drop the doughnuts into the oil. Fry the bomboloni
in batches until golden brown (2 minutes on each side). Drain on paper
towels.
Combine
the sugar and the remaining pumpkin spice together in a shallow container.
Toss
the hot bomboloni in the cinnamon sugar.
Whip
the cold heavy whipping cream to soft peaks and fold the custard through.
Place
the custard in a piping bag fitted with a small nozzle and pipe it into
each bomboloni.
Serve
immediately.
Notes
-      
Placing cling film
over the prepared custard before cooling prevents skin from forming as it
cools.
-      
You may customize
this recipe by trying out other doughnut flavors and custard combinations such
as nutella or fruits.