Pumpkin Cheesecake Mousse
Fall flavors in a jar! You would definitely enjoy making this no-bake pumpkin cheesecake mousse recipe. These individual jars are filled with buttery graham crackers, crumb base, light and airy pumpkin cheesecake mousse topped with whipped cream, the perfect dessert for the holiday season!!!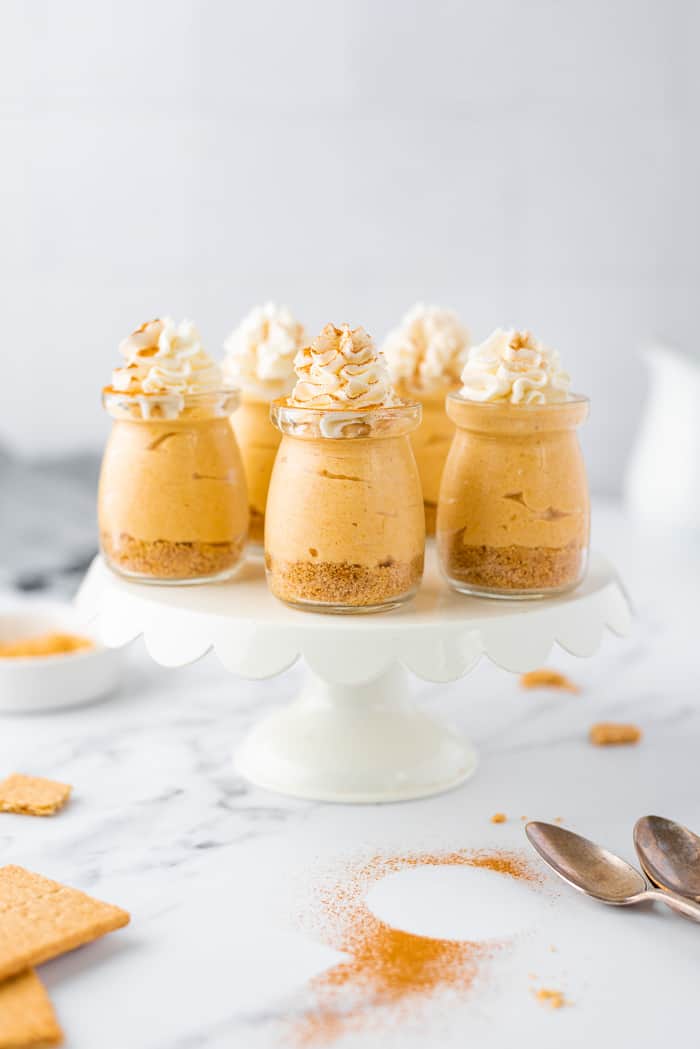 Happy November! Pumpkin is the flavor of the season, and I am here to share all fun and creative ways you can incorporate this amazing ingredient into all your holiday celebrations. When we think of what desserts are traditionally served at Halloween or Thanksgiving parties, what comes to mind? The first thing you think of is probably a festive pumpkin pie, pumpkin tart, or pumpkin cheesecake. This year is the perfect time to change it up with this Pumpkin Cheesecake Mousse. All the wonderful flavors of a traditional Pumpkin Cheesecake that fits perfectly inside an individual mason jar for an added WOW factor and easy serving.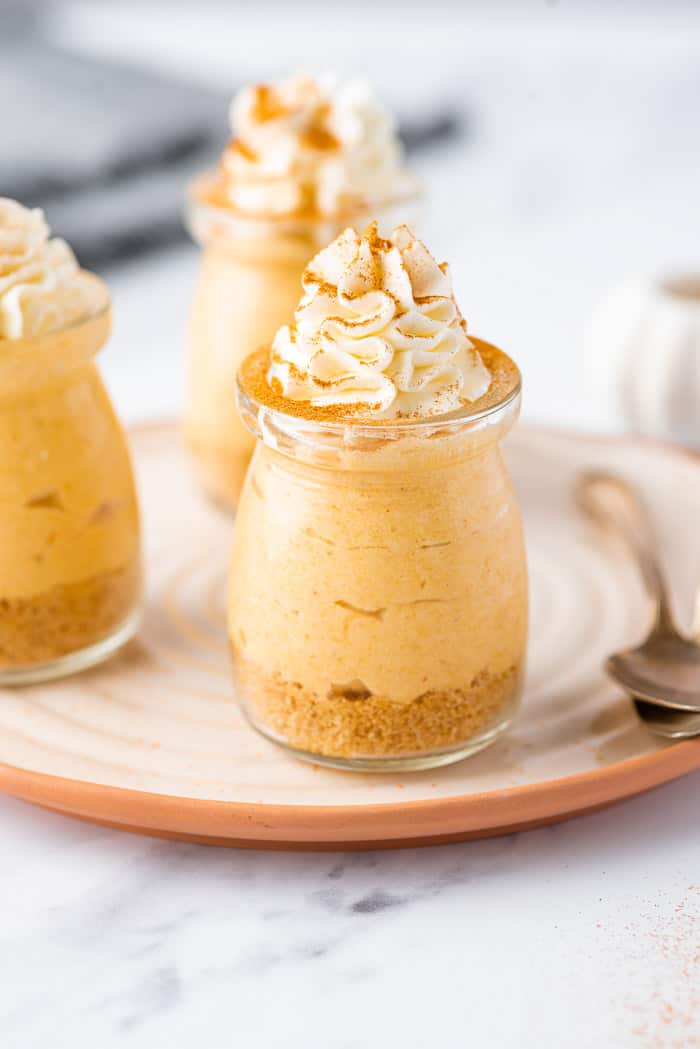 For anyone that has hosted a get-together at their house, you know the day of is beyond chaotic and something always gets missed. The kitchen looks like a storm hit it and you are running around like a chicken with your head cut off trying to make it all perfect. Save yourself some time with this cheesecake mousse because you don't have to bake anything and it can be prepared the day before so it's ready to go when the party starts.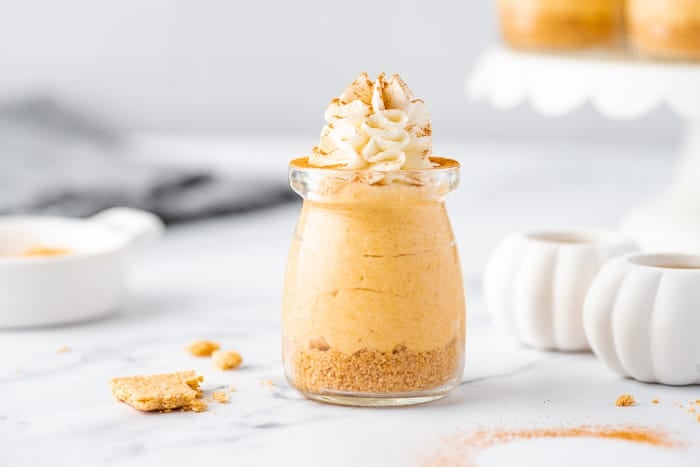 Let me walk you through how simple it is to create this Pumpkin Cheesecake Mousse. If you don't want to read the step by step, you can scroll to the bottom for the full recipe.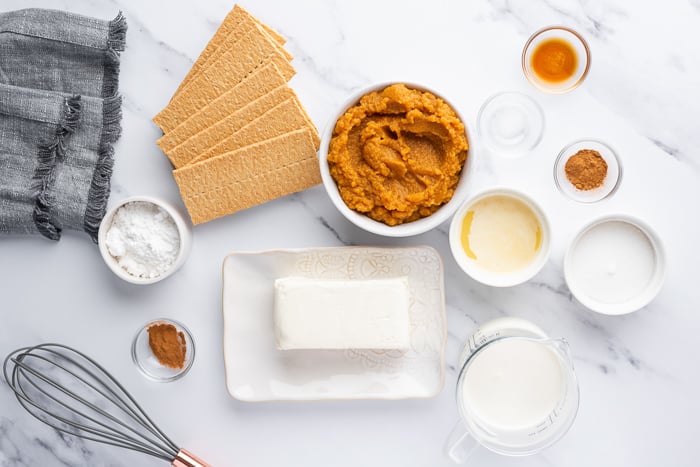 Make your crust by adding graham crackers, butter and sugar to a food processor until you have a finely ground consistency.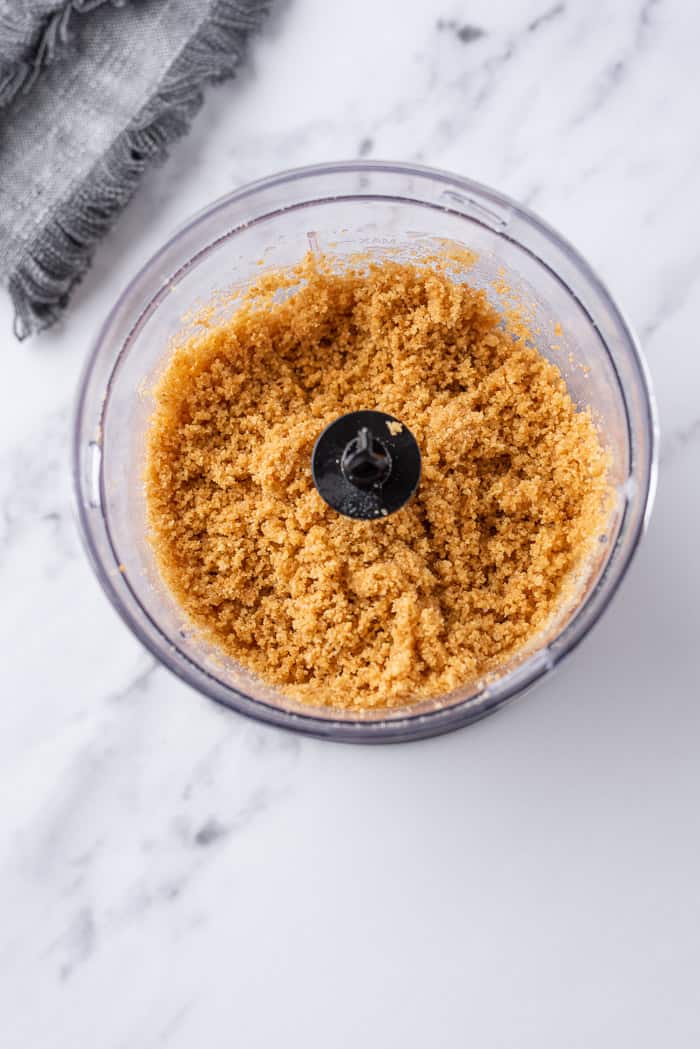 Press the crust into your individual jars.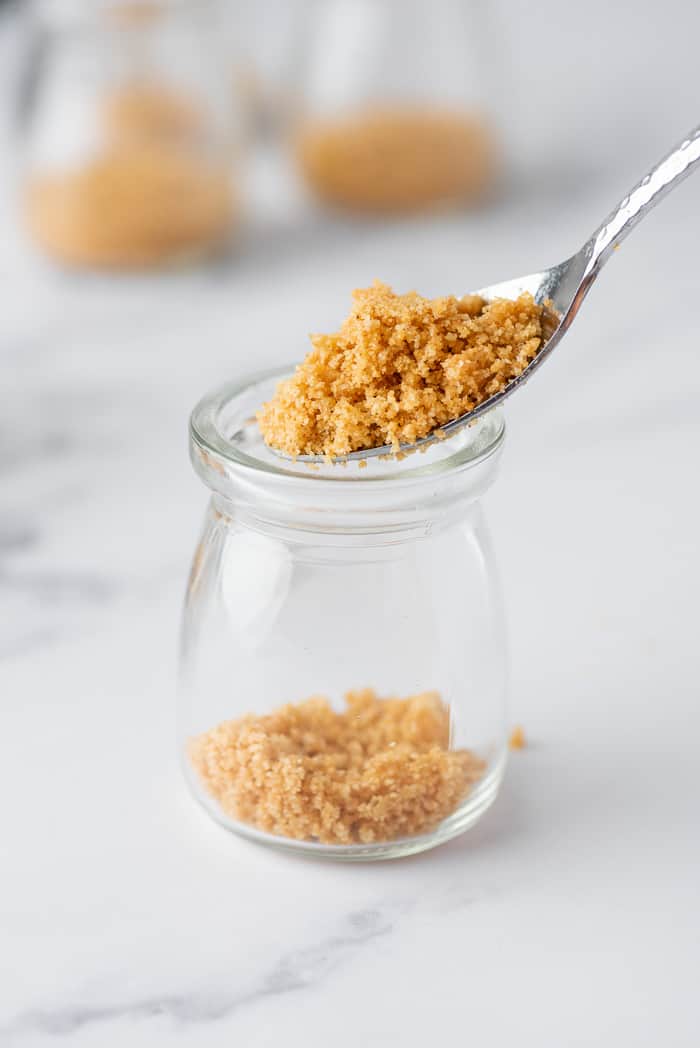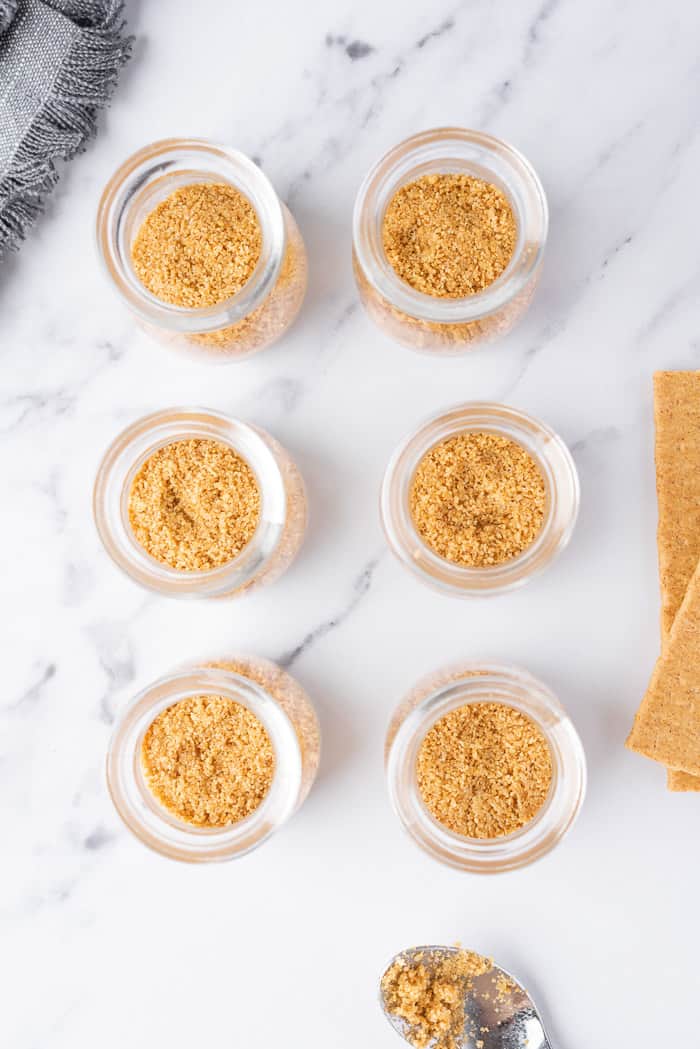 Mix all ingredients for the whipped cream and whip until stiff peaks form.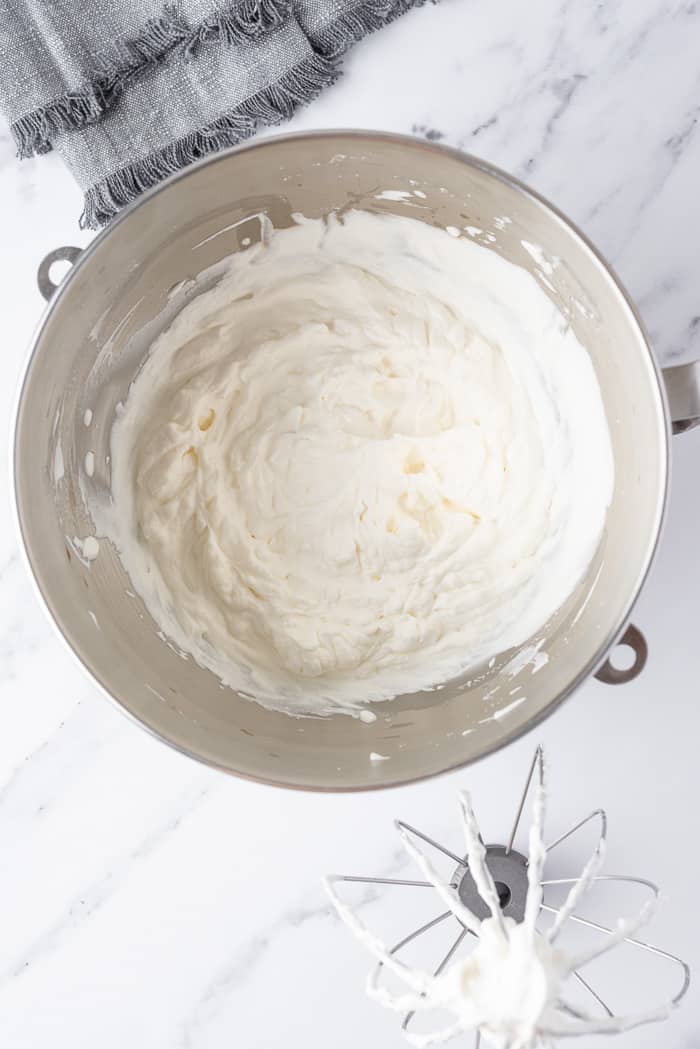 Next, make your pumpkin cream cheese mixture and fold in half of the whipped cream to the mixture.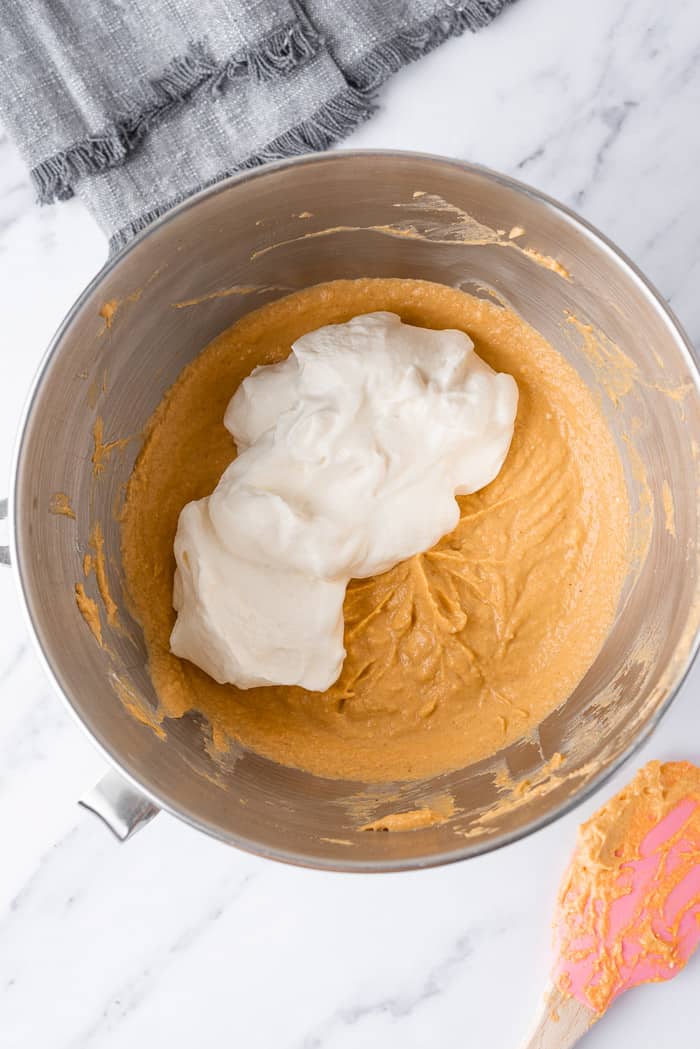 Pipe the pumpkin cream cheese mixture into jars and then pipe the remaining whipped cream on top.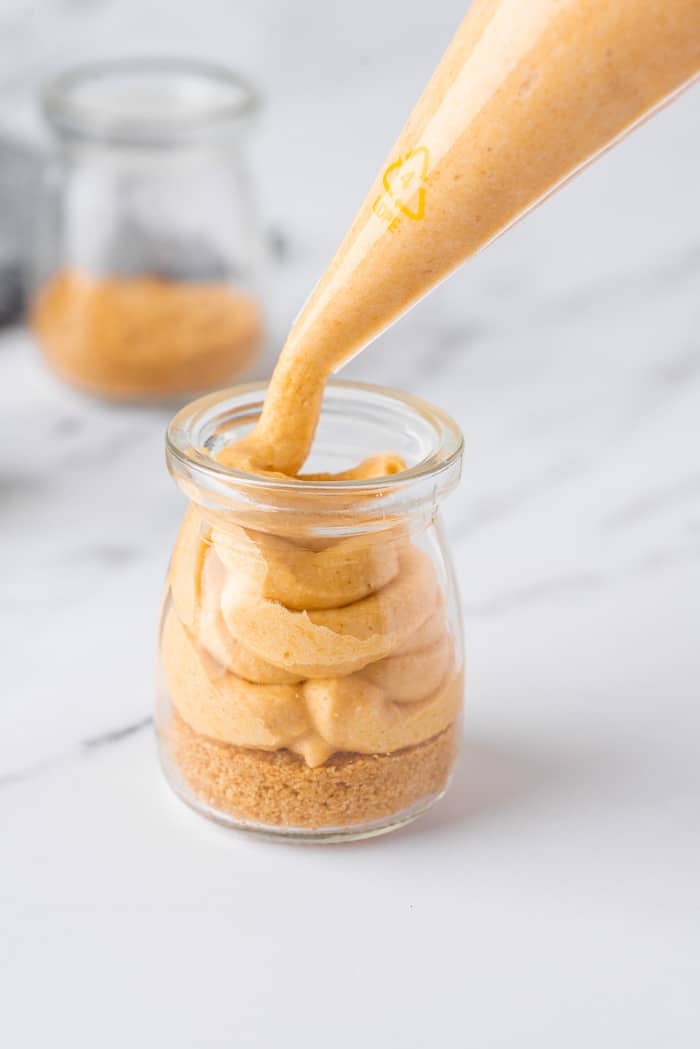 Let it chill for at least two hours or until you are ready to serve.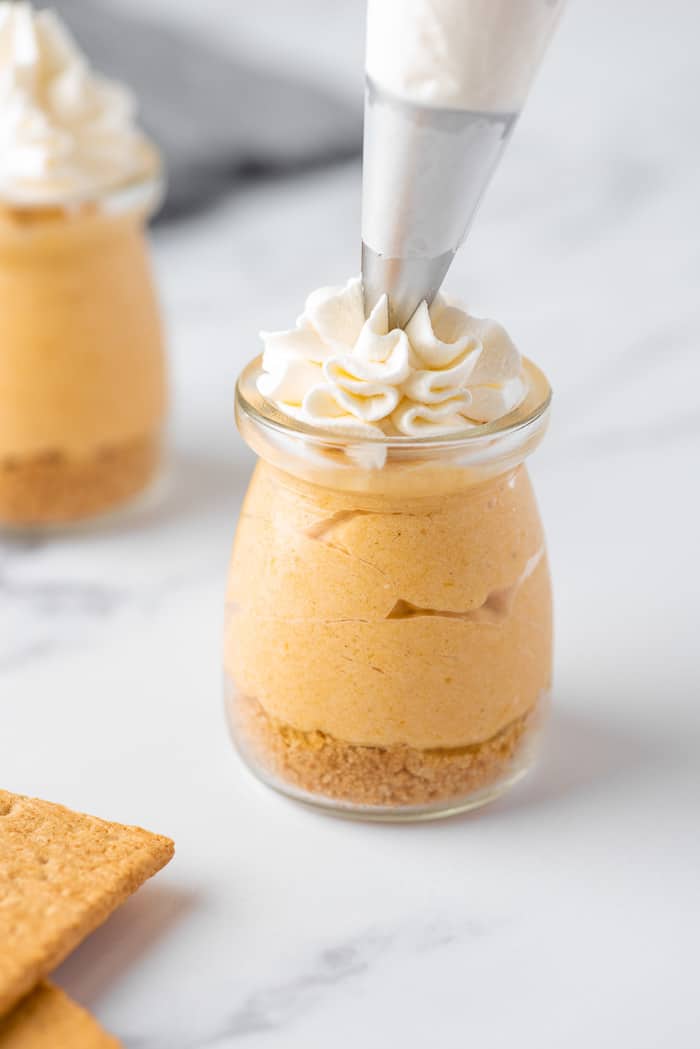 Each bite feels like you are eating a pumpkin cloud and I can't think of anything better. Made with pumpkin puree, pumpkin pie spice, cinnamon, and cream cheese for the smoothest texture you could ever want.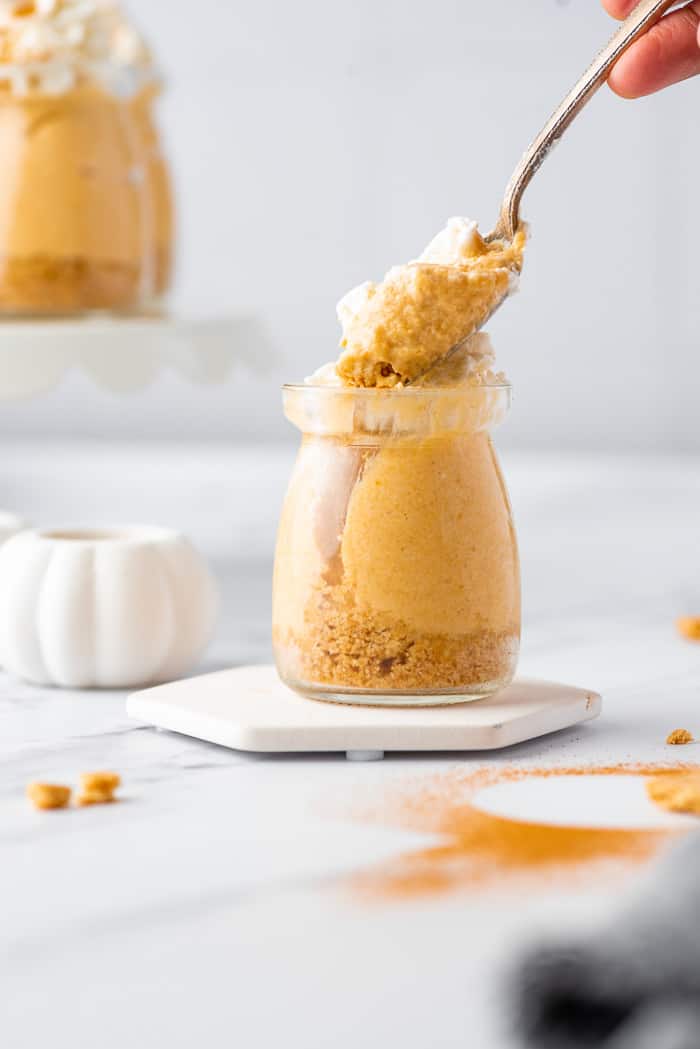 Don't limit this Pumpkin Cheesecake Mousse just to parties, it is also a great treat for the kids after school or you can grab a jar and a glass of wine after a long day to help you unwind. Since it's already portioned, you don't have to feel guilty about eating too much; unless you grab another jar haha.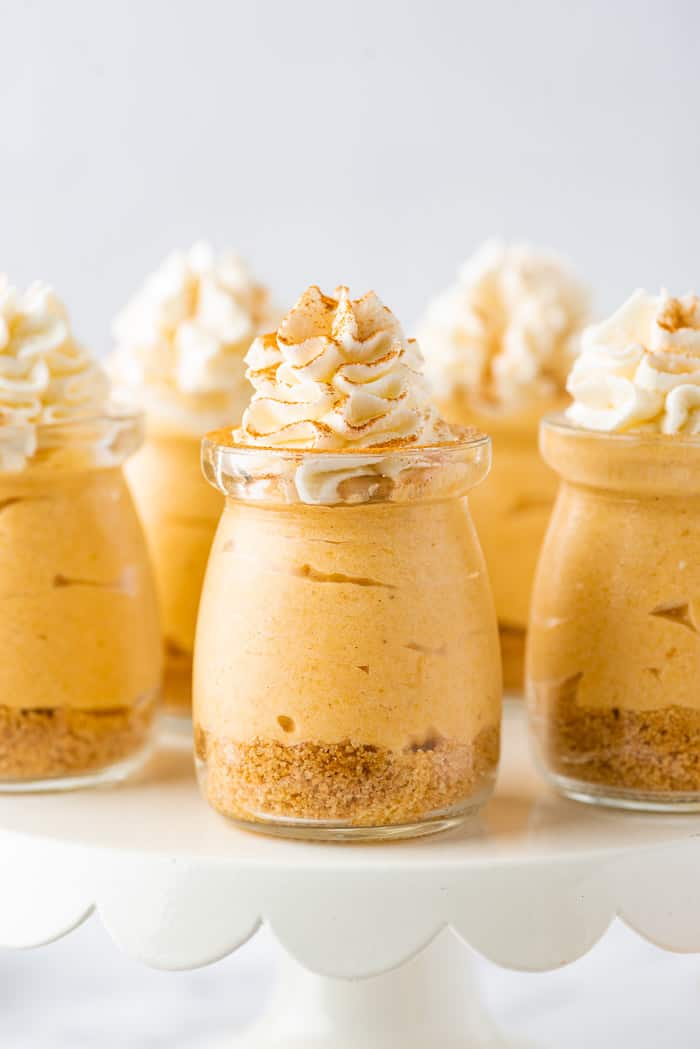 How would you serve these delicious treats? Let me know in the comment section below. If you share across social media, make sure to tag #aclassictwist so I can see all your beautiful creations. Until next time, have a wonderful day!
If you love mousse but pumpkin isn't your favorite, then try my Peanut Butter Chocolate Mousse or Chocolate Coffee Mousse.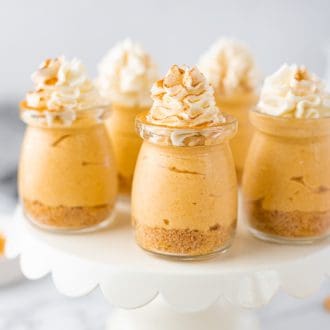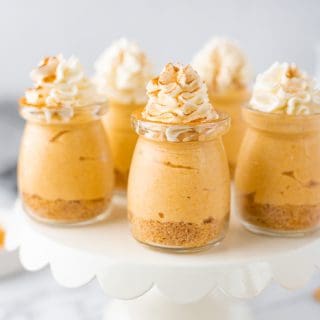 Yield: 10 servings
Pumpkin Cheesecake Mousse
Fall flavors in a jar! You would definitely enjoy making this no-bake pumpkin cheesecake mousse recipe.
Total Time
2 hours
30 minutes
Ingredients
For the crust
1 pack graham crackers (8 full sheet) or 1 cup graham crackers crumbs
¼ cup unsalted butter, melted
2 tablespoons granulated sugar
For the whipping cream
1 ½ cup heavy cream, divided
⅓ cup powdered sugar
1 teaspoon pure vanilla extract
For pumpkin cheesecake mousse
8 ounces cream cheese, at room temperature
½ cup granulated sugar
1 15-ounce can pumpkin puree
1 teaspoon pumpkin pie spice
1 teaspoon ground cinnamon
¼ teaspoon salt
Instructions
In a food processor, place the graham crackers and process until fine crumbs. Add the melted butter and sugar; mix it until well combined.
Transfer the crumbs (about 2 tablespoons each) to individual glass jars and press them evenly into the bottom.
In a stand mixing bowl combine the heavy cream, powdered sugar, and vanilla extract; whip on a medium speed until soft peaks are formed. Transfer the whipped cream to a different bowl and set it aside.
Place the cream cheese and sugar in the same mixing bowl and whip it at a low speed until combined. Add in the pumpkin puree, pumpkin pie spice, ground cinnamon, and salt, and whip until everything comes together.
Gently fold in half of the prepared whipped cream into the pumpkin cream cheese mixture using a spatula.
Transfer the pumpkin cheesecake mousse mixture to a piping bag and pipe them over the crust and fill the individual glass jar about ¾ or full.
In another piping bag with a star nozzle, fill with the remaining whipped cream and pipe over the mousse and refrigerate for at least 2 hours to set.
Serve the pumpkin mousse chill with a sprinkle of ground cinnamon on top (optional)
Recommended Products
As an Amazon Associate and member of other affiliate programs, I earn from qualifying purchases.