Peanut Butter Chocolate Mousse
Thank you to The Peanut Institute for sponsoring this peanut butter chocolate mousse recipe just in time for Valentine's Day!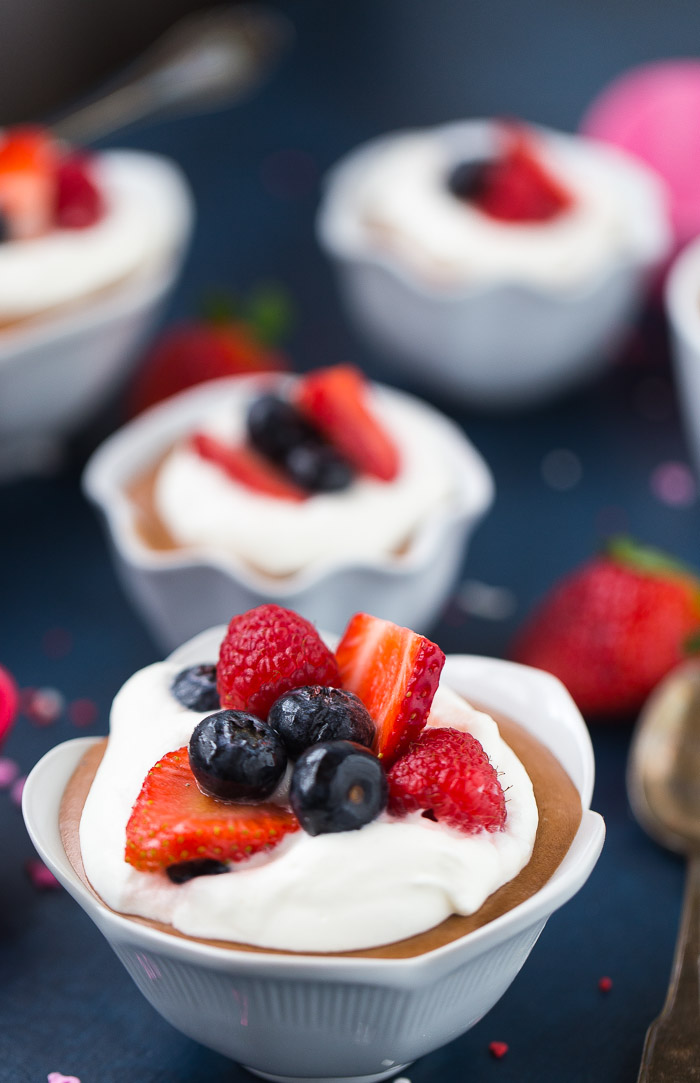 Valentine's Day is just around the corner friends and nothing says I love you like a homemade treat for your loved ones. Whether you are celebrating the day with your Valentine, kids or girlfriends, this homemade decadent peanut butter chocolate mousse would be perfect for all your chocolate lovers and peanut butter lovers.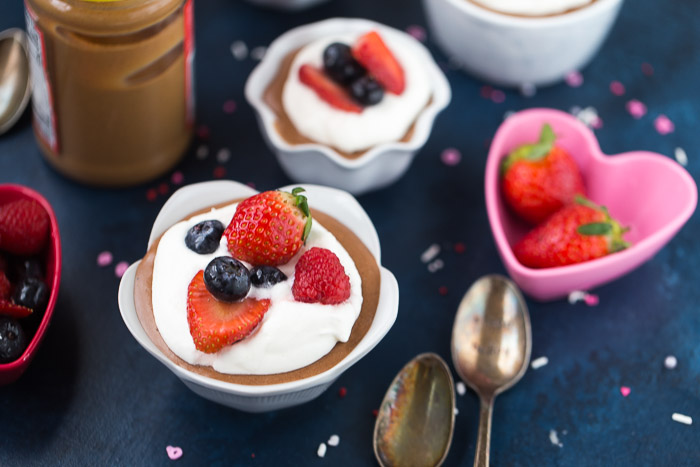 Chocolate and peanut butter is a classic combo that is as American as apple pie. Must be that sweet and salty combo, right? For me, I love that I can sneak in peanut butter into treats for my little one and hubs too. Did you know that just one serving (about 2 tablespoons) of peanut butter is 8g of protein? Sometimes we forget that peanut butter is a great superfood that is easily accessible and low-cost. It's such a great nut butter to incorporate into your healthy diet but also into your once-in-a-while sweet treats you make.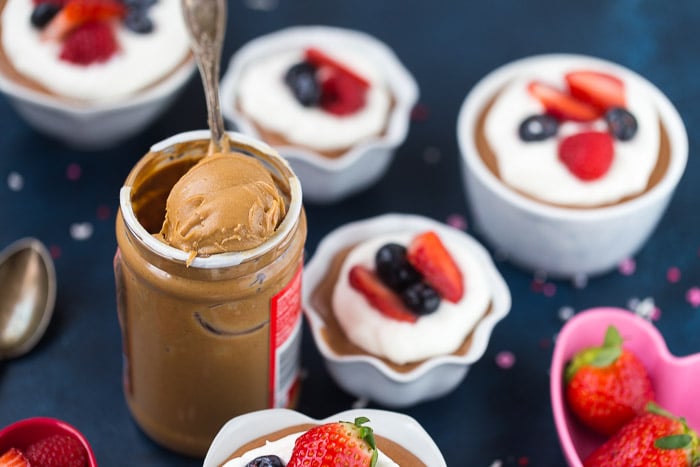 For this peanut butter chocolate mousse, I wanted to make a rich, homemade mousse base. Good quality chocolate is melted with peanut butter and that is mixed into an egg-based custard. Whipped egg whites and freshly whipped homemade heavy cream add layers of cloudiness into the mousse. The result is a creamy, delicious chocolate mousse that is sweet and salty with peanut butter in each bite.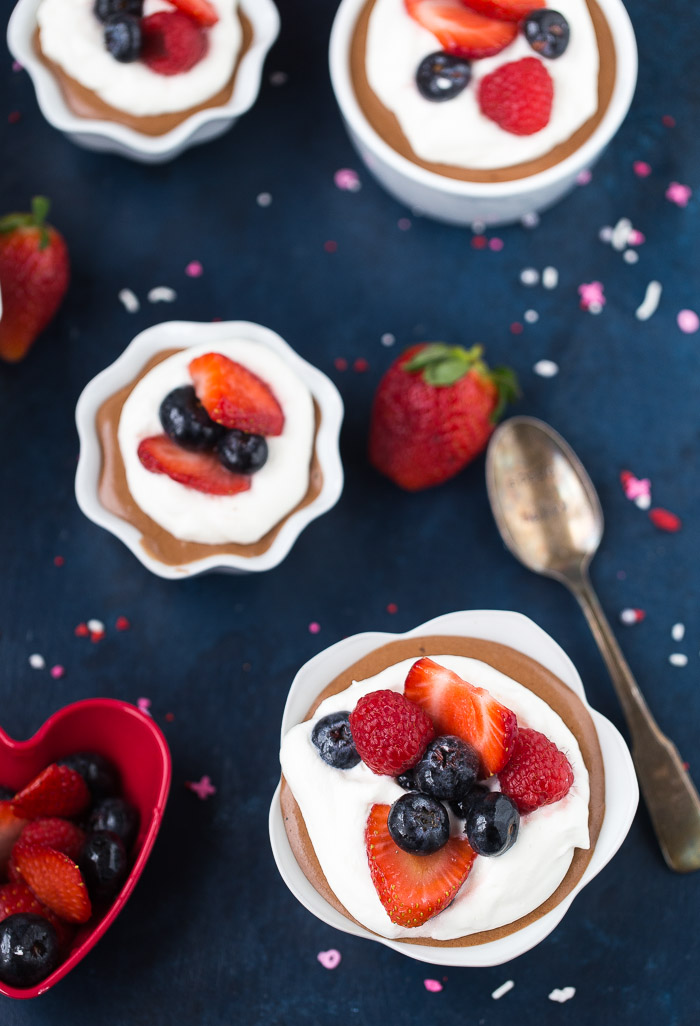 I topped my mousse with a healthy dose of fresh berries which add a pop of color to the dessert! This mousse feels decadent and it may make you think you got it from a high-end restaurant. But don't be fooled, it's just a combination of quality basic ingredients and a few steps to get you this fancy dessert perfect for any celebration.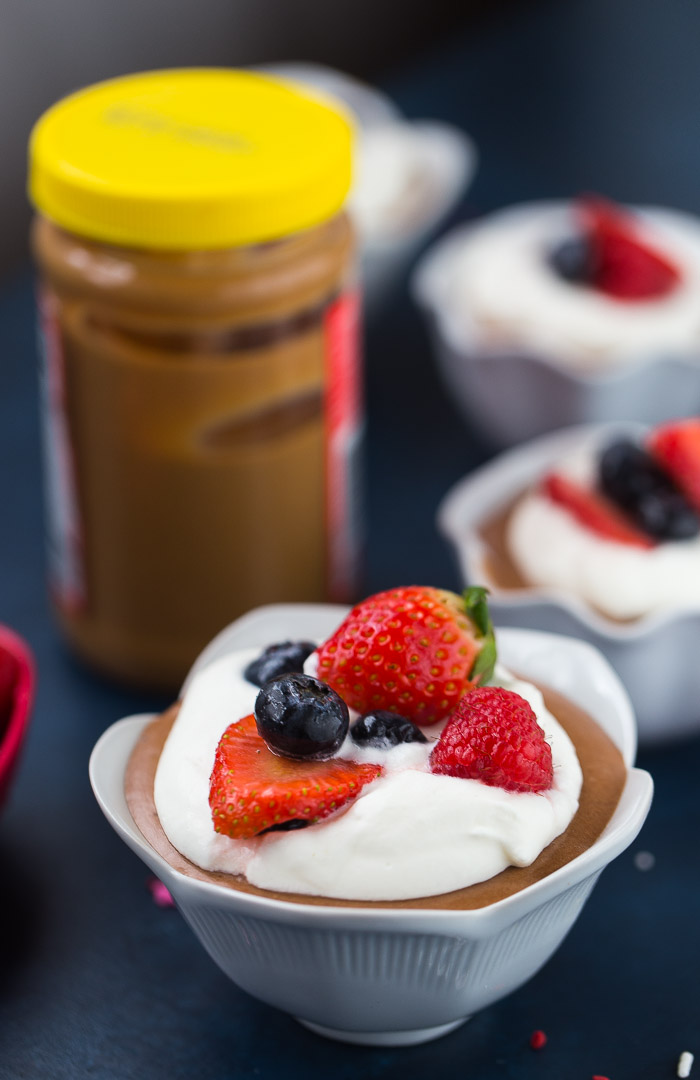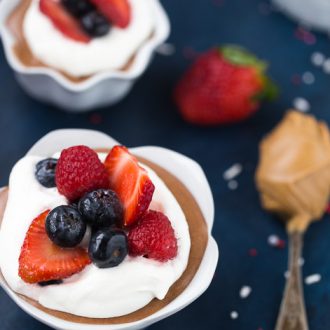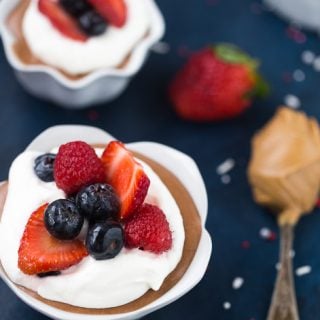 Yield: 8 6-ounce ramekins
Peanut Butter Chocolate Mousse
This peanut butter chocolate mousse is creamy, rich and decadent with everyone's favorite sweet and salty combo of peanut butter and chocolate.
Total Time
6 hours
55 minutes
Ingredients
FOR MOUSSE:
8 ounces best-quality bittersweet chocolate, broken into small pieces
½ cup (1 stick) unsalted butter
1/2 cup creamy peanut butter
6 large eggs, separated, at room temperature
1 cup sifted confectioners' sugar
2 cups heavy whipping cream, cold
Pinch cream of tartar
FOR TOPPINGS:
Strawberries
Blueberries
Raspberries
Instructions
In a medium sauce pan set over medium heat, combine the chocolate, butter and peanut butter. Melt, stirring constantly, until mixture is smooth. Let cool slightly as you prepare the rest.
Beat the egg yolks and sugar until the mixture forms a slowly dissolving ribbon when the beaters are lifted. Pour the mixture into the top of a double boiler and cook, whisking constantly, over simmering water until very thick, about three minutes.
Remove to a large mixing bowl. Gradually whisk in the chocolate peanut butter mixture and stir until smooth and cool.
Beat the cream until the peaks are stiff. Save 1 cup of the whipped cream for topping.
In a separate bowl, with clean beaters, beat the egg whites with the cream of tartar until stiff but not dry. Gently fold the egg whites into the chocolate mixture; then fold in the whipped cream.
Refrigerate mousse until set, at least 4 hours or overnight.
When ready to serve, spoon the chilled mousse into individual ramekins. Top with reserved whipped cream, sliced strawberries, raspberries and blueberries.
For more information about peanuts and benefits of including peanuts in your diet, visit
The Peanut Institute.