Chocolate Coffee Mousse

Thank you to Folgers Coffee for sponsoring this Chocolate Coffee Mousse with Strawberries recipe! All thoughts and opinions are my own.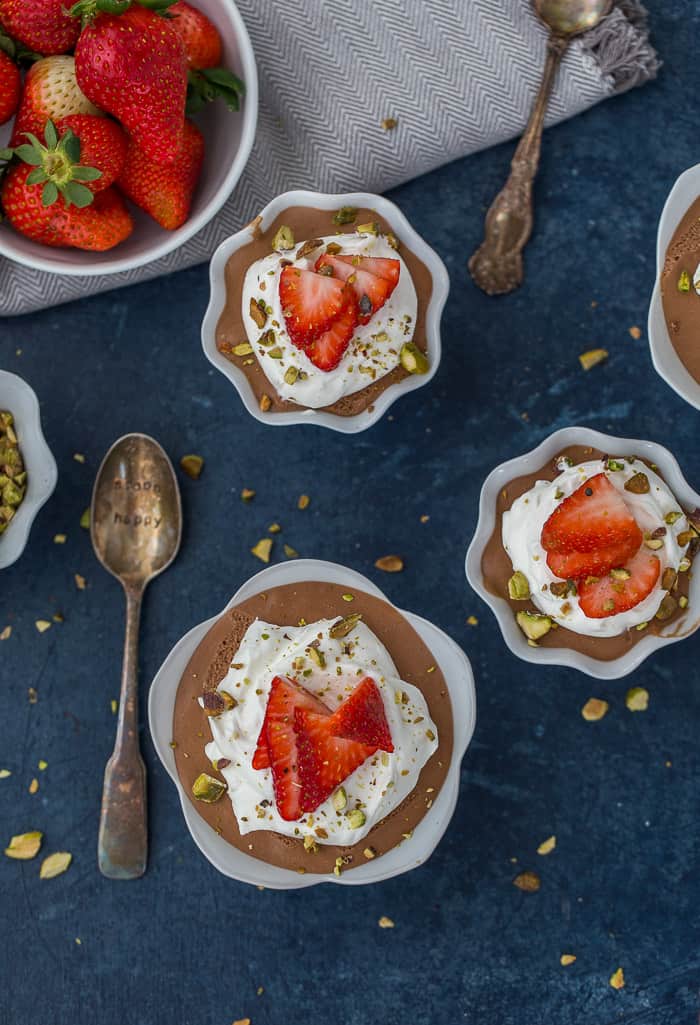 I don't know about you but I am always looking for new recipes to entertain family and friends. Especially classic recipes that bring all the comfort and familiar tastes of our childhood. Of course, every now and then, I like to spice these classics up with new twists. This chocolate coffee mousse with strawberries brings the rich traditional flavor of Folgers Coffee to a silky chocolate mousse for a comforting dessert.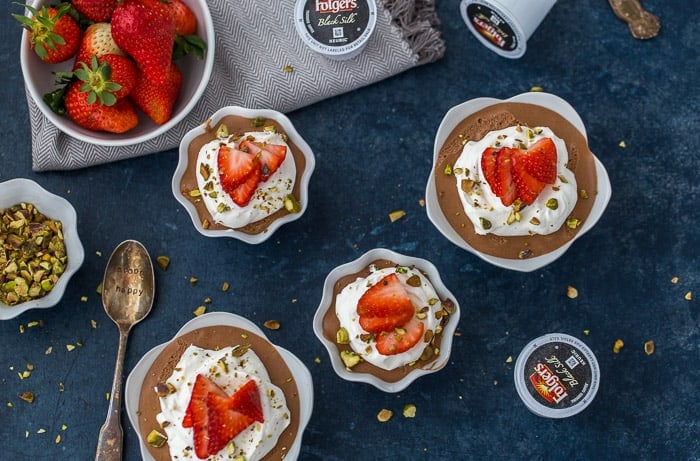 Like many of you, I love to make coffee at home. It is necessary almost every day when you are a working mom with a high-energy toddler. We love Folgers® K-Cups® Pods because they are easy to make individual servings for those busy mornings and Folgers has been a part of our family for years. It's great as an individual cup of coffee or as an ingredient in my desserts! From chocolate cupcakes to pumpkin spice latte coffee cakes, including coffee in baked goods is always a good idea. Especially with chocolate. Coffee + chocolate = bliss.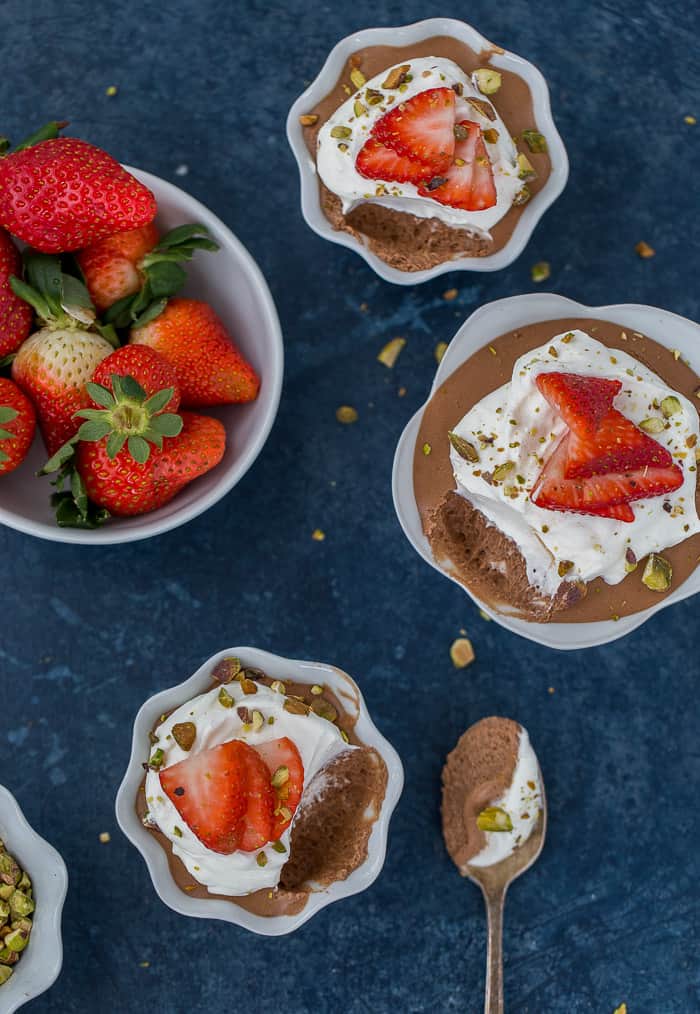 This chocolate coffee mousse recipe is a classic, comforting dessert that we've come to love. It's perfect for dinner parties you are hosting or to bring to a get-together. Because it is a no-bake dessert, I see us making it more over the summer and changing the toppings. It also travels well when served in ramekins.
To make the mousse you need a good quality chocolate to ensure the best results. Melt your chocolate and brew your Folgers K-Cup. I used the Black Silk because that is my favorite flavor to buy when I shop at ShopRite. Whisk the coffee into the melted chocolate before adding the whipped cream and egg whites. Easy peasy!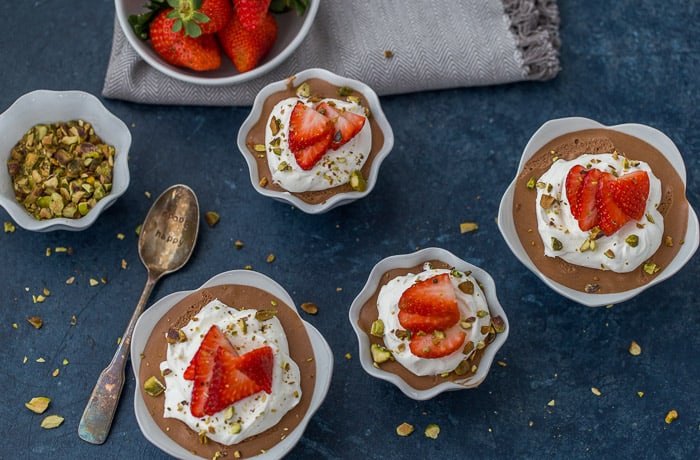 I've topped this mousse with several different things. I chose strawberries and pistachios for this recipe because it's my family's favorite, but you can also use caramel, coconut shavings or more chocolate. It's easy to customize and that's why it is one of my favorite entertaining recipes. I know you will love it too.
Even though Valentine's Day is behind us, you can still make this chocolate coffee mousse recipe your special loved ones. In fact, I am a firm believer in baking for your loved ones year-round.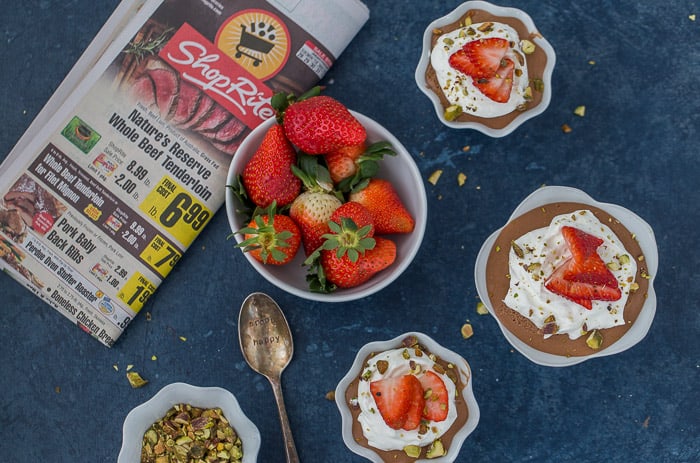 Be sure to look for a Folgers K-Cups $1-off digital coupon available with your ShopRite Price Plus® club card.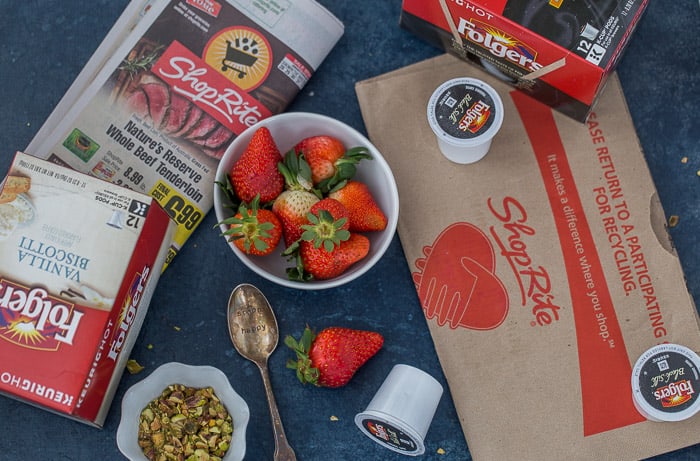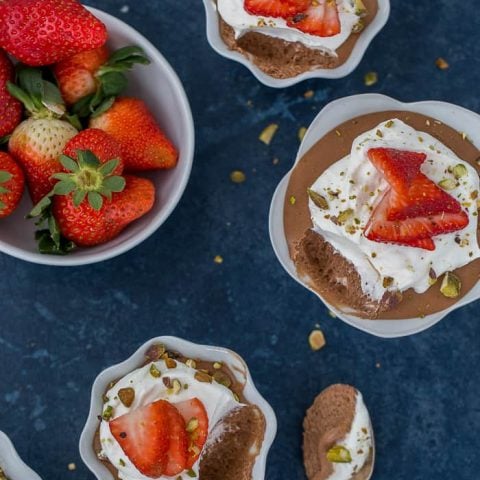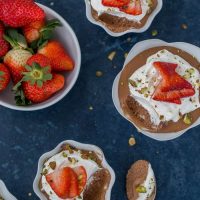 Yield: 6-8 servings
Chocolate Coffee Mousse
This chocolate coffee mousse is your classic silky chocolate mousse infused with coffee which brings out the richness of the coffee. Top this no-bake mousse with whipped cream, strawberries and pistachios for the perfect dessert!
Additional Time
3 hours
15 minutes
Ingredients
For Mousse:
8 ounces best-quality bittersweet chocolate, broken into small pieces
½ cup (1 stick) unsalted butter
6 large eggs, separated, at room temperature
1 cup sifted confectioners' sugar
½ cup brewed coffee, at room temperature
2 cups whipping cream, cold
Pinch cream of tartar
For Toppings:
Instructions
Melt the chocolate and butter in a small saucepan, stirring constantly.
Beat the egg yolks, sugar, and coffee until the mixture forms a slowly dissolving ribbon when the beaters are lifted. Pour the mixture into the top of a double boiler and cook, whisking constantly, over simmering water until very thick, about three minutes.
Remove to a large mixing bowl. Whisk in the chocolate mixture and stir until smooth and cool.
Beat the cream until the peaks are stiff. Save 1 cup of the whipped cream for topping.
In a separate bowl, with clean beaters, beat the egg whites with the cream of tartar until stiff but not dry. Gently fold the egg whites into the chocolate mixture; then fold in the whipped cream. Refrigerate until set, about 3 hours or overnight.
When ready to serve, spoon the chilled mousse into individual ramekins. Top with reserved whipped cream, sliced strawberries, and pistachios.