Baked Pumpkin Donuts with Maple Glaze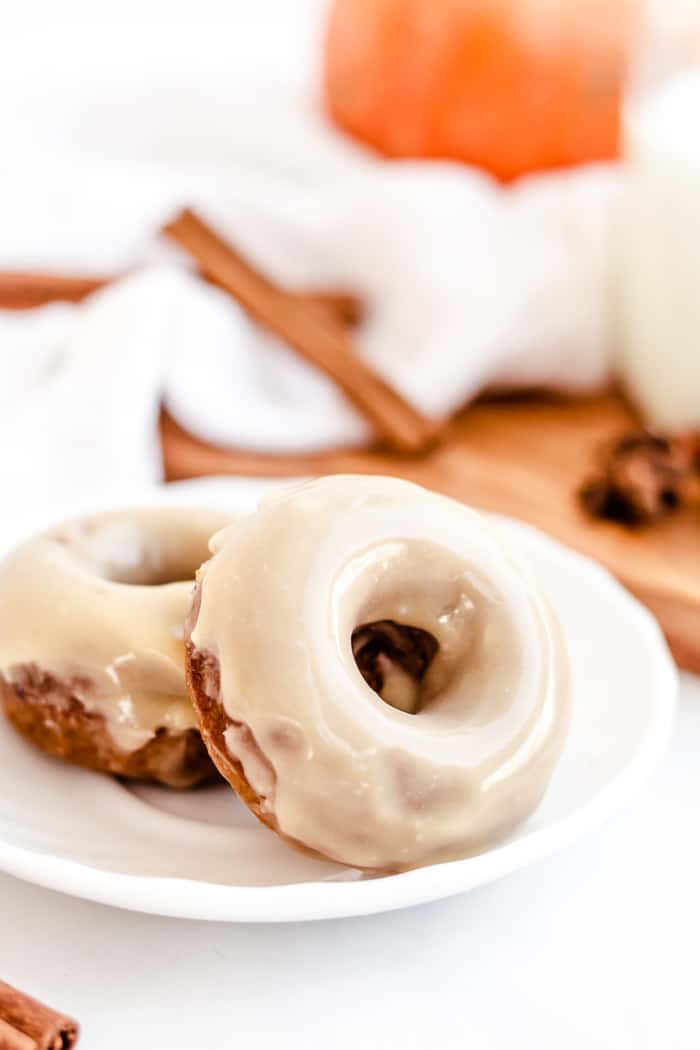 Happy fall, my friends. I have a new breakfast recipe for you. These Baked Pumpkin Donuts With Maple Glaze are going to be one of your favorite ways to enjoy the season's flavors.
I love this time of the year and all it brings. One of my favorite parts of fall is the back-to-school time, haha. Who else is with me? It can be challenging for most kids to be excited about losing their summer sleeping in and playing outside all day. But I love this time as we all get back into new routines. I thrive on routines and it helps my sanity.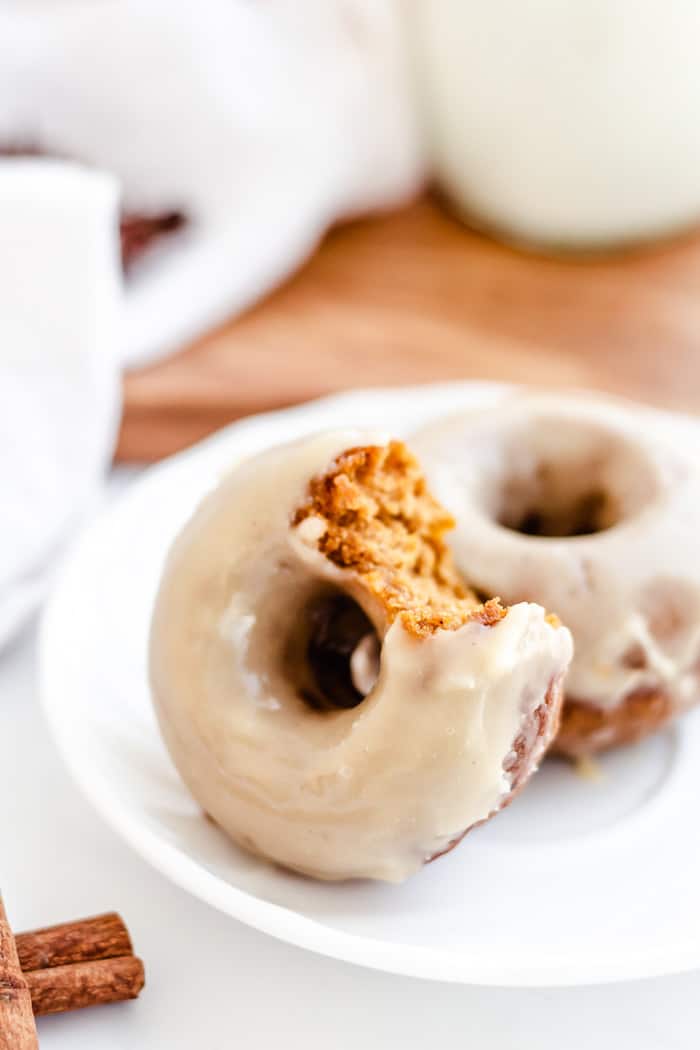 One routine that I have yet to master is the weekday breakfast game. Most mornings we barely have enough time to make it out of the house on time let alone sit and eat breakfast. My kids love fruits and cereal but we can't eat that every single day. We will all sit and enjoy a lovely breakfast in the perfect world, but this isn't the perfect world. Grab and go breakfasts are enjoyed one too many days of the week.
Baked donuts are one of my favorites for an easy weekday breakfast. I can prep and bake over the weekend and we can enjoy them all week long. Since they are baked and not fried, they are a bit healthier and I can control what I sneak in there for the kids. Like in these carrot cake donuts.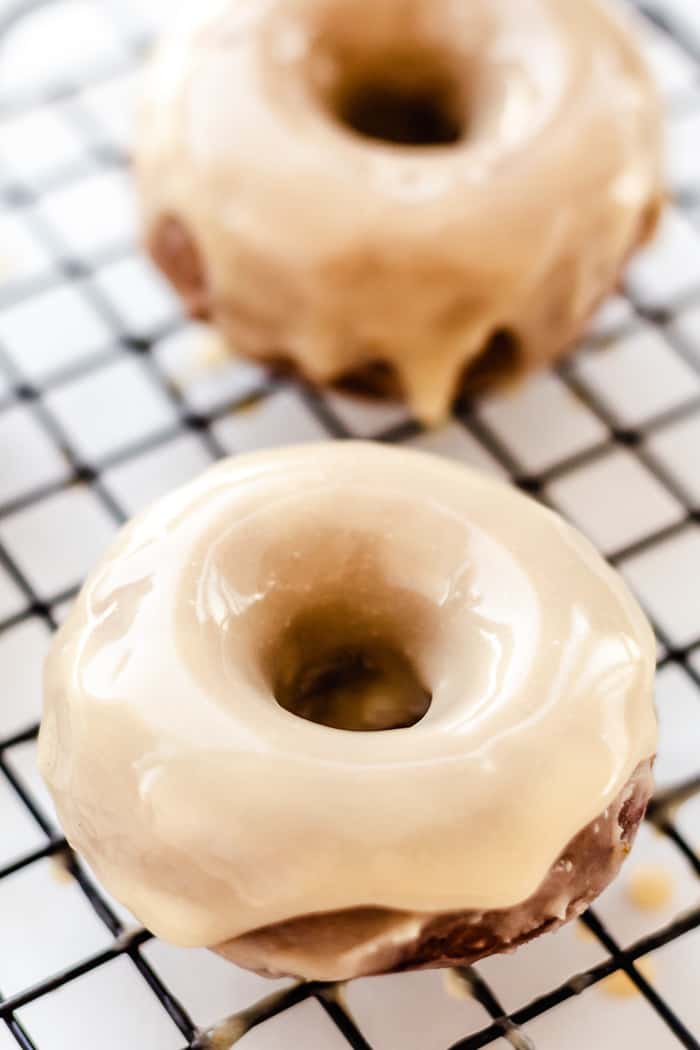 These baked pumpkin donuts are soft, perfectly spiced and just the right snack with your morning coffee. the maple glaze, while delicious, is optional and can be left out. But the maple flavor + pumpkin spices go so well together.
You can bake these the night prior if you are tight on time but make sure you cool them properly before drizzling on the frosting. Also, make sure they are stored in an air-tight container in the fridge overnight. Finally, warm them up in a toaster oven for a few seconds the following day, and a gooey delight awaits your sleeping beauties.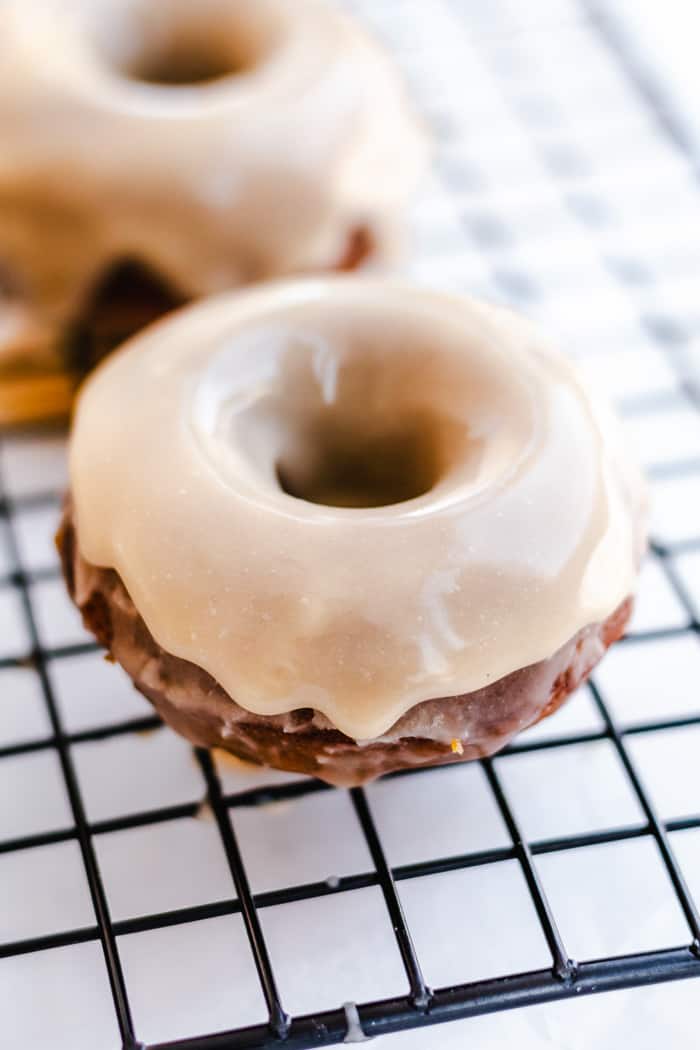 For all my mamas out there who love pumpkin, pair it with a Pumpkin Spiced Latte, and you will be ready to conquer anything. At least you will make it to lunch before thinking about a nap, haha.
Have you ever tried baking your donuts? I promise there is nothing to it! These Baked Pumpkin Donuts with Cream Cheese Frosting are also a favorite this time of the year.
When you give this recipe a try, make sure to let me know how it goes! I love hearing what you all think of these recipes. Make sure to tag me if you post across social media, #aclassictwist. I hope these make your mornings brighter :-).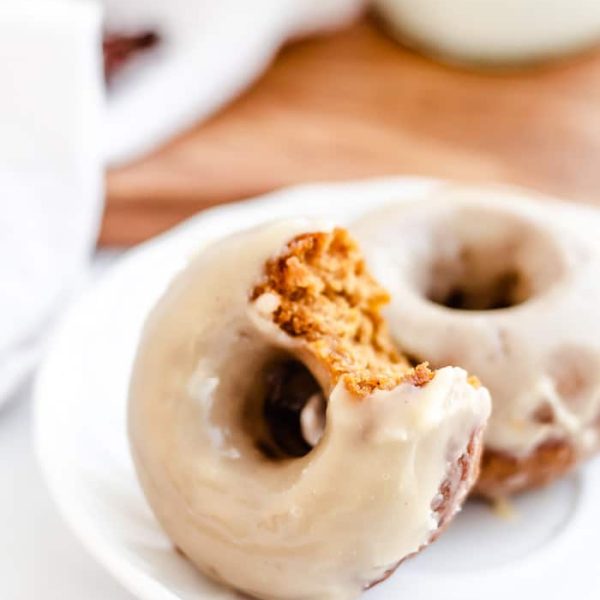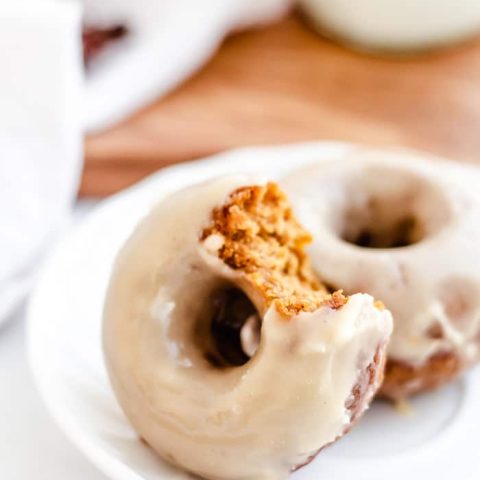 Yield: 16 donuts
Baked Pumpkin Donuts with Maple Glaze
Ingredients
2 cups all-purpose flour
1 teaspoon baking powder
1 teaspoon baking soda
½ teaspoon kosher salt
2 teaspoons ground cinnamon
1 teaspoon pumpkin pie spice
½ cup vegetable oil
¾ packed brown sugar
2 large eggs, at room temperature
1 cup fresh or canned pumpkin puree
⅓ cup whole milk
1 teaspoon pure vanilla extract
For the maple glaze:
1 cup powdered sugar
2 tablespoons maple syrup
2-3 tablespoons milk of choice
1 teaspoon maple extract (optional)
Instructions
Preheat the oven to 350ºF. Grease a donut pan with baking spray and set aside.
In a large mixing bowl, whisk together the flour, baking powder, baking soda, salt, cinnamon, and pumpkin pie spice and set aside.
In another bowl whisk together the oil or melted butter, brown sugar, eggs, pumpkin puree, milk, and vanilla extract.
Add the wet ingredients to the dry ingredients and mix until well combined.
You can either spoon the batter into the donut holes or use a large piping bag or zipped-top bag which I highly recommend. Simply cut the corner off the bottom of the bag and pipe the batter into each donut hole, filling about halfway. With damp hands press them gently to smooth them out, this also prevents burning the tops.
Bake for 10-12 minutes or until the edges and tops are lightly browned. Cool donuts in the pan for 5 minutes then transfer to a cooling rack. Repeat with the remaining batter.
For the maple glaze, mix all the maple glaze ingredients in a medium-size bowl. Dip each donut in the maple glaze and place it back onto the cooling rack or on a plate to let the glaze set. Best enjoyed fresh.
Notes
Cover any leftover donuts tightly and store them at room temperature for up to 2 days, or in the refrigerator for up to one week.
You can freeze the donuts for up to 2 months. Thaw overnight in the refrigerator and warm them up a bit in the microwave.
If you don't have a donut pan, make this recipe into muffins using a muffin pan. Bake for 15-18 minutes or until lightly browned.
You can use any milk you like. For a dairy-free version soy milk or coconut milk works best.
A trick to make the donuts look prettier is to dip in the glaze on the side of the donut that was touching the pan (the bottoms) because it's smoother than the top side.
Recommended Products
As an Amazon Associate and member of other affiliate programs, I earn from qualifying purchases.