Pumpkin Chocolate Peanut Butter Cookies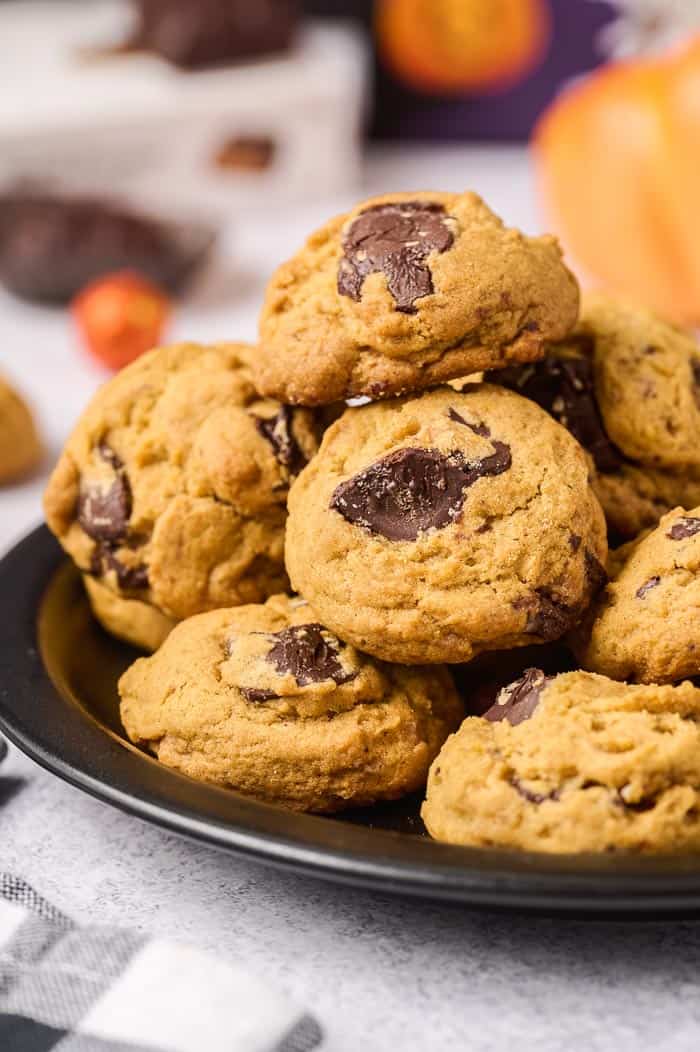 This pumpkin cookie recipe is sponsored by See's Candies.
Hey there, my friends! What could be better than a big plate of fresh Chocolate Chip Cookies with a large glass of ice-cold milk on a chilly day? What about taking that traditional recipe up a notch by adding in some of everyone's favorite fall flavors; pumpkin! Now, add in another cookie favorite that is sweet, salty, and maybe a little nutty. Introducing, the softest and more delicious Pumpkin Peanut Butter Chocolate Cookies.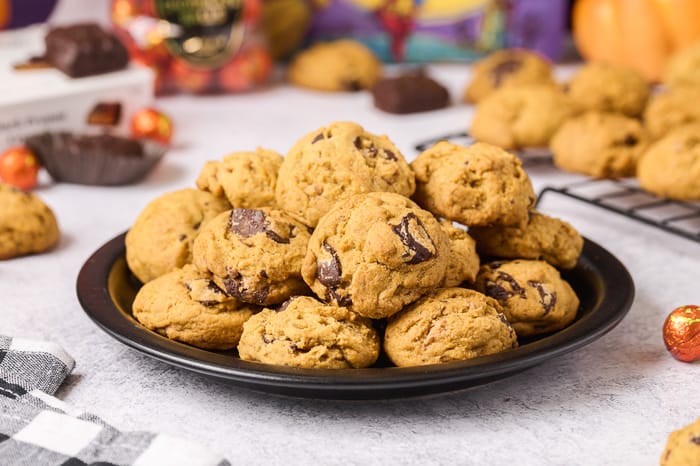 Chocolate and peanut butter go so well together and they are even better in these cookies! The classic combo but with a fun fall twist of earthy and creamy pumpkin puree and pumpkin spice seasonings.
The real magic (and secret ingredients) comes from See's Dark Chocolate Peanut Crunch, which is chopped into pieces and fills each cookie for the perfect balance of crunch and chewy texture in each Pumpkin Peanut Butter Chocolate Cookie. These peanut crunch candies are made with rich dark chocolate, creamy peanut butter, and filled with roasted peanuts that appeal to every peanut butter lover's taste buds.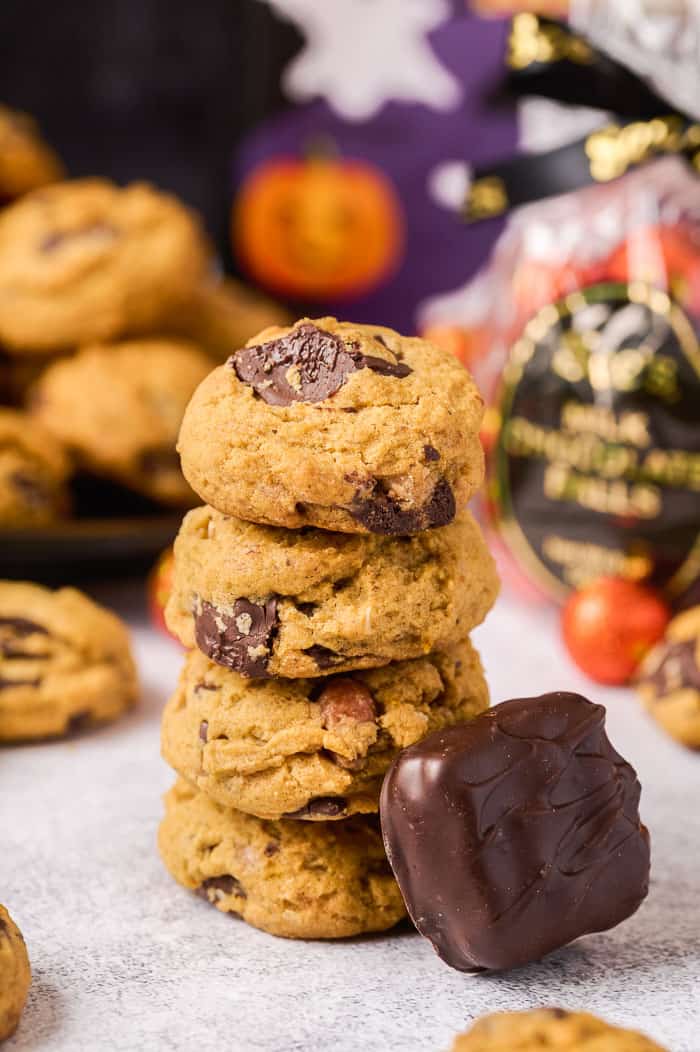 Once I told my kids what we were baking, their eyes lit up with excitement. Sure they love decorating all the spooky and fun desserts of the Halloween season, but they couldn't resist the classic flavors. They both also love pumpkin in any recipe I have ever shared with them. Although, if I let them, I think they would try to eat the inside of our carved pumpkins haha.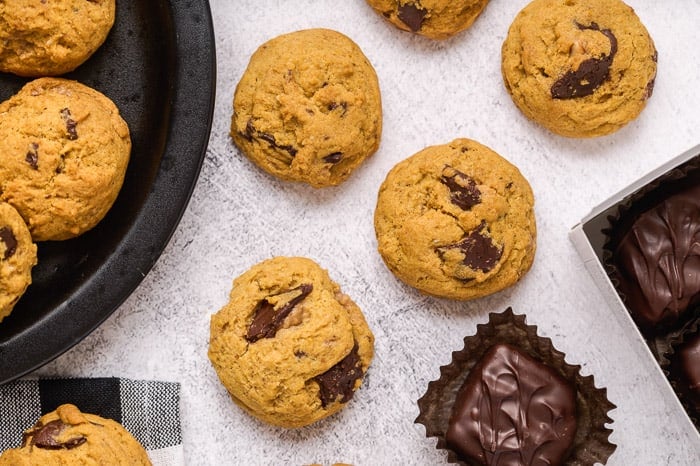 This recipe creates the perfect bite-sized snack for the kid's lunch, after-school snack, or as a sweet treat to go with your glass of wine after a long day. Everyone could use a sweet snack to finish off a long day, am I right?
Instead of just talking about how good these pumpkin cookies are, let's get to baking. If you don't wish to read the step by step here, you can simply scroll to the bottom for the recipe.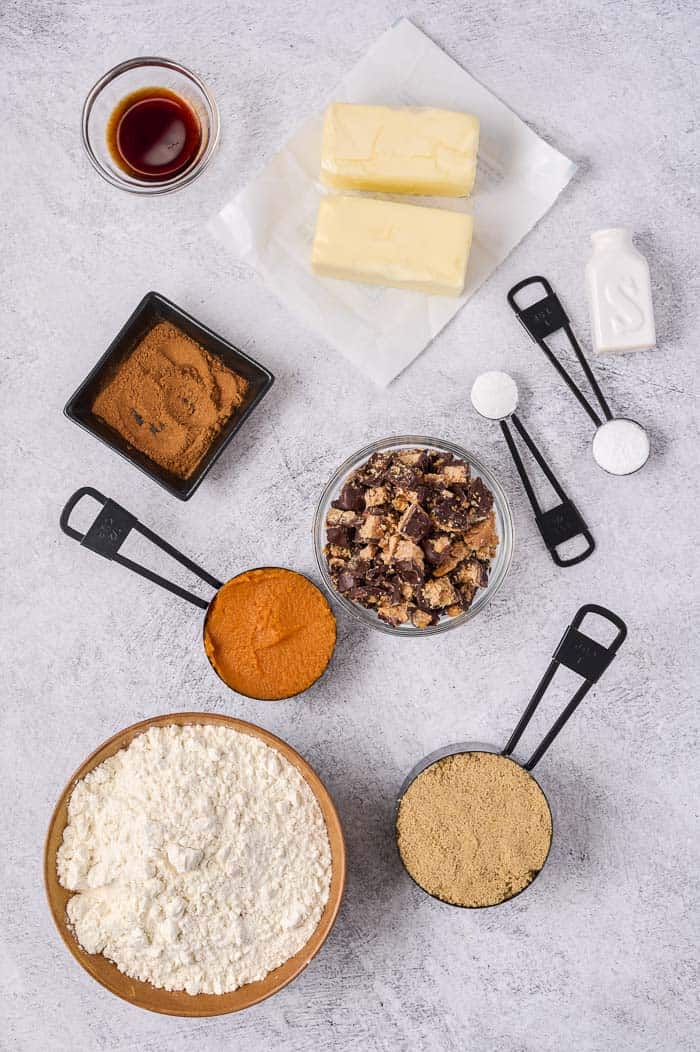 In a large mixing bowl, combine all your dry ingredients until they are fully incorporated.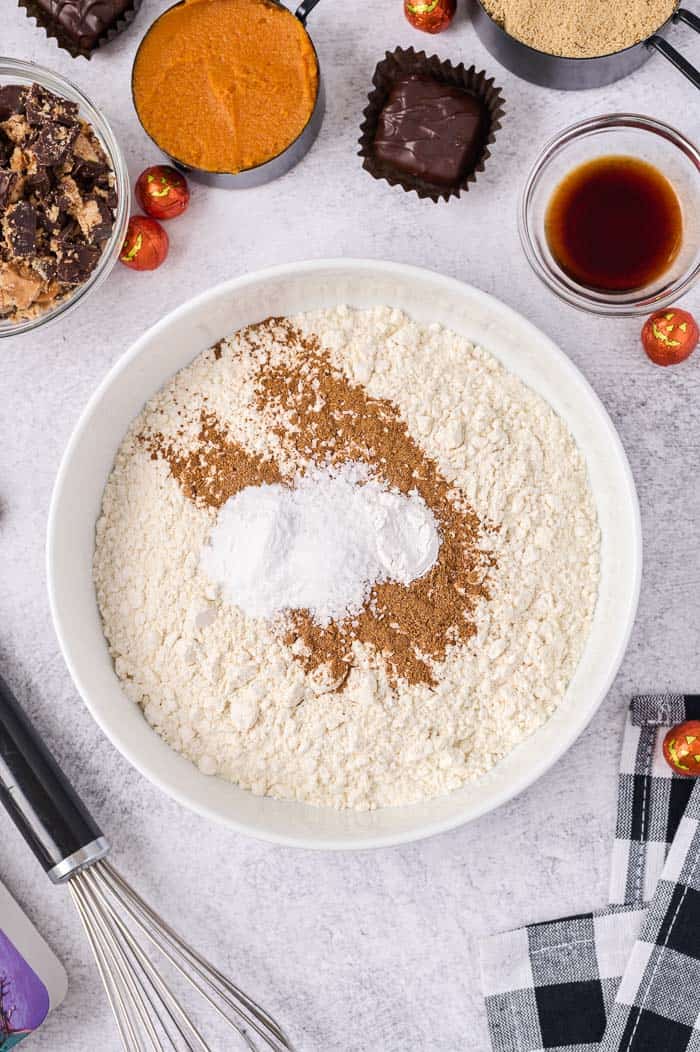 Using a stand mixer, add in the wet ingredients and beat for 30 seconds to a minute.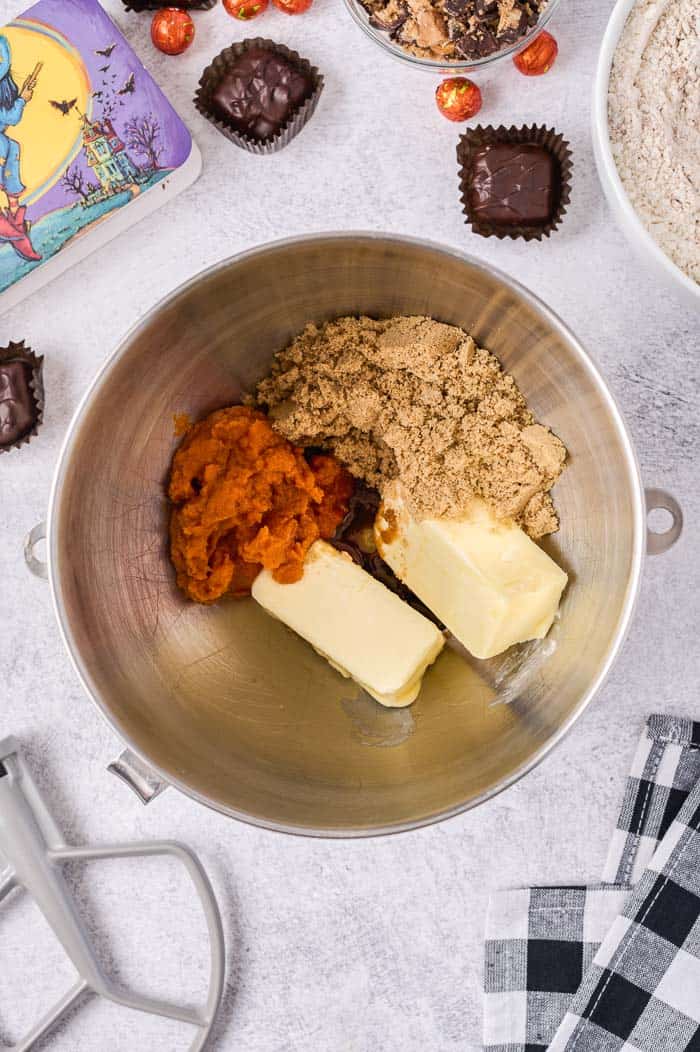 Mix on medium-low and add in the dry ingredients.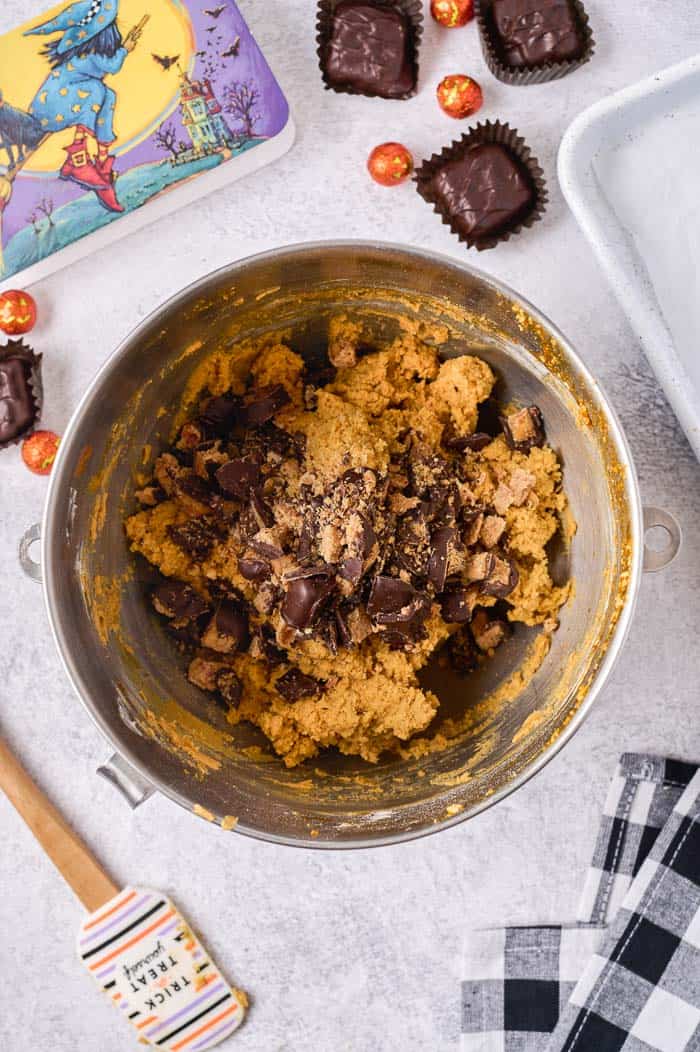 Fold in your chopped See's Dark Chocolate Peanut Crunch until it is evenly distributed.
Scoop dough onto a prepared baking sheet.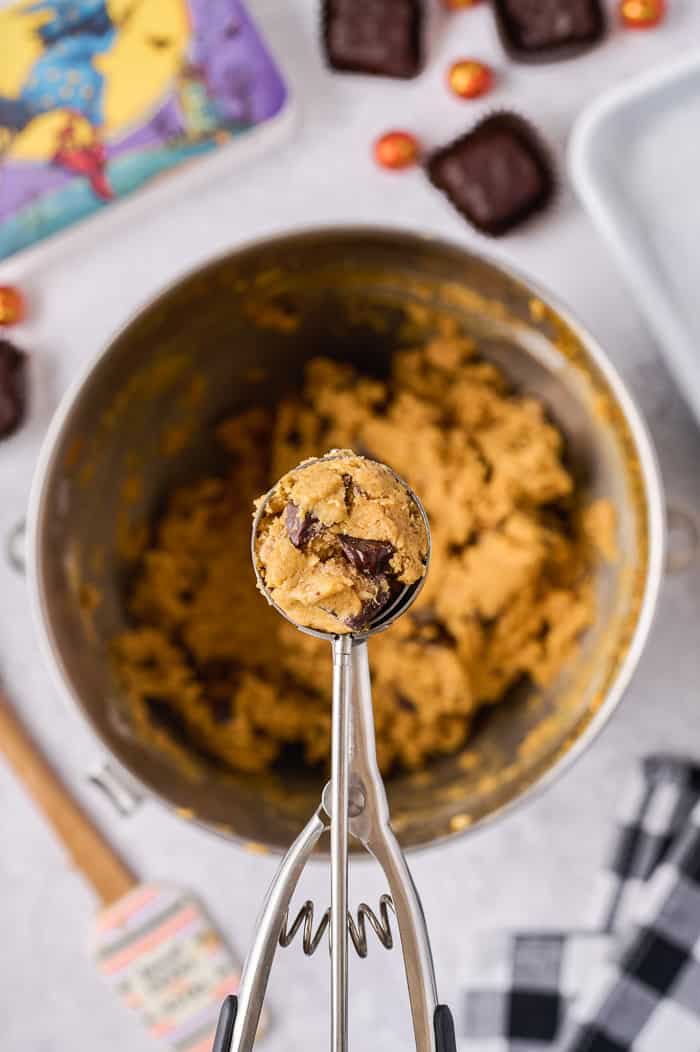 Bake your cookies and let them cool for a few minutes before serving!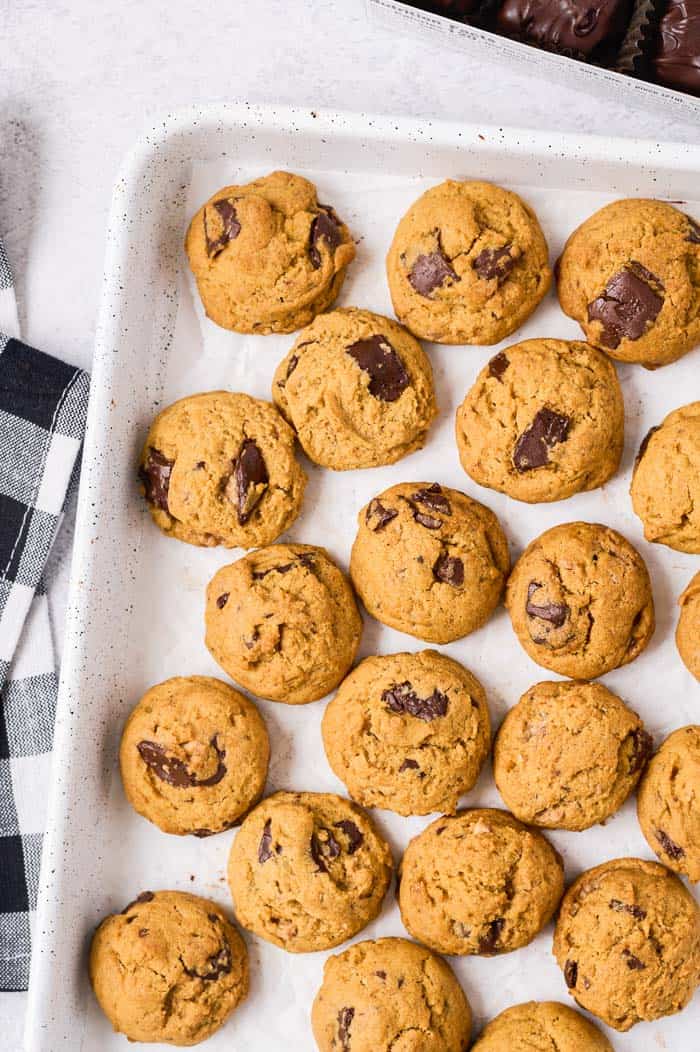 These Pumpkin Chocolate Peanut Butter Cookies are just the perfect festive snack for fall, and I know your family will love them just as much as mine.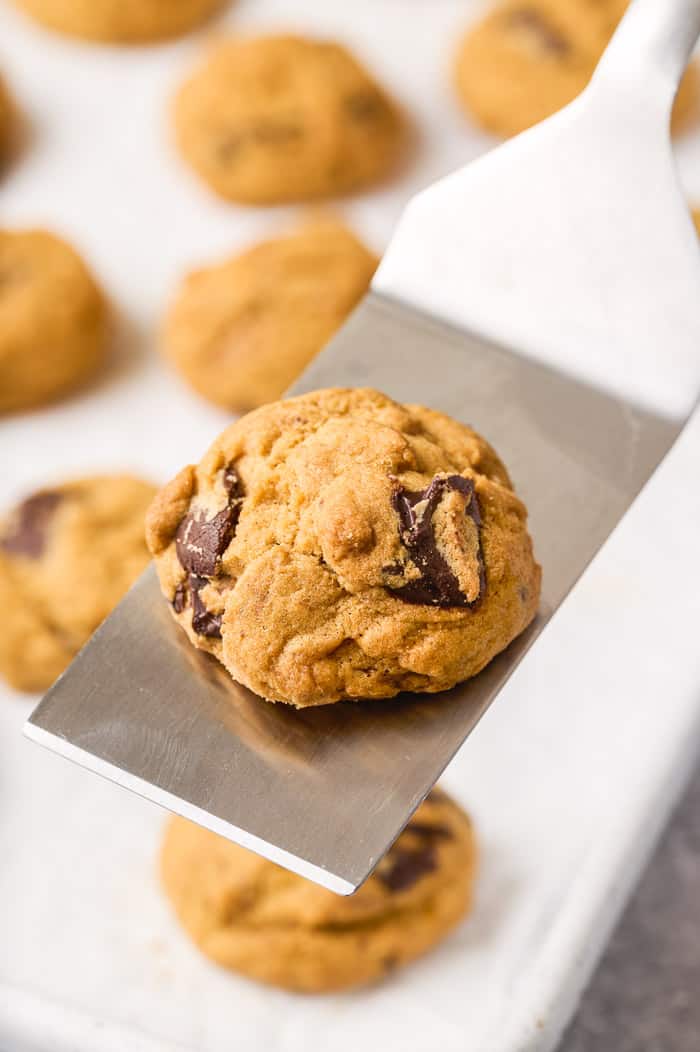 If you like this recipe, let me know in the comment section below. Are you posting on social media? Don't forget to tag #aclassictwist so I can see all of your beautiful and scrumptious creations. Nothing is better than seeing these recipes come to life all around the world.
Until next time, have a wonderful day!
If you like this recipe, you must try Pumpkin Chocolate Chip Cookies, Pumpkin Smores Cookies, Chocolate Pumpkin Cupcakes, and many more!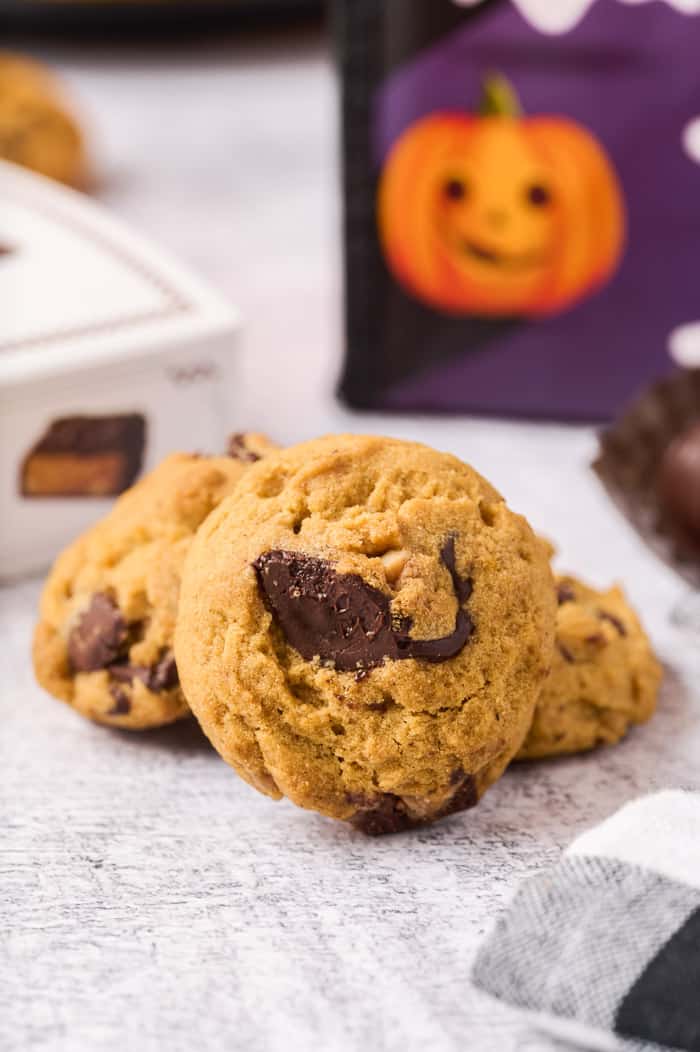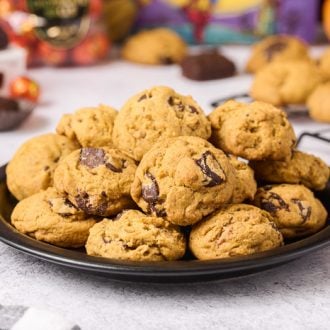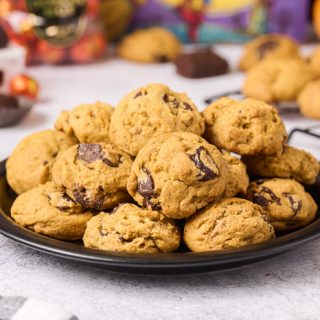 Yield: 15 cookies
Pumpkin Peanut Butter Chocolate Cookies
Additional Time
30 minutes
Total Time
1 hour
4 minutes
Ingredients
2 ½ cups all-purpose flour
1 teaspoon baking soda
½ teaspoon baking powder
2 teaspoons pumpkin spice
1 teaspoon kosher salt
1 cup unsalted butter, softened
1 cup brown sugar, packed
½ cup of pumpkin puree
2 teaspoons pure vanilla extract
Instructions
Preheat the oven to 350 degrees Fahrenheit and line a baking sheet with parchment paper.
Add the flour, baking soda, baking powder, pumpkin spice, and salt to a small mixing bowl and whisk to combine. Set aside.
Add the butter, brown sugar, pumpkin puree, and vanilla extract to the bowl of a standing mixer and mix with the beater attachment on a medium speed until well combined (about 30 seconds - 1 minute).
Add the dry ingredients to the wet and lower the mixing speed to a medium-low. Mix until they're just combined and there are no more streaks of flour. Scrape down the sides as necessary.
Use a spatula to fold your chocolate peanut butter chunks into the dough.
Using a small cookie scoop, scoop out balls of dough and place them on a prepared cookie sheet.
Bake for 14 minutes and let the cookies sit on the baking sheet for an additional 5 minutes before moving to a cooling rack.
Enjoy warm! Store leftovers in an air-tight container.
Notes
These cookies are super soft and gooey straight out of the oven - which is delicious in our opinion, sneak a bite, we won't tell! - so use a spatula to lift them off the baking sheet and onto the cooling rack, or you may risk them breaking in half. They will firm up during the cooling period.
Recommended Products
As an Amazon Associate and member of other affiliate programs, I earn from qualifying purchases.