Mummies Rice Krispie Treats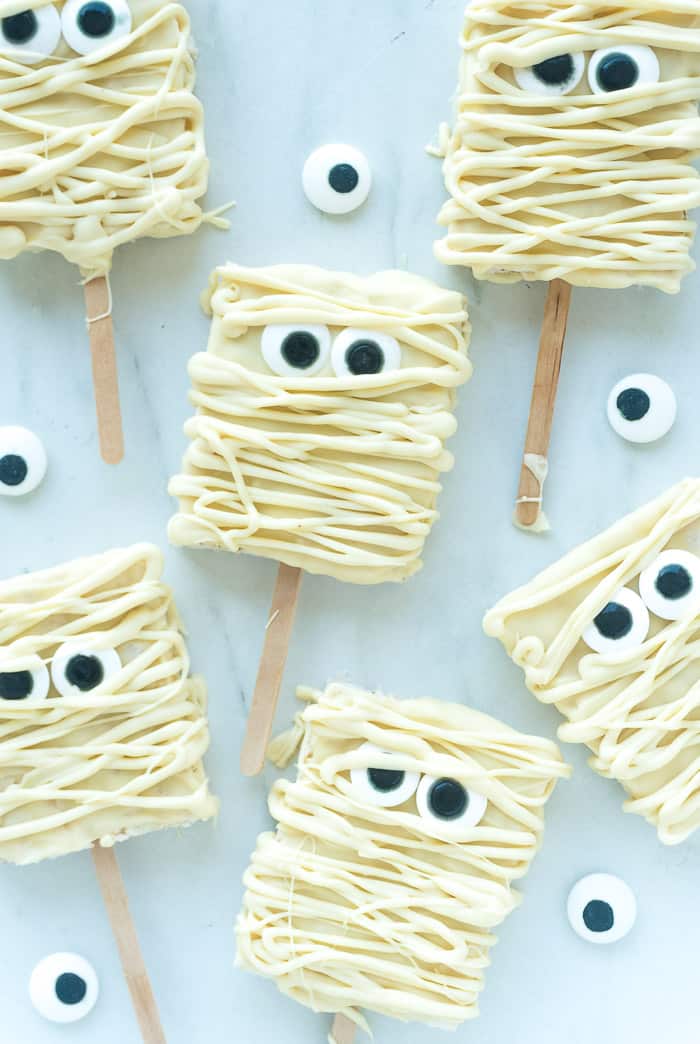 Halloween is a cherished holiday in our home, but with the pandemic, it looked a little different last year. Now that the new variant is showing up, I feel it might be altered again this year. Last year my kids were super bummed about not being able to trick or treat, so we improvised and started a new family tradition. We bake and decorate several Halloween treats the week leading up to Halloween. This way we host a spooky movie night with all our baked treats. Last year, these Mummies Rice Krispie Treats were a huge hit, and I finally can share them with you. Super simple to make, even for the littlest member of the family.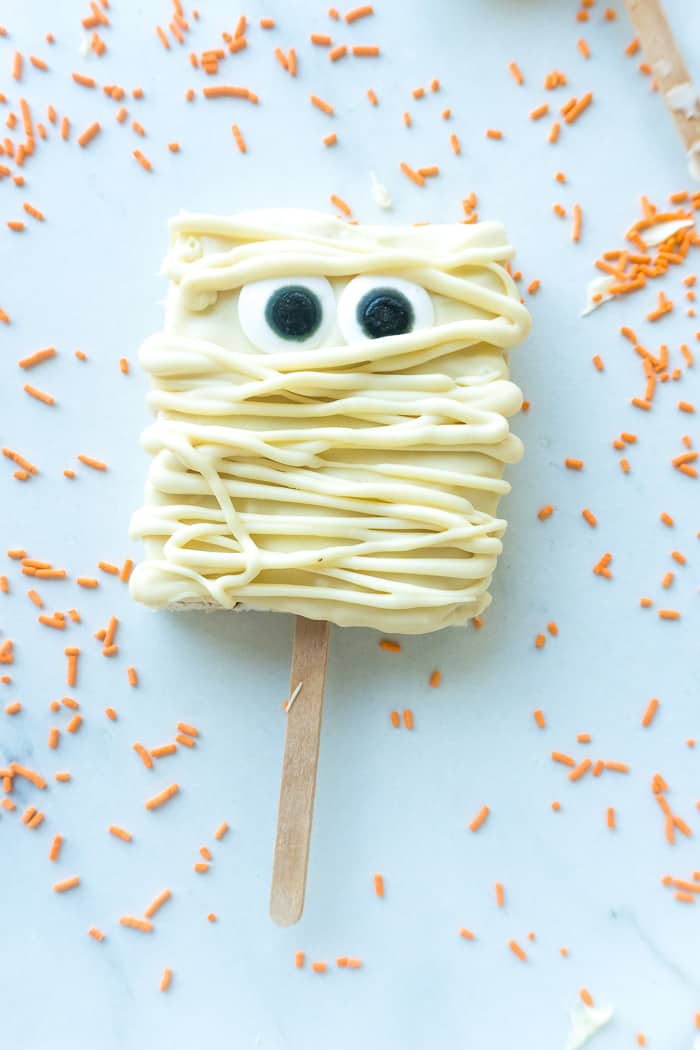 For this treat, you can make your own homemade Rice Krispie Treats or using pre-packaged ones to decorate if you are short on time. Either way, the kids will have a fantastic time decorating their spooky Halloween treats.
Here's how to create your very own Mummies Rice Krispie Treats at home. You can skip to the bottom if you don't wish to see the step-by-step instructions.
If you are making your own homemade Rice Krispie treats, prepare those and cut them into rectangles.
Add Rice Krispie Treats to parchment paper and carefully push a wooden stick inside.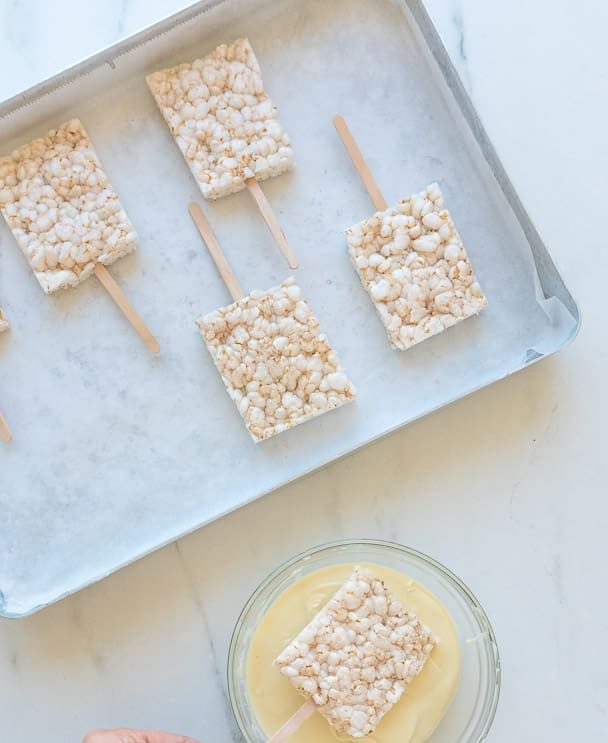 Melt your white chocolate and dip each rice Krispie treat in, then apply the candy eyes.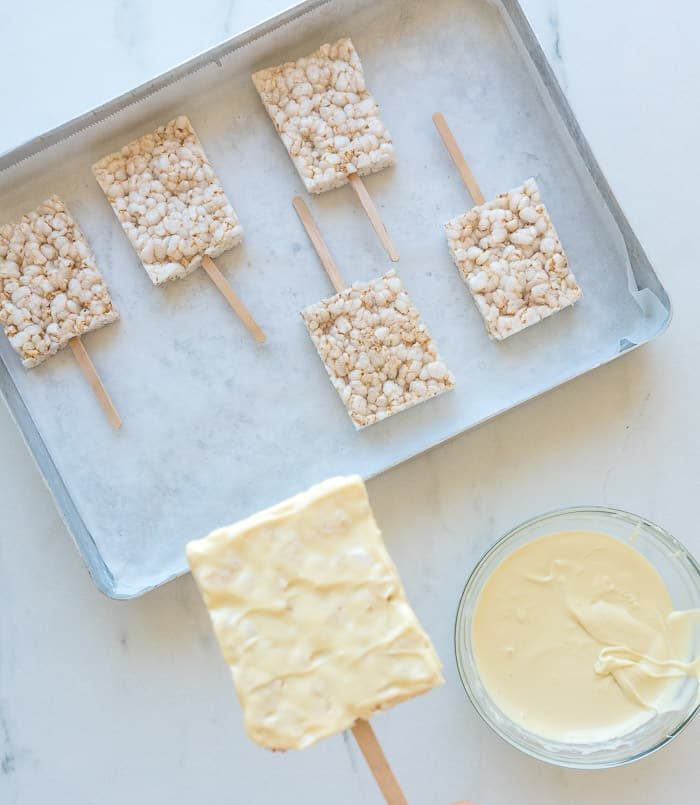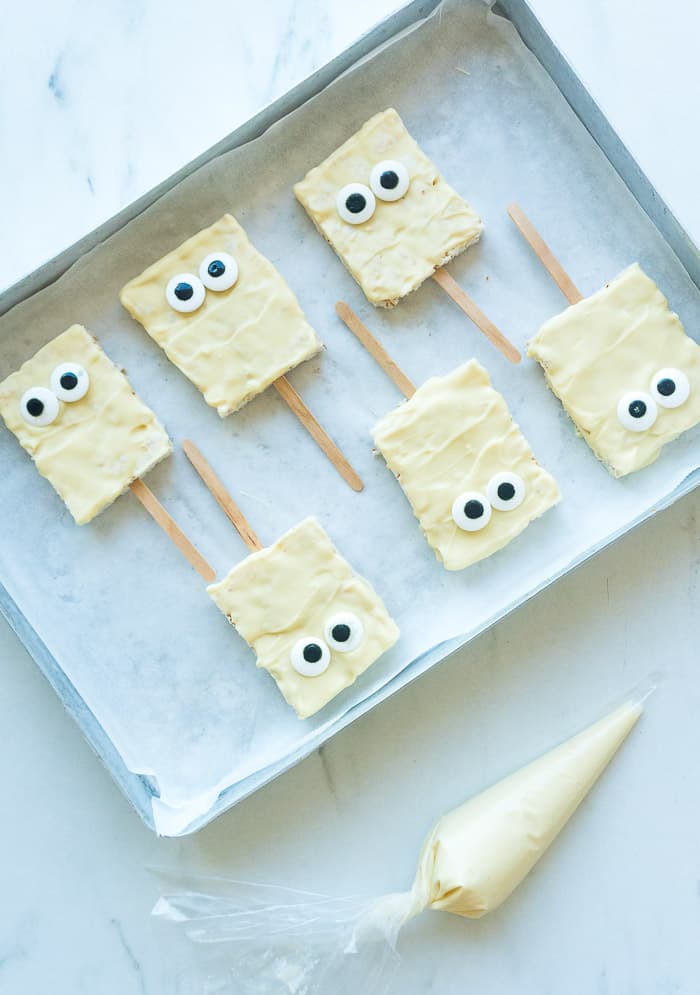 After they have chilled, drizzle the remaining white chocolate over mummies to add their wrappings. Get creative and let your kid's imaginations run wild with this step :-).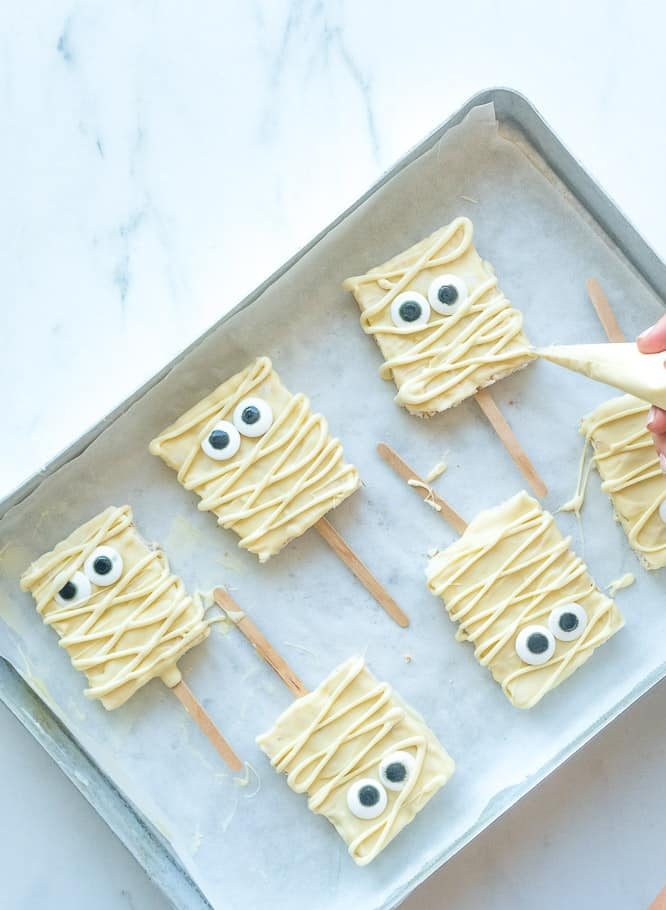 Allow to harden and serve.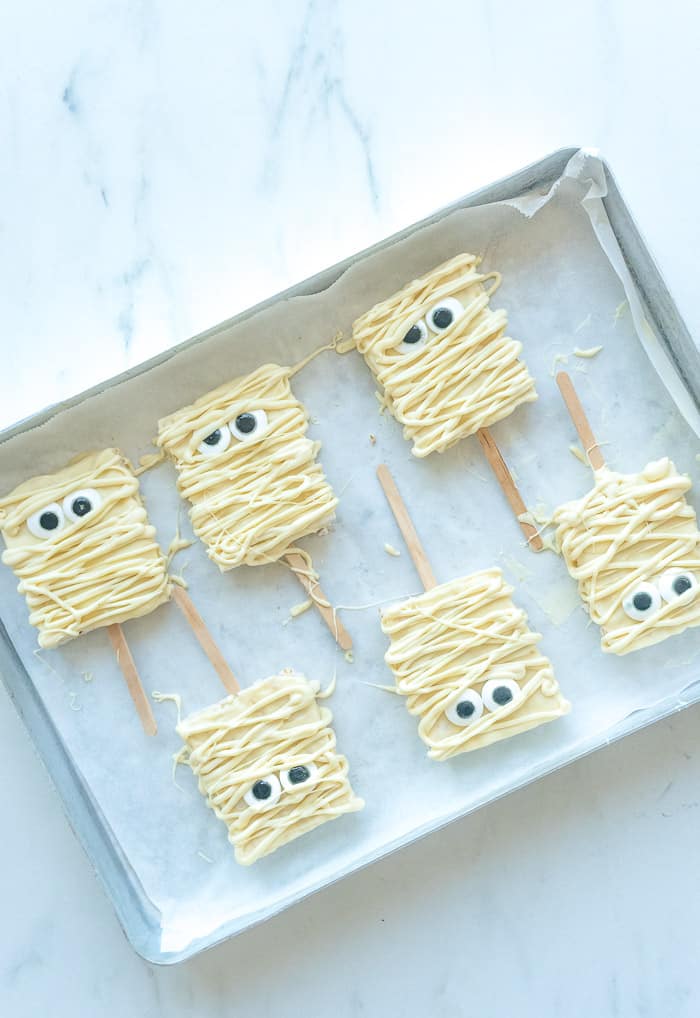 Being a baker, it is sometimes hard for me to let them decorate because I'm a perfectionist with my recipes. Then I realized how much fun they were having adding lop-sided eyes, extra wrapping, or cyclops mummies. We decorated enough last year to supply the entire neighborhood with Halloween treats to compensate for no trick or treating.
Try adding red velvet melted chocolate in tiny drops if you have older children and want to step up the spooky factor with your Mummies Rice Krispie Treats. We just stick to the traditional Mummies because my kids are too young for that, but I've seen the red chocolate effect, and it comes out fantastic.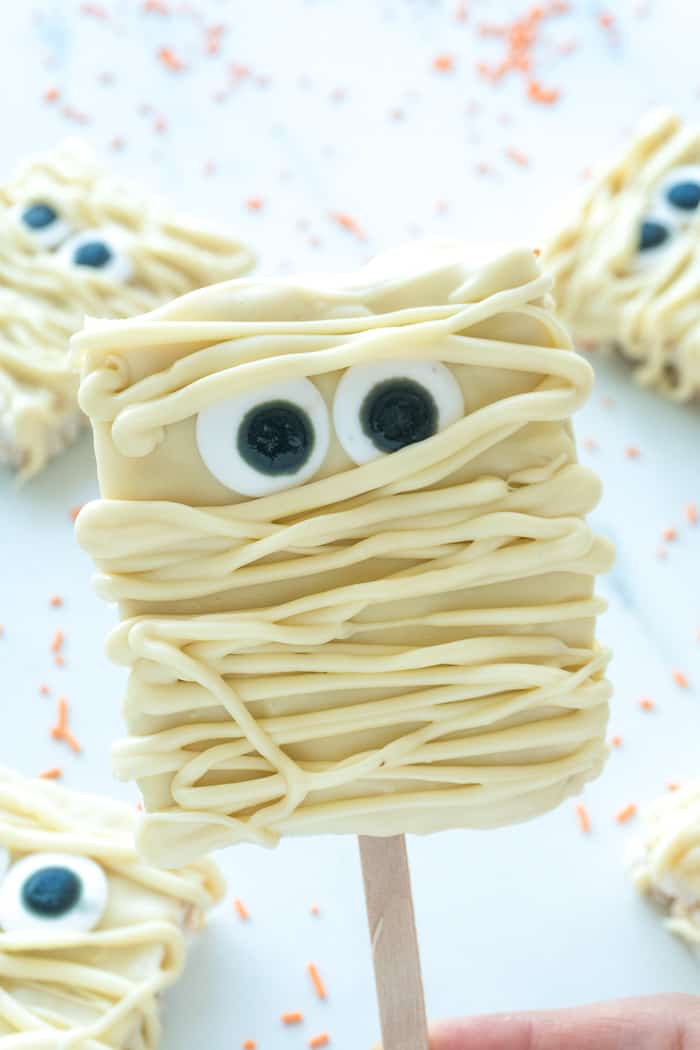 Make these to enjoy while carving your pumpkins or binging your favorite Halloween movies. These Mummies are easy to make and easier to clean up ( now that is something all us moms can get behind).
I have some other festive Halloween treats you can bake with the kids, like Chocolate Halloween Cupcakes and Spiderweb Cupcakes (Pumpkin Spice Cupcakes With Maple Cream Cheese Frosting).
How would you decorate these Mummies Rice Krispie Treats? Let me know in the comment section below. If you share across social media, tag #aclassictwist so I can see all your beautiful creations. Nothing makes me happier than my recipes coming to life. Until next time, have a great rest of your week :-).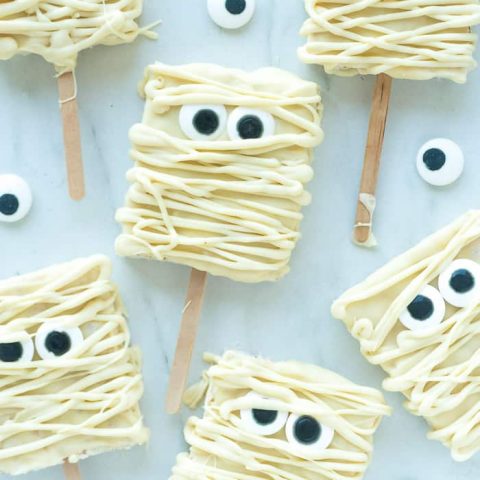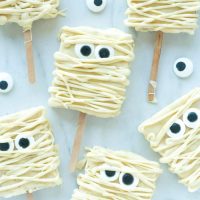 Yield: 12 servings
Mummies Rice Krispie Treats
Looking for a Halloween treat?? These mummies rice Krispie treats are so easy and fun to make!
Ingredients
12 individually wrapped premade Rice Krispies treats, or use your favorite homemade recipe and cut into rectangular shapes
12 wooden sticks (I used popsicle sticks)
12 ounces white chocolate, finely chopped
Candy eyes in assorted sizes
Instructions
Unwrap the rice Krispie treats and place them on parchment paper.
Carefully thread wooden sticks into each of the rice Krispie treats.
Place the white chocolate into a medium microwave-safe bowl and microwave for 15-second intervals, stirring in between, until the chocolate is melted through and smooth.
Working quickly, dip each rice krispie in the candy and place them on parchment paper. Place one eye candy on each.
Freeze the rice krispie treats for about 10 minutes or until the chocolate is frozen.
Pour the remaining melted chocolate into a piping bag and cut off the end.
Drizzle the chocolate over the frozen rice krispie treat, making a mummy shape.
Let cool and harden.