Spiderweb Cupcakes (Pumpkin Spice Cupcakes with Maple Cream Cheese Frosting)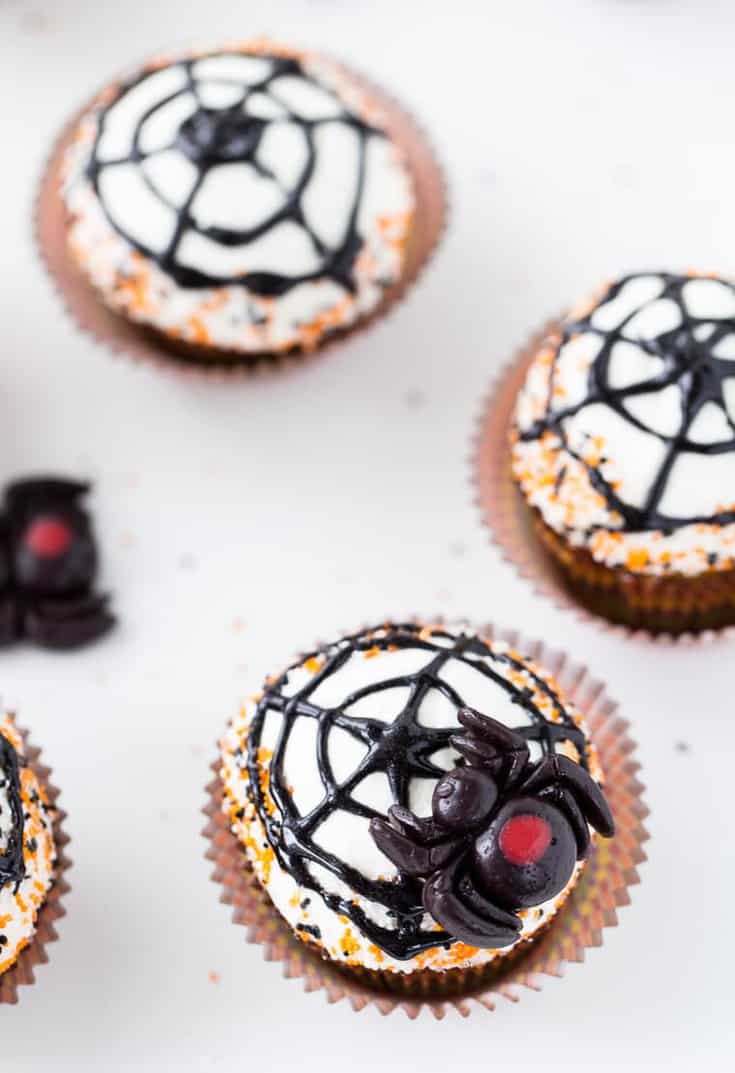 Happy October! Things are getting spooky around here today!! These spiderweb cupcakes are getting us ready for Halloween which is just around the corner. Besides being spooky, they are actually pumpkin spice cupcakes that are topped with a maple cream cheese frosting. Sounds amazing right? It is!
The fall is truly the best baking time of the year and I love baking with the seasonal flavors. Last month we focused on the abundance of apples and had recipes like this apple coconut bread, apple fritters, applesauce cake and my new favorite apple cider cake with malted vanilla frosting. If you still have bags of apples from apple picking, be sure to try one of those.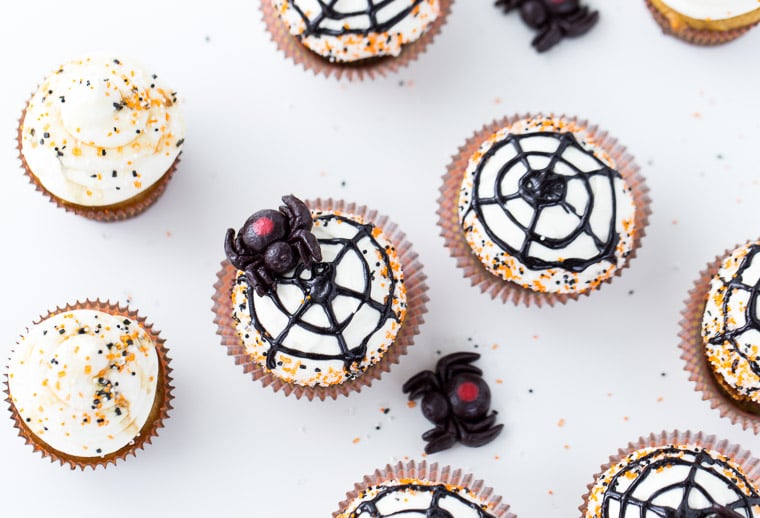 October is the month for pumpkin and I am getting excited for all the pumpkin recipes I have planned. Besides the one blip of a pumpkin back to school recipe in August, I held out on the pumpkin craze until October. Surprisingly, I only have one pumpkin spice cupcake recipe on the blog and apparently that's all I need. I went back to that classic and it was just as moist, crumbly and plain delicious as it was when I first made it three years ago. Filled with your favorite fall spices and a healthy dose of pumpkin flavor, it is the only pumpkin cupcake you need. I topped it this time with a maple cream cheese frosting because what is pumpkin spice cupcake without cream cheese right? You need the cream cheese frosting!! And the pure maple syrup is a perfect extra touch to the frosting.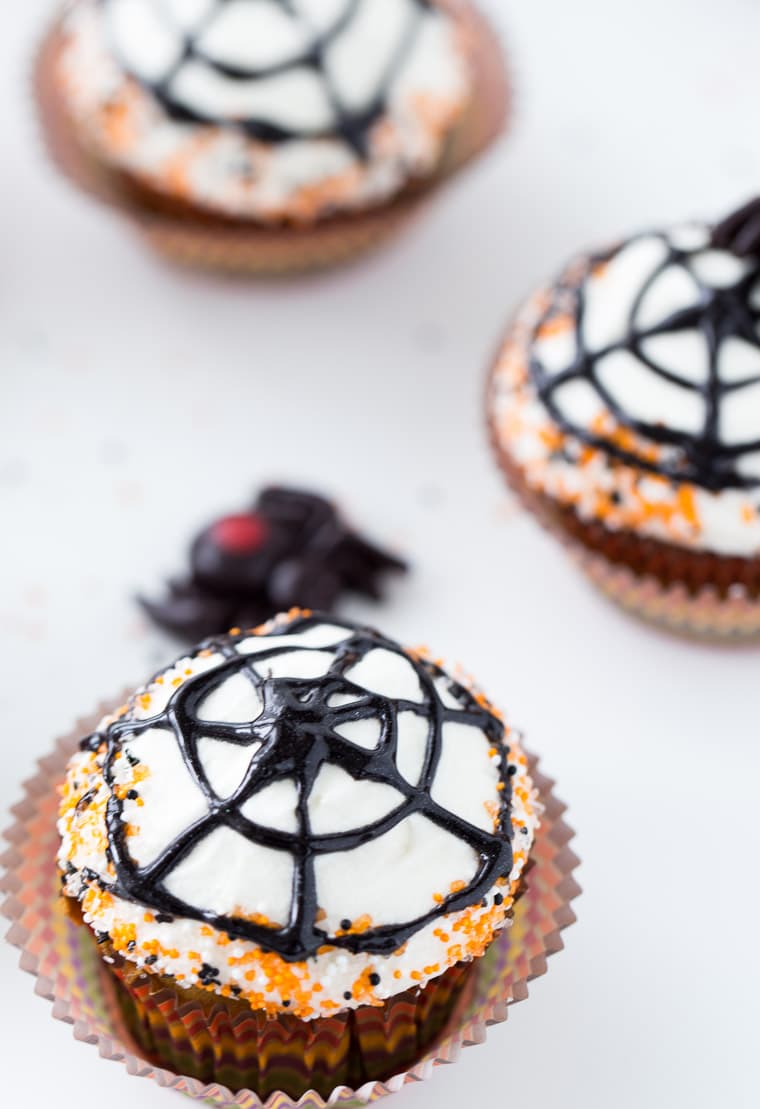 For the spiderwebs, I used Wilton's black sparkle edible gel to draw the webs on the cupcakes. It is pretty easy to do. Simply frost the cupcakes with a butter knife or spatula, smooth out for a flat surface and then add sprinkles around the edges. Then using the black sparkle gel, draw straight lines coming out from the center and then draw the circles over the lines. Or any kind of configuration that makes it look like a spider web.
And if you are not decorating for halloween, stick with just the sprinkles and a drizzle of maple syrup! These pumpkin spice cupcakes will be perfect for Thanksgiving too. They are just everything that I love about fall baking.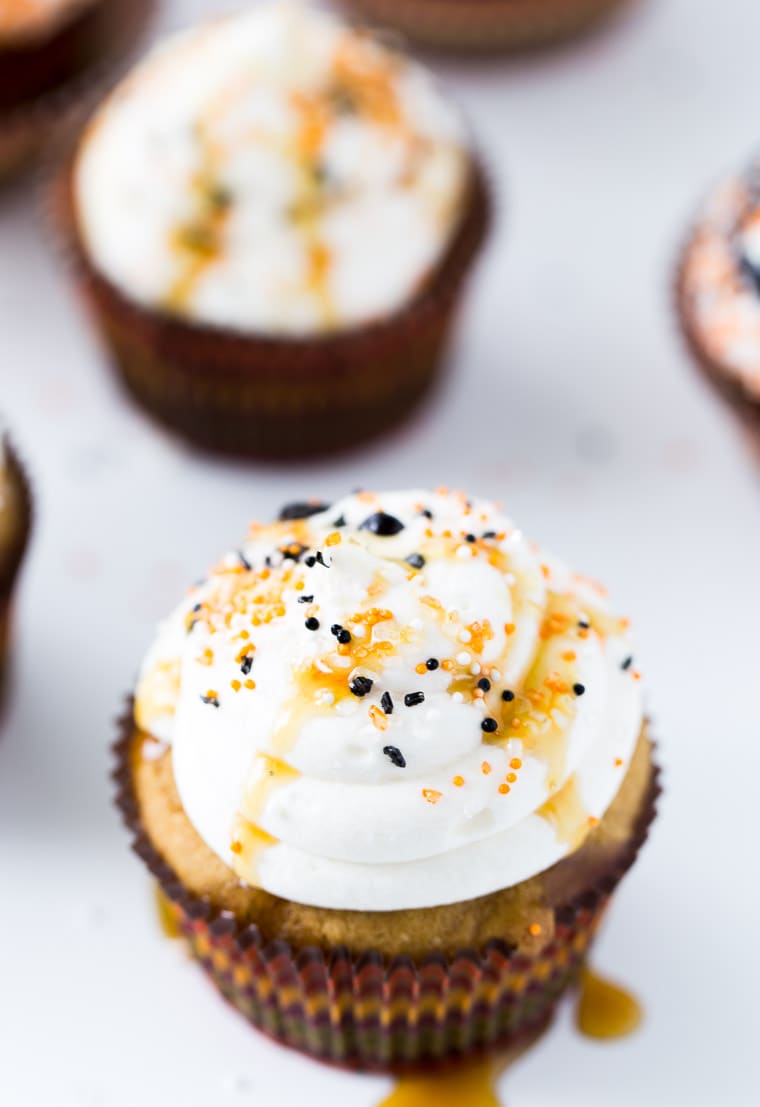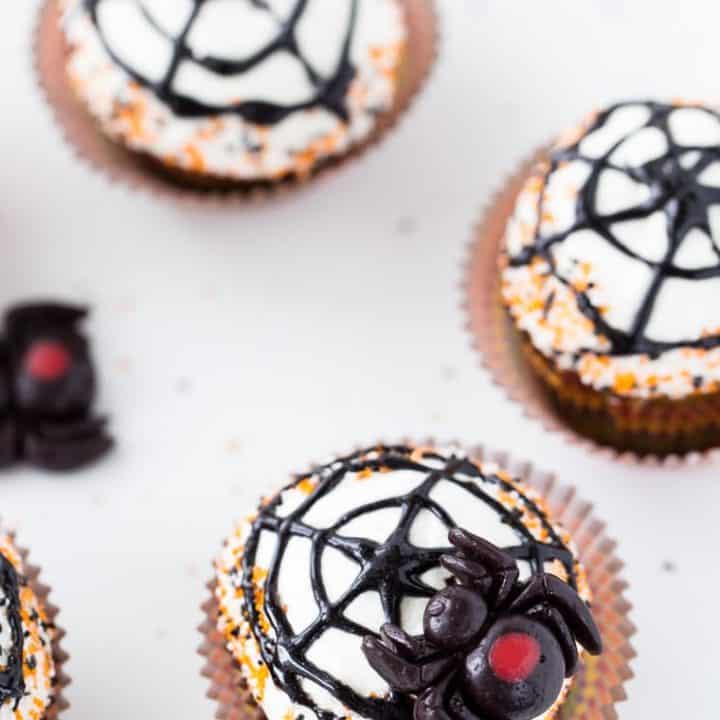 Yield: ~18 cupcakes
Spiderweb Cupcakes (Pumpkin Spice Cupcakes with Maple Cream Cheese Frosting)
Ingredients
Pumpkin Spice Cupcakes
1 2/3 cups all-purpose flour
2 teaspoons baking powder
1 teaspoon salt
½ teaspoon ground cinnamon
¼ teaspoon freshly grated nutmeg
1/8 teaspoon ground cloves
¾ cup (1 ½ sticks) unsalted butter, melted and browned
1 cup packed light brown sugar
½ cup granulated sugar
1 cup pumpkin puree
2 large eggs, room temperature
Maple Cream Cheese Frosting
1 (8 ounces) packages cream cheese, at room temperature
½ cup (1 stick) unsalted butter, at room temperature
4 cups powdered sugar, sifted
1 teaspoon vanilla extract
2-3 tablespoons pure maple syrup
Instructions
For the cupcakes
Preheat oven to 350 degrees F. Line muffin tins with liners and set aside.
In a medium bowl, whisk together the flour, baking powder, salt, cinnamon, nutmeg and cloves.
In the bowl of an electric mixer, cream the butter and sugars until light and fluffy on medium speed, about 3 minutes. Add the pumpkin puree and mix until combined. Add the eggs one at a time, mixing well before each addition. Scrape bowl as needed.
Reduce the speed to low and slowly add the dry ingredients. Mix until just combined.
Divide batter into prepared baking liners. Bake for 12-15 minutes or until a toothpick inserted into the center comes out clean.
For frosting
In the bowl of an electric mixer, beat butter and cream cheese on medium high until completely smooth about 2-3 minutes.
Reduce speed to low and add sugar, one cup at a time. Beat until combined. Add vanilla and maple syrup and beat to combine. Increase speed to medium and beat frosting until smooth and fluffy.
If buttercream is not thick enough, place in fridge for 20 minutes to an hour until firm enough to pipe. Or just spread on the cupcakes to enjoy.
For the spider web decorations, use Wilton's Black Sparkle gel to draw lines and circles on the cupcakes. Decorate with sprinkles.
*Some affiliate links above*