Apple Cider Cake with Malted Vanilla Frosting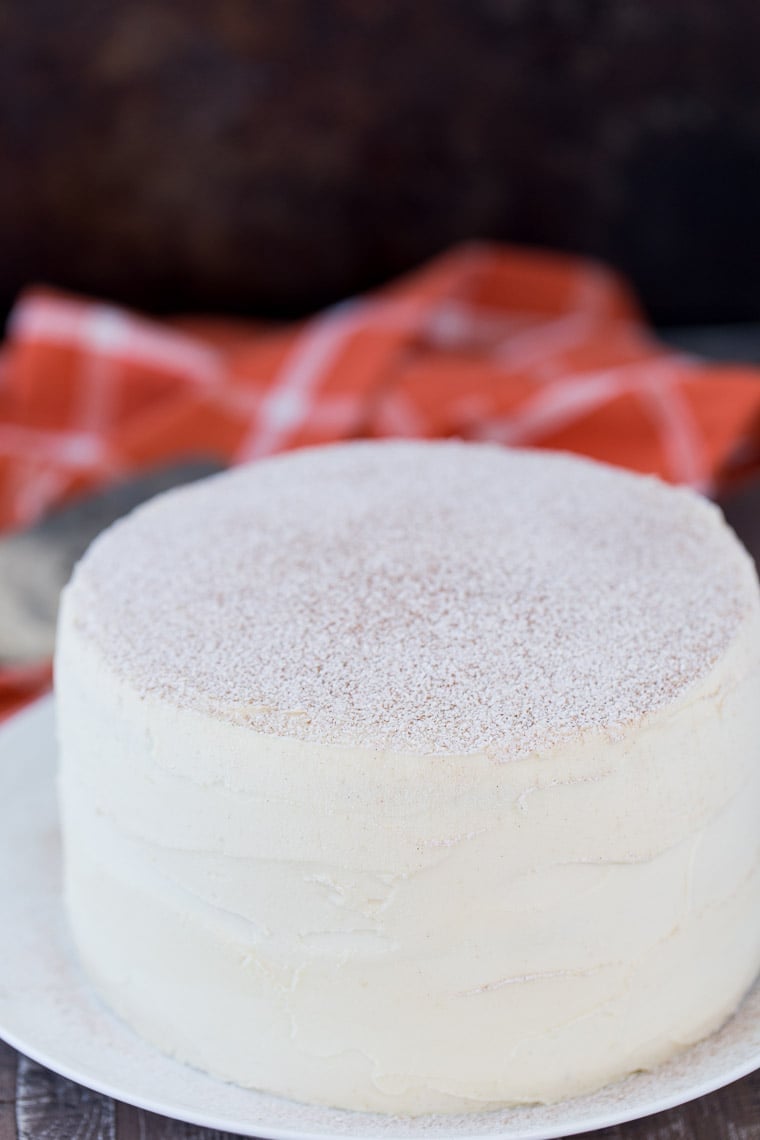 Hi guys! How are you all doing?? I hope you are having a great week and enjoying the season. The air just changed around here in Upstate NY and it is finally feeling like fall. In addition to making this apple cider cake last weekend, I broke out the scarves and long sweaters.  I LOVE fall fashion and colors!!
This year, I am in love with burgundy. Have you guys noticed burgundy is everywhere? Looks like it is the color of the fall and I am loving it. I got some burgundy pants, sweaters and a few scarves to mix and match with different classic pieces. I am excited for the season!!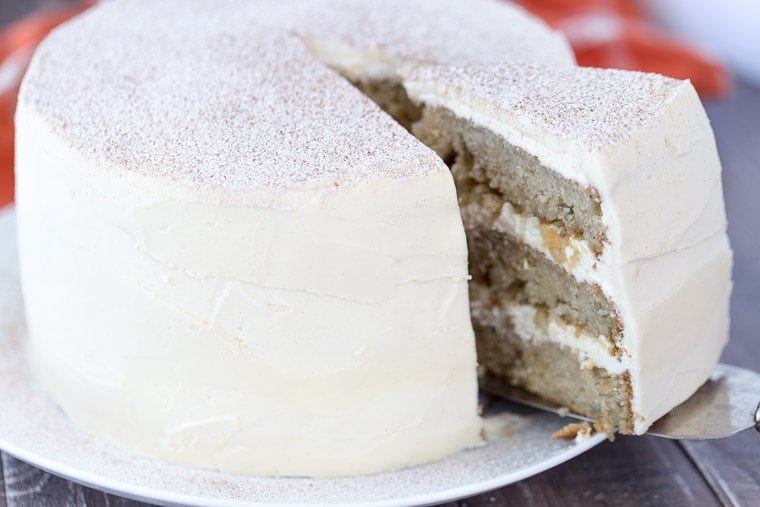 Okay back to this fall cake! Apple cider cake with malted vanilla frosting.. doesn't it sound amazing?? I just love the homey flavors at play here. A moist, fluffy and crumbly apple cake with fresh apples and apple cider. The warm cakes are drenched in apple cider syrup before being topped with malted vanilla frosting. I was a bit skeptical about the combination of apples and malted vanilla at first but then I tasted this cake and all doubt was put to rest. It is just a great combination that I can't wait for you to try.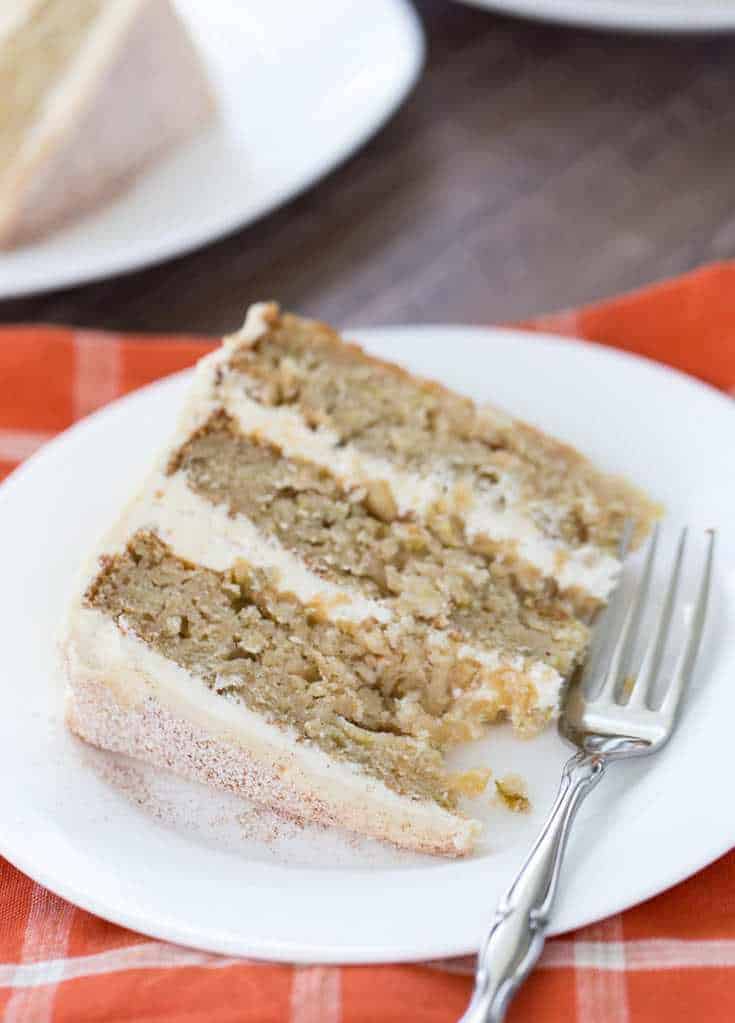 This lovely cake is from Cake Magic!: Mix & Match Your Way to 100 Amazing Combinations, one of my new favorite cookbooks. The principle is pretty simple and creative. You choose a batter, flavor it with exciting syrup, add a frosting to create cake magic! It is an easy way to bake luscious, flavorful cakes like this apple cider cake. If you are a cake fanatic like myself, this is the book for you. Check it out and I know you will love it!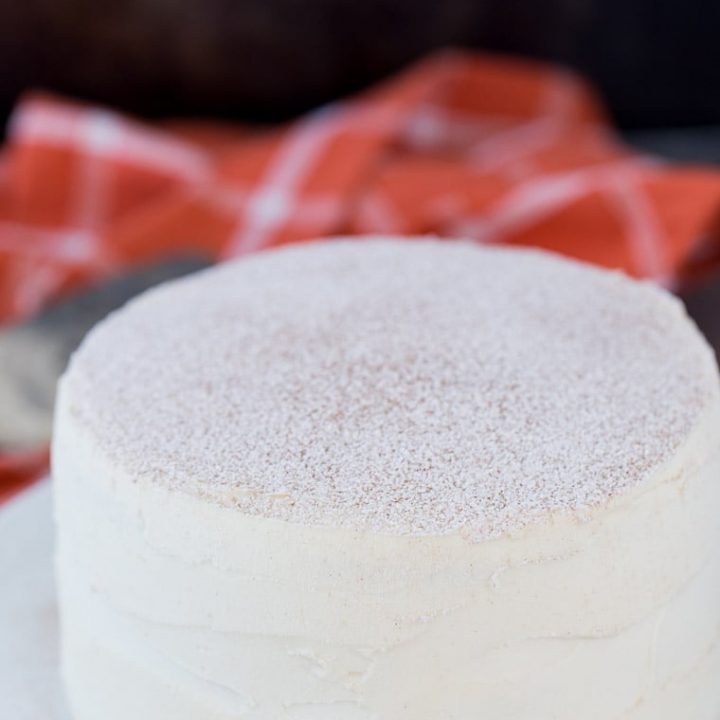 Yield: 1 two-layered 8-inch cake
Apple Cider Cake with Malted Vanilla Frosting
A moist apple cider cake is paired with a sweet malted vanilla frosting.
Total Time
1 hour
50 minutes
Ingredients
For Cake:
2 ½ cups all-purpose flour
1 ½ cups granulated sugar
¾ teaspoon baking soda
1 ½ teaspoons baking powder
1 teaspoon kosher salt
½ cup full-fat plain yogurt
1 cup (2 sticks) unsalted butter, melted, browned, and cooled
¼ cup apple cider, at room temperature
4 large eggs, at room temperature
2 apples, peeled and coarsely grated
For Cider Syrup:
½ cup granulated sugar
½ cup apple cider
2 cinnamon sticks (or use 1 teaspoon ground cinnamon)
For Malted Vanilla Frosting
1 ½ cups (3 sticks) unsalted butter, at room temperature
¾ cup malted milk powder
pinch of salt
4 cups confectioner's sugar
2 tablespoons pure vanilla extract
Instructions
For Cake:
Preheat oven to 350 degrees F. Grease three 8-inch round cake pans with baking spray. Line with parchment circles and grease parchment.
In the bowl of a stand mixer, combine the flour, sugar, baking soda, baking powder and salt. In a medium bowl, whisk together the yogurt, browned butter, apple cider and eggs.
Add the wet ingredients to the flour mixture and mix on low speed until combined. Increase speed to medium and mix for 1 minute. Be careful not to overmix. Gently fold in the grated apples.
Divide the batter evenly into the prepared pans.
Bake cake layers until golden brown on top and a toothpick inserted into the center comes out clean, about 40-45 minutes.
For Syrup:
Make the syrup while cake is baking. Combine all the ingredients in a small saucepan. Bring to a boil over medium heat. Cook until syrup starts to thicken, stirring occasionally. Remove from heat and let cool.
Remove cakes from oven and let cool slightly in pans, 2-3 minutes. Poke holes in the cakes with a skewer. Brush the hot cake layers with the syrup. Let cake layers cool completely in pans.
For Frosting:
In a medium bowl, beat butter and malted milk powder on low speed until just combined. Increase speed to medium-high and beat for 2-3 minutes until light. Add in the powdered sugar and vanilla extract. Mix on low speed until incorporated about 1 minute. Increase speed to medium and beat until light and fluffy, about 2-3 minutes.
To Assemble:
Place on cake layer on a serving plate. Top with ½ cup frosting and spread evenly. Place another cake on top and repeat the process until the last layer. Frost the outside of the cake and decorate as desired. Here, I sifted cinnamon + powdered sugar on the top.
Notes
Adapted from Cake Magic with permission from publisher.
Recommended Products
As an Amazon Associate and member of other affiliate programs, I earn from qualifying purchases.
Disclosure: This is not a sponsored post. I was gifted a copy of Cake Magic! but was under no obligation to bake from it or share it with you. I just loved the book and all the recipes I tried. That being said, there is an affiliate link to amazon for the book above.