Hibiscus Madeleines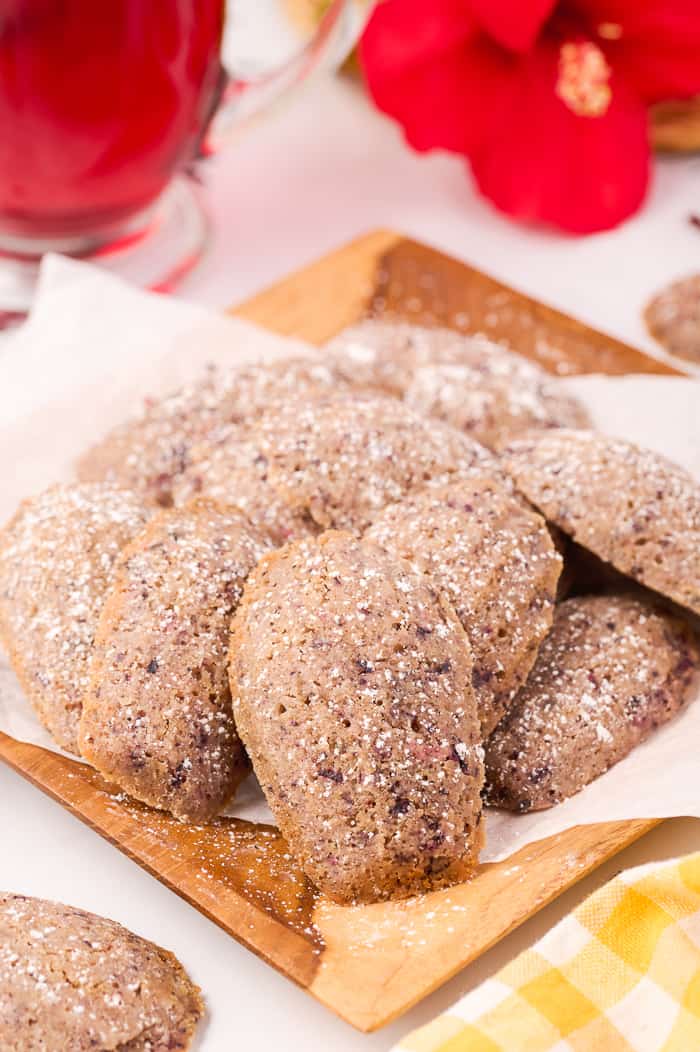 Today we are taking a short break from all the fall recipes and indulging in sunny, fruity hibiscus madeleines!!
I'm sure you know I have a baking bucket list and every now and then, I attempt something from it. Well, these hibiscus madeleines were the recent adventures from my list. I've always wanted to make madeleines but everything I read said these buttery nuggets were complicated and not for the inexperienced baker. It was time to attempt making one of my favorite tea-times treats especially since these hibiscus sparklers were chilling in the fridge.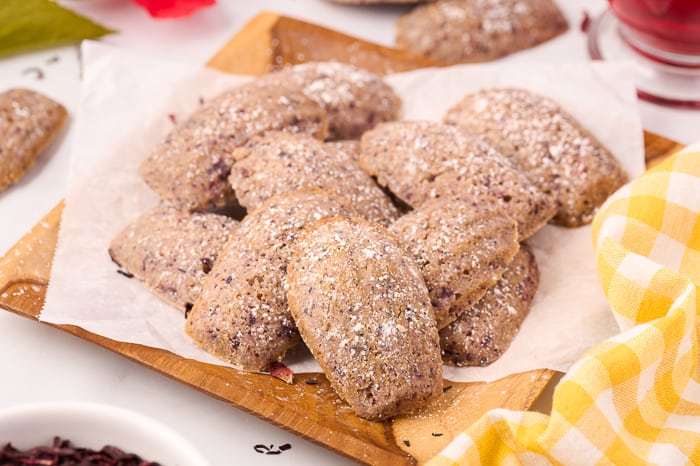 First, some history! Madeleines are tiny French cakes (or soft cookies in my opinion) that are insanely buttery and go with your afternoon tea. I've always regarded them and macarons as French delicacies and of course, that meant I thought they were hard to make. Since I conquered macarons a while ago, it only made sense these were taken off my list too.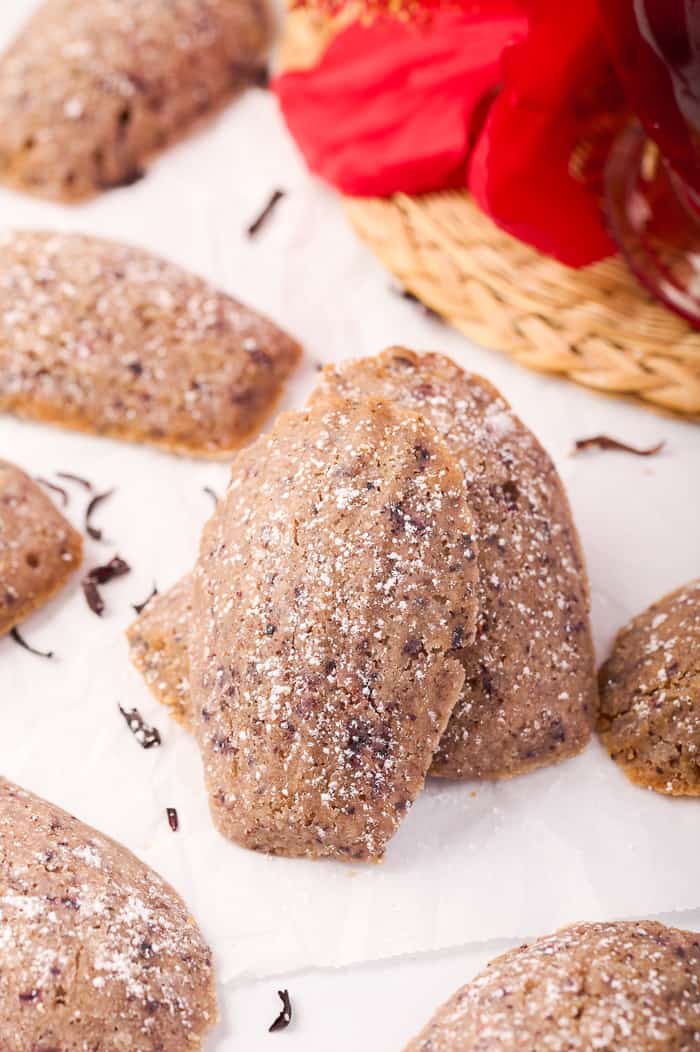 Using a starting recipe from The Kitchn, I played around with the flavors before settling on this hibiscus madeleine. I infused dried hibiscus flower right in the batter of the madeleines and it brings in such rich flavors into each bite of these cookies. A (welcome) side effect of that was the pretty light pink madeleine cookies. These madeleines are buttery, soft, and packed with tropical flavors.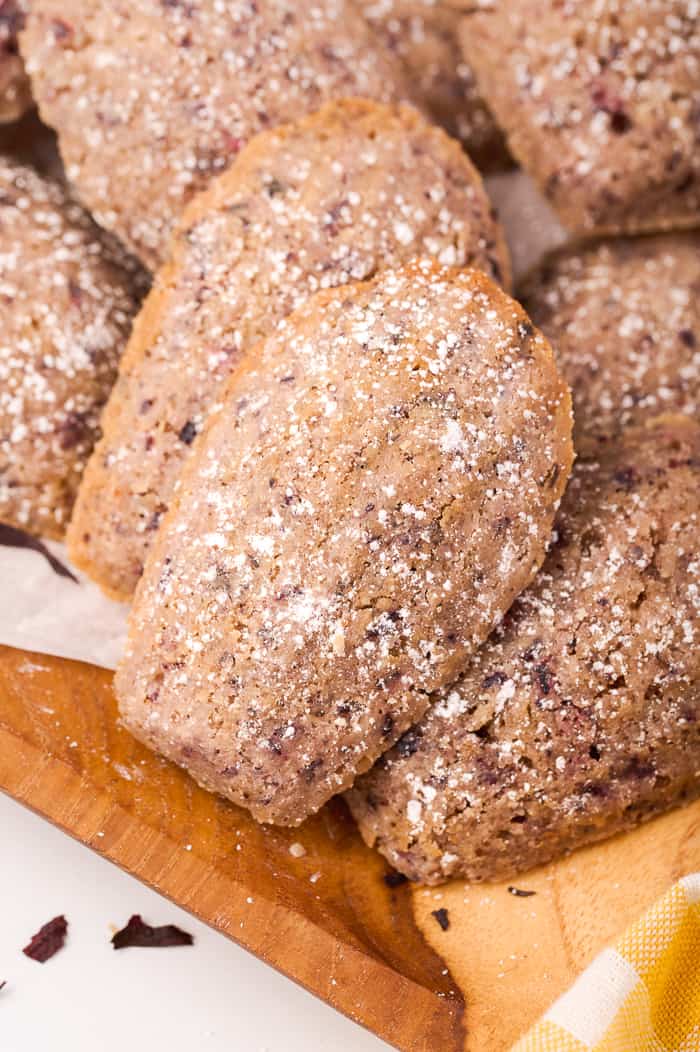 Let's walk through how to make these madeleines! Grab your ingredients and be sure to measure them out.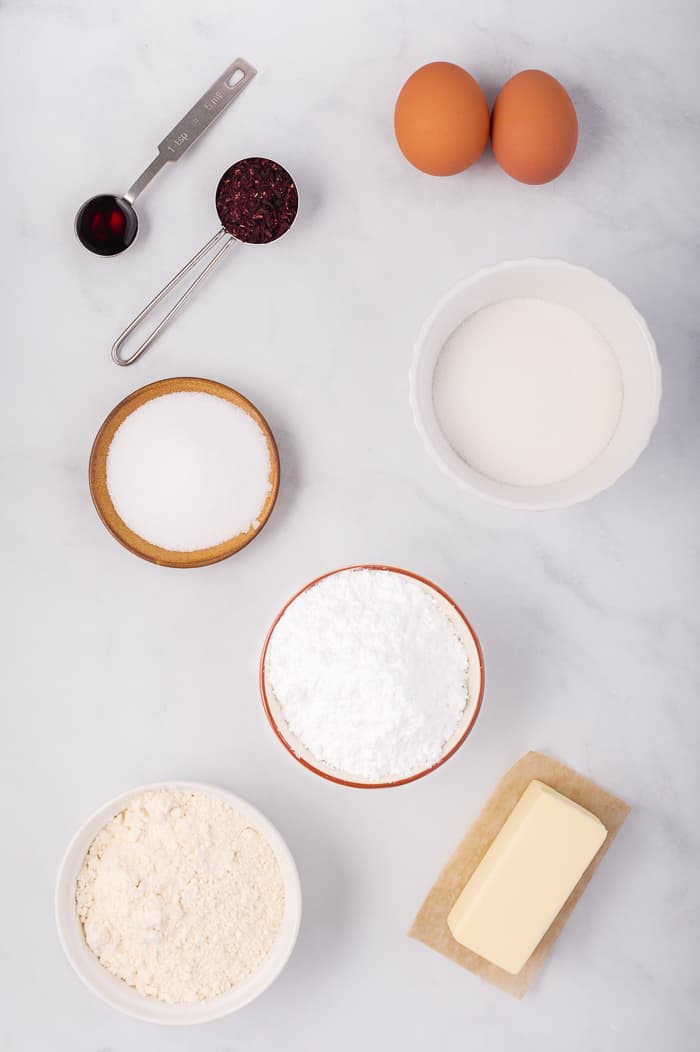 Start by melting your butter and then browning it. Let it cool.
Whisk together the sugar and flour.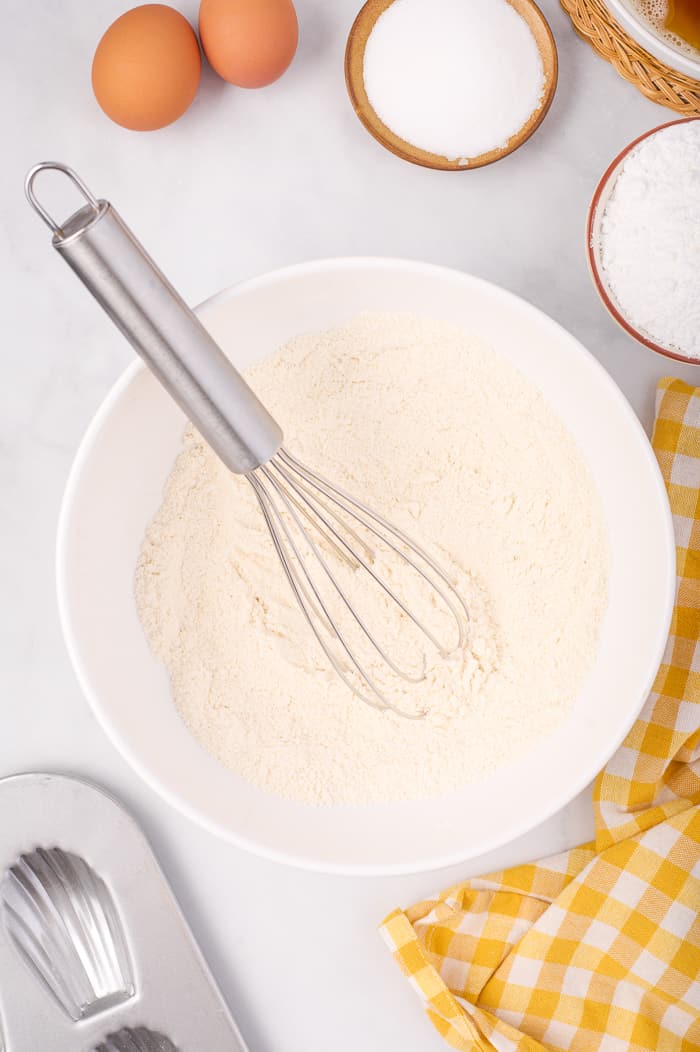 Combine the wet ingredients and the hibiscus flowers.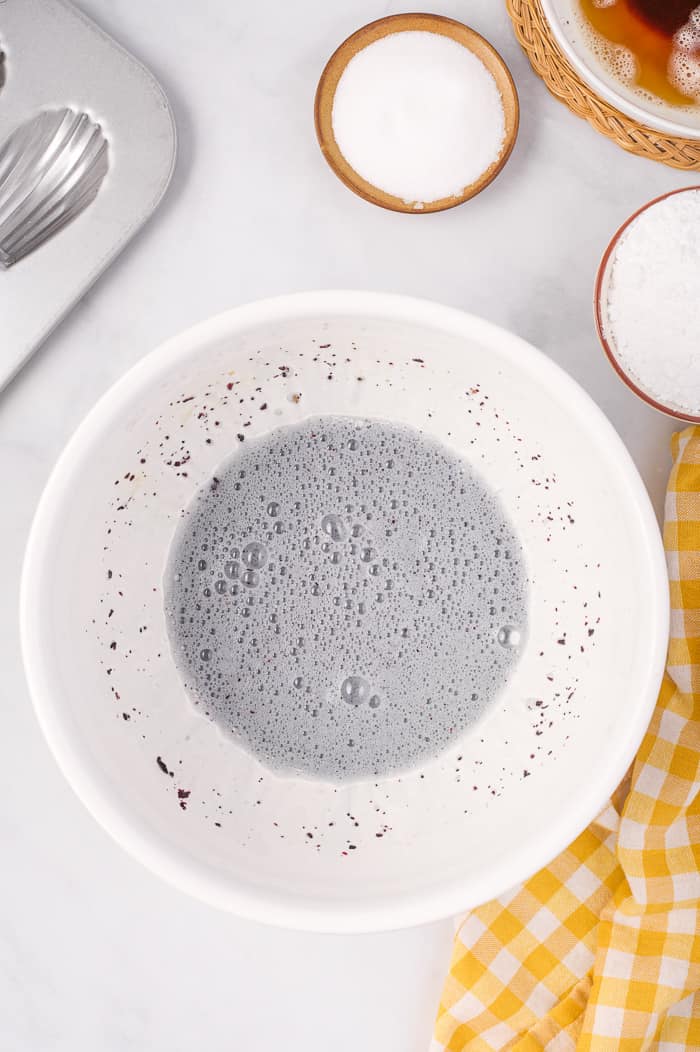 Add the wet and dry ingredients together. Combine until paste forms. Gently add in the melted butter and combine until the batter is smooth and consistent.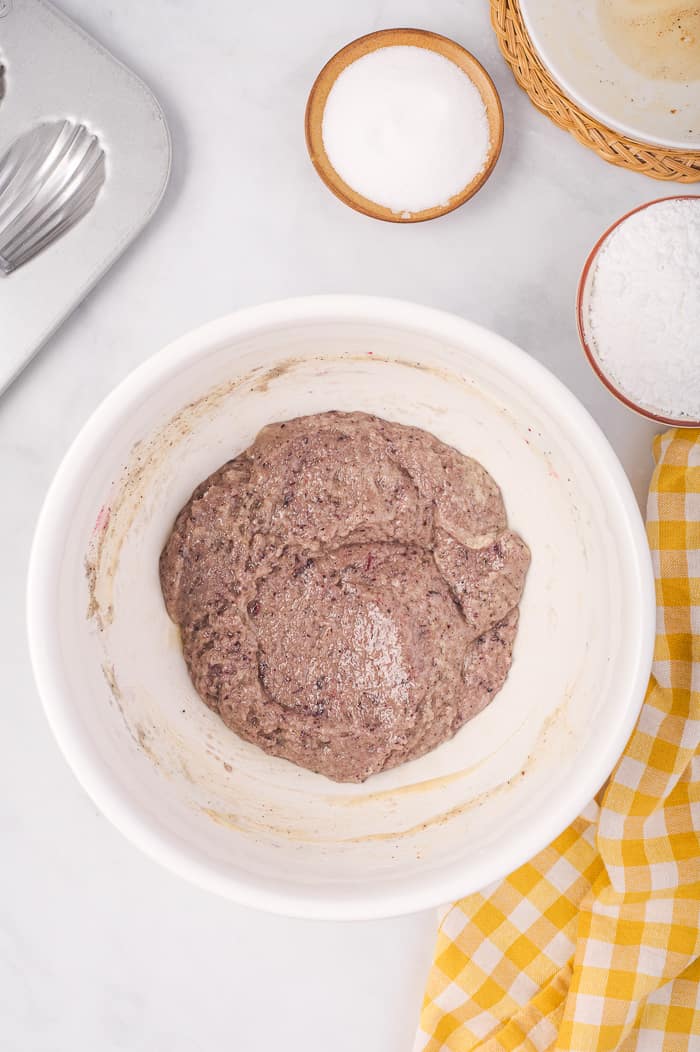 Spoon the batter into a madeleine baking pan.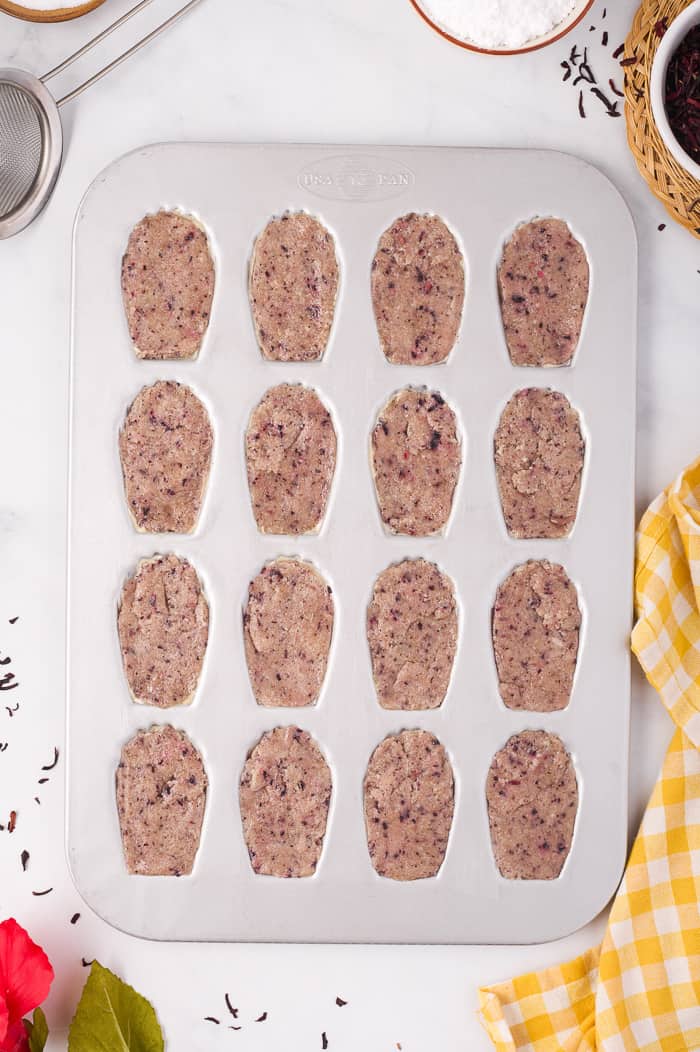 Bake the cookies until the edges start to brown and the middle puffs up. Remove from the pan immediately and turn onto a wire rack.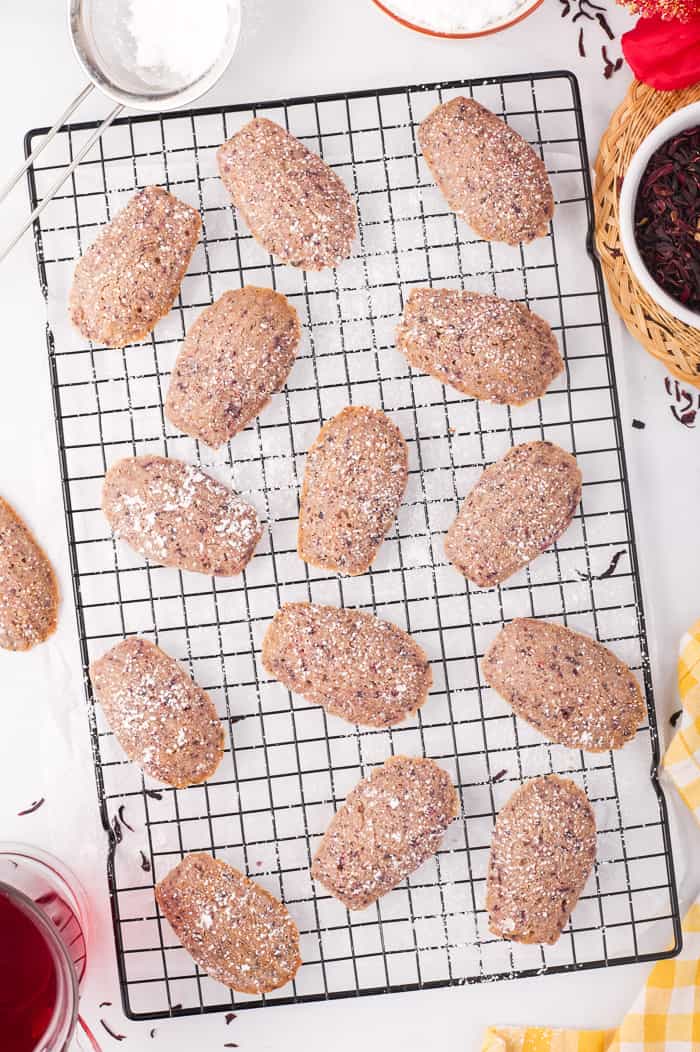 Let cool completely and dust with powdered sugar.
I hope you give these a try sometime soon! Enjoy them with hibiscus tea or a refreshing sparkler.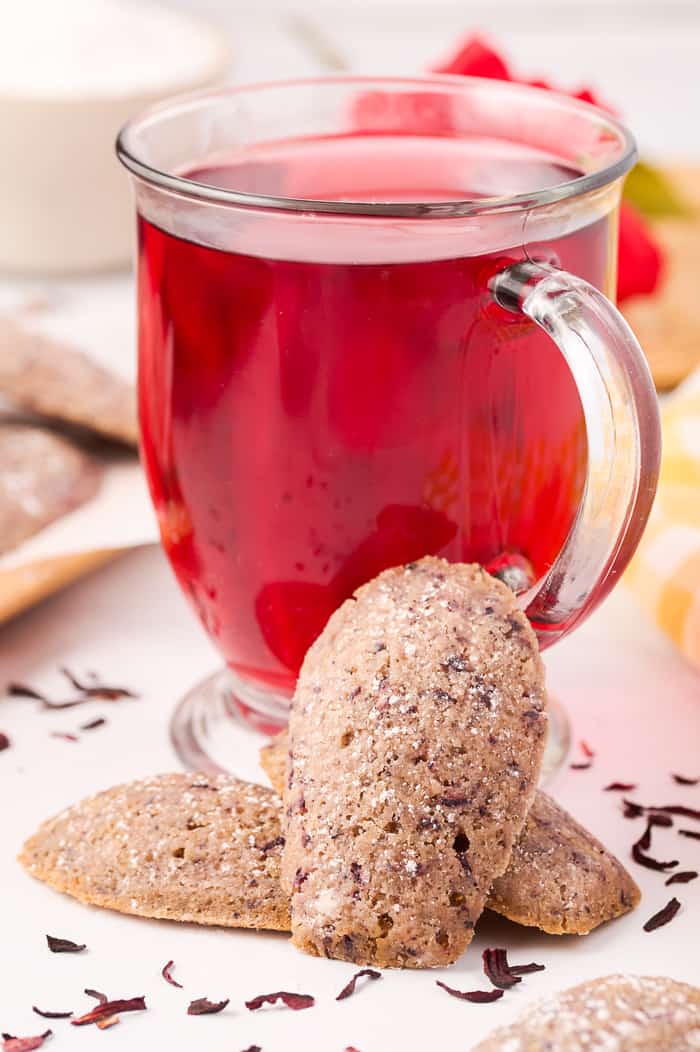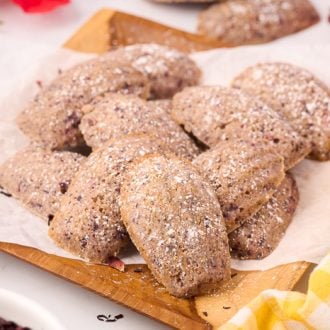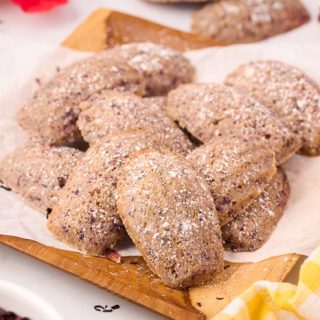 Yield: ~12 madeleines
Hibiscus Madeleines
These buttery hibiscus madeleines are fruity with a burst of sunshine in a buttery soft cookie.
Ingredients
½ cup (1 stick) unsalted butter
⅔ cup granulated sugar
1 cup all-purpose flour
2 large eggs
1 teaspoon pure vanilla extract
Pinch of salt
Powdered sugar
Instructions
In a medium saucepan, melt the butter. Continue cooking, while constantly whisking, until butter starts to brown and brown bits form at the bottom. Remove from heat and transfer immediately to a small bowl. Let cool slightly.
In another medium bowl, whisk together the sugar and flour.
Whisk the eggs, vanilla extract, salt, and the hibiscus flower in a medium bowl until the eggs are frothy. Let sit for a minute or two for the hibiscus to infuse into the wet ingredients.
Add the flour mixture to the egg mixture and stir until just combined. Add the melted butter to the batter and gently fold until just combined. Be careful not to overmix. Cover the batter and let rest for at least 30 minutes or up to overnight in the refrigerator.
Meanwhile, prep your madeleine pan. I used Pam baking spray to coat the pan but you can make melted butter plus flour mixture to use to coat the pan. Place the pan in the freezer while the batter rests.
When ready, preheat the oven to 350 degrees F. Using a tablespoon, fill each well of the madeleine pan with 1 tablespoon of batter. Bake the madeleines for 12-13 minutes, or until the edges start to brown and the middle is puffed up a little.
Let cool in pan for two minutes before gently moving to a cooling rack.
Serve with dusted powdered sugar or a hibiscus glaze. Store leftovers in a refrigerator in an air-tight container.
Recommended Products
As an Amazon Associate and member of other affiliate programs, I earn from qualifying purchases.