Apple Pie Cake Roll with Mascarpone Filling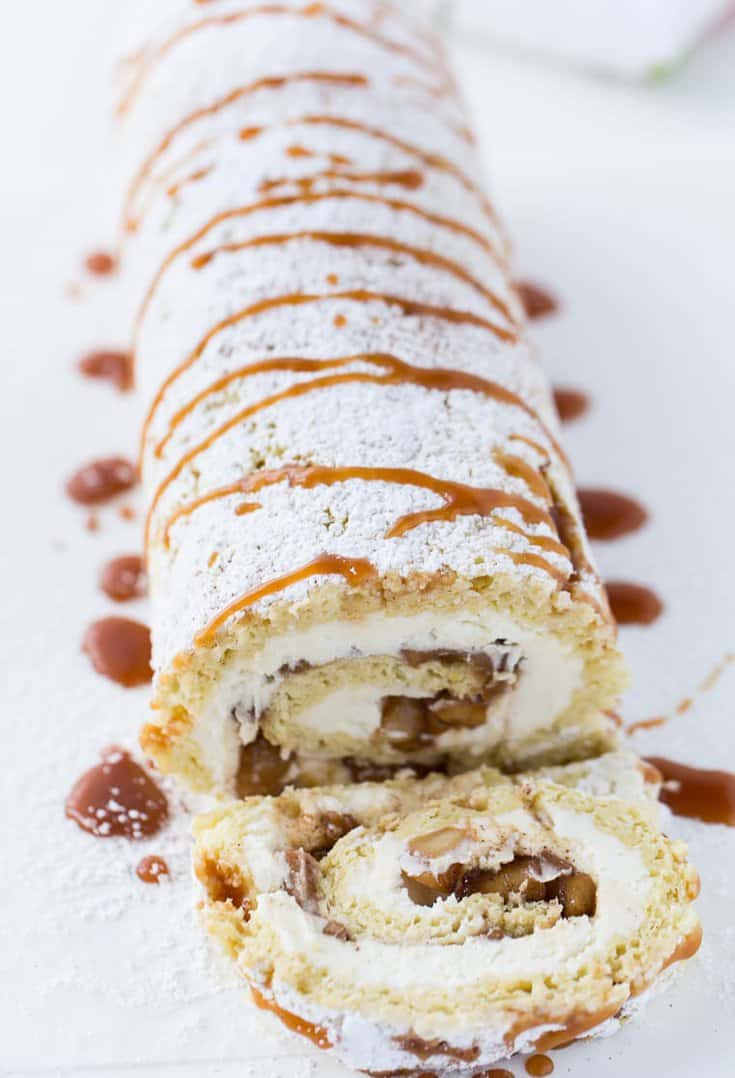 Every now and then I create something simple that really excites me. A pure magic of great flavor blending and this apple pie cake roll with mascarpone filling is one of those times.
It all started with a conversation with my foodie ex-labmate about what to do with all the apples I picked. I didn't want to share another apple pie recipe, apple crisp or apple muffins because we've been there and done that. I was in the mood for something different and creative. So we brained stormed over dinner and she had the idea of a cake roll. Together we determined that we should do a plain vanilla cake for the roll (not an apple spice cake roll) but fill the cake with apple pie filling to have all those warm flavors of the season and since most of my favorite cake rolls come with a whipped cream filling, we decided mascarpone will be a great addition to seal the deal. And boy!! Was this all a great idea.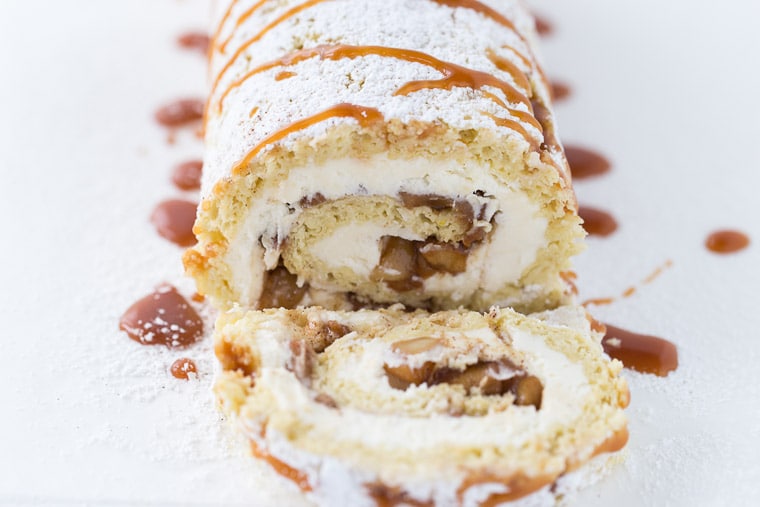 We got together one Saturday at brunch and made this apple pie cake roll. It was a labor of true friendship and the results was even more enjoyed. A spongy, soft vanilla cake is filled with cooked apple pie filling and whipped mascarpone cream all rolled up and drizzled with salted caramel sauce. Every flavor is distinct and yet not overpowering. The sweet cake and apple pie feeling goes well with the soft tangy and creamy mascarpone cream filling. And the drizzle of salted caramel adds a sweet and salty touch to it.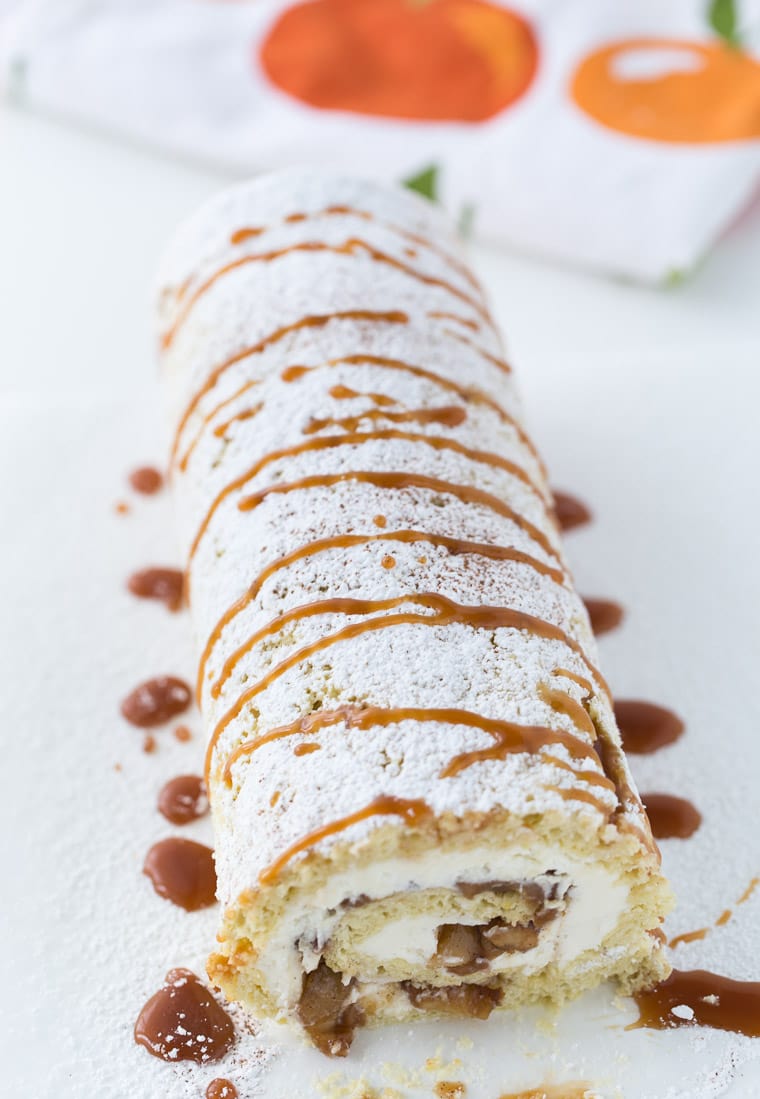 I have not been this excited about a recipe in a long time and it might have been because it was all done with a good friend and we bonded and spent great time over it. Baking with and for loved ones is the best!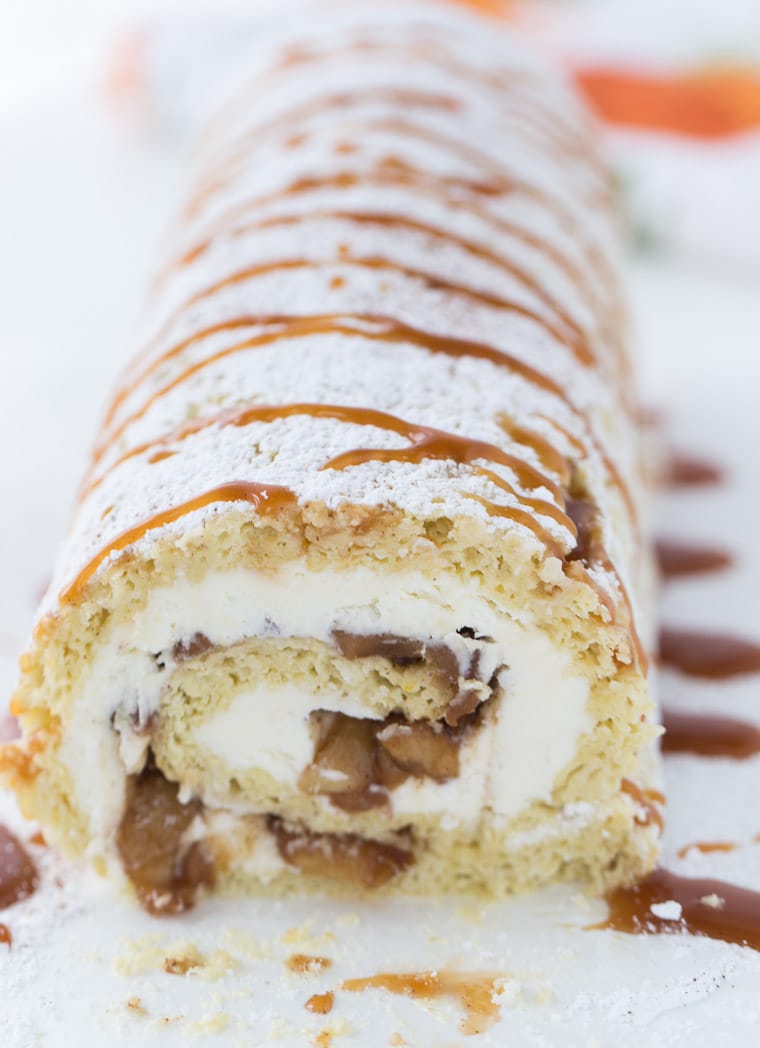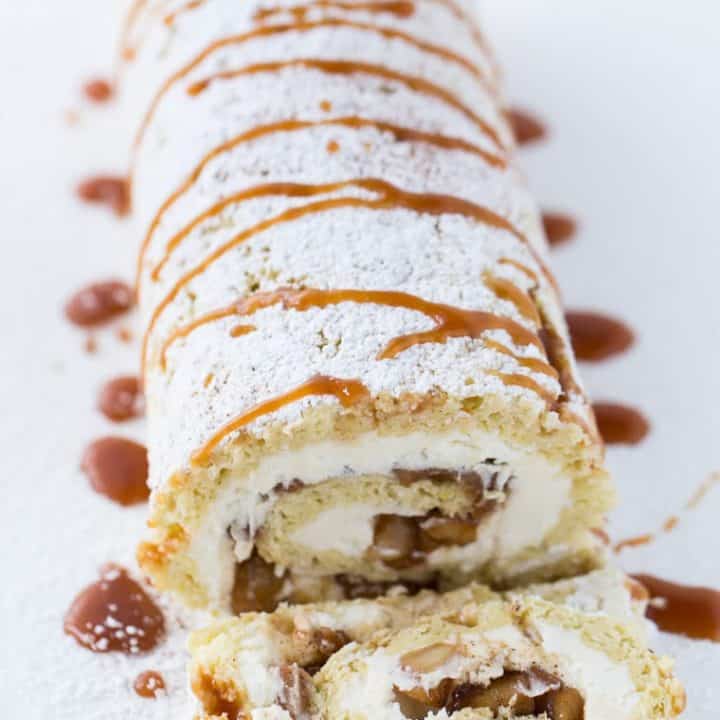 Yield: 1 roll cake
Apple Pie Cake Roll with Mascarpone Filling
Total Time
1 hour
50 minutes
Ingredients
For the Cake:
6 large egg whites, room temperature
1/2 cup granulated sugar
6 large egg yolks, room temperature
1/2 cup granulated sugar
1/2 teaspoon pure vanilla extract
1 cup cake flour, sifted
1/3 cup confectioner's sugar, for rolling the cake
For the Filling:
2 medium apples, cored and diced
½ teaspoon ground cinnamon
a pinch of ground nutmeg
a pinch of cloves
2 tablespoons brown sugar
8 ounces mascarpone cheese
¼ cup confectioner's sugar
Instructions
Heat oven to 375 degrees F. Lightly butter and flour a 13 x 18 x 1-inch sheet pan (a half sheet pan). Line with parchment and grease parchment.
In the bowl of a stand mixer fitted with the whisk attachment, beat the egg whites on medium speed until foamy. With the mixer going, gradually add in the first amount of sugar and beat until stiff peaks form. Transfer the whipped eggs to a separate bowl.
In the bowl of the mixer fitted with the paddle attachment, beat together the egg yolks, second amount of sugar and vanilla extract on medium speed until well combined, about 3-4 minutes.
Using a rubber spatula, gently fold in a third of the whipped egg white into the egg yolks mixture until combined. Fold in the rest of the egg white mixture until combined. Be careful not to over mix the batter. Using a sift, sift roughly half of the cake flour over the batter and gently fold with a spatula. Repeat with the other half until incorporated.
Transfer the batter to the prepared pan. Evenly spread the batter into a thin layer using an offset spatula.
Bake for 8-12 minutes or until lightly brown and the cake springs back gently when touched.
While cake bakes, spread a thin cotton towel on a flat surface. Sift half of the confectioner's sugar all over the towel.
When cake is done, loosen the edges with a bread knife and immediately invert onto the prepared towel. Remove the parchment paper and prepare to roll the cake. Gently roll the warm cake and towel together, starting at the short end of the cake. Place rolled cake on a wire rack and allow to cool completely.
For the apple pie filling, combine the apples, ground cinnamon, nutmeg, cloves and brown sugar in a small saucepan. Cook over medium-low heat and until apples soften and begin to break down, about 3-5 minutes. Remove from heat and let cool completely.
When ready to assemble, beat the mascarpone cheese and powdered sugar together until light and creamy on medium speed, about 2-3 minutes.
To assemble, unroll the cake onto a board. Spread the mascarpone filling evenly using an offset spatula. Sprinkle the apple pie filling over that. Re-roll the cake in a spiral, without the towel this time. Trim the edges with a sharp knife to make a neat edge. Dust with more confectioners' sugar, drizzle with caramel sauce and serve sliced.