Apple Muffins with Oatmeal Topping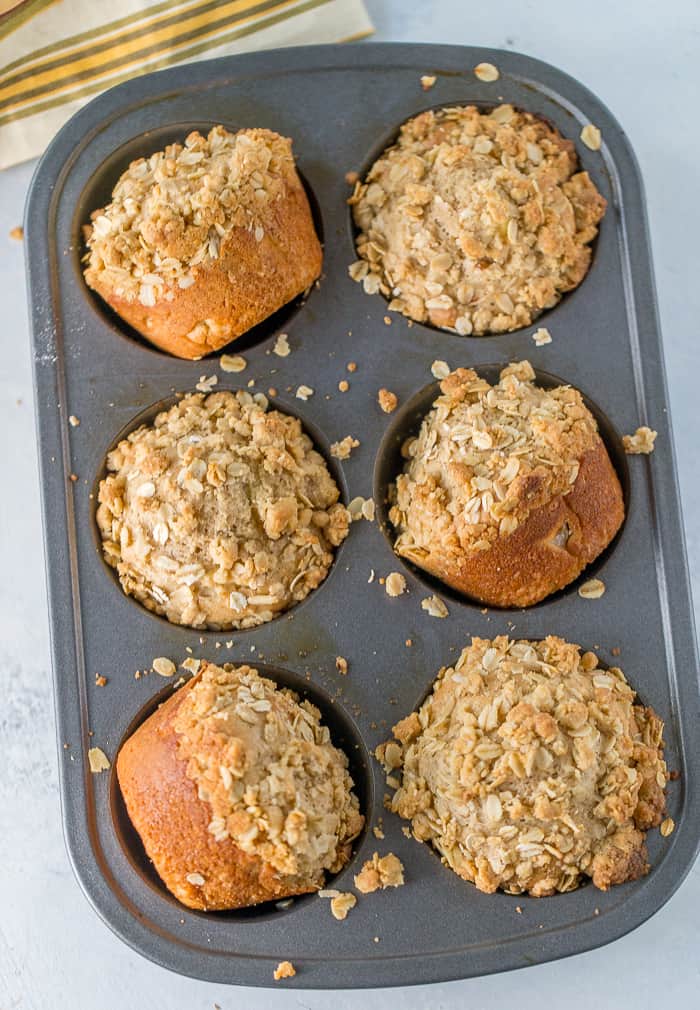 I am so happy to see you guys are really enjoying apple week. It looks like I am not the only one who is obsessed with enjoying everything with apples, cinnamon, and caramel. This is why we are friends I guess :). Here is another apple favorite in my kitchen. I've made these apple muffins with oatmeal topping several times this fall but it's always a bad day/time to take pictures. I am not complaining because the muffins are moist, bursting with warm cinnamon spices, and have a crunchy oatmeal streusel topping. I will make them anytime in the name of 'pictures'.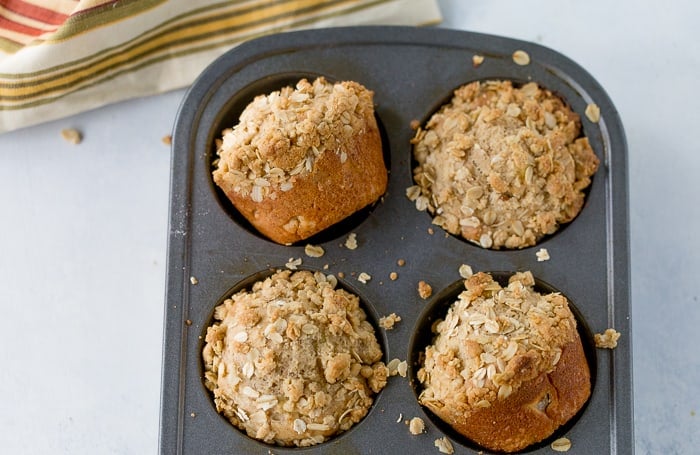 In fact, I will be whipping up another batch tomorrow for breakfasts. I am getting our apartment ready for a BIG visitor. My little (and only) sister is coming to visit tomorrow and she will be staying with us for a few weeks. Well, she isn't little anymore, she is 26 now and just graduated medical school. She has a few weeks before she starts residency and is coming over to 'hang on my couch' as she puts it.
I don't talk about it much here but my family lives in Sierra Leone and I don't get to see them very often. In fact, I haven't seen my sister (or mom and three brothers) since she was here for my wedding last year. It's been a YEAR! So I am pretty darn excited.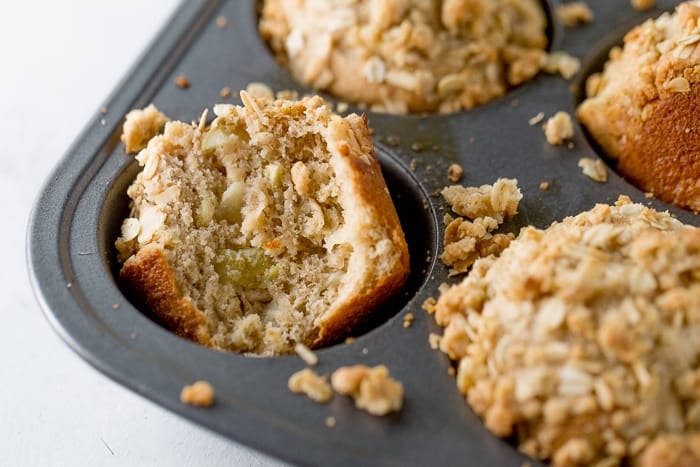 One of the things I am looking forward to sharing with her is FALL and all its beauty. Warm cinnamon spices, crisp weather, beautiful fall foliage, and of course apple and pumpkin desserts! It will be her first experience with the seasons because it's always summer or rainy at home (we are spoiled in the tropics!). She is not very excited about it though since last year she left as soon as it was October and it started getting crisp. But I am determined to make her fall in love with fall. Starting with these apple muffins with oatmeal topping for breakfast! And some apple pie with vanilla ice cream next.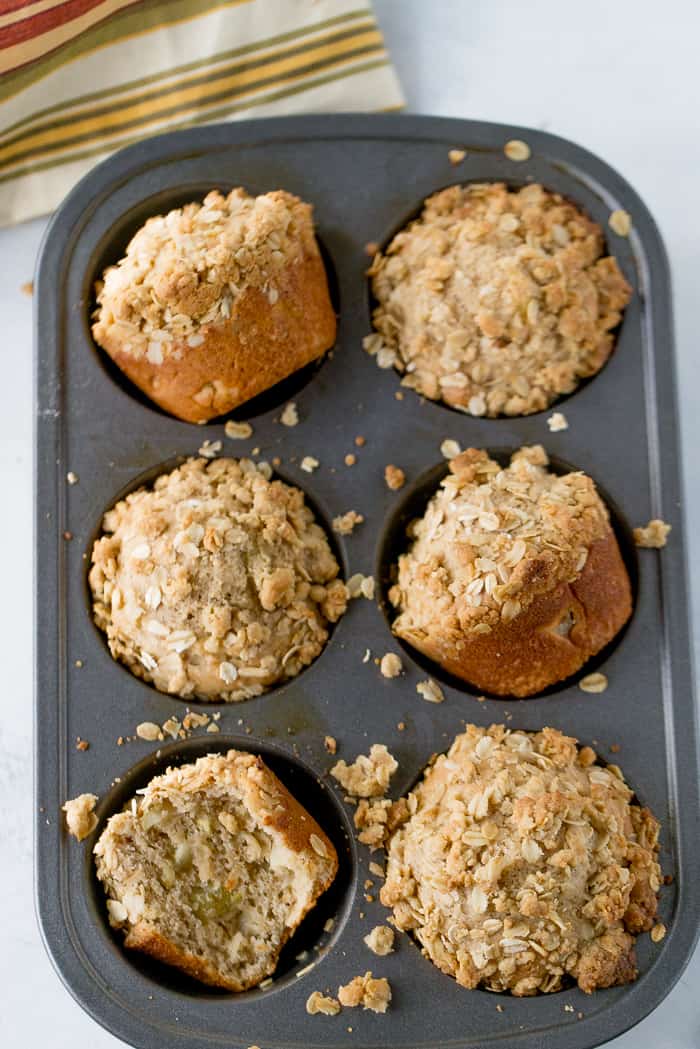 (Shhhhh, don't tell her it snows in Upstate NY in November and she will get to see her first snow, or she will leave me soon!!!)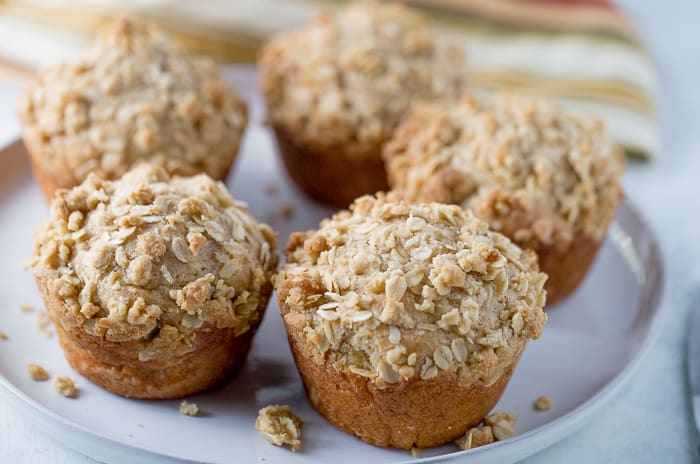 Happy baking!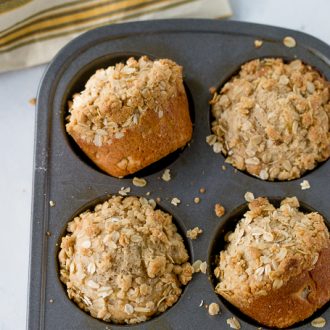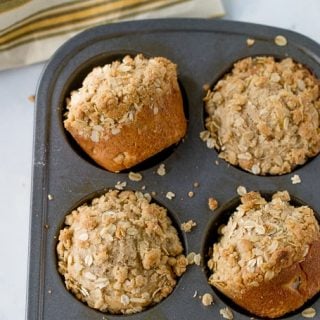 Yield: 12 regular or 6 jumbo muffins
Apple Muffins with Oatmeal Topping
These Apple Muffins with Oatmeal Topping are moist, bursting with warm cinnamon spices, and have a crunchy oatmeal streusel topping!
Ingredients
For Muffins:
3 cups white whole wheat flour
1 teaspoon ground cinnamon
½ teaspoon ground nutmeg
3½ teaspoons baking powder
½ teaspoon kosher salt
⅛ teaspoon baking soda
½ cup almond milk (or regular)
½ cup packed dark brown sugar
¼ cup granulated sugar
½ cup Greek yogurt
½ cup unsweetened applesauce
2 large eggs
1 teaspoon pure vanilla extract
2 heaping cups chopped apple
For Streusel:
¼ cup dark brown sugar
2 tablespoons all-purpose flour
2 tablespoons old-fashioned rolled oats
½ teaspoon ground cinnamon
2 tablespoons unsalted butter
Instructions
Preheat oven to 425 degrees F. Grease or line muffin tins.
In a medium bowl, combine the flour, cinnamon, nutmeg, baking powder, baking soda and salt. In a large bowl, whisk together the milk, sugars, yogurt, applesauce, eggs and vanilla until well combined. Stir in the dry ingredients and mix until just combined. Do not over-mix the batter. Fold in the chopped apples.
Divide batter into prepared muffin tins, making sure you fill each to the top.
Make the streusel topping by mixing all the ingredients in a small bowl until it resembles coarse meal. Sprinkle over each muffin.
Bake muffins at 425 for 5 minutes. Reduce temperature immediately to 375 degrees F and continue baking for 15-18 minutes or until a cake tester inserted in the middle comes out clean.
Cool muffins on cooling racks.