Brown Butter Cheddar Apple Pie #appleweek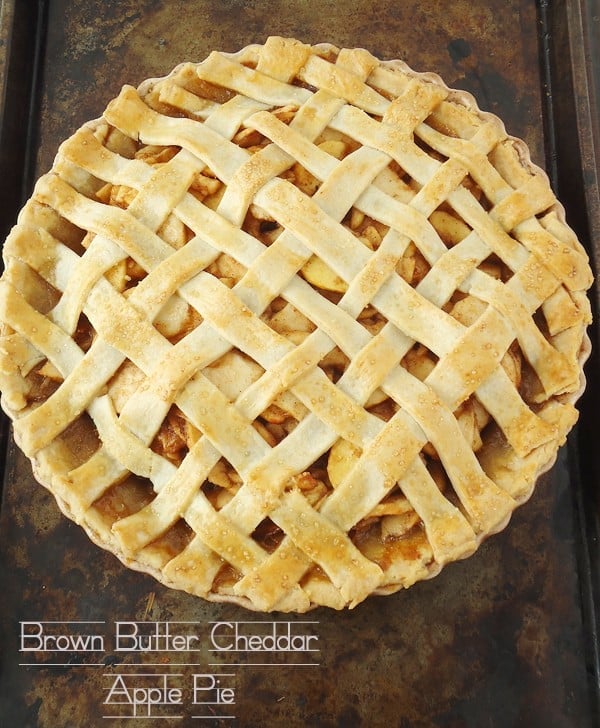 I was making this brown butter cheddar apple pie this weekend while talking to my dutch friend (Hi Raissy!). She asked me what kind of apple pie I was making and I told her a very buttery brown butter cheddar pie and she asked "No I mean, what KIND of apple pie?". Apparently there are different kinds of apple pies. There is Dutch apple pie, French apple pie and of course American apple pie to name a few. I had a great lesson from her! Did you know pies originated from ancient Egypt around 9500 BC? (Wikipedia).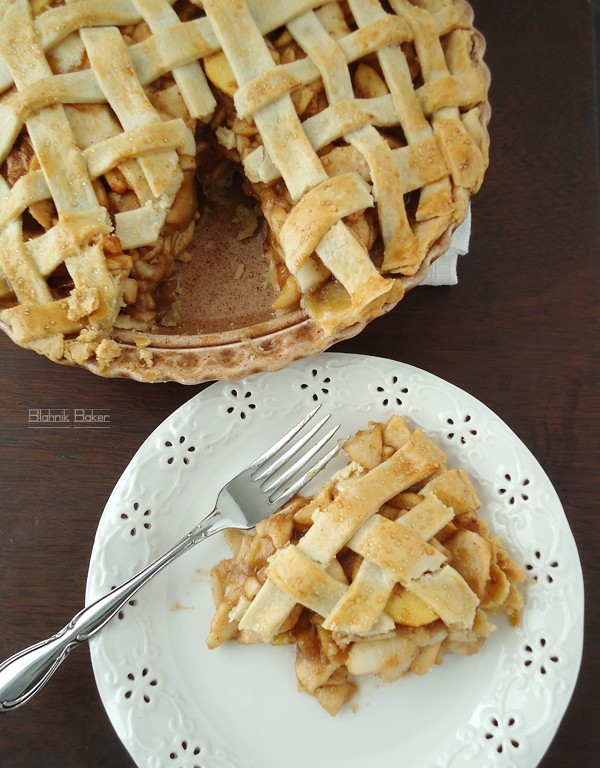 This brown butter cheddar apple pie originated from awesome-land. I added cheddar cheese to my favorite buttery and flaky pie crust, used in these cherry hand pies, giving the crust a soft burst of cheese in every bite. The apples are tossed in brown butter for that faint nutty flavor brown butter graciously brings to every party. I was in pie heaven from the first bite of this pie to the last. The apples are not masked in heavy spices instead they are wrapped in brown butter. Hands down my favorite apple pie! If you would like to take your traditional apple pie up a notch and let the apples shine, then this is the pie for you.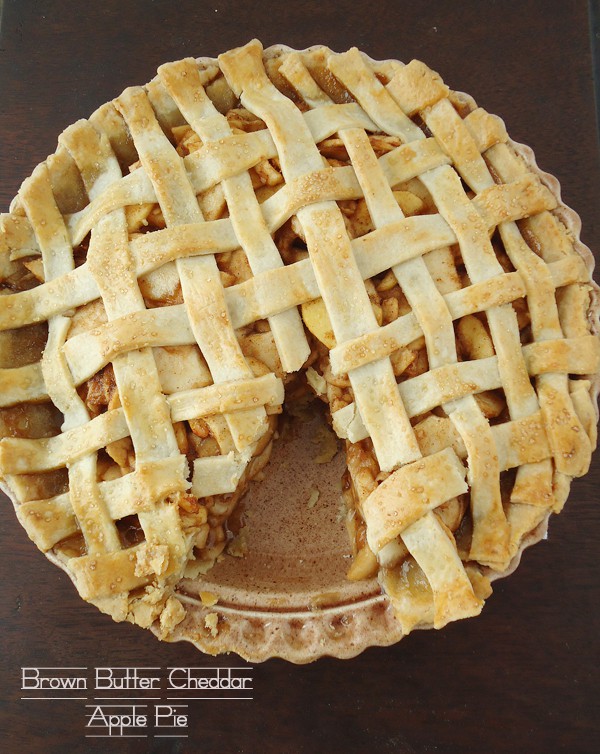 On another pie-tacular news, have you seen the current Food Network Magazine issue? It is filled with lots of fall-inspired pies. You need to get a copy of this issue. I am currently debating how many I can squeeze on here before Thanksgiving and before you hate me. The hubby thinks five is the magic number and is voting for Pie Fridays. Obviously he has ulterior motives when it comes to his blog suggestions. What do you guys think?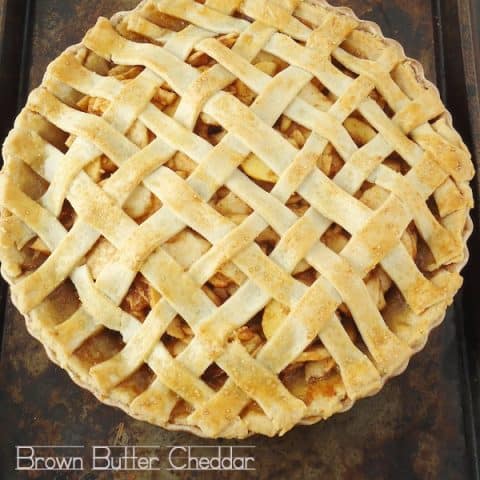 Yield: 1 9-inch pie
Brown Butter Cheddar Apple Pie
Cheddar cheese is added to a buttery and flaky pie crust to create this delicious Brown Butter Cheddar Apple Pie!
Ingredients
3 pounds apples, peeled cored and thinly sliced (I used a combination of Macintoshes, Galas and Cortlands)
⅓ cup granulated sugar
¼ cup dark brown sugar
1 teaspoon cinnamon
¼ teaspoon nutmeg
4 tablespoons unsalted butter
3 tablespoons cornstarch
2 ½ cups all-purpose flour
1 teaspoon salt
1 teaspoon sugar
14 tablespoons cold unsalted butter, cut into cubes
½ cup grated extra sharp cheddar
Ice cold water
1 egg, beaten
Turbinado sugar for sprinkling
Instructions
In a medium bowl, toss the apples with the sugars, cinnamon and nutmeg. Let sit while you prepare the crust.
Prepare ½ cup ice-cold water and keep in fridge. In a food processor, pulse flour, sugar and salt. Add in half of the butter and pulse for 30 seconds. Add in the rest of butter and cheese and pulse until the mixture looks like coarse meal. Sprinkle about 6 tablespoons cold water over mixture and pulse until dough comes together in clumps. If dry, add a little bit more water (1 teaspoon at a time). Remove dough from processor and form into a disk. Divide dough into two disks; one slightly bigger than the other and wrap in plastic wrap. Chill for about 30 minutes. The dough can be made up to 3 days ahead. Keep chilled. Let stand at room temperature 15-30 minutes before rolling out.
Roll out larger disk on a lightly floured surface to a large circle. Fit into an ungreased 9-inch pie dish, crimping the edges into your desired style. Refrigerate for 30 minutes.
Preheat oven to 400 degrees F.
In a small saucepan set over medium heat, melt the butter. When it starts foaming, whisk constantly until butter turns brown. Cool slightly before tossing with apples. Mix in the cornstarch until incorporated.
Fill the pie crust with the apple filling. Pile it high!
Roll out the second dough and cut into strips to create a lattice top. I used a pizza cutter for this. Size and number of strips depends on you. Create weave top and crimp the edges. This tutorial was very helpful.
Whisk egg and 1 tablespoon of water in a small bowl. Brush the top of pie with egg wash and then sprinkle with turbinado sugar.
Place pie dish on a baking sheet and bake for 50-60 minutes or until the filling is bubbly. Check at 30 minutes and if edges are getting too dark, cover pie loosely with foil and continue baking.
Let pie cool for at least two hours before serving.