Applesauce Cake with Caramel Glaze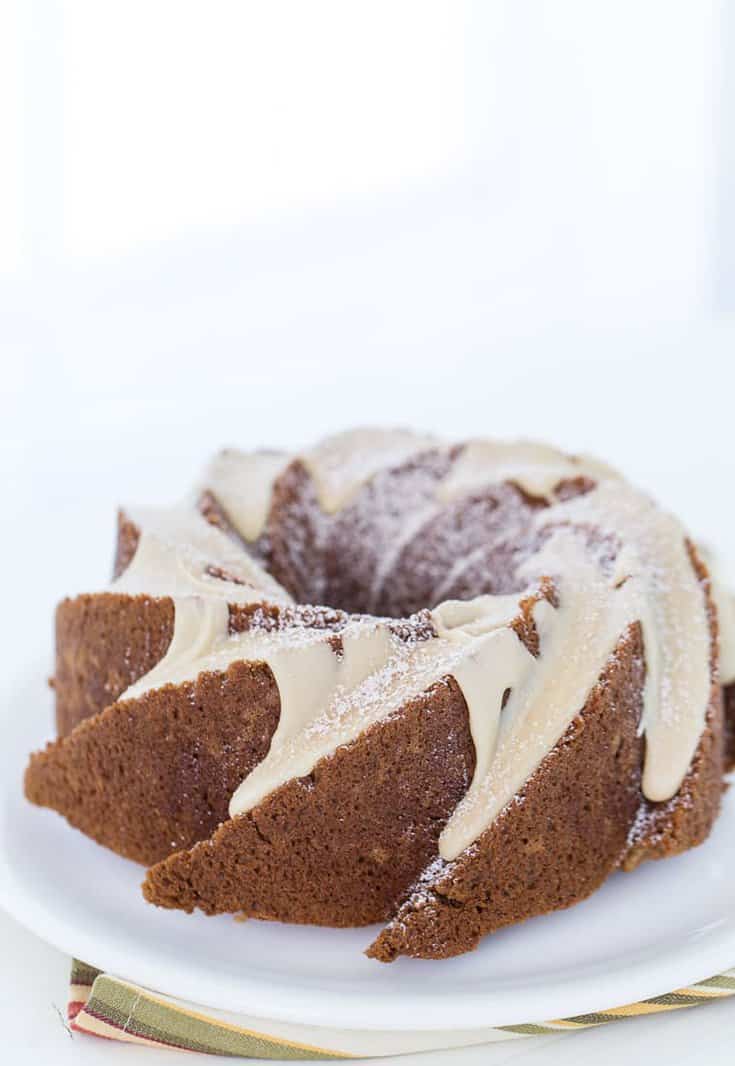 I found myself making an oldie but a goodie this past weekend. This applesauce cake with caramel glaze is 3 years old and I remembered how good it was that it was the first thing I made last weekend after a big batch of homemade apple sauce. I had to take pictures of it and update the recipe. Hopefully those of you that are new around here will see it now and try it! It's one of my favorite fall recipes.
It is a lightly spiced applesauce cake that is moist, fluffy and sweet. The cake is topped with a caramel glaze made with either my homemade caramel sauce recipe or a simpler version below. It is the perfect addition to this fall inspired cake!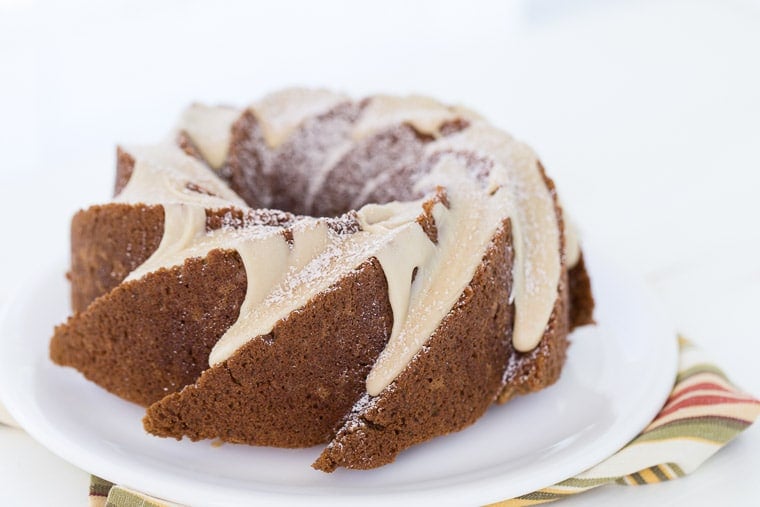 I find that I do not bake with applesauce as much as I should especially that every time I bake with it, the results are moist muffins, banana bread or cakes. Do you use applesauce a lot in baking? I need to use it more in healthier recipes. But for now, I have lots of applesauce to use and can't wait to make a batch of these spiced apple macarons again.
If you are looking for an easy, simple, flavorful and delicious fall cake this season, this is it. I know you will love it as much as I have loved it the past few years.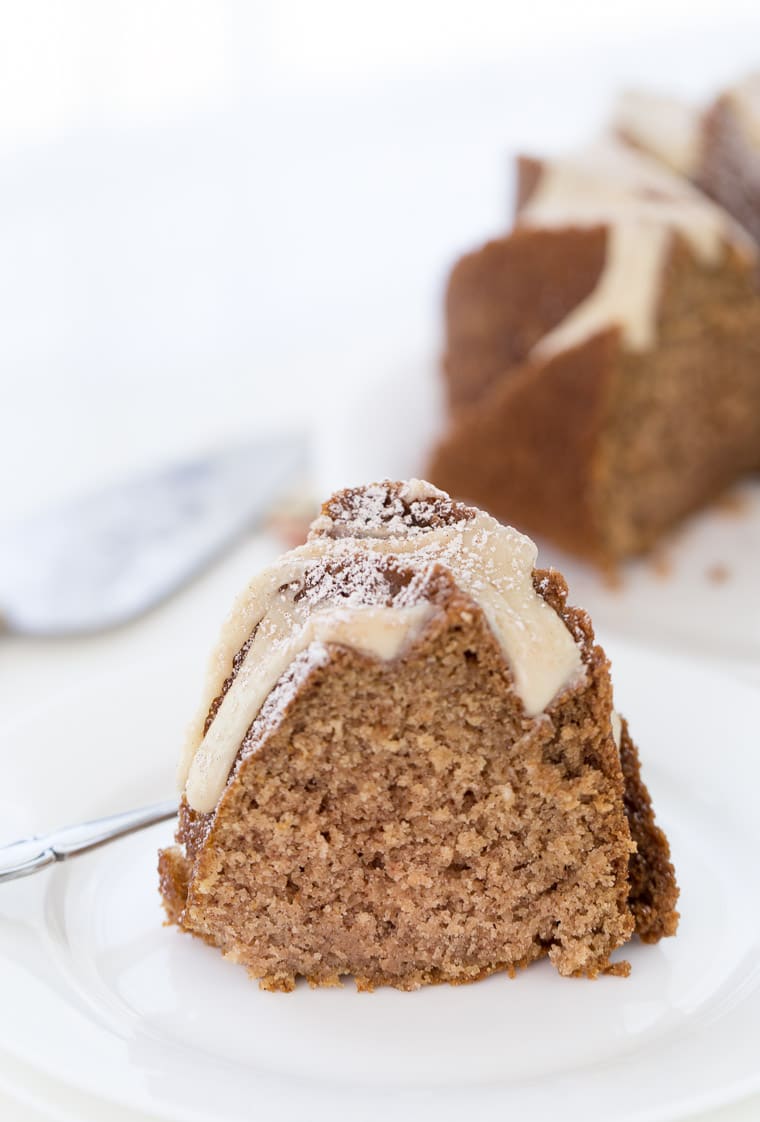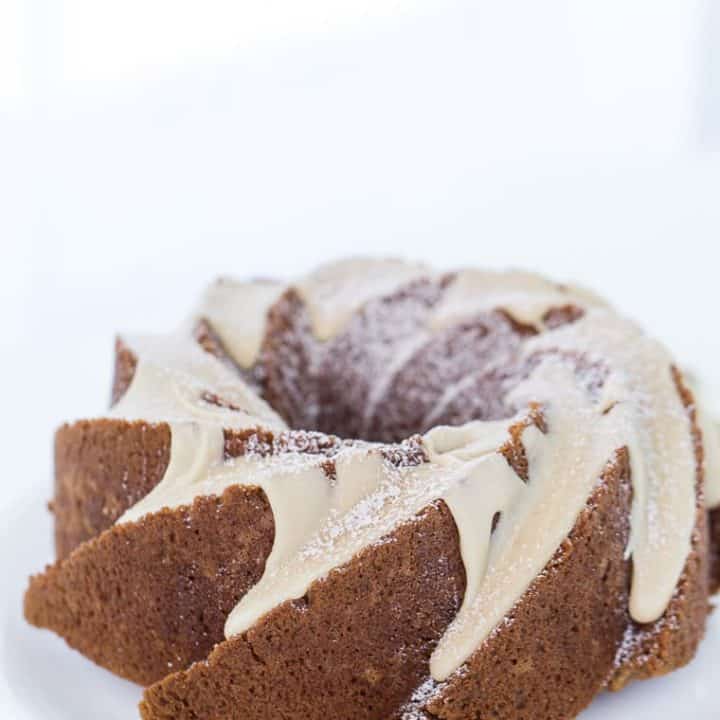 Applesauce Cake with Caramel Glaze
Perfectly spiced tender applesauce cake with caramel glaze
Total Time
1 hour
5 minutes
Ingredients
Cake
2 cups all-purpose flour
1 ½ teaspoon baking soda
1 teaspoon salt
¼ teaspoon ground black pepper
2 teaspoons cinnamon
1 teaspoon ground ginger
¼ teaspoon ground allspice
2 large eggs
1 cup sugar
½ cup light brown sugar
1 ½ cups unsweetened applesauce (I used homemade sauce; recipe below)
2/3 cup vegetable oil
1 teaspoon vanilla extract
For Caramel Glaze
4 tablespoons butter, cut into cubes
½ cup packed light brown sugar
1/3 cup heavy cream
¼ teaspoon salt
¾ to 1 cup sifted powdered sugar
Homemade Apple Sauce
3-4 pounds apple (6-8 apples. I used a combination of Macintosh, GrannySmiths and Galas), peeled, cored and thinly sliced.
¼ cup brown sugar (or more if you want it sweeter)
1 lemon zest and juice
1 teaspoon cinnamon
½ teaspoon all spice
½ teaspoon salt
1 cup water
Instructions
For applesauce
Combine all the ingredients in a large pot and bring to boil over medium heat. Lower heat and simmer until apples are soft, about 15-20 minutes. Remove from heat and mash apples with a fork or potato masher. Let cool to room temperature before using.
Cake
Preheat oven to 350 degrees F and grease a 12-cup bundt pan.
In a medium bowl, sift together the flour, baking soda, salt, pepper, cinnamon, sugar and allspice.
In the bowl of a stand mixer fitted with the paddle attachment, beat the eggs and sugars until light and well combined. Add in the applesauce, oil and vanilla extract and beat until smooth.
Using a rubber spatula, fold in the dry ingredients. Mix until just combined. Do not overmix.
Pour batter into prepared pan and bake for 40-45 minutes or until a cake tester inserted into the center comes out clean.
Let the cake cool in the pan for at least 10 minutes before turning it out. Cool completely on a wire rack.
Caramel Glaze
In a medium saucepan, combine the butter, sugar, heavy cream and salt and set over medium heat. Bring to a rolling boil while stirring continuously. Boil for a minute and then remove from heat. Let cool for 2-3 minutes and the gradually whisk in the powdered sugar until you have a thick glaze. The glaze should be pourable. If it's too thick, add a teaspoon or two of heavy cream to thin out.
Use glaze immediately. Pour over cake as desire. Let glaze set before serving.
(I love updating my old recipes with new pictures but I always leave one of the old pictures just so I can see how far I've come in my journey as a blogger. This recipe was originally posted October 15, 2013.)