Caramel Apple Crisp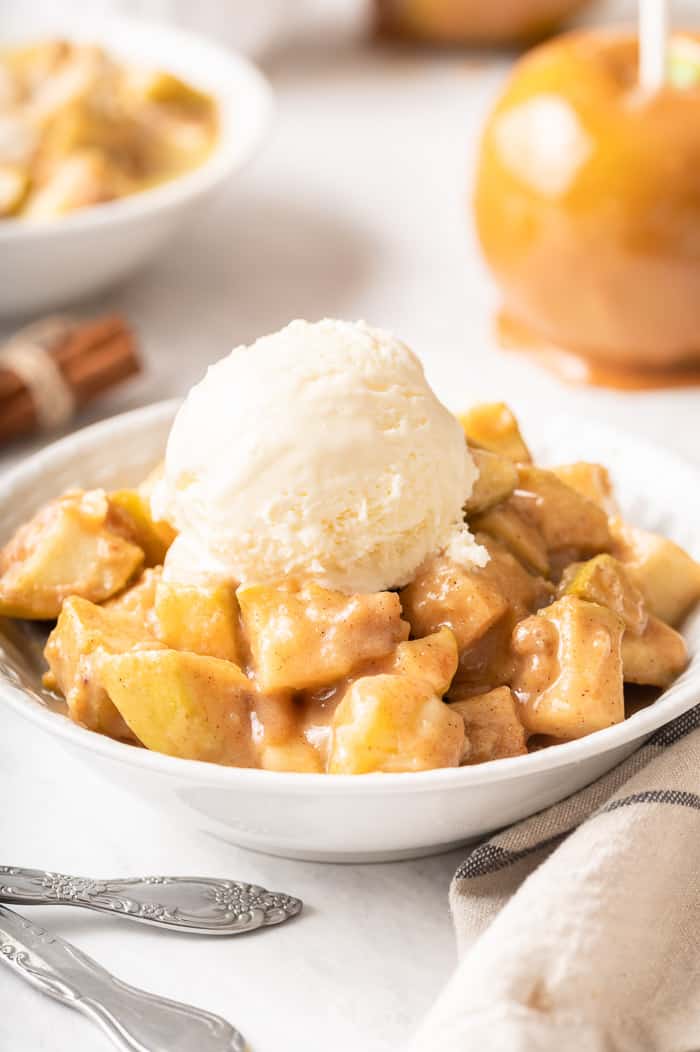 This caramel apple crisp recipe is sponsored by Half & Half Magazine. Thank you for supporting the brands that make it possible for me to continue sharing content with you.
Hello friends! We have a new recipe that combines all the seasonal flavors you crave wrapped into a comforting dessert. We are talking today about this Caramel Apple Crisp.
There's apple crisp and there's this caramel apple crisp. Caramel apples are used to make an apple pie filling. This filling is topped with a buttery streusel topping. You get a warm caramelized apple filling with a crunchy oat topping. Incredible and comforting! Just what we all need this cozy season.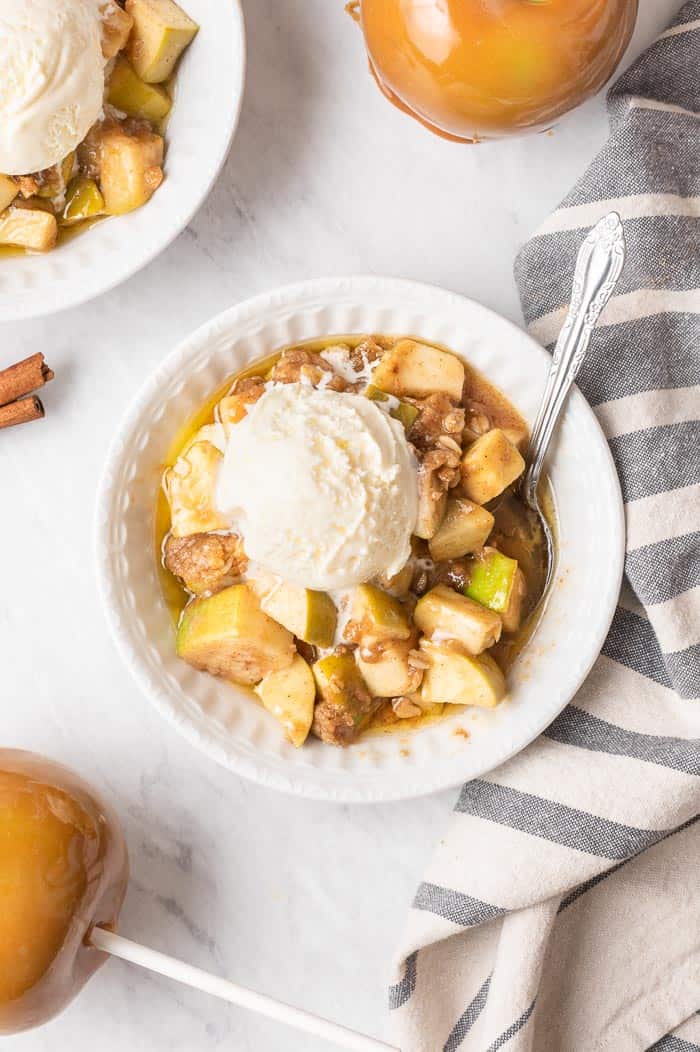 The recipe for this caramel apple crisp is from Half and Half magazine, a food magazine celebrating dairy and those who make it. Sharing stories and recipes from more than 7,500 families of Dairy Farmers of America (DFA), the nation's largest milk marketing cooperative. If you are a magazine lover like me and looking for new and beautiful recipes for your family, check out Half and Half magazine.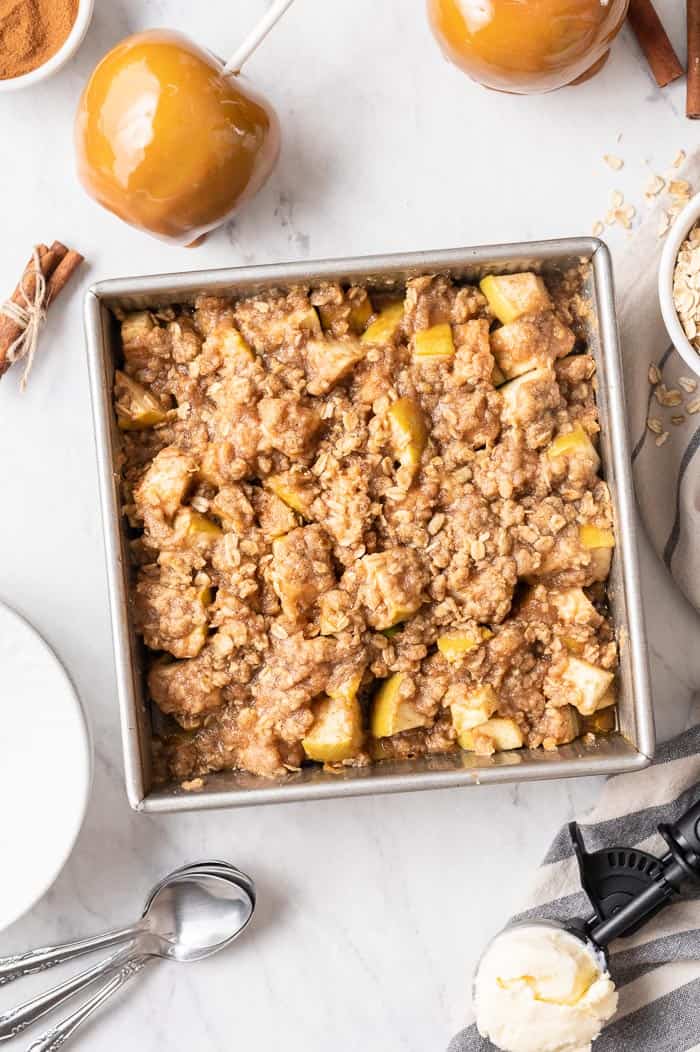 Every year the holidays come and go way too quickly. If you are like me, then you always think you have so much time to prepare your menu for Thanksgiving/ Friendsgiving, Christmas, New Year's, and all Holiday parties in general. Then reality sets in, and within a blink of an eye, your party is a few days away, and you are stressing to figure out what you will serve that provides enough for each guest, tastes terrific, is unique, comforting, and the most important; easy to make!
This Caramel Apple Crisp is the dessert to save you time and money with still looking like you spent hours creating such a wonderful treat.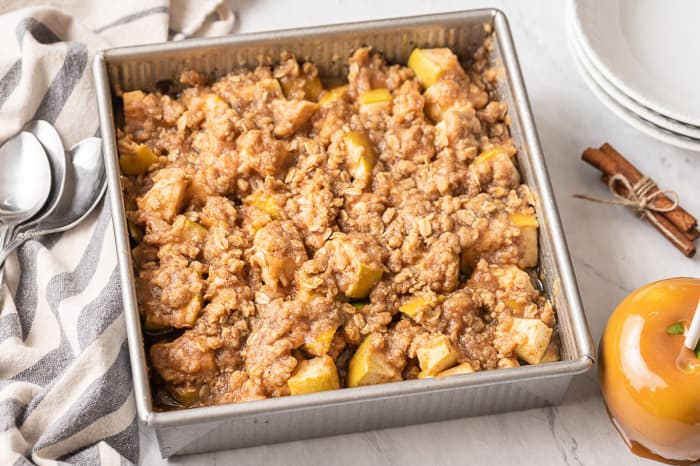 The recipe uses caramel apples which saves so much time, but you can always make your caramel sauce if you have the extra time. If not, I won't tell if you don't :-).
Now for the best part; let's walk through how to make this apple crisp. If you don't want to read the step-by-step instructions here, you can simply scroll to the bottom.
Let's gather our ingredients.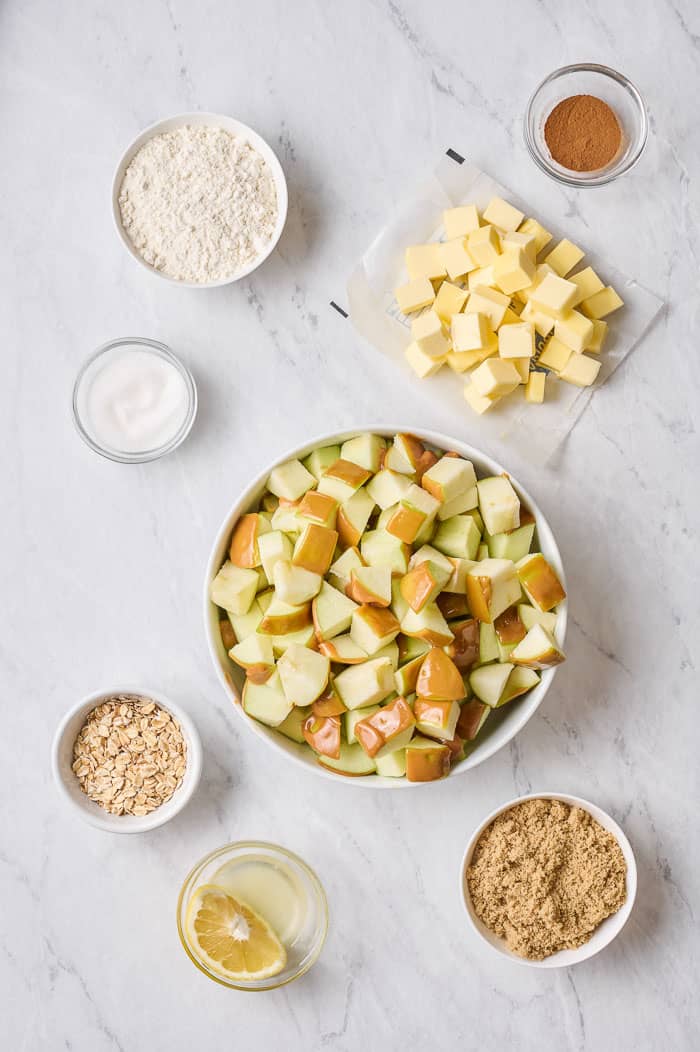 Combine the chopped apples with flour, sugar, spices, and lemon juice.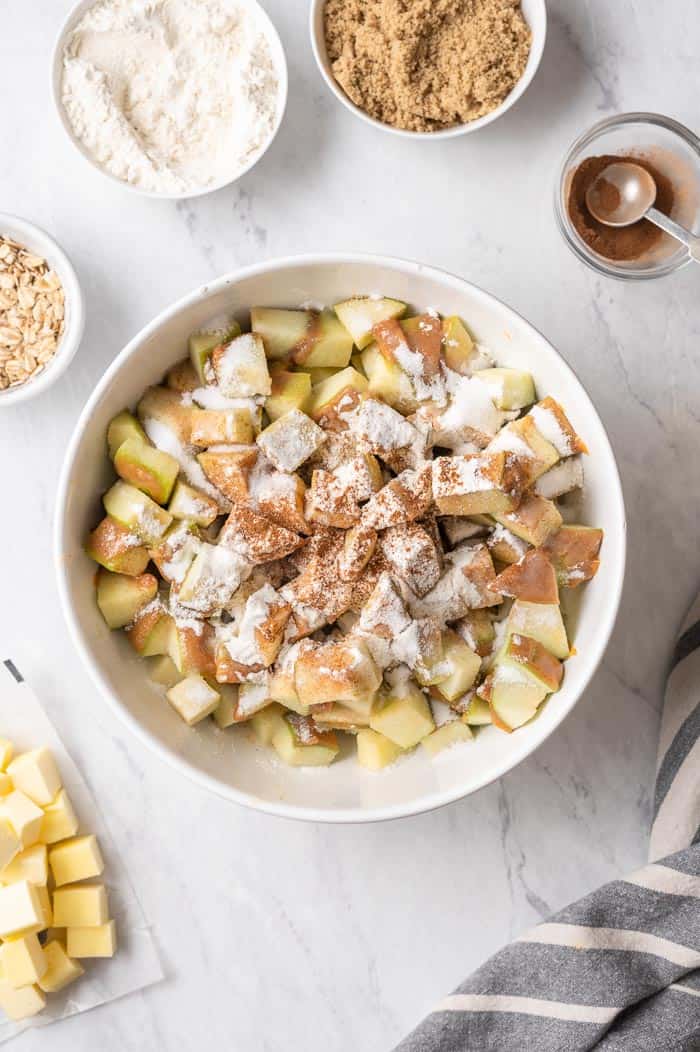 Transfer the mixture to a baking pan.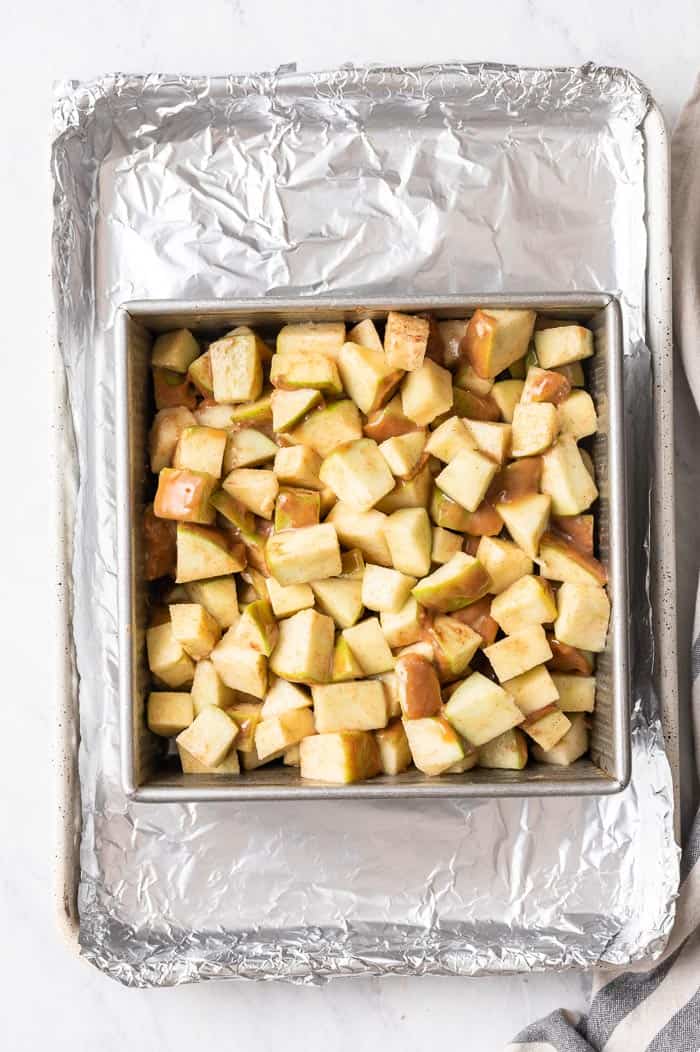 Mix the remaining ingredients in the same bowl and break it down until you get a crumble consistency.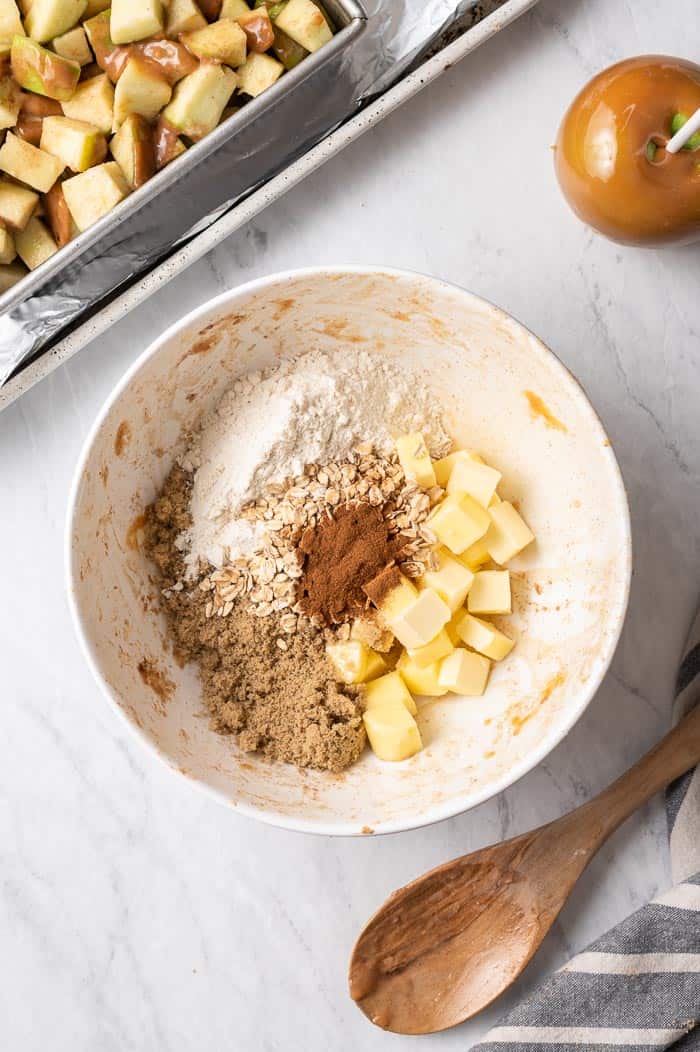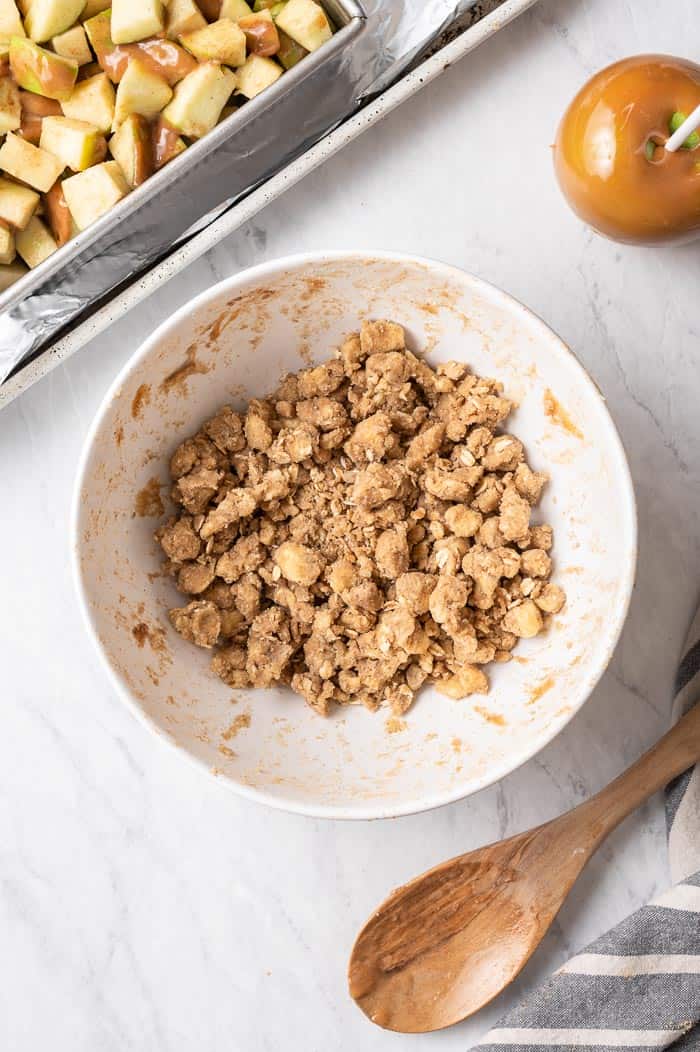 Top apples with crumble and bake until golden brown.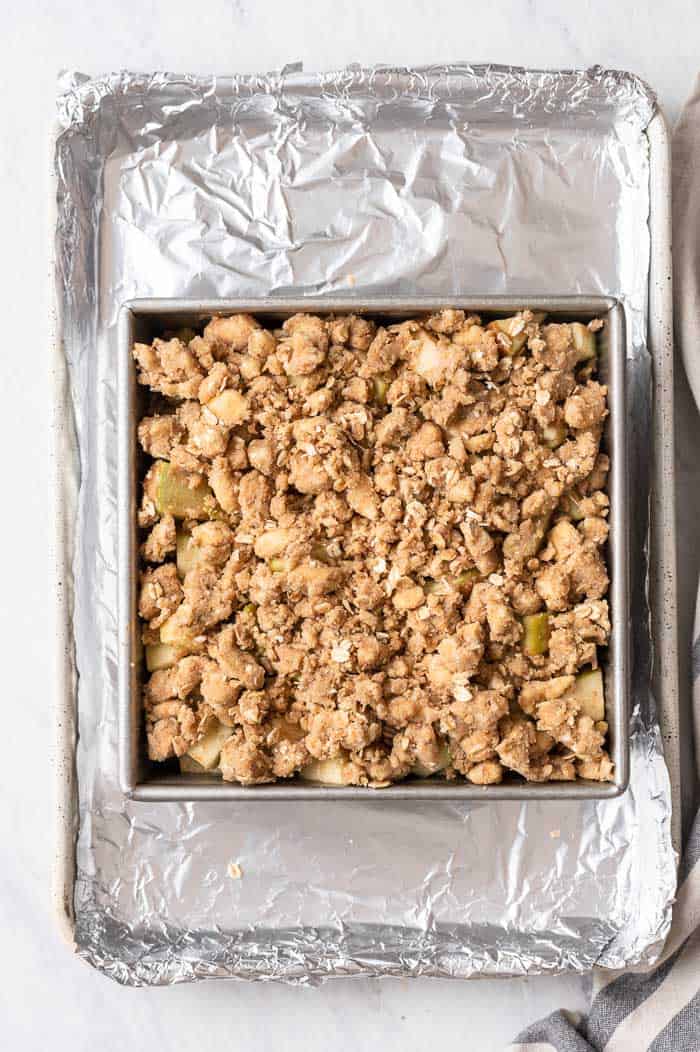 Traditionally, it is topped with a scoop of vanilla ice cream but if you are looking for a snack to warm you from the inside out, just serve warm as is.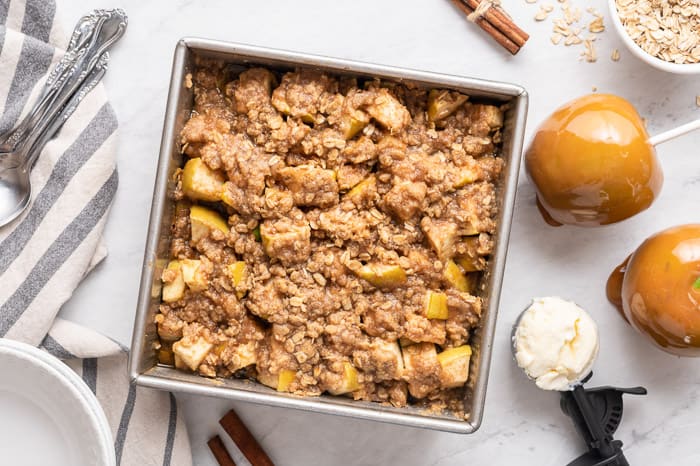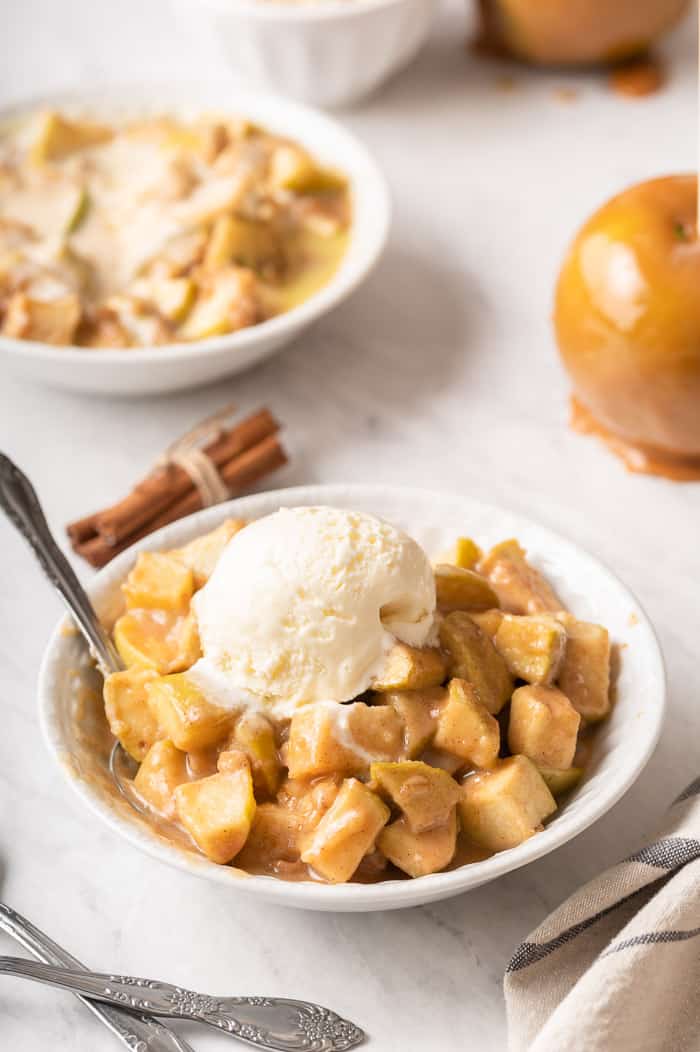 I like to add a "twist" when baking and serving so I always serve these in mini mason jars and my guests can top with ice cream if they please. The jars are also great ways to portion out this recipe for personal consumption or the kids. Tie a little ribbon or string around each jar in festive colors depending on what holiday these are for and your guests will be astonished at how much trouble you went through. Little do they know it only took you about 30-45 minutes from start to finish.
If you like this recipe, let me know in the comment section below. In these days of social media, we all post our food on Instagram and Facebook so make sure to tag #aclassictwist so I can see your beautiful creations. Nothing makes me happier than to see my recipes come to life all around the world.
Have a wonderful day!
If you love crisps, then try my Pear Crisp with Oat Crumb Topping or Apple Cardamon Crisp. Also, try my blueberry crumb bars!
More Crisps & Crumbles to try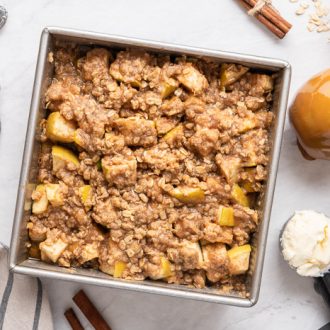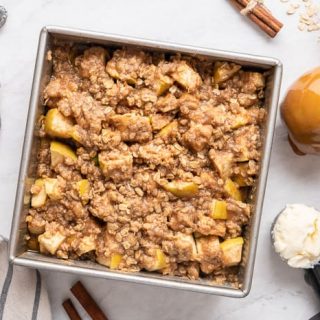 Yield: 6 servings
Caramel Apple Crisp
Comforting and warm caramel apple crisp perfect for fall.
Ingredients
4 classic caramel apples, chopped into 1-inch cubes
½ cup plus 2 tablespoons all-purpose flour, divided
1 ½ teaspoons ground cinnamon, divided
2 tablespoons granulated sugar
¼ lemon, juiced
¼ cup old-fashioned oats
½ cup brown sugar
¾ cup unsalted butter, cold and cut into cubes
Ice cream, for serving
Instructions
Heat oven to 350 degrees F and grease an 8 x 8 -inch baking pan with butter or baking spray.
Place onto a foil-lined baking sheet and set aside.
In a large bowl, combine caramel apples, 2 tablespoons flour, 1 teaspoon cinnamon, sugar, and lemon juice. Pour into prepared pan.
In that same bowl, add remaining flour, remaining cinnamon, oats, brown sugar, and butter. Cut together with a pastry cutter or using clean hands until crumbles are formed.
Top apples with crumb mixture and bake for 25-30 minutes, or until bubbling and the top is browned.
Let rest 30 minutes before serving with ice cream.
Recommended Products
As an Amazon Associate and member of other affiliate programs, I earn from qualifying purchases.