Blueberry Crumble with a Browned Butter Oat Topping
I was gifted the Anolon bakeware and cookware used to make this recipe. All opinions and thoughts are 100% mine.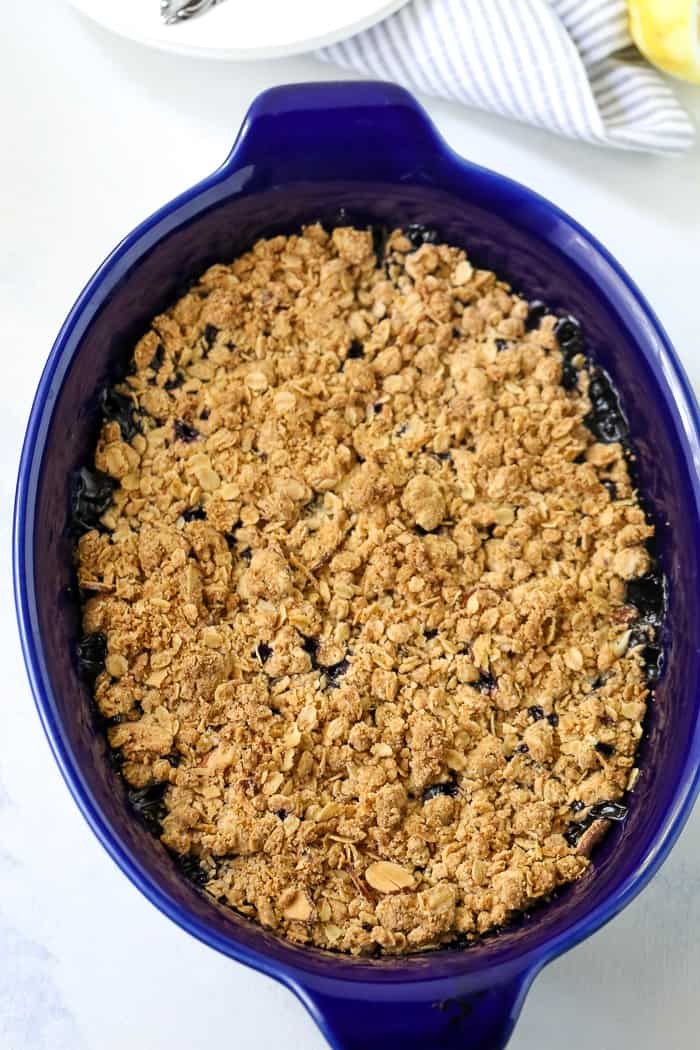 Hi friends! I am so excited to be sharing this recipe with you today. I love classic summer recipes such as blueberry crumble!! It's comforting, easy to make, and delicious. This one just screams summer to me and it is one of my husband's favorite recipes.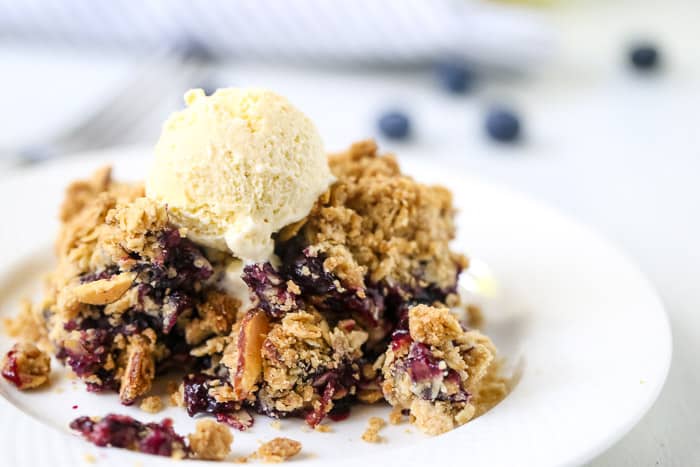 I love making crumbles. Over the past month, I've made three different ones. There's just something about warm juicy fruit under a layer of crunchy oat topping that makes any day better. I made this strawberry rhubarb crumble pie a few weeks ago after scoring rhubarb at the farmer's market. I also made a peach crumble too.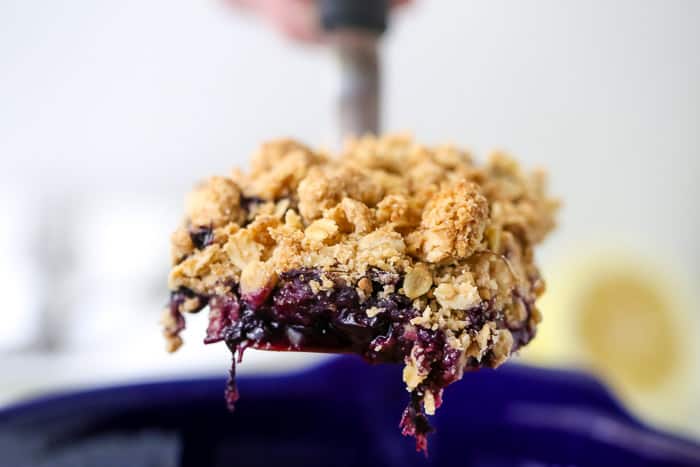 Since I was on a fruit crumble path, my husband nudged me to make him this blueberry crumble. Blueberries are his favorite berries and he requests a blueberry pie or blueberry hand pies every year they are in season. So I was very happy to hear him ask for something new. The baker in me loves new challenges.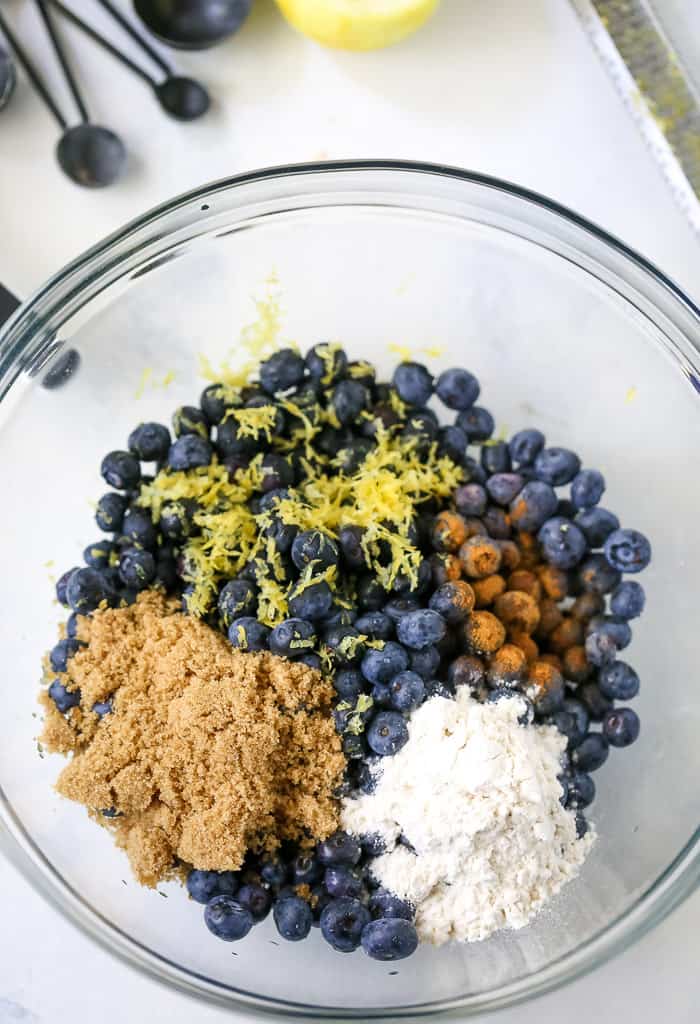 For this blueberry crumble, I kept the filling classic. Just fresh blueberries tossed in lemon juice and almond extract to enhance the flavors. You can also use frozen blueberries but make sure you thaw them before use.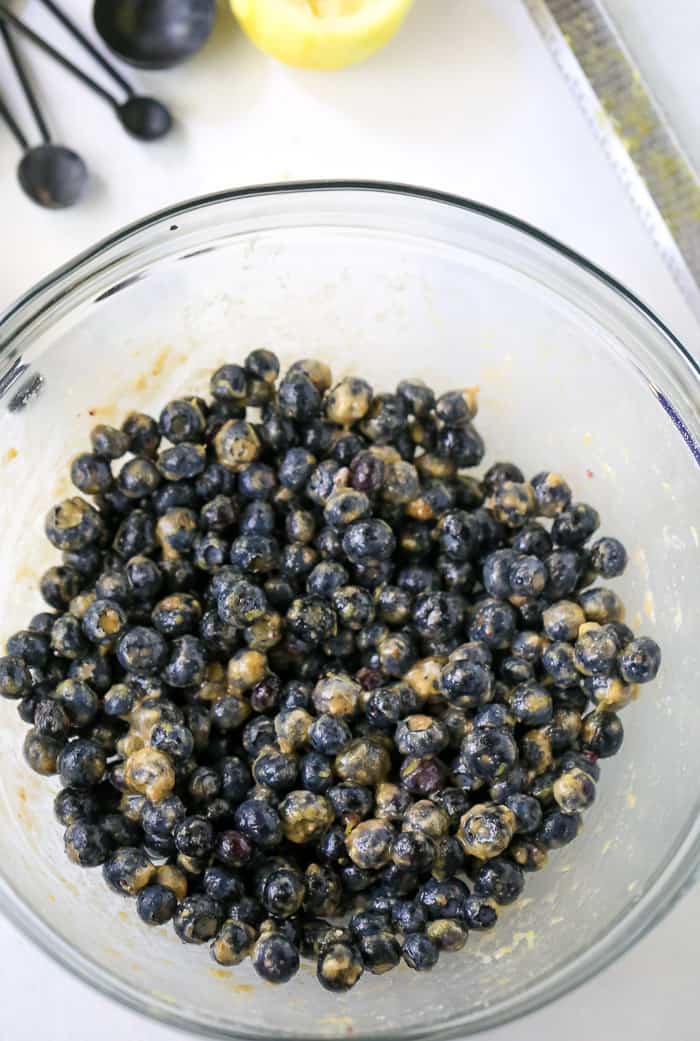 The oatmeal crumb topping is where I played around a bit.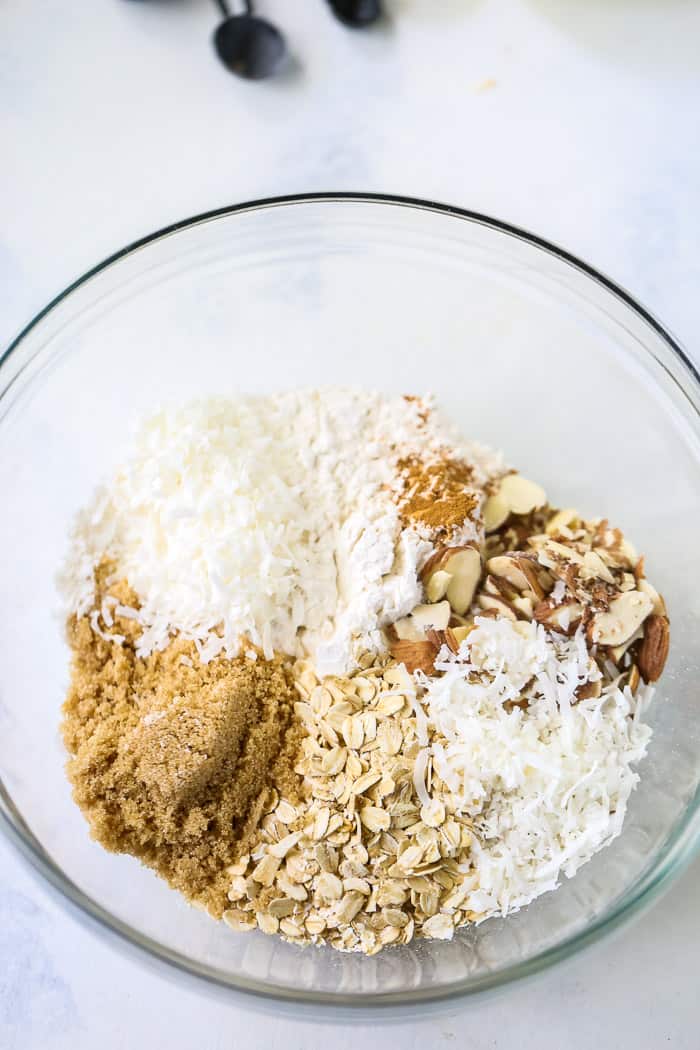 You can make a crumble topping without oatmeal but the nutty crunch that oatmeal brings to the table is worth it.
I browned my butter instead of using room temperature butter in the topping. This was a GREAT idea and I urge you to try this trick. Once you do, you will never go back 🙂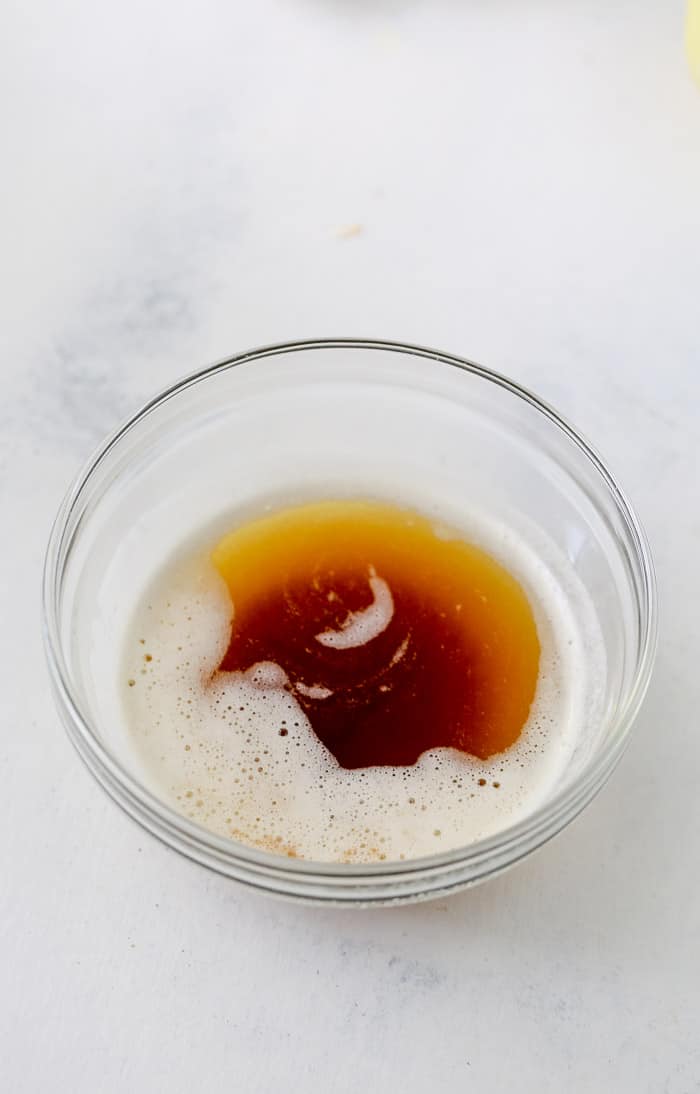 I also added in some sliced almonds and coconut flakes to the crumb topping. These are optional (but highly recommended!) enhancements that are again worth the trouble.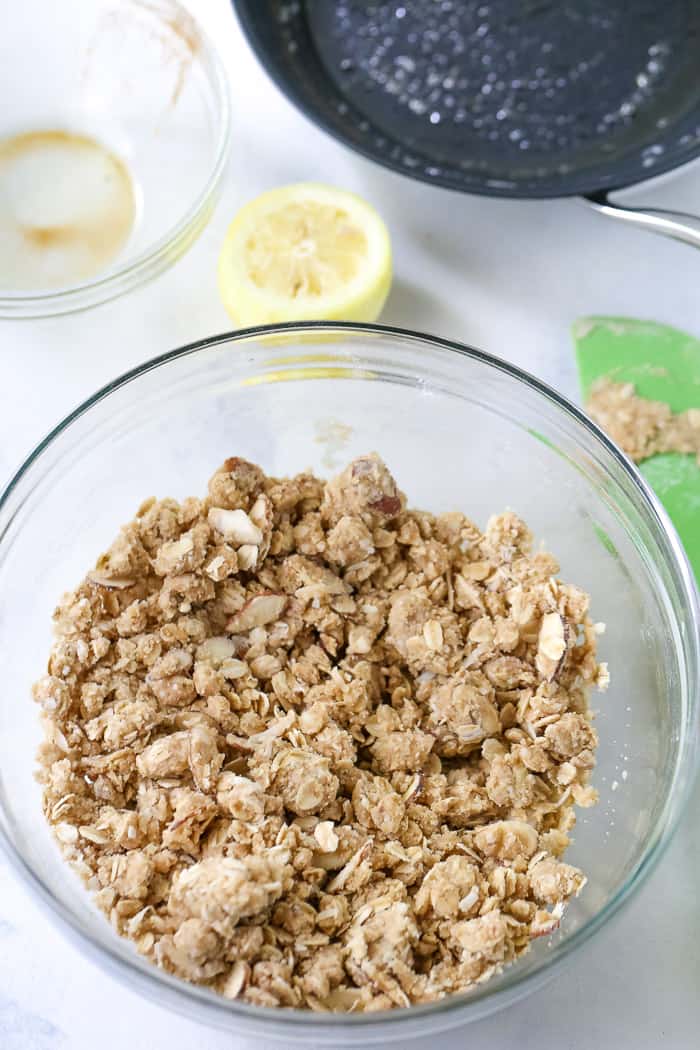 The result here my friends is a classic blueberry crumble that is elevated by some small additions and browned butter.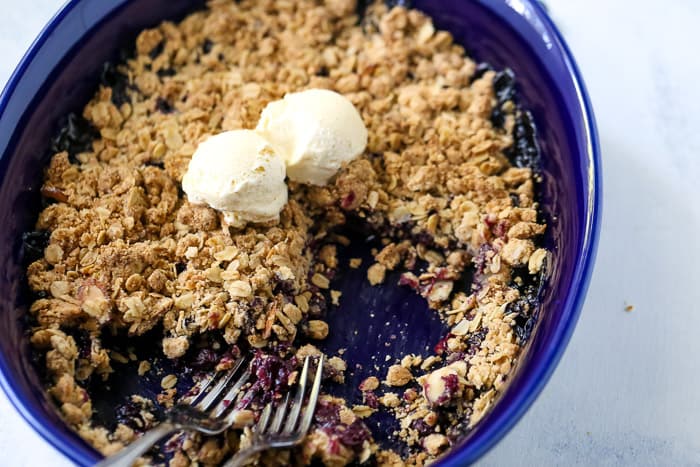 The filling is that satisfying juicy warm fruit we all know and love and the topping is crunchy oatmeal crumble full of flavors complementary to the fruit filling. All in all, this is an epic summer dessert that is worth your time.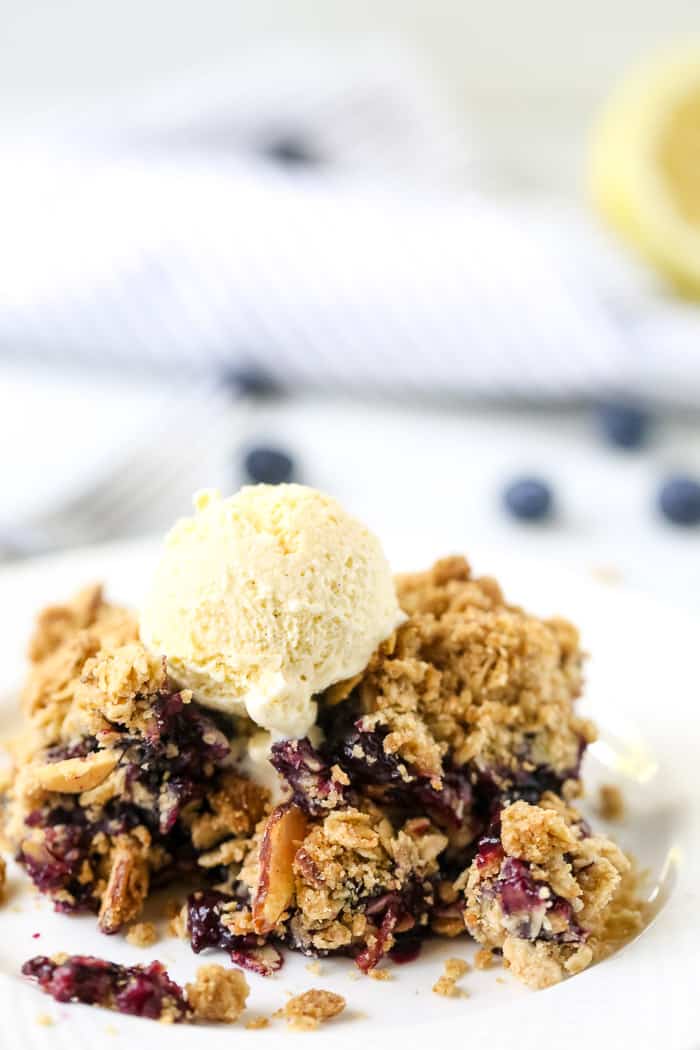 Top it all with a scoop of ice cream and relax to enjoy this plate of summer.
Don't forget to try this yummy summer strawberry pie too!
More Summer Desserts to try
Until next time, happy baking!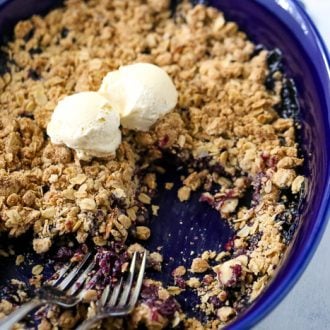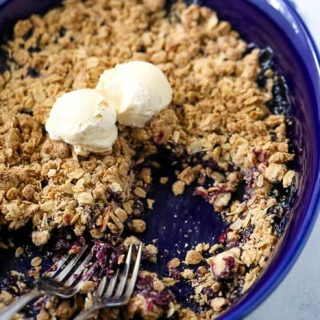 Yield: 9-by-13 baking dish
Classic Blueberry Crumble Recipe
This blueberry crumble recipe is a sweet summer delight with juicy blueberries baked under a crunchy golden oatmeal crumb.
Prep Time 30 minutes
Cook Time 1 hour 10 minutes
Total Time 1 hour 40 minutes
Ingredients
For the Filling:
6 cups fresh blueberries
3/4 cup light brown sugar
1/4 cup all-purpose flour
¼ teaspoon salt
zest and juice of a half lemon
1/4 teaspoon almond extract
pinch of salt
For the Crumble:
3/4 cup old-fashioned rolled oats
1 1/4 cup all-purpose flour
1/2 cup unsweetened coconut flakes
1/4 cup sliced almonds
¾ cup brown sugar, packed
¼ teaspoon salt
1/2 cup unsalted butter, melted and browned
Instructions
Preheat oven to 375 degrees F. Grease a 3-quart round or rectangular dish with baking spray.
In a large bowl, toss the ingredients for the filling until just combined. Make sure all the flour is well tossed. Set aside while you make the topping.
In a medium bowl, combine the rolled oats, flour, coconut flakes, almonds, sugar, and salt. Add in the melted butter and mix until clumps form. You can use your hands to mix the mixture and clump some together.
Transfer the blueberry filling into the prepared dish. Cover completely with the crumb topping. Place the baking dish onto a baking sheet and bake for about 50-60 mins, or until the fruit is bubbly in the center and edges and topping is golden brown. If needed, cover the baking dish with foil for the last 20 minutes of baking.
Let crumble cool on a cooling rack until warm.
Serve warm with a scoop of ice cream.
Recommended Products
As an Amazon Associate and member of other affiliate programs, I earn from qualifying purchases.