Blueberry Hand Pies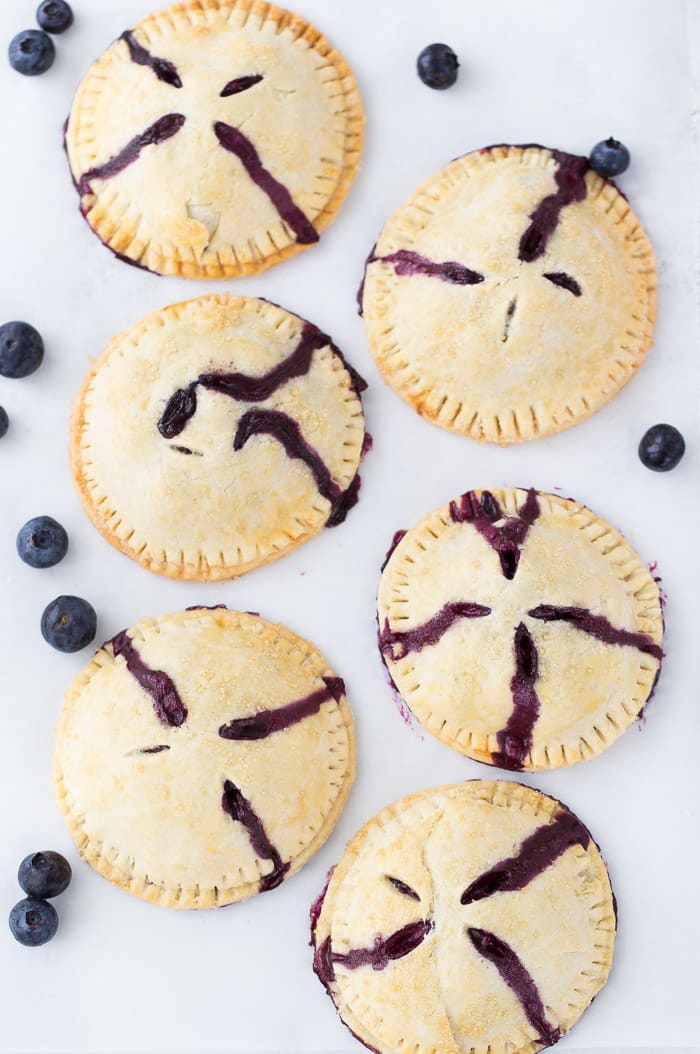 Blueberry Hand Pies!! My husband Mr J. has been asking for these for years. I am not exaggerating. For the past 5 years, every summer/ blueberry season, he asks for blueberry hand pies. I refuse because they are boring and I prefer cherry hand pies and have a good blueberry pie on the blog already. However, this year I gave in and surprised him because I figured he's the biggest blog supporter and needs his ideas heard too.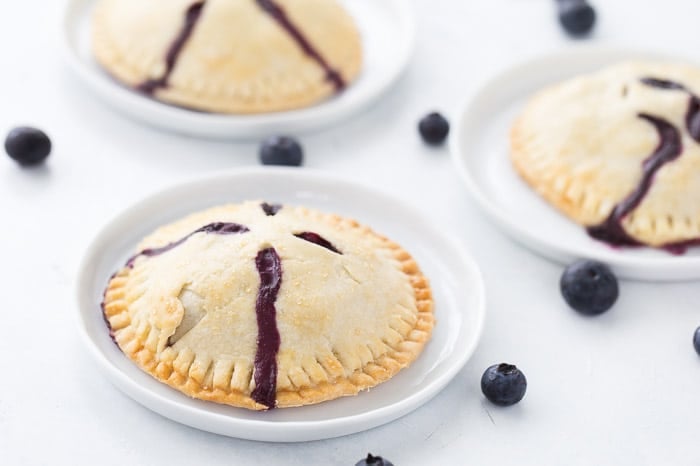 He was beyond excited and was in love with these hand pies. I guess what's not to love about flaky buttery crust filled with warm juicy fruit filling? It's simply amazing and the best picnic basket partner in crime.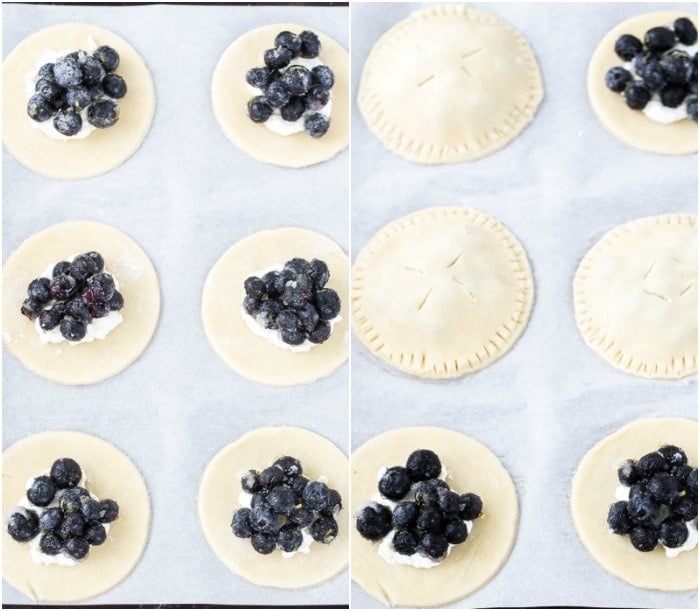 These blueberry hand pies actually have a simple, creamy surprise on the inside. I added a touch of creamy cream cheese filling underneath the blueberries. The warm cheese with sweet juicy blueberries is a delightful combination and a must. However, it is optional if you want to keep this classic. (but why would you?)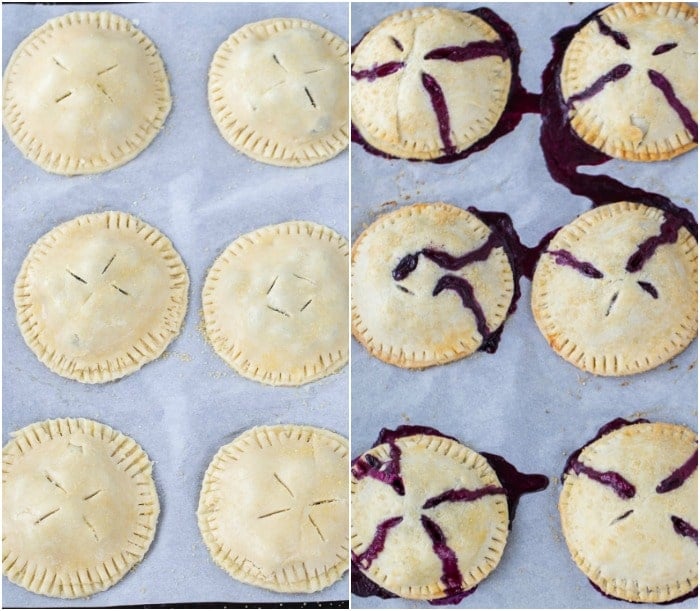 Finally, a blueberry hand pie recipe for the hubs and you to add to your summer baking list!
Since I'm in the getting everyone's request in mode, what are your summer recipe must have?? Any you would like me to create or make for you? Let me know in the comments below.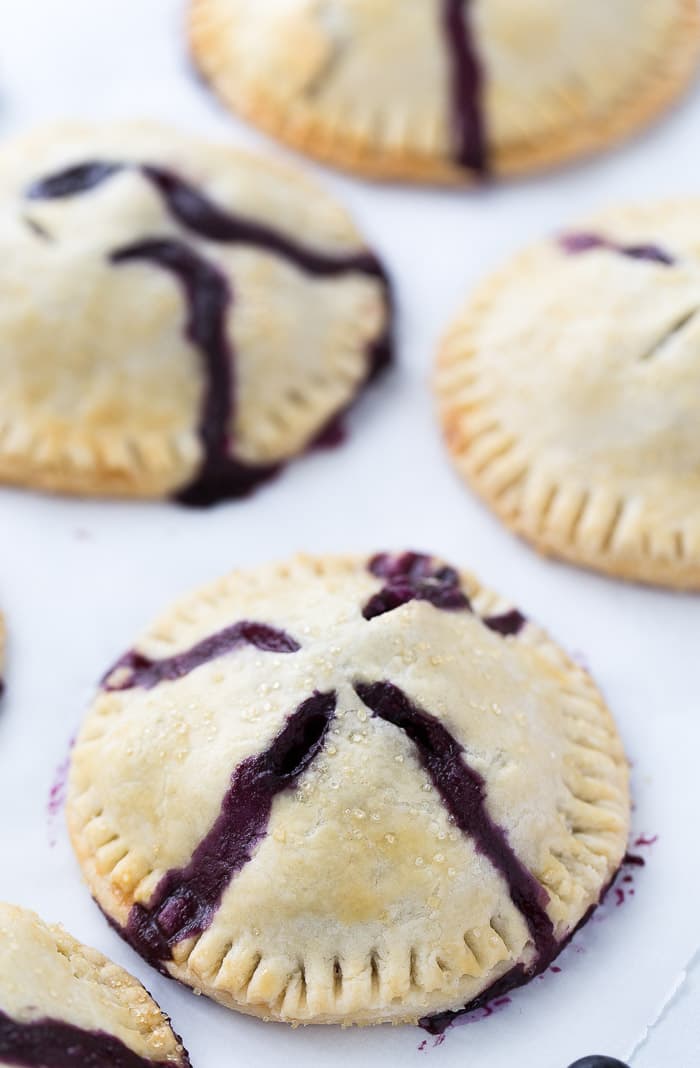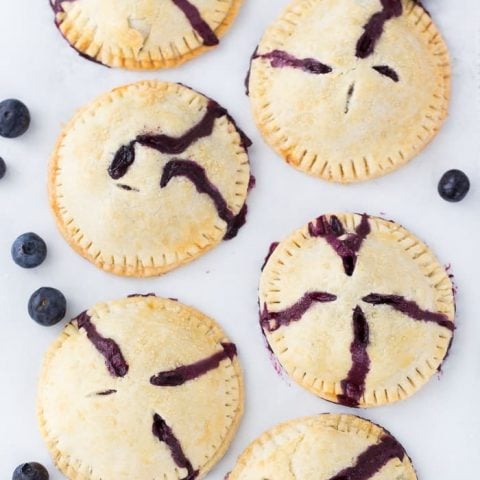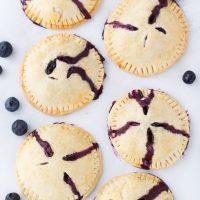 Yield: 6-7 hand pies
Blueberry Hand Pies
Classic blueberry hand pies with a flaky buttery crust filled with warm juicy blueberry filling and a dollop of cream cheese. It's simply amazing. 
Ingredients
Pie Crust:
2 ½ cups all-purpose flour
1 teaspoon salt
1 teaspoon sugar
14 tablespoons cold unsalted butter, cut into cubes
Ice cold water
1 egg, beaten with 1 tablespoon milk for egg wash
Turbinado sugar for sprinkling
Filling:
1 cup fresh blueberries
Zest and juice of a 1/2 lemon
½ teaspoon pure almond extract
½ teaspoon pure vanilla extract
1/4 cup granulated sugar, divided
2 tablespoons cornstarch
4 oz cream cheese, at room temperature
juice of 1/2 a lemon
Instructions
Prepare 1/2 cup ice-cold water and keep in fridge. In a food processor, pulse flour, sugar and salt. Add in half of the butter and pulse for 30 seconds. Add in the rest of butter and pulse until the mixture looks like coarse meal. Sprinkle about 6 tablespoons cold water over mixture and pulse until dough comes together in clumps. If dry, add a little bit more water (1 teaspoon at a time) until dough comes together. Remove dough from processor and pat into a disk. Divide dough into two equal disks and wrap in plastic wrap.
Chill for at least an hour or overnight. The dough can be made up to 3 days ahead. Keep chilled. Let stand at room temperature a few minutes before rolling out.
Preheat oven to 375 degrees F. Combine the blueberries, lemon zest and juice, extracts, 2 tablespoons sugar and cornstarch in a medium bowl and set aside. Let sit for at least 20 minutes.
In another small bowl, whisk together the cream cheese, lemon juice and remaining sugar until well combined.
Roll out one disk on a lightly floured surface to a large circle, about 1/8-inch thick. Using a 4-inch round cutter, cut out 6 circles. Transfer each to a parchment lined baking sheet. You might have to re-roll the scraps to get 6.
Top each circle with a scant tablespoon of cream cheese filling in the middle. Add a generous tablespoon of the blueberries on top of the cream cheese, leaving at least an inch on the edge. Refrigerate while you roll out the other disk.
Roll out the last disk on a lightly floured surface to about 1/8-inch thick circle. Cut out 6 circles as before.
Cover each pie bottom with a top and crimp the edges. Cut out two slits on the top of each pie. Brush with the egg wash and sprinkle the tops with turbinado sugar.
Bake pies for 20-25 minutes until golden brown and juices running.
Let pies cool completely before serving.