Rustic Cherry Galette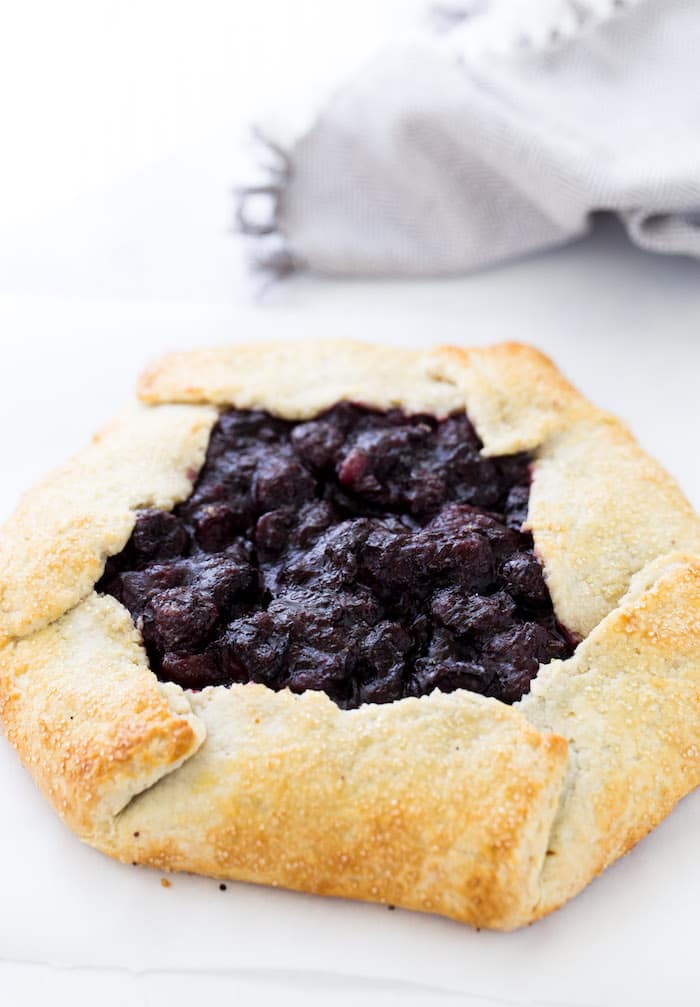 I have another easy summer recipe for you today in the form of a galette, aka the lazy man's pie. This rustic cherry galette is the newest addition to my galette collection and I am in love with it. I love cherries and pies, so what is not to love here?
But let me say upfront, if you are not a cherry fan, you can try these alternatives (blueberry galette, raspberry vanilla bean galette or this peach raspberry combo). I say this because my husband is not a cherry fan and was against this galette from the start. However, he somehow 'tried' it and said 'oh, it is actually not bad'. Uhmmm…it's CHERRIES!! No way it can not be good. But I digress. Let's talk about the recipe.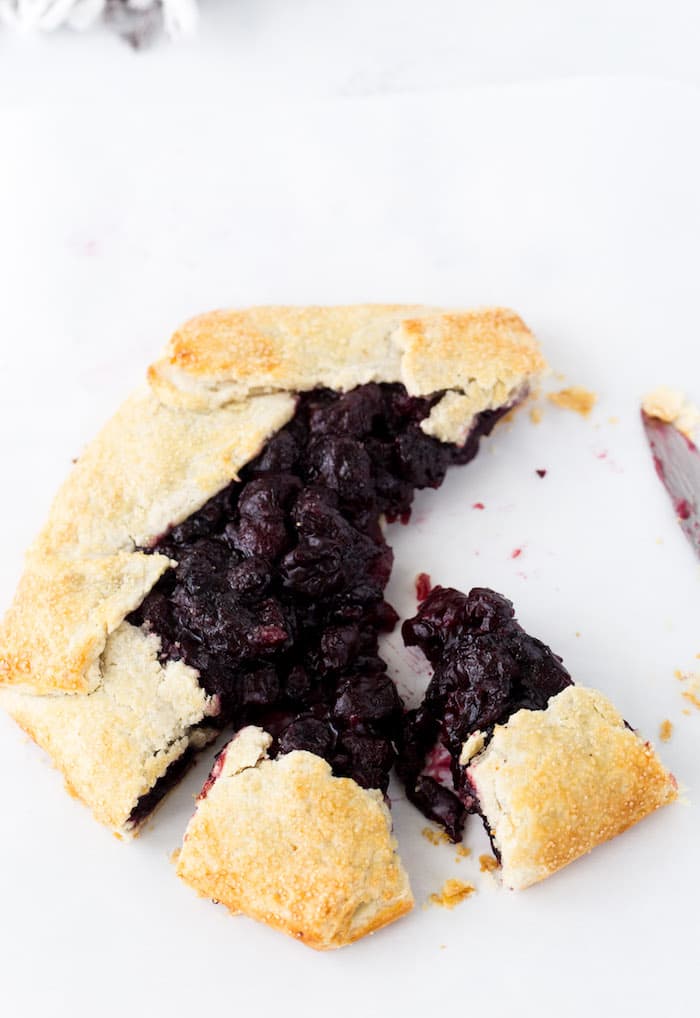 Galettes are just topless pies. With the same juicy, warm fruits wrapped inside a flaky, pie crust. Luckily, they are easier than pies and don't need long hours in the kitchen.
This rustic cherry galette uses sweet seasonal cherries paired with fresh lime juice and a hint of almond extract. It's simple, flavorful and filled with one of summer's favorite fruits. Top with vanilla ice cream (I used this blackberry coconut ice cream) and enjoy on a hot summer day.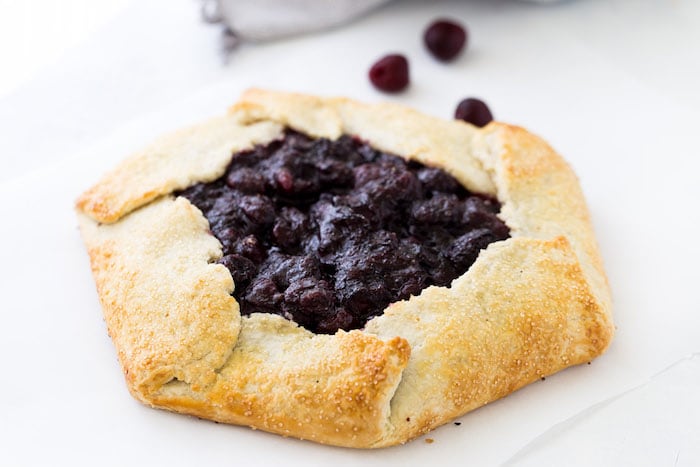 Hope you can add this to your summer baking list. I know it will be on repeat for me as my husband suddenly doesn't mind cherries.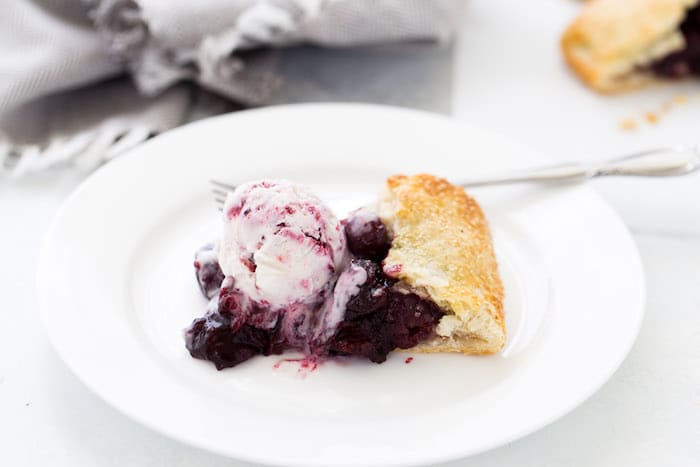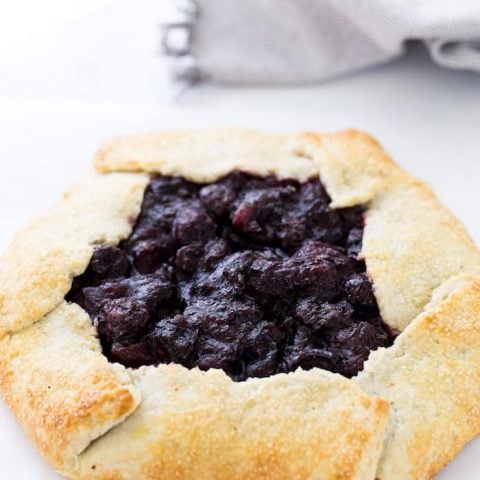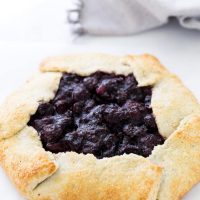 Yield: 1 9-inch galette
Rustic Cherry Galette
This rustic cherry galette uses sweet seasonal cherries paired with fresh lime juice and a hint of almond extract. It's simple, flavorful and perfect. 
Ingredients
For the Crust:
1 1/4 cups unbleached all-purpose flour
2 teaspoons sugar
a pinch of salt
6 tablespoons cold unsalted butter, cut into pieces
2 tablespoons shortening, cut into pieces
1/4 cup ice water
1 large egg, whisked with 2 teaspoons water for egg wash
For the Filling:
2 lbs cherries (fresh or frozen, if frozen thaw completely), pit and halved
1/4 cup sugar
1 tablespoon cornstarch
1 tablespoon lime juice
1 tablespoon limezest
1/2 teaspoon pure almond extract
1 tablespoon bourbon
turbinado or coarse sugar, for sprinkling
Instructions
In the bowl of the food processor, combine the flour, sugar and salt. Pulse together. Add in the butter, in two additions. Process a few times until butter is about the size of a pea. Drizzle 1/4 cup of ice cold water into mixture and pulse intermittently until dough comes together. Remove dough from bowl and pat down into a disc. Wrap in plastic wrap and chill for at least an hour.
Meanwhile, in a large bowl, combine the cherries, sugar, cornstarch, lime juice, zest, almond extract and bourbon. Gently mix to combine and let sit for at least 20 minutes.
When dough is chilled, roll out into a 12 inch circle on a lightly floured surface. (I rolled mine onto a well floured parchment to make transfer easy). Transfer to a baking sheet.
Spoon the fruits into the center of the crust, leaving 2-3 inch borders. Fold up the sides, gently tucking in over the fruit in a folding/pleating pattern. Transfer dough to freezer and let chill for 15 minutes.
Preheat oven to 375 degrees F. Remove galette from freezer and brush dough with egg wash. Sprinkle dough with turbinado sugar. Bake galette for 30-35 minutes until crust is golden and juice from the fruit runs out. Let cool before serving warm, with a dollop of ice cream.