Raspberry Vanilla Bean Galette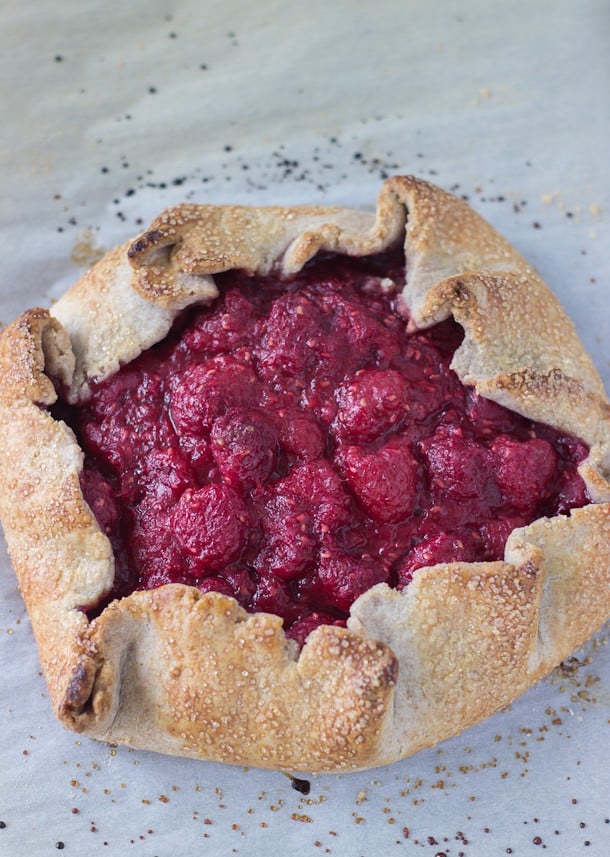 I have another simple summer berry galette for you today! This time it's singing glory to sweet raspberries and pure vanilla. This raspberry vanilla bean galette is sweet, juicy and bursting with rich flavors and I know you will love it! We are all pie lovers around here right??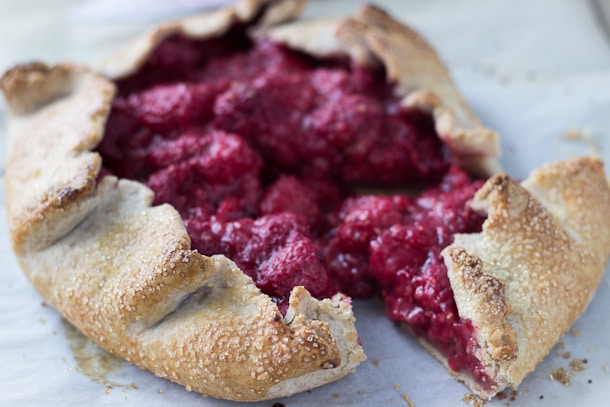 I feel like I've been on a pie trail this summer. Well, a pie and fruity lemonade trail if I am being honest. I've been craving every kind of summer pie and realizing that I haven't baked a lot of fruity pies around here. Besides this epic blueberry pie last summer, most of my pies are fall-ish  in nature (apple, butterscotch, pumpkin and the likes). So this summer I am making the effort to make (and eat) lots of summer fruit pies; mixed berry pie, strawberry rhubarb crumble, Cherry Pie and now this raspberry vanilla bean galette.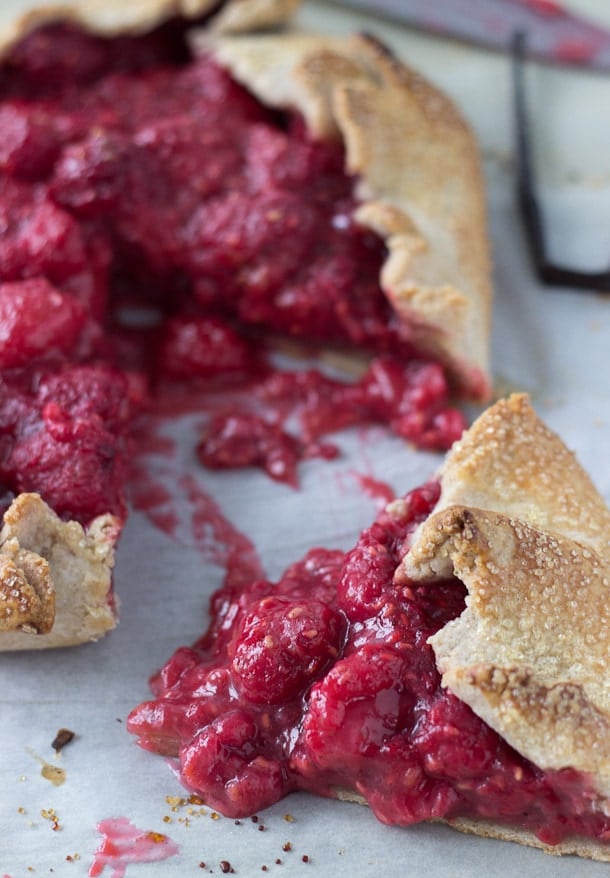 As always, the galette is much easier and quicker to whip up and it has all what a regular pie will boast of. Super flaky crunchy pie crust (I love me some pie crust!) and a juicy berry filing which here is just raspberries with vanilla beans lacing eat bite. Of course you can always top each slice with a scope of vanilla ice cream to complete the bliss. I hope you get to try this galette this summer before all the juicy berries go out of season again.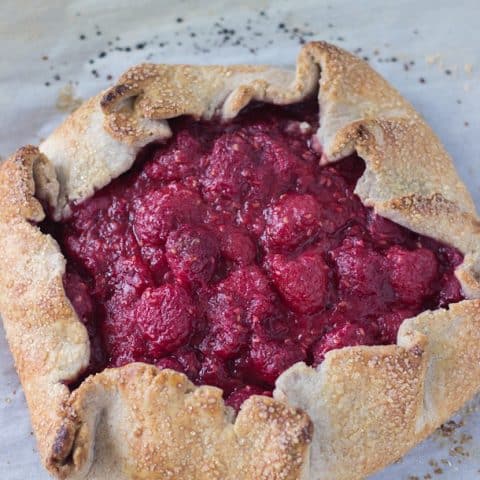 Yield: 1 10-inch round galette
Raspberry Vanilla Bean Galette
Total Time
1 hour
15 minutes
Ingredients
For Crust:
3/4 cup all-purpose flour
½ cup whole wheat flour
2 tablespoons granulated sugar
1/2 teaspoon salt
8 tablespoons unsalted butter, cold and cut into cubes
1 tablespoon apple cider vinegar
2 tablespoons ice cold water
1 egg, for egg wash
Turbinado sugar for sprinkling
Filling;
2 cups fresh raspberries
¼ cup granulated sugar
Scrapings from 1 vanilla bean (or 2 teaspoons vanilla extract)
Juice of half a lemon
3 tablespoons all-purpose flour
Instructions
To make crust:
Combine the flours, sugar and salt in the bowl of a food processor. Pulse to combine. Add in half of the cold butter and pulse 2-3 times to break up butter. Add the remaining of the butter and pulse until just incorporated. In a small bowl, combine the cider vinegar and ice cold water. Drizzle over the mixture, one tablespoon at a time, and pulse until dough starts to come together. If needed, add more ice water, one tablespoon at a time, until dough comes together. Remove dough from bowl and pat down into a disc. Wrap in plastic wrap and chill for at least an hour.
For Filling:
In a medium bowl, combine all the ingredients for the filling. Toss together until the flour is incorporated. Let sit for 10-15 minutes as you prepare the crust.
Preheat oven to 400 degrees.
When dough is chilled, roll out into a 12-inch circle. (I rolled mine onto a well floured parchment to make transfer easy). Transfer to a baking sheet lined with parchment paper.
Spoon the raspberry mixture into the center of the crust, leaving 2-3 inch borders. Fold up the sides, gently tucking in over the fruit in a folding/pleating pattern.
Brush the dough with egg wash. Sprinkle dough with turbinado sugar. Bake galette for 30-35 minutes until crust is golden and juice from the fruit runs out. Let cool before serving warm.
*** A quick note friends, tomorrow is my due date for baby boy Blahnik (40 weeks!!!!) and I am signing off the blog today to rest and prepare for his arrival any day now. I have a few recipes scheduled for you over the next few weeks and some of my amazing blogger friends will also be bringing you some goodies. I'll be slow in responding to questions and emails so bare with me as I'm sure you'll understand my hands will be filled. Of course once he is here, I'll pop in briefly to let you know!! ***