Cherry Hand Pies
Hello friends!! I made pie crust again and filled it with cherries to make these scrumptious cherry hand pies 🙂
Remember how I said I was scared of making pie crusts? My first two attempts last year were total disasters so I've stayed away from pies since. But after this strawberry tart, I decided to give it another try. This time around, I went with hand pies because they transport easily and the hubby and I were planning on a picnic at the lake.
If you are looking for a great pie crust recipe, I found the one. I love this recipe because it's only four ingredients; flour, sugar, salt and butter and it makes a flaky buttery crust each time. What is key in the process is keeping your butter chilled and using iced cold water. I used a food processor to pulse the flour and butter, but you don't need to use one. Joy the Baker has a great recipe here in which all you need are your two hands. I love using the food processor and it has made this daunting task manageable for me.
For the dough, you pulse your flour, sugar and salt together, then add your chilled cube sized butter to the mixture and pulse a few more times until the mixture is coarse and corn meal looking. Be very careful not to over work the mixture because you will warm up the butter. If you do, chill for a few minutes. Add ice cold water and pulse for a few more rounds until the dough comes together. And there you go, you have dough that would make a flaky pie crust once chilled and baked!
These cherry hand pies have a flaky, buttery crust on the outside and a sweet cherry filling on the inside. You can control how sweet the filling is by increasing or decreasing the amount of sugar. I used less than recommended (~1/3 cup) because I like things to be less sweet and it was perfect for me.
Making pie crust is getting easier and I am taking baby steps towards a full blown pie. You just might see one pretty soon 🙂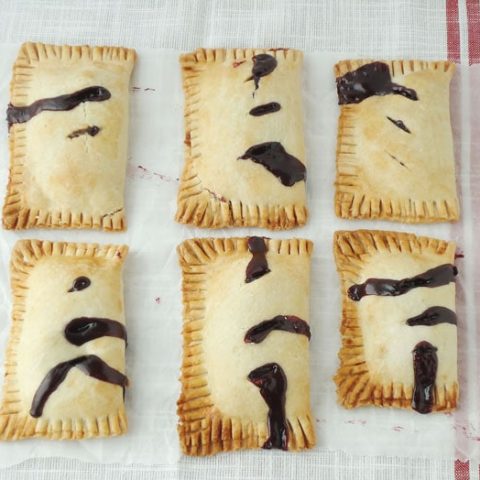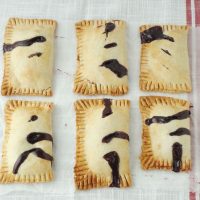 Yield: Makes 1 pie crust or about 6 hand pies
Cherry Hand Pies
These cherry hand pies have a flaky, buttery crust on the outside and a sweet cherry filling on the inside!
Total Time
1 hour
40 minutes
Ingredients
For the Pie Crust
1½ cups all-purpose flour
½ teaspoon sugar
¼ teaspoon salt
½ cup (1 stick) chilled unsalted butter, cut into pieces
For filling:
1½ tablespoons cornstarch
2 cups fresh cherries, stemmed and pitted
⅔ cup dried cherries
½ cup sugar
1 teaspoon pure vanilla extract
⅛ teaspoon salt
1 large egg white, lightly beaten
1½ teaspoons raw sugar
Instructions
To prepare dough:
Prepare ¼ cup ice cold water and keep in fridge. In a food processor, pulse flour, sugar and salt. Add in half of the butter and pulse for 30 seconds. Add in the rest of butter and pulse until the mixture looks like coarse meal. Add ¼ cup water (one tablespoon at a time) and pulse until dough comes together in clumps. If dry, add a little bit more water (1 teaspoon at a time). Remove dough from processor and form into a square. Wrap in plastic wrap and chill until firm, at least 2 hours. The dough can be made up to 3 days ahead. Keep chilled.
Let stand at room temperature 15-30 minutes before rolling out.
To prepare filling:
In a small bowl, stir the cornstarch and 1½ tablespoons cold water until dissolved. In a large saucepan set over medium heat, combine the cherries, sugar, vanilla extract and salt. Cook stirring occasionally for 5 minutes until the juices are released from the cherries. Remove from heat and let cool to room temperature. You will have more filling than you need for the pies.
Roll out dough on a lightly floured surface to a large rectangle (about 18 x 15'). Use a sharp knife and cut out 6x5" rectangles; about 6 to 7.
Assembly:
Whisk egg white and 1 tablespoon of water in a small bowl. Line a baking sheet with parchment paper.
Working with one rectangle at a time, brush the edges with egg wash and fill with 2-3 tablespoons of cherry filling on one side. Fold dough over filling making sure the edges meet. Use a fork to crimp the edges and seal the pie. Cut a few slits on top of pie to vent. Place on the prepared baking sheet.
Repeat with the remaining dough and filling.
Brush the top of pies with egg wash and then sprinkle with raw sugar. Chill the pies for 30 minutes.
Preheat oven to 375 degrees F. Bake the pies until the tops and bottoms are lightly browned, about 30-40 minutes. Allow to cool completely on baking sheet. Enjoy. Store leftovers at room temperature.