Strawberry Mascarpone Tart
This strawberry mascarpone tart is a beautiful 3-layered tart with a buttery crust and a creamy lemon mascarpone filling that is topped with fresh strawberries.
*This post was originally posted in 2013 but the images were updated recently*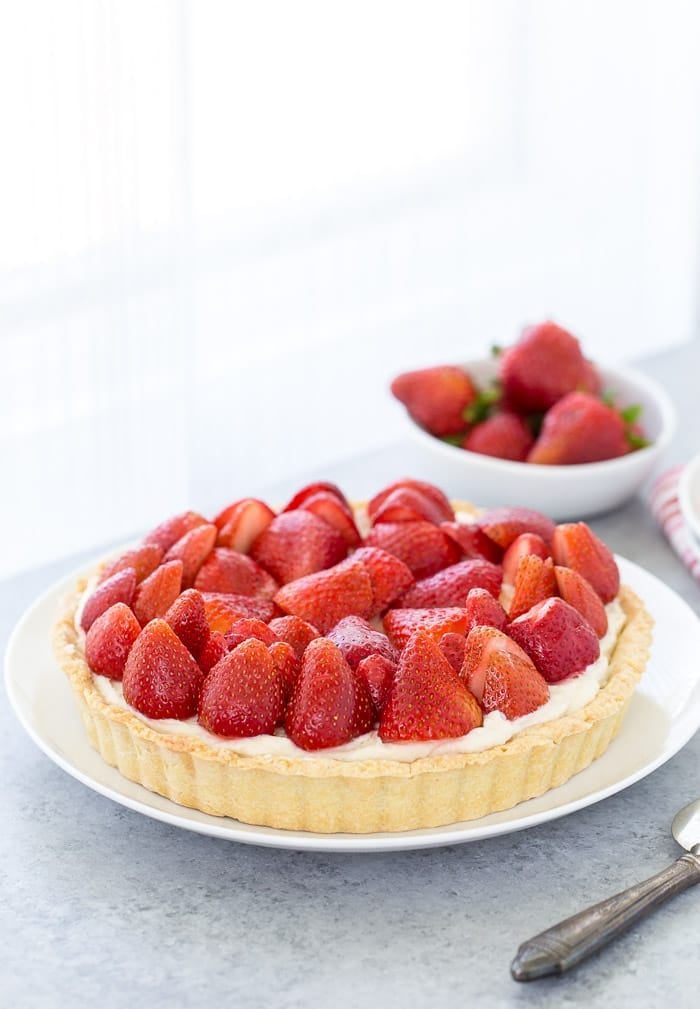 I accomplished two things this weekend; I woke up before 11am and made pie crust from scratch.
I made my first trip of the season to our local farmer's market which in itself isn't a big deal. But see, I almost never leave my house before noon on the weekends. Unless if I really really have to or love someone dearly. My friends know this… you don't call or make plans with Z before noon (I know it wont last long, but I don't have kids yet and I plan to enjoy this luxury/laziness while I can). But I love the farmer's market and I really wanted some fresh fruits and vegetables so I ventured out and I am so happy I did. I got lots of strawberries (duh!), peaches, corn, peppers, tomatoes and plenty more. I'll be waking up for more farmer's market trips this summer to get some fresh produce and support our local farmers.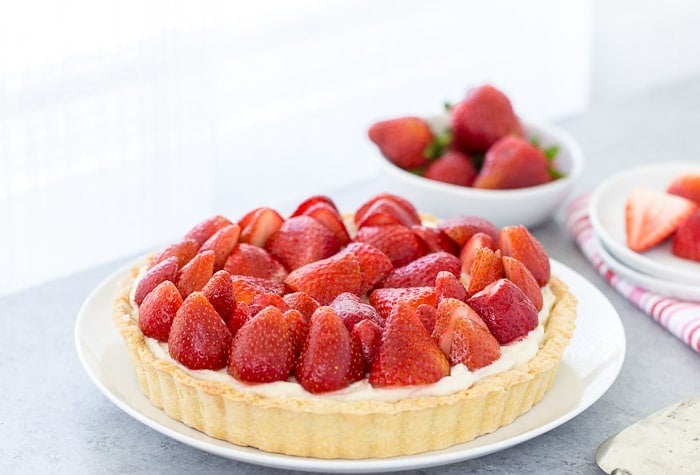 When deciding what to make with my strawberries, I thought of this strawberry mascarpone tart I first saw by Kelly Bakes, a few months ago. The only problem about it was that, I don't do pies or tarts because I can't make pie crusts from scratch. I tried it once last fall and it was an epic fail so I stayed away from pies. But I realized it's about time I face my fear. And I was pleasantly surprised that this tart crust turned out perfectly (or I got lucky, but I'm going to go with the first here!). My second accomplishment of the weekend!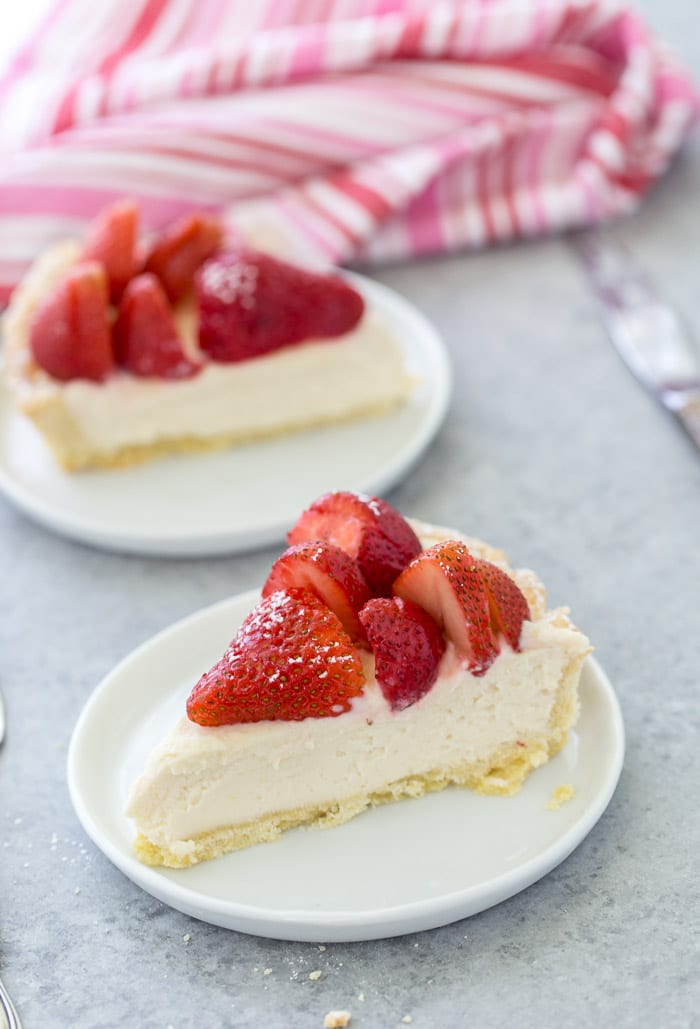 For the filling, I combined honey, lemon juice and lemon zest with mascarpone cheese which gives a very creamy filling that you can consume on its own. But don't, you have to fill your lovely golden buttery crust with it (isn't it just so beautiful?). It will be hard, trust me but once you can muster the will power to fill the crust, chill it for a few minutes, and prepare the strawberries.
I simply mixed the strawberries with sugar and let it sit for 20 minutes to make it sweeter. In retrospect, I would not have mixed the strawberries in sugar at all. It made the strawberries slightly too soft for my liking and hard to handle so next time I will just layer the fresh sliced strawberries on the mascarpone layer. Plus, that would make for more beautiful pictures!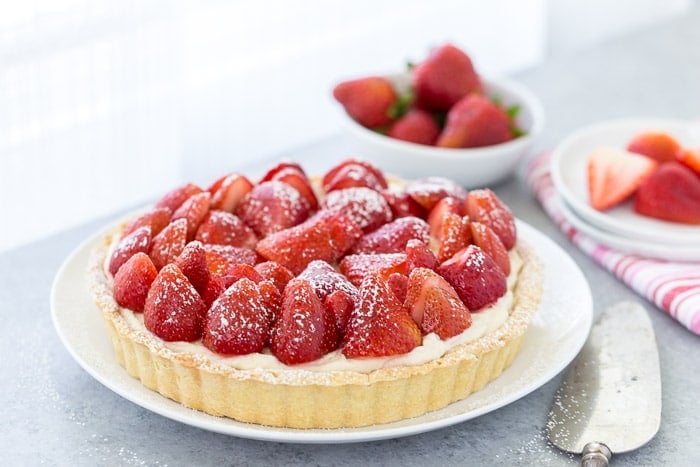 This pie is the perfect combination of my favorite summer flavors; strawberry and lemon, adding a tangy mascarpone layer to create the ultimate tart. It takes a few hours to make, mostly waiting time, but it is so worth the time and you will not be disappointed. It will amaze guests at any 4th of July gathering, so do try it! If you like, you could add some blueberries for a full red, white and blue effect.
Enjoy!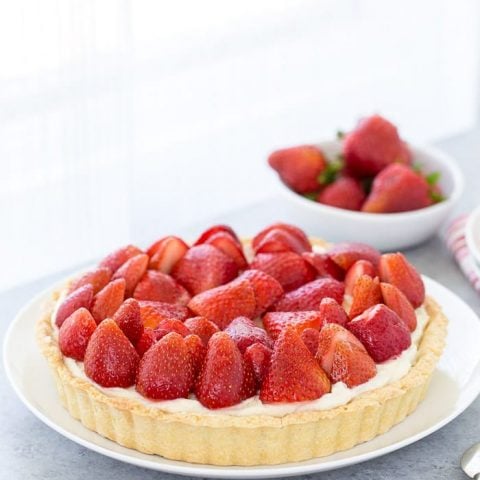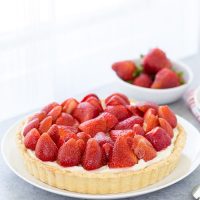 Yield: 1 9-inch tart
Strawberry Mascarpone Tart
Prep Time
1 hour
30 minutes
Ingredients
For the Crust:
1¼ cup all purpose flour
¼ cup cornmeal
2 tablespoons sugar
½ teaspoon salt
½ cup (1 stick) unsalted butter, cold and cubed
3 tablespoons iced water
1 large egg yolk
For Filling:
2 cups mascarpone cheese
1/3 cup honey (or up to ½ cup if you want it sweeter)
2 teaspoons lemon juice
1 teaspoon fresh lemon zest
1 teaspoon pure vanilla extract
1½ - 2 pounds fresh strawberries, hulled and sliced lengthwise
1 tablespoon sugar
Instructions
For Tart Crust:

In a food processor, pulse together the flour, cornmeal, sugar and salt for 30 seconds to combine. Add in the cold butter cubes and process using on/off turns to cut in the butter until the mixture looks like coarse meal. Place the bowl in the fridge for a few minutes. Whisk together the ice water and egg yolk in a small bowl. Retrieve the butter and flour mixture from the fridge and add the egg and water mixture all at once. Pulse until moist clumps forms and the dough comes together.
Gather the dough into a ball and form into a disk on a lightly floured surface. Wrap tightly in plastic wrap for 1 hour. When you are ready to roll dough, let sit at room temperature for 20 minutes. Unwrap dough and roll out on a floured surface. Roll to an 11-inch circle and gently transfer to a 9-inch tart pan with a removable bottom. Press the dough against the sides and edges and trim excess overhang. Refrigerate for 20 minutes.
Preheat oven to 350 degrees F. Line the crust with foil or parchment paper making sure you cover all sides. Fill the pan with pie weights, dried beans or coins. Bake crust for 15 minutes, roatte the pan and bake for another 15 minutes. Remove the foil and weights and bake for addition 5 minutes or until crust is golden brown. Cool crust in pan completely.

For the Mascarpone filling:

Beat together the mascarpone and honey until creamy (You don't need an electric mixer for this, but if you do have one, beat on medium-low speed). Add lemon juice, zest and vanilla extract and beat until combined. The mixture will be creamy and glossy.
Once the crust is completely cooled, spread the mascarpone filling into the tart shell. Spread evenly. Chill while you prepare the strawberries.
Mix the strawberry and sugar in a large bowl and set aside for 20 minutes.
Top the mascarpone filling with the sliced strawberries. Arrange in a circular pattern. Chill for at least an hour, up to two hours, before serving.
Store any leftovers refrigerated.