Pumpkin Pancakes
Warm, cozy spices and smooth, creamy pumpkin puree are the stars of these delectably fluffy pumpkin pancakes. Mix these fall-favorite ingredients with some pantry staples and in no time, you'll be enjoying these sweet, aromatic, and comforting pancakes that are simply perfect for a crisp fall morning!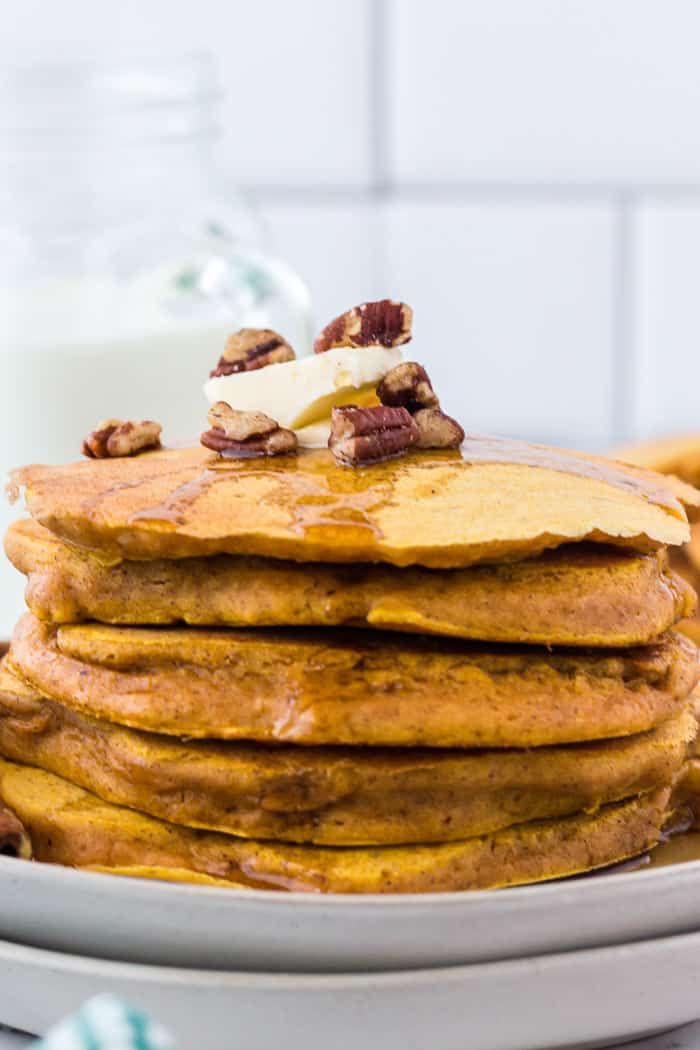 I love classic fall flavors—especially pumpkin! Ever since I moved to the US for college in Minnesota, I would always get super excited for fall to roll around; not because of Halloween, or the school break around Thanksgiving, but because I couldn't wait to indulge in a pumpkin spice latte and a whipped cream-slathered slice of pumpkin pie! Now that I'm an avid baker, I've found that there are so many delicious ways to enjoy that classic pumpkin pie flavor I crave and love. One of the best ways I've found? Inside of delicious, fluffy pumpkin pancakes of course!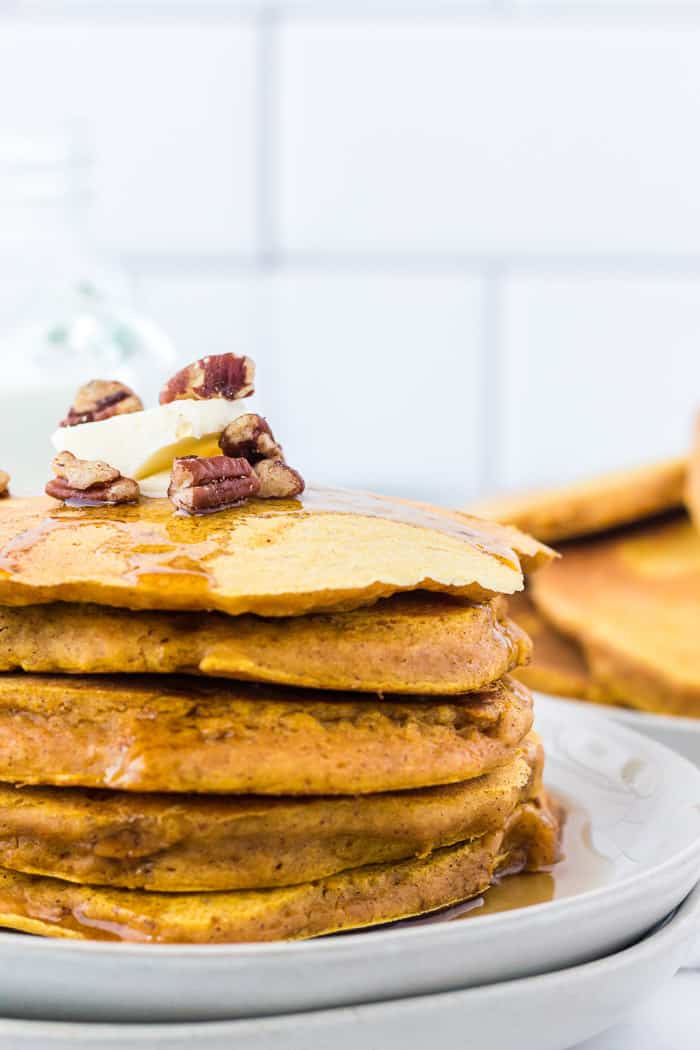 These soft and chewy pancakes strike the perfect balance between, sweet, spicy, rich, and pumpkiny. It's as if all your favorite pumpkin pie flavors gave your favorite pancakes a cozy fall hug. So what are you waiting for? Wrap yourself up in your coziest knit cardigan, crack open that can of pumpkin puree, and get the maple syrup flowing because once you start making these fluffy pumpkin pancakes, you won't be able to stop!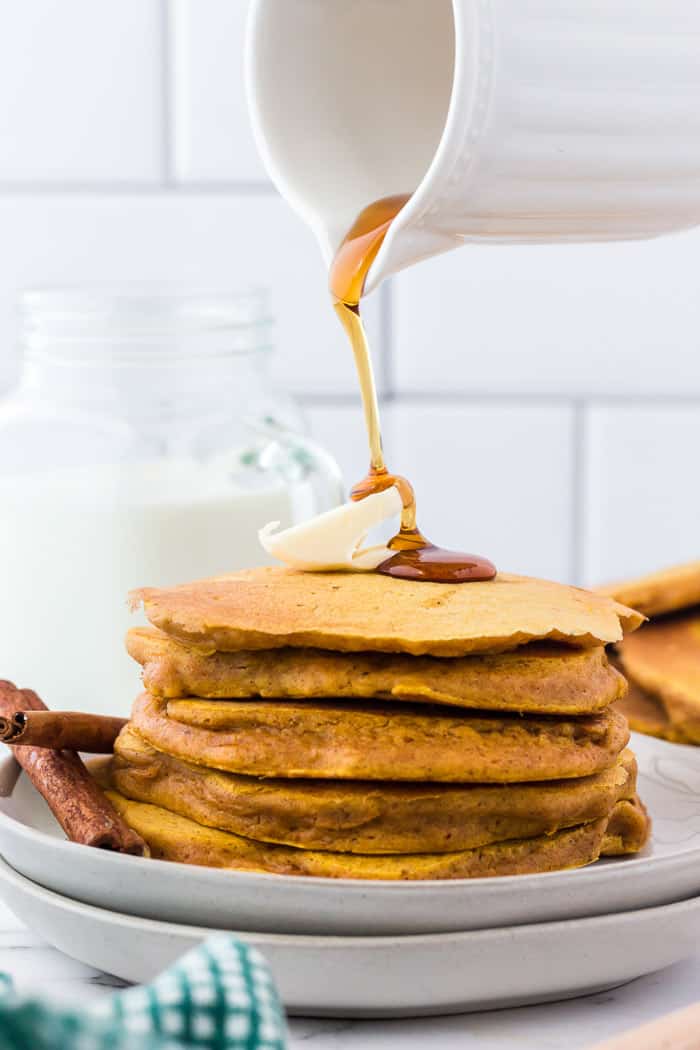 Ingredients You'll Need
Pumpkin Puree—A cup of pumpkin puree helps to bring richness and a classic earthy sweetness to these fall-flavored pancakes. I usually use canned pumpkin puree, but you could use homemade pumpkin puree as well.
Flour—My go-to flour for this recipe is all-purpose; however, I can tell you from personal experience that these pumpkin pancakes are equally delicious when made with gluten-free flour or whole wheat flour!
Sugar—A small amount of sugar is added to this pancake batter to help balance some of the more aromatic, sharp-tasting flavors like cinnamon and ginger. I particularly like these pumpkin pancakes because they aren't too sweet.
Milk—You'll use milk to thin out your pancake batter. I like the richness of whole cow's milk, but really any kind of milk will do.
Eggs—Add a couple of eggs to your batter to increase your pancakes' chewiness and stability.
Butter—Melted butter adds a lusciousness to your pumpkin pancakes that really can't be replicated any other way.
Vanilla—A splash of vanilla adds extra sweetness and a home-baked, robust flavor to this festive breakfast.
Baking Powder—A little bit of baking powder is used to make these pancakes super fluffy!
Pumpkin Pie Spices—Cinnamon, ginger, nutmeg, cloves, and salt are combined to create that fun pumpkin pie flavor we all love! A couple of dashes of pumpkin pie spice would work as well.
How to Make Fluffy Pumpkin Pancakes
In a medium-sized bowl, mix together your flour, baking powder, salt, cinnamon, ginger, nutmeg, cloves, and salt. Use a whisk to thoroughly combine this mixture.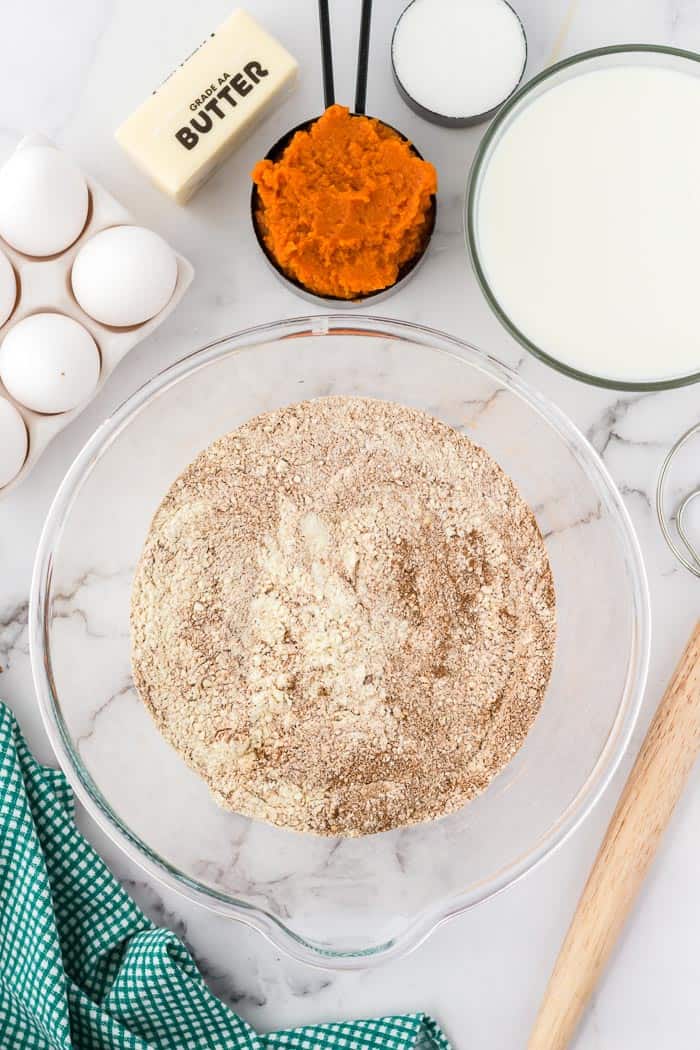 In a second bowl, combine your pumpkin puree, sugar, milk, egg, butter, and vanilla. Mix until you reach a smooth, uniform consistency.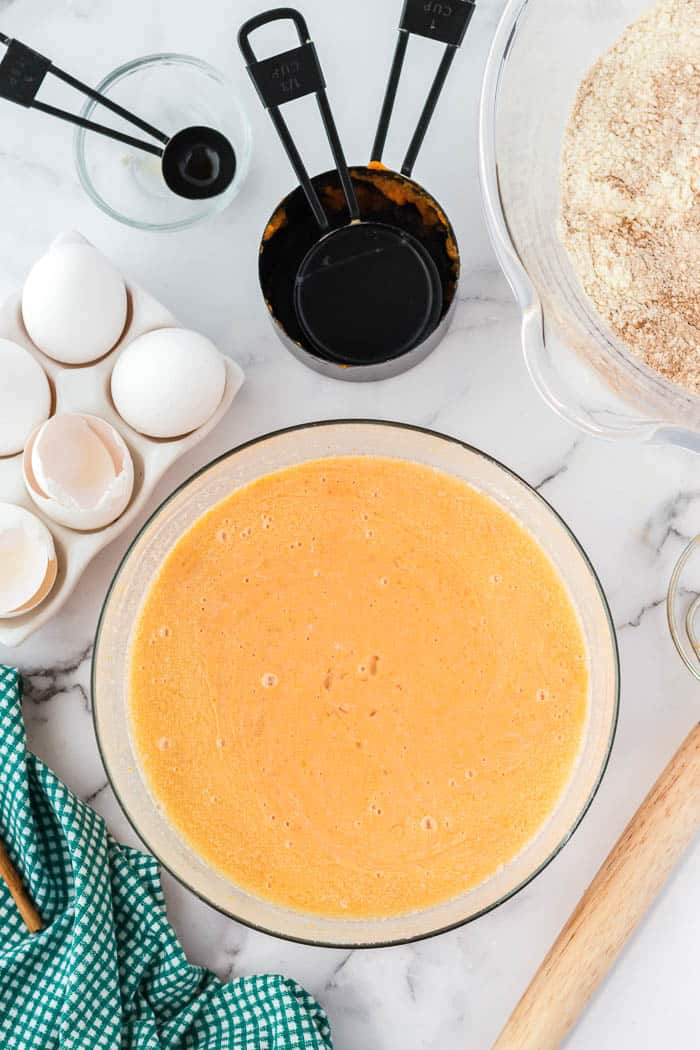 A little bit at a time, add your dry ingredients to your pumpkin mixture. Use a rubber spatula to gently fold the dry ingredients into the wet—be careful not to overmix your batter!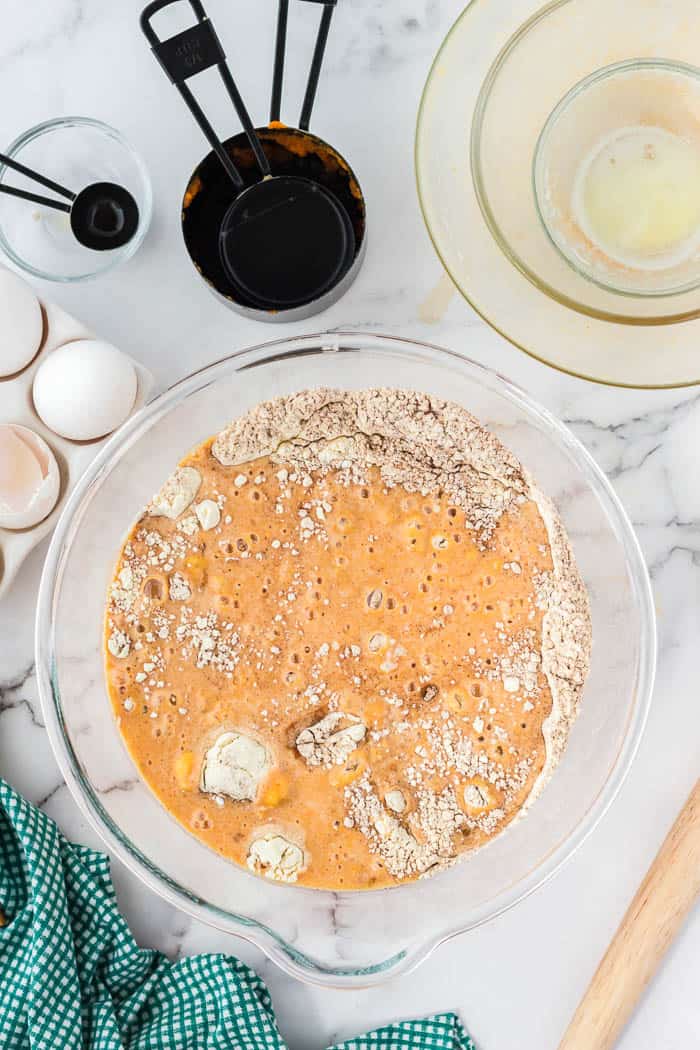 Using a ¼ cup measuring cup, ladle your pumpkin pancake batter onto a hot, well-greased griddle or pan. Cook your pancakes for 3 minutes on each side. Serve warm with a pat of butter and some maple syrup!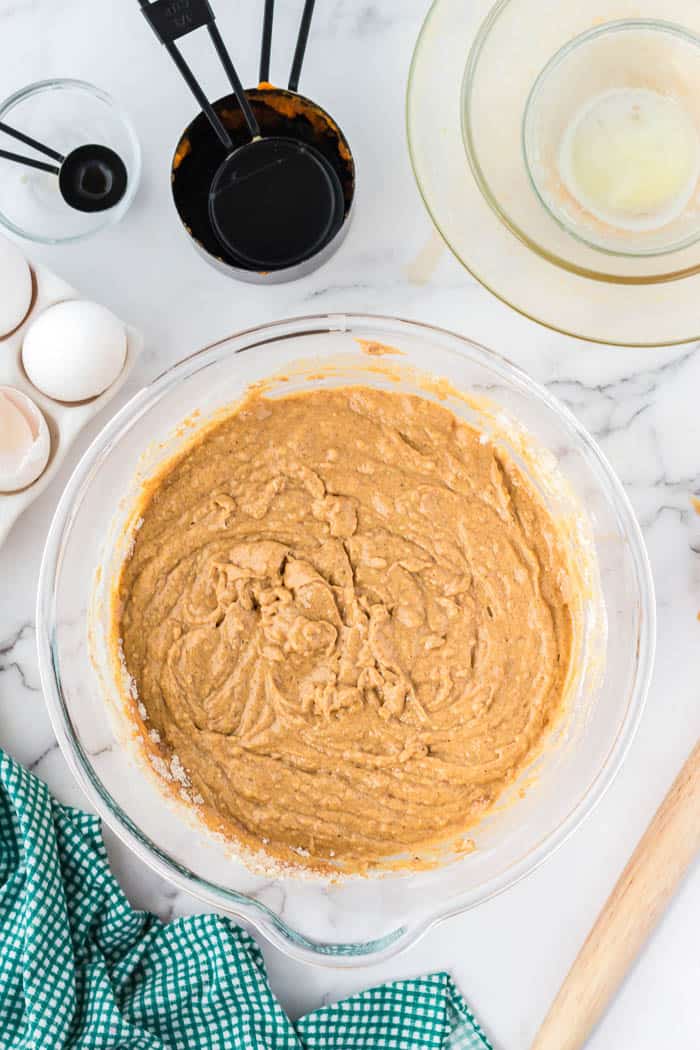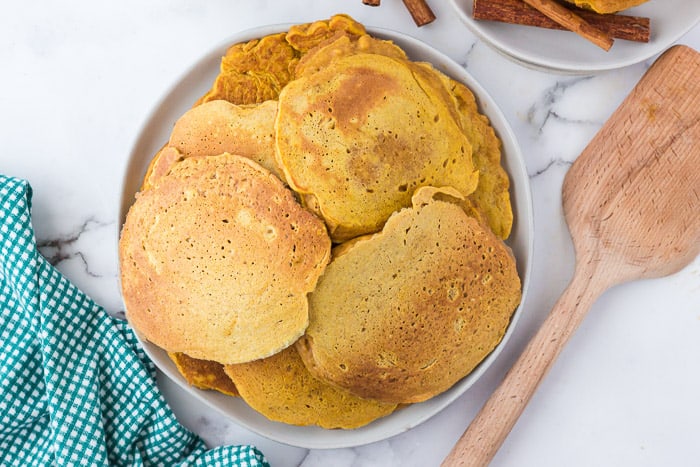 Frequently Asked Questions
My pumpkin pancakes aren't very fluffy; what did I do wrong?
Since the baking powder should add plenty of rising to these cakes, I would guess that your pancakes are falling flat because you're not being gentle enough during the cooking process. After you flip your pancakes, RESIST THE URGE to smoosh them down with your spatula! Instead, allow your freshly flipped flapjacks to cook untouched until golden brown.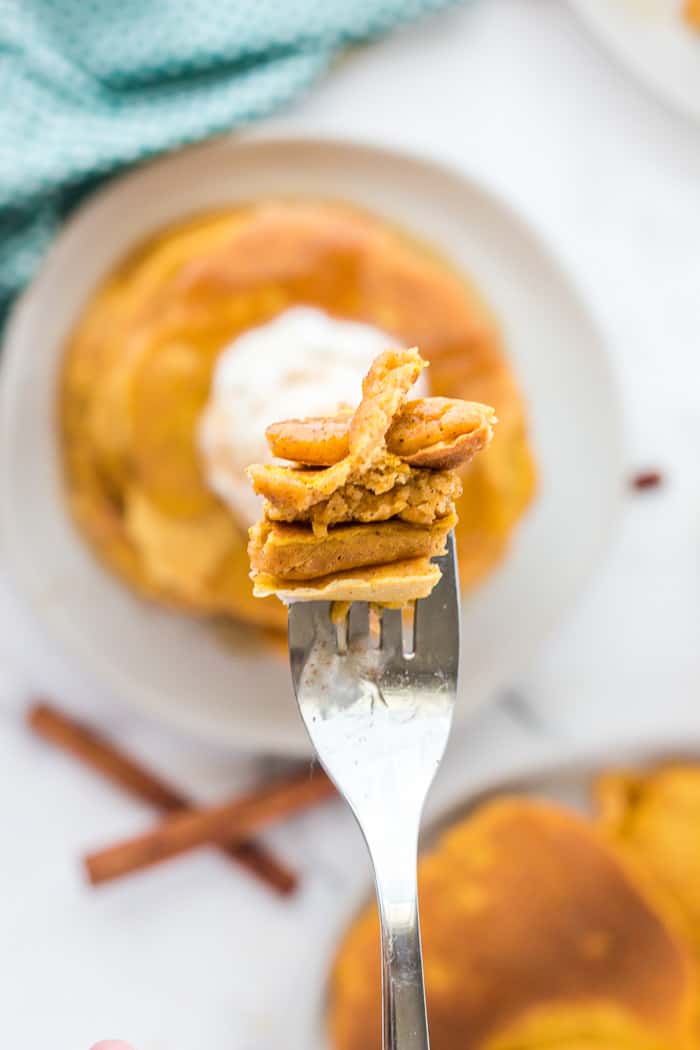 Can I make fluffy pumpkin pancakes ahead of time?
Absolutely! There are two ways you can do this: the first is by simply making the batter ahead of time. After combining your wet and dry ingredients, cover your mixing bowl with plastic wrap and stick the whole thing in the fridge. Any time in the next 24 hours, pull out your batter and cook your pancakes as normal.
Take the meal prep a step further by cooking your pumpkin pancakes ahead of time. Follow the recipe directions as normal, but instead of eating your flapjacks right away, allow your cakes to cool for 20 minutes. Once cool, place your pancakes into a freezer-safe zip-top bag and place them into your freezer for up to 3 months. When you're craving something cinnamony and sweet, simply pop a few pancakes into the microwave or toaster to warm them back up!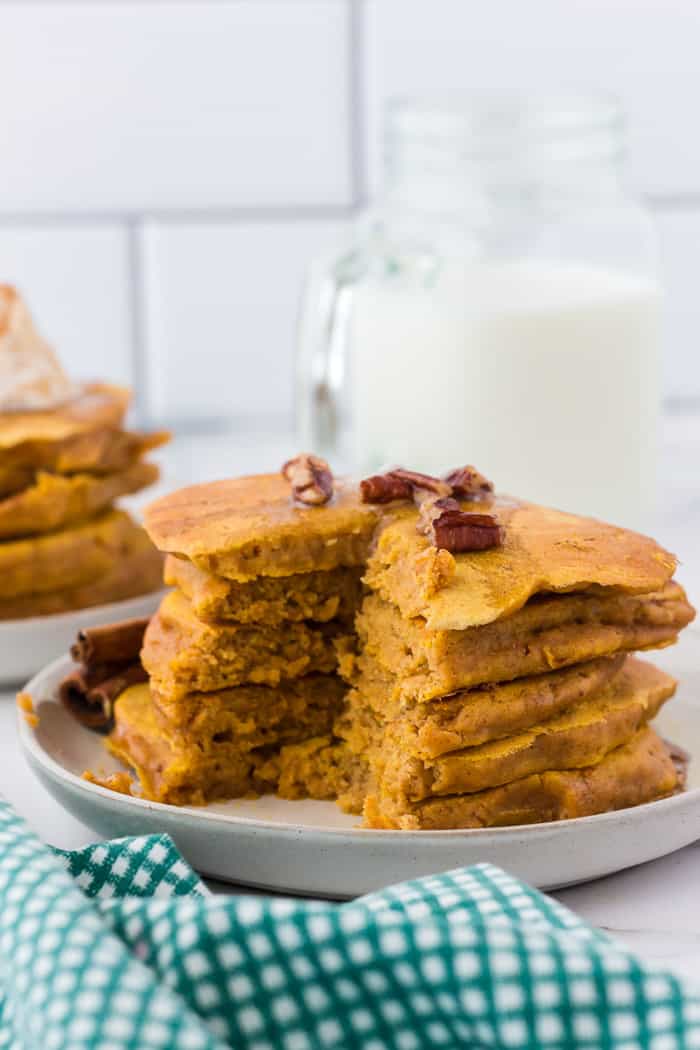 What's the best way to cook fluffy pumpkin pancakes?
For years, I exclusively made these pancakes in a non-stick pan on the stovetop; however, I've recently been converted to the pure magic that is a griddle. Cooking these pumpkin pancakes on a griddle instead of in a pan allows you to make multiple pancakes at once, significantly reducing your total cook time!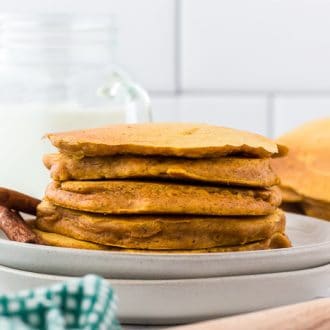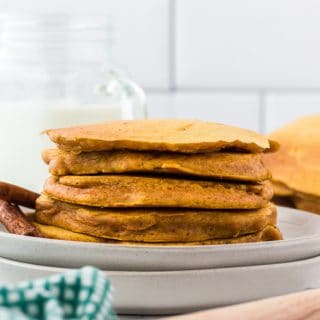 Yield: 2 dozen pancakes
Pumpkin Pancakes
Fluffy pumpkin pancakes that are perfectly spiced and a great breakfast.
Ingredients
• 3 ¾ cup all-purpose flour (you can use gluten-free)
• 6 tablespoons granulated sugar
• 2 tablespoons baking powder
• 1 tablespoon ground cinnamon
• 1 ½ teaspoon ground ginger
• 1 ½ teaspoon ground nutmeg
• ¾ teaspoon ground cloves
• 1 ½ teaspoon kosher salt
• 3 cups whole milk
• 1 cup pumpkin puree
• 6 tablespoons unsalted butter, melted
• 3 large eggs, room temperature
• 1 ½ teaspoon pure vanilla extract
Instructions
In a small bowl, whisk together flour, baking powder, spices, and salt.
In a separate bowl, combine the milk, pumpkin, butter, egg, and vanilla extract.
Fold dry ingredients into wet until just combined.
Cook about ¼ cup of batter in a buttered pan or nonstick skillet for 3 minutes on each side. You will be able to tell the first side is done when the edges look cooked.
Top with maple syrup, butter, or whipped cream.
Recommended Products
As an Amazon Associate and member of other affiliate programs, I earn from qualifying purchases.