Baked Carrot Cake Donuts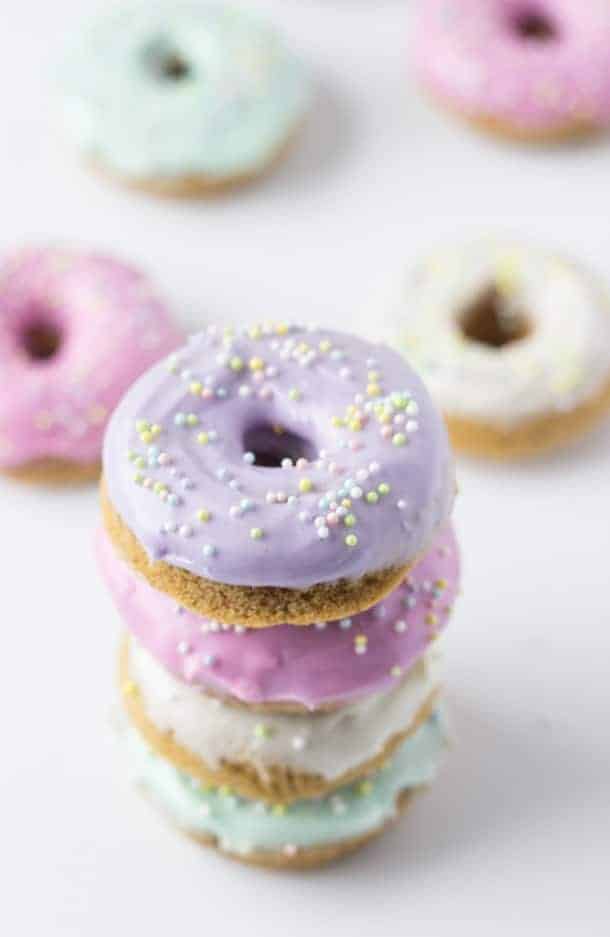 Just when I thought the sunny 30 degree weather meant Spring was finally on the horizon, Mother Nature decided to show us who is boss. We woke up to 4-inches of snow yesterday and it was just a kick in the stomach to have to deal with that again. But I keep telling myself soon, very sooooooooon it will be sunny, warm and spring will have sprung. That's why I am all about everything pastel right now.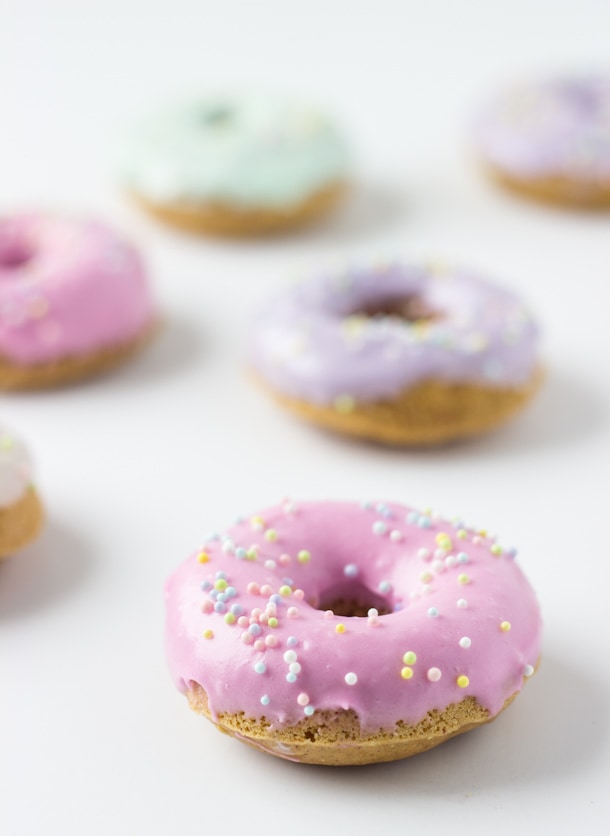 I told you guys I will move away from lemons at some point (lemon haters celebrate!!). These baked carrot cake donuts are a far cry from lemons but they are spring perfect too! Easter is just a few weeks away and everyone is looking forward to enjoying the classic carrot cake but why not start your day with carrot cake donuts? We know I have a thing for baked donuts (aka breakfast cakes) and since I acquired this KitchenAid mini donut pan, I've been enjoying donuts in cute minute sizes. Seriously goes well with a cup of coffee on any day.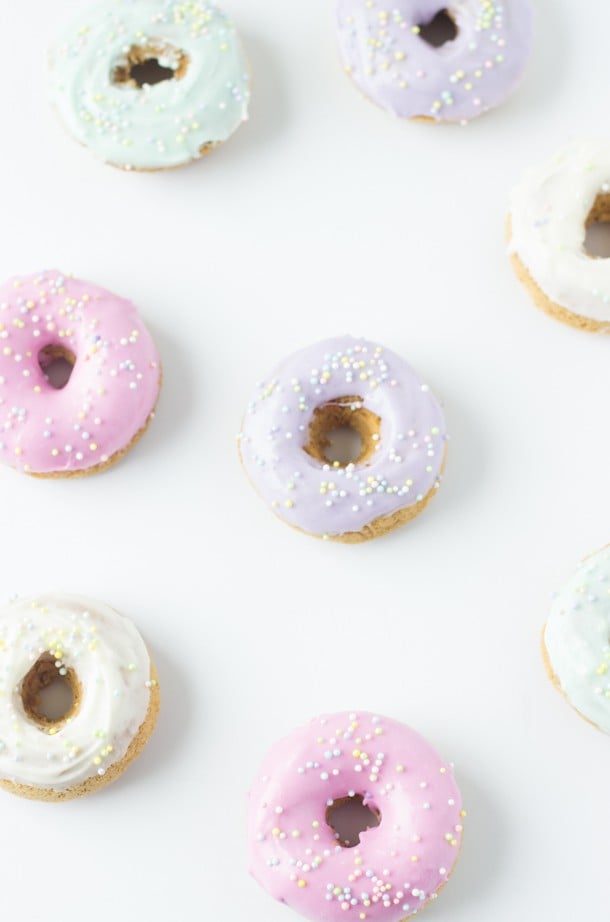 To make these baked carrot cake donuts, I started with my favorite carrot cake cupcake recipe and scaled it down to make mini donuts. After testing the recipe with gluten free flour, I took out the oil but kept all the spices that make carrot cake special. With a dash of cloves, nutmeg, ginger and cinnamon, these carrot cake donuts are moist, sweet and topped with a traditional cream cheese icing. Icing that is beautifully colored to suit the season. Tell me you don't want to try these this week AND for easter brunch in two weeks.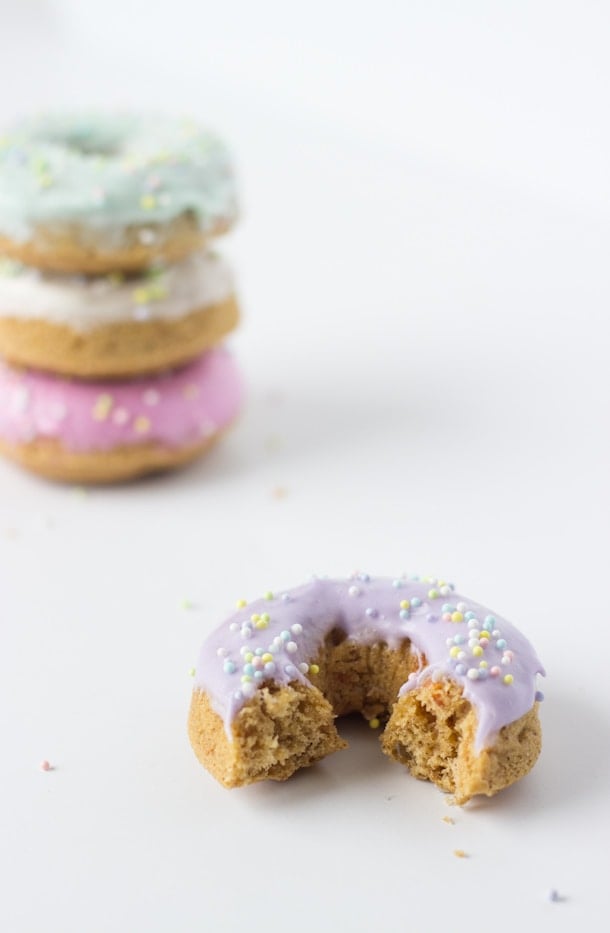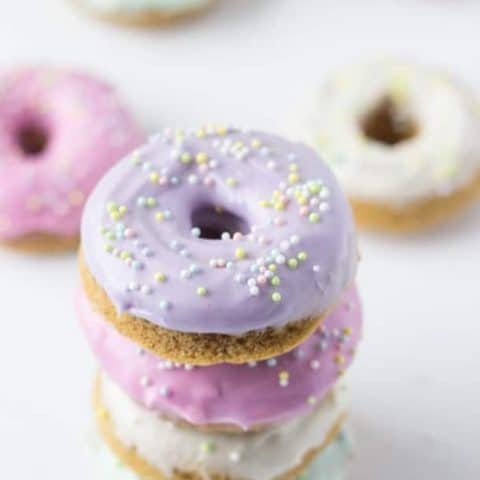 Yield: 12 mini donuts
Baked Carrot Cake Donuts
Ingredients
1 teaspoon baking powder
½ teaspoon cinnamon
¼ teaspoon ginger
¼ teaspoon salt
a dash of nutmeg
a dash of cloves
1/3 cup granulated sugar
1 large egg
1 teaspoon pure vanilla extract
1/3 cup buttermilk
2 tablespoon unsalted butter, melted and cooled
½ cup grated carrots (about 2 carrots)
¼ cup chopped walnuts (optional)
Frosting:
2 ounces cream cheese
1 cup powdered sugar
3-4 tablespoon milk
Instructions
Preheat oven to 350 degrees F. Coat a mini donut pan with baking spray.
In a medium bowl, whisk together the flour, baking powder, cinnamon, ginger, salt, nutmeg and cloves.
In a small bowl, whisk together the sugar, egg and vanilla extract. Add in the buttermilk and melted butter.
Pour the wet ingredients into the dry in one addition and mix to combine. Fold in the grated carrots and walnuts.
Transfer batter into a pastry bag (or ziplock bag) and fill the prepared donut pans. Fill each about 2/3 full. Bake donuts for 6-7 minutes or until a toothpick comes out clean. Let cool in pan for 1 minute before turning out onto a cooling rack.
To make frosting: whip cream cheese until smooth. Add powdered sugar and 2 tablespoon milk. Mix until combined. For a thinner consistency, keep adding milk, one tablespoon at a time, until frosting is pourable.
Ice cooled donuts with icing. Let icing set, about 20 minutes, before enjoying.
Some affiliate links included in text above.
 More Carrot Cake Recipes Around the Web:
Healthy Carrot Cake – Well Plated by Erin
Carrot Cake Whoopie Pies – The Baker Chick
Soft Baked Carrot Cookie Sandwiches – URBAN BAKES